Looking for a waterside escape? Here's where you should be eating and drinking in Sausalito. 
---
Like a slice of the Mediterranean minutes outside the city, Sausalito has long beckoned to tourists and Bay Area locals alike with its stunning views across the Bay and of San Francisco. Here's a round-up of openings, new chefs, and under-the-radar gems worth crossing the bridge for.
From the same owners as Sausalito's popular Le Garage Bistro and L'Appart Resto, Fast Food Francais, aka F3, may be the most realized of the three in terms of food. Don't consider it "just" a burger restaurant. Chicken liver mousse ($10) over rustic bread, happily given contrast from sweet golden raisins, pickled red onions and cornichons, aids the foie gras-deprived. Likewise, the burger list ($9-14) is gratifies a range of palates, whether in a juicy, bacon aioli and shallot confit-smothered burger, decadently partnered with bone marrow, or a yogurt-laden veggie patty of French lentils and jasmine rice, spiced with ras el hanout (a North African spice blend). For locals, there's also Vespa food deliveries. 39 Caledonia St. Sausalito. 
It's surprising that Rossetti Pizzeria doesn't show up on more best-of Marin lists. A locals favorite - and easily the best pizza in the Mediterranean-like town of Sausalito - owner Maurizio Rossetti hails from Rome, imbuing a laid back Italian welcome in his tiny, humble shop with a few sidewalk tables. Classic Roman pizzas ($10.50-17), like a special of spicy tomato sauce, sausage, mozzarella, provolone and Calabrian pepper, are devoured between two. Other winning dishes include a hearty beef ragu and sausage lasagna ($14) and three kinds of calzones ($15). Don't miss their house focacetta ($3.75, or it comes with some dishes and salads): like flatbread strips of focaccia, the olive oil and rosemary bread transports me straight back to Italy. 45 Caledonia St., Sausalito.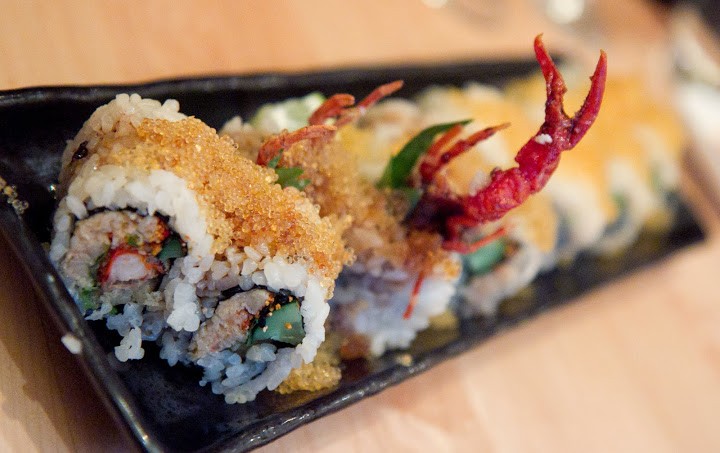 Crawfish Maki at Sushi Ran.
Longtime Sausalito king, Sushi Ran (arguably one of the best sushi restaurants in the US) recently promoted sushi chef Takatoshi Toshi to master chef - alongside Executive Chef Scott Whitman - after sushi chef of a decade, Mitsunori "Nori" Kusakabe, left in December to open Kusakabe. While SF awaits Nori's restaurant, there's no love lost in Sausalito. Sushi Ran shimmers and shines as it has for nearly 30 years, offering pristine sashimi and sushi, sustainably sourced "whenever possible." Try Japanese 7-spice soft shell crawfish maki ($13.50) - crawfish legs dramatically kicking out of the top, a tower of grilled squid ($13) surrounded by smoked citrus sabayon, or a pleasing vegetable platter ($12) of spiced cauliflower, puffed rice and date kale, and kimchee brussels sprouts, all paired with sakes from their extensive novel of a list. 107 Caledonia St, Sausalito.
There's long been the wonderful Indian-Mexican mash-up of Avatarsand next to Rossetti Pizzeria, the cozy Sartaj India Cafe, but Sausalito is pretty sparse when it comes to Indian food. Welcome the new BBQ n Curry House, opened five months ago in a strip mall complex right off the 101 freeway. Friendly owners welcome you in for warm naan and classic, affordable curries, tandoori and biryani ($5.99-13.99). Inquire about the daily specials and consider it a takeout option heading back to the city after a day in Marin or Wine Country. 160 H Donahue St., Sausalito.