Midday Wednesday, a team of synchronized skywriters will encircle the Bay Area's airspace with what, to most viewers, will appear a random string of rapidly fading digits. A select few, however, will recognize it as pi: 3.14159, and so forth a thousand places.

Artist ISHKY devised Pi in the Sky for the Zero1 Biennial, which kicks off today in San Jose. Titled "Seeking Silicon Valley," the biennial includes a centralized exhibition as well as various public art projects that aim to bring the elusive nature of the valley into focus.

For instance, working on a more down-to-earth scale, San Francisco-based architect Christopher Haas and design studio Rebar teamed up to create Sky-Fi – a canopy of circuitry fibers above downtown San Jose's SoFA district that will carry pulses of light, metaphorically instantiating the "information superhighway" in physical space.




---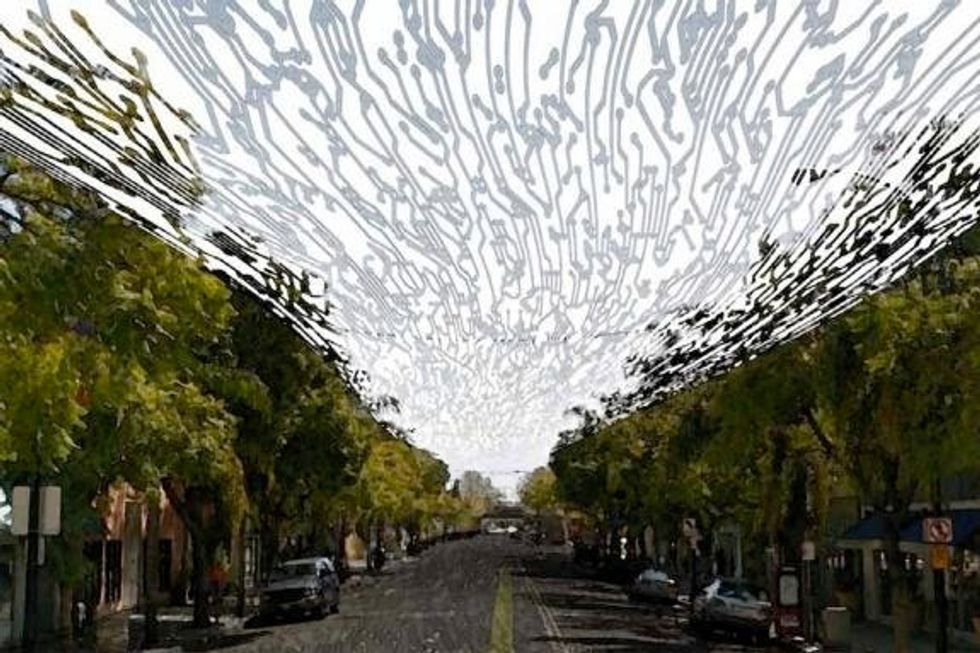 ISHKY intends to trace the Valley's reaches in a broader sense: the planes will fly a determined course over Apple, Facebook and Twitter headquarters, The Financial District of San Francisco, Stanford, UC Berkeley and Livermore labs, among other major tech nodes.

With each digit extending a quarter mile in height, Pi in the Sky will be the largest ephemeral art installation to date. And ISHKY isn't stopping there: part 2 involves launching a satellite into space to orbit the earth, transmitting a constant stream of Pi back down (for more on that, check out ISHKY's website).

Keep an eye to the skies and tweet/Instagram what you see: #pi, #piinthesky, @ISHKYSTudios. The documentation of this event is in our hands.

The Zero1 Biennial runs from September 12 through December 8, at 439 South 1st Street, San Jose