By
Looking for somewhere new to eat? Book your reservation at these hot new openings.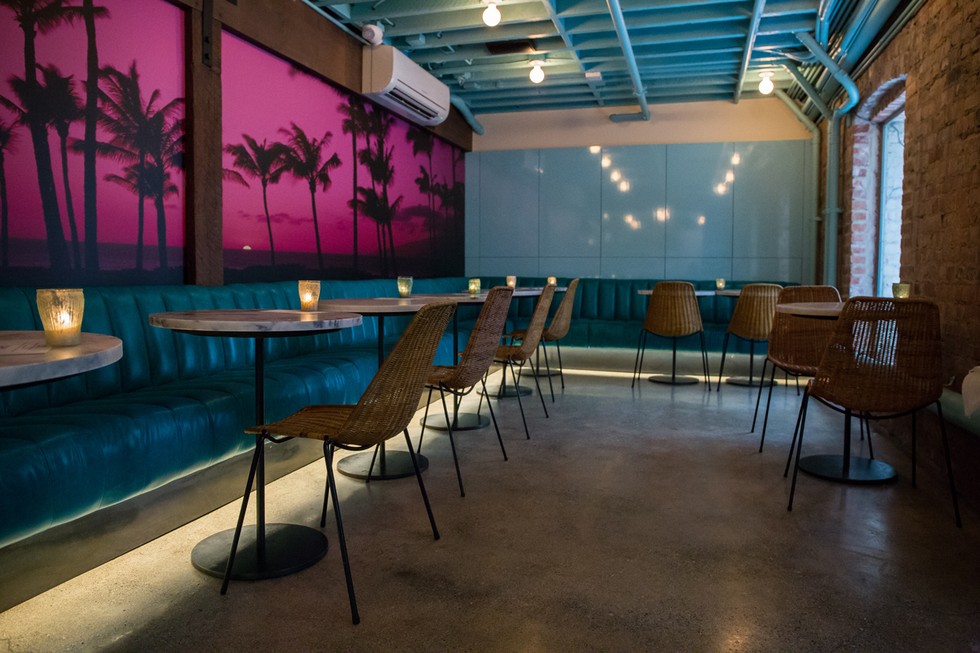 Louie's Gen-Gen Room(Medium Raw Arts)
Louie's Gen-Gen Room
They've done it again. The incredible team behind Liholiho Yacht Club has opened their long-awaited watering hole, a kind of modern tiki bar called Louie's Gen-Gen Room. The cocktails are differant than what you'd find upstairs at LYC (think El Nino with arrette tequila, guava, amaro nonino, and lime and the Young Coconut with avua cachaca, falernum, coconut water, lime, and green chartreuse ) and the eats by chef Ravi Kapur are more bite size (black truffle grilled cheese, Okonomiyaki Waffle with housemade spam). Yanni Kehagiaras is creating the cocktails and sommelier Lulu McAllister, well known for her wine program at Nopa, is overseeing the all-magnum wine list. With seating limited to just 20 people, this is one of the hottest seats in town! // 871 Sutter St. (Lower Nob Hill), liholihoyachtclub.com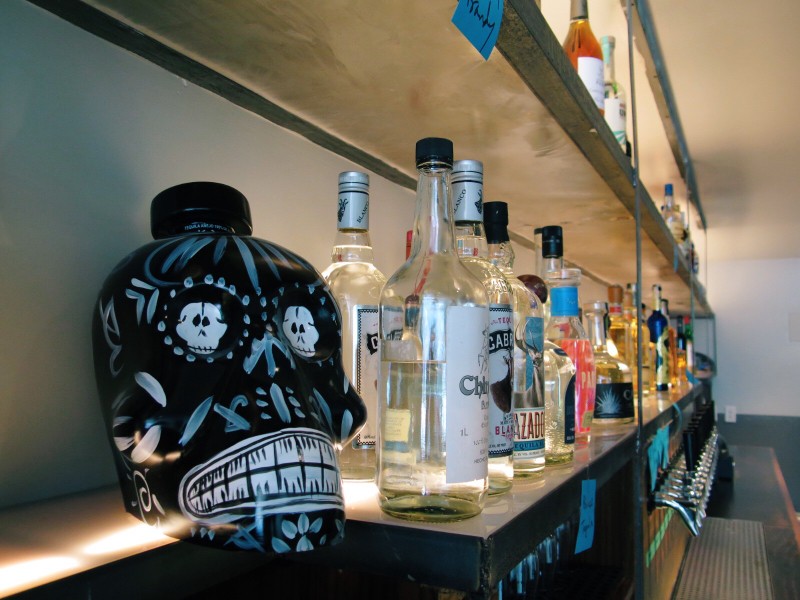 Don Pisto's Tequila Bar's Bar(Don Pisto's Tequila Bar)
Don Pisto's Tequila Bar
Those of us used to heading to North Beach for delicious tacos and the well-known Don Pisto's burger will be thrilled to hear of the new Marina location opening this month. The restaurant will offer a full bar and smaller portions of Pisto's classics including the adored burger, their tortilla soup, enchiladas, and of course, tacos. The best part? Everything will be less than $15 (except for specials).Don't forget to check out the street food section, featuring a fish taco, braised beef tamale, and ceviche tostada. // 2030 Lombard St. (Marina), donpistos.com
Corridor
Corridor, a new Mid-Market restaurant from the team behind Trestle, Fat Angel, and Stones Throw, offers guests their take on flexible dining. For those who prefer to plan ahead, reservations can be made for their mezzanine dining room. Or, for a more casual experience, guests can drop in to enjoy first come, first serve seating in the restaurant or grab a bite and go in the cafe a few doors down. For some Californian comfort food there are plenty of options including a burrata or cobb salad, vegetable pot pie, a half-roast chicken, meat lasagne, a French dip sandwich, and even the Stones Throw's Da Burga. // 100 Van Ness (Mid-Market), corridorsf.com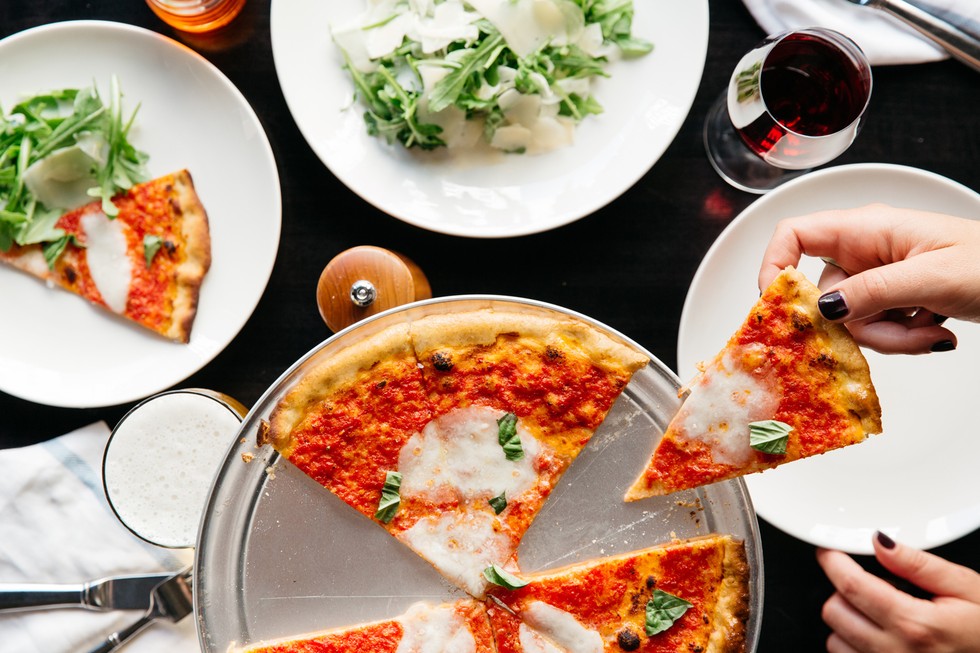 Tratto margarita pizza with wild arugula fennel salad. (Patrick Chin)
Tratto
Tratto, a new concept led by Executive Chef Kevin Scott and created by San Francisco's Puccini Group is a spirited, bar-driven restaurant serving rustic Italian fare with modern sensibilities. "Tratto," which means "the stroke of a pen" in Italian, nods to both the neighborhood's artistic history and the Marker, the Joie de Vivre boutique hotel that houses it. (San Franciscans may remember the shake up last year where restaurants BDK and Dirty Habit lost their contracts with both Hotel Monaco and Hotel Palomar.) The menu includes small plates and full entrees including house-made pastas and sausages, pizza, seasonal vegetables and seafood. Highlights include the prosciutto with pickled watermelon rinds, handmade Spinach tagliatelle with meat sauce, and watermelon and honeydew sorbet for dessert. Cocktail lovers will enjoy the twist on traditional Italian cocktails (think The Tratto with Limoncello, four roses bourbon, dry vermouth, angostura and The Negroni Flip with Beefeater gin, Campari, sweet vermouth, and egg) and the wine list features wines from Italy and California. // 501 Geary St. (Tendernob), tratto-sf.com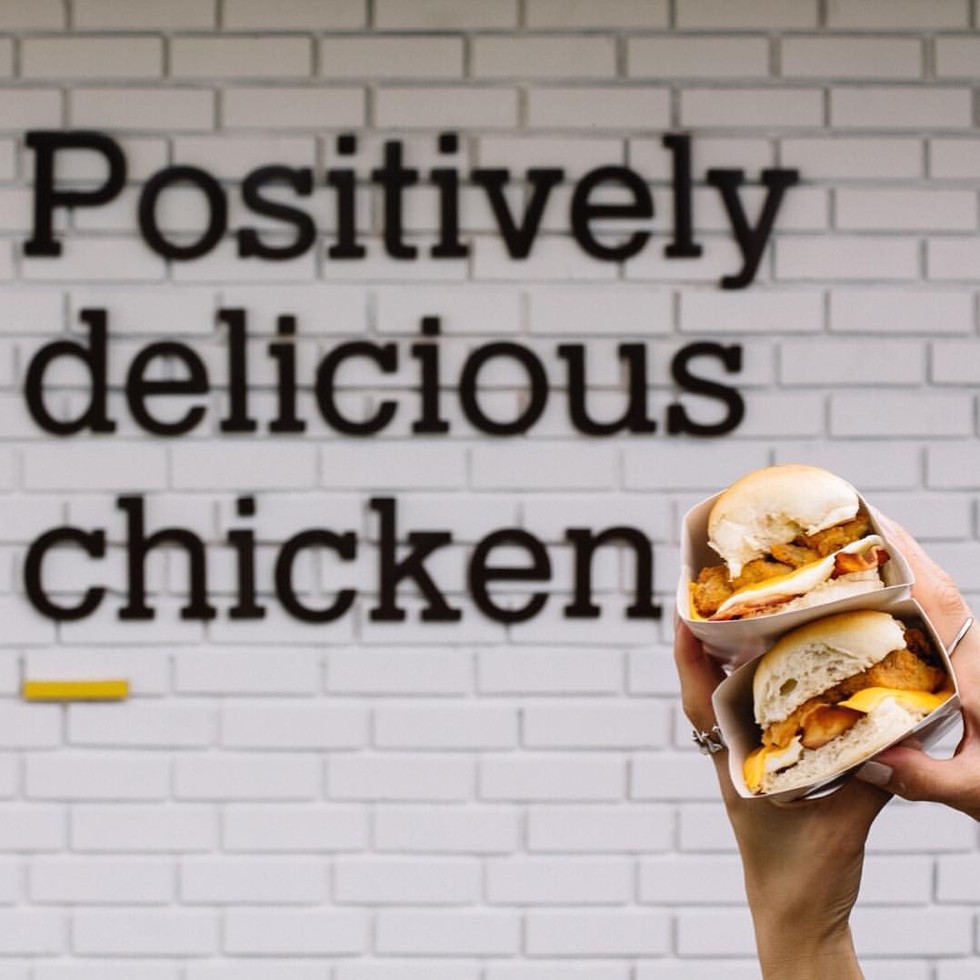 The Starbird breakfast sandwich. (Starbird)
Starbird
Starbird, the nation's first super premium fast food concept (according to the Starbird team), just opened in Sunnyvale. By super premium fast food, we mean it has premium organic ingredients and offers a pretty "super" fast experience compared to the typical fast food ordering time you may be used to. Instead of a drive thru, Starbird offers the convenience of ordering ahead with their app. Upon arrival, select "I'm here," pull into a numbered parking spot, and within five minutes your food is delivered to your car. For those that want to stay, they offer a dining room or outdoor patio. Menu items include fast food staples such as waffle sticks, chicken and waffles, Chinese chicken salad and chicken tenders. // 1241 El Camino Real (Sunnyvale), starbirdchicken.com
Our Poke Place
Our Poke Place opened earlier this month offering custom made-to-order bowls featuring salmon, tuna, hamachi and shrimp. For those of you unfamiliar with Poke, it is a raw fish salad that originated in Hawaii. Poke is the Hawaiian verb for "section" or "to slice" or "cut". More recently, foodies in San Francisco may have noticed Poke locations opening throughout the city. While the Hawaiian cuisine has been around for ages, we're to see the trend finally make it to SF. // 2517 20th St. (Mission)
DON'T MISS A BAY AREA BEAT! SUBSCRIBE TO OUR NEWSLETTER.