By
Despite the prolific amount of coffee shops in San Francisco, finding one with reliable Wi-Fi, strong coffee, and tasty pastries to fortify you during a work-from-home day is still a challenge. Here are the best spots (in each neighborhood) to get some work done with all the essentials—food, coffee, and a killer wireless signal.
BERNAL HEIGHTS: Tierra Mia Coffee
What to order: Iced horchata latte
Tierra Mia has a friendly staff and a warm interior to match. The Mexican-inspired pastries and coffee are unique (we love the iced horchata latte) and perfect for sipping on while you work. // 3188 Mission Street (Bernal Heights), tierramiacoffee.com
CASTRO: Hearth Coffee Roasters
What to order: Almond Orange-Blossom Croissant
An in-house baker provides fresh pastries to sustain you through the working hours at this home-away-from-home. // 3985 17th Street (Castro), hearthcoffee.com
FINANCIAL DISTRICT: Mazarine Coffee
What to order: Avocado toast
Located in the heart of FiDi, you'll often find meetings and interviews taking place at this popular spot. It can get a little loud, but for those who like an ambient buzz, it's perfect. // 720 Market Street (FiDi), mazarinecoffee.com
HAIGHT: Flywheel Coffee Roasters
What to order: Nitro cold brew
The large space and abundance of outlets at Flywheel is perfect for anyone with a long day ahead. There's even a small back patio to soak in some sunlight, or walk to nearby Golden Gate Park for an afternoon break. // 672 Stanyan Street (Haight), facebook.com/Flywheel-Coffee-Roaster
HAYES VALLEY: Artís Coffee
What to order: Iced chai
Artis is a new addition to the neighborhood, and a necessary one for those who need a place to work. The tables are large and spread out, so don't feel shy about busting out your laptop out or taking a phone call. // 537 Octavia Street (Hayes Valley), artiscoffee.com
MARINA: Chestnut Street Coffee Roastery
What to order: Breakfast sandwich
There's always an open seat at this Marina roastery, making it the perfect spot for an impromptu work session at any time of day. The staff is quick to recognize regulars, and pretty soon they'll be welcoming you by name. // 2331 Chestnut Street (Marina), chestnutshop.com/coffee_roastery

MISSION: Stanza Coffee
What to order: An espresso
While it may appear crowded, this Mission pot is actually very organized, and you'll quickly receive your coffee order as you find a table to work. On a sunny day, the patio is ideal, with local art and couches for a mid-day nap if necessary. // 3126 16th Street (Mission), facebook.com/stanzasf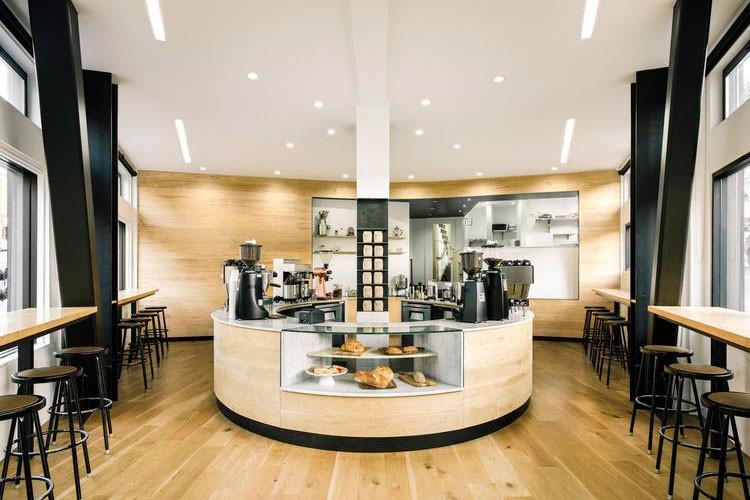 NORTH BEACH: Réveille Coffee Co.
What to order: Egg sandwich
From its location on Columbus Avenue, Reveille is close enough to downtown, Chinatown, and North Beach to take any meetings. The long tables and white space provide a clean atmosphere while you work. // 200 Columbus Avenue (North Beach), reveillecoffee.com
NOB HILL: Contraband Coffee Bar
What to order: The Iced Separator
The large windows at Contraband Coffee Bar mean lots of natural light (to keep you awake), while the middle bar table is a prime location to work alone or in a group. // 1415 Larkin Street (Nob Hill), contrabandcoffeebar.com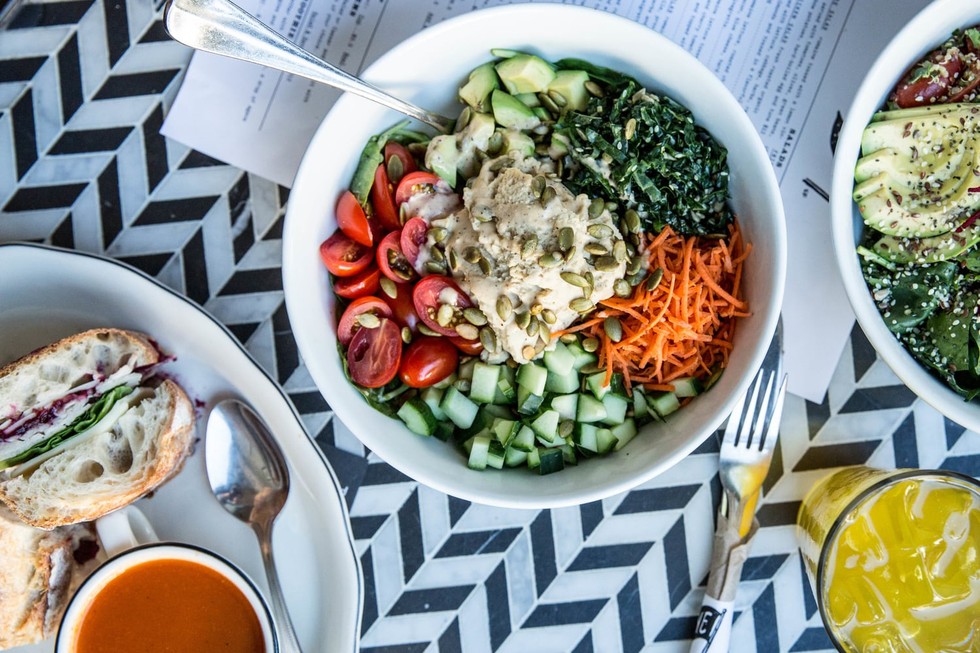 PAC HEIGHTS: Jane on Fillmore
What to order: Gluten-free quinoa bread
The chevron-patterned tables and cozy upstairs make this a popular neighborhood café all day long. On weekends, it gets pretty busy; get there early and snag a corner table in the front and set up shop. // 2123 Fillmore Street (Pac Heights), jane-sanfrancisco.com
RICHMOND: Fifty/Fifty Coffee & Tea
What to order: Lavender Earl Grey latte
The unique drink offerings (some of which include boba) coupled with stable WiFi are a no-brainer. They even serve Dynamo Doughnuts for those in need of sweet, sweet sustenance. // 3157 Geary Street (Richmond), fiftyfiftysf.com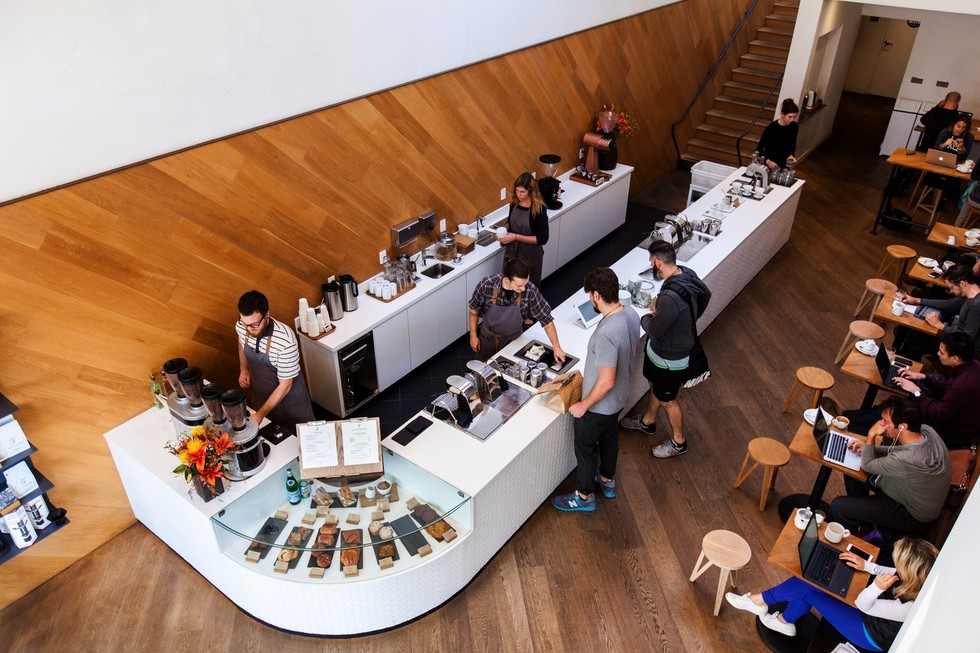 RUSSIAN HILL: Saint Frank Coffee
What to order: Macadamia almond milk latte
Although it looks small, the cavernous ceilings and modern architecture at Saint Frank make it feel much bigger. On the weekends, they're one of the busiest spots around, which is why they offer WiFi on weekdays only. // 2340 Polk Street (Russian Hill), saintfrankcoffee.com
SOMA: Red Door Coffee
What to order: Cappuccino
Red Door has multiple locations, but the coffee shop tucked inside the 111 Minna art gallery is the best. There are two large rooms to work in with lots of solo and group tables. You can even work at the bar if you like—it's closest to the coffee. // 111 Minna Street (SoMa), reddoorcoffeesf.com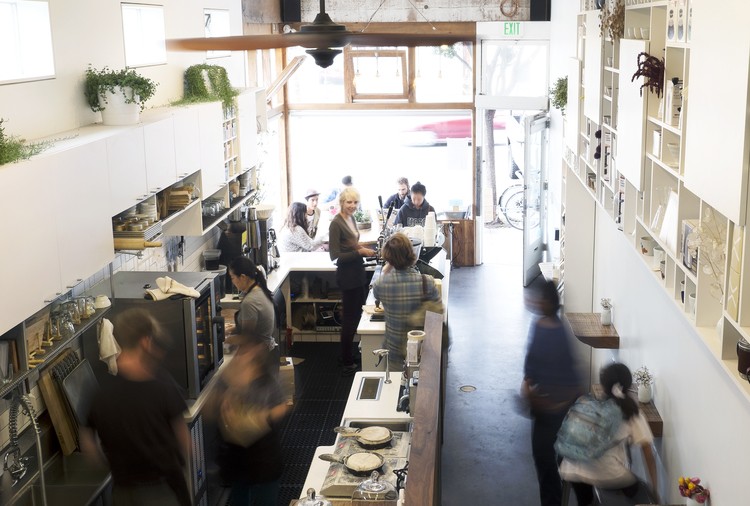 SUNSET: Andytown Coffee Roasters
What to order: The Snowy Plover
This is the perfect spot to get some work done while sipping on fabulous coffee. When you're done, spend the afternoon at the beach. // 3655 Lawton Street (Sunset), andytownsf.com
WESTERN ADDITION: Bean Bag Café
What to order: A savory or sweet crepe
This is one of the most versatile cafes to work from, offering everything from coffee to burritos. If you find yourself working into the evening, $3 beers during happy hour are guaranteed to take the edge off. // 601 Divisadero Street (Western Addition), beanbagcafesf.com
DON'T MISS A BAY AREA BEAT! SUBSCRIBE TO OUR NEWSLETTER.