Northern California's most ambitious wellness destination—aimed at solving everything from vitamin D deficiency to jiggly tush to addictions to sugar and screen—quietly opened this past May just 60 miles south of San Francisco.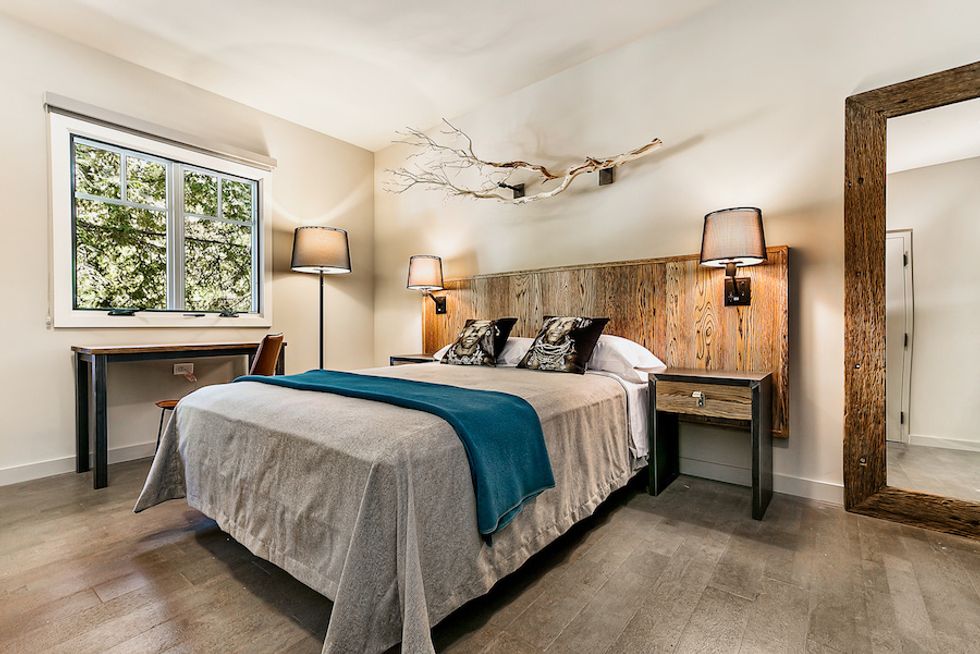 A double room, stylish and serene.(Courtesy of 1440 Multiversity)
---
On 75 acres in the redwoods outside Santa Cruz, 1440 Multiversity is bringing a dose of modern mindfulness to a former bible college with a higher-education-meets-retreat-style model of classes, workshops, healthy eats, and overnight stay options to fit all budgets. Yes, there's classic retreat programming like Qigong and Tai Chi, and classes are small enough to feel almost private, but it's the calendar full of more contemporary offerings—led by a faculty that reads like a Coachella lineup for yoga and meditation enthusiasts—that makes 1440 a haven for the 21st century.
As someone who plans family vacations around wellness retreats (it's for their own good!), I got a serious case of FOMO when I first saw the property's massive catalog. This fall, 1440 will host leading meditation instructors Sharon Salzberg and Davidji; Hollywood favorite yogi Steve Ross and SF's own Wanderlust headliner Jason Crandell. I elected to try Crandell's Optimizing Your Vinyasa weekend yoga retreat—because to this health nut, nothing sounds more luxurious than a weekend full of lunges and anatomy jokes with one of our city's best.
When I checked in for my 36-hour stay, I popped into a general welcome session in the property's stunning, converted mid-century chapel, and then to dinner, where I ate enough tofu and cassoulet to feed a health-conscious army. After dinner, on a very full stomach (I didn't know our first session started that night until a new friend mentioned changing for class over chocolate cookies), I joined about about 25 students for our first two-hour yoga session with Crandell. We dove into the weekend's coursework of opening and strengthening all of the muscles and joints used during traditional Vinyasas (downward dog, chaturanga, lunges, etc). The following morning, midday and afternoon sessions followed a similar pattern of lecture on the day's topic followed by an active yoga session to put into practice what was just discussed. Most of the class plunked down around $700 to stay on campus for an all-inclusive weekend, while a few others were Airbnb-ing or taking advantage of a locals-only day pass.
1440's hotel rooms—a mix of converted dorms with rustic shared bathrooms and former public spaces now with private bathrooms and balconies overlooking the surrounding redwoods—might be as close as the Bay Area gets to a five-star wellness resort. But at the end of each day of hours-long yoga practice, all that really mattered was having solid A/C, comfy linens and a view to distract me from my exhaustion as I applied an entire tin of Tiger Balm. Soon there will be an infinity pool and a full spa geared toward soothing those sore muscles; for now, you can try walking it off on the handful of short hiking trails that crisscross the property, or meditate in the redwood "cathedral."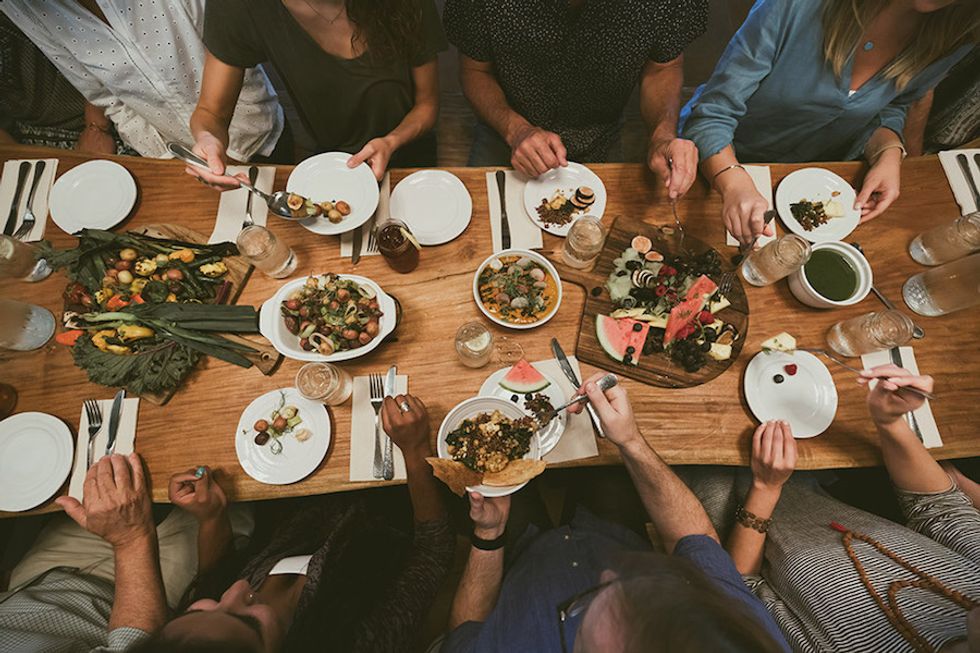 A family-style meal of healthy options for omnivores.(Courtesy of 1440 Multiversity)
If you prefer to eat your pain—and have dietary restrictions—you will have come to the right place: 1440 serves thrice daily buffets of health-conscious omnivorous eats that tread the line between corporate offsite and eco-stylish. While not totally plant-based (presumably to not scare off the South Bay's big tech company meeting planners), high brow takes on traditional retreat fare is served at each meal, which plenty of vegan options. During my visit, I dug into vegan pastries and locally made coconut yogurt each morning; there was also customizable vegan pad Thai and vegan pot de creme. Nearly everything offered is gluten- and sugar-free.
During my last meal, while stuffing my bag with 1440's vegan, gluten-free banana bread, I was already bookmarking pages in the property's catalog for a future visit. As happy as I was as a solo traveler making a yogic pilgrimage, the creature comforts and heavily staffed event production team seem fit to attract big companies—and there is plenty of room and course options to keep us all happy.
Weekend and weekday workshops can be booked with a room and board package, or a la carte. For locals or those who don't require accommodations, a $95 day pass is available for dining and grounds access. Single rooms start at $175 per night.
// 1440 Multiversity, 800 Bethany Dr. (Scott's Valley), 1440.org