So long, 2018.
2019 is rolling in with a bang, and we're celebrating with epic feasts, live music and dancing, fun and games, and Champagne galore.
---
Happy New Year, party people.
Activities in San Francisco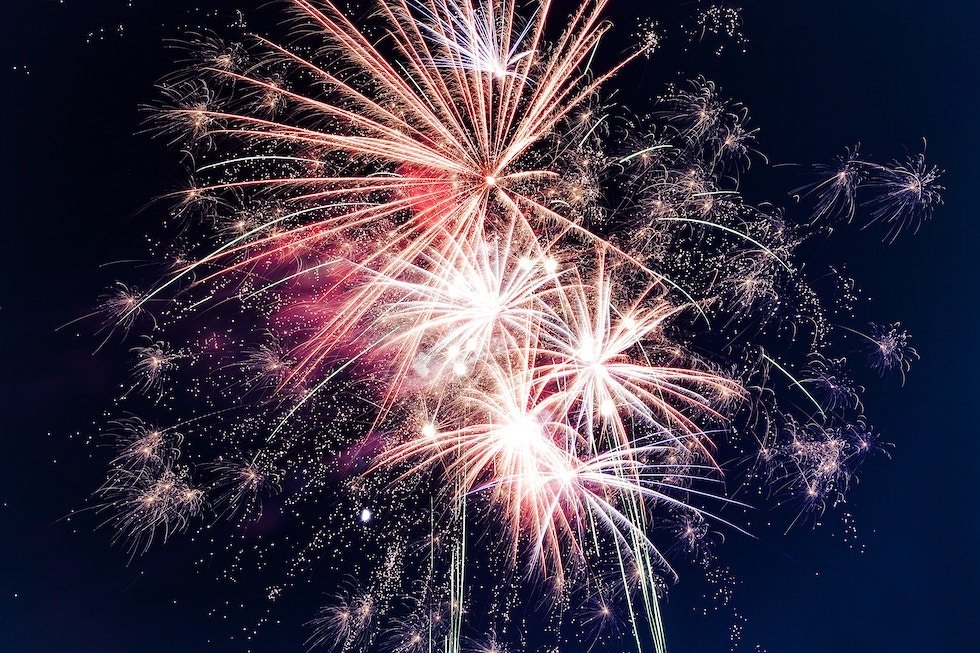 (Photo by Roven Images)
Ping in the New Year
When: 9pm to 1:30pm
Where: Spin SF, 690 Folsom St #100 (SoMa), wearespin.com
Play the night away with a ping-pong party at Spin. The night will include a pong exhibitions from the pros, a buffet of bites, champagne toast, music, dancing, and, of course, 14 ping pong tables at the ready. // Tickets ($100 and up) are available on eventbrite.com.
Beach Blanket Babylon
When: 10:15pm to 1:30am
Where: Beach Blanket Babylon, 678 Beach Blanket Babylon Boulevard (North Beach), beachblanketbabylon.com
Our favorite pop culture-laced show is putting on a special performance showcasing the very best and the very worst moments from 2018 with a comedic slant. Enjoy complimentary champagne and truffles, and make sure to grab tickets to the second show of the evening which ends at midnight, then turning into a post-show dance venue to boogie in the first few hours of 2019. // Tickets ($85 to $210) are available online at beachblanketbabylon.com.
Midnight Fireworks Over the Bay
When: Midnight to 12:15am
Where: The best viewing spots are on the Embarcadero from Mission St. to Folsom St.
Don't want to pony up for an expensive dinner along the waterfront? Brown-bag a bottle of champagne from your local corner store and nestle up with your honey along the Embarcadero to watch fireworks sparkle over the bay. The show starts promptly at midnight. // Free to attend.
A Japanese NYE Tradition
When: 6:30pm
Where: Izakaya Sushi Ran, 2223 Market St. (Castro), izakayasushiran.com
Kick off your New Year's Eve with a stop by Izakaya Sushi Ran for their sake barrel breaking ceremony, a fun Japanese tradition to bring toast to the New Year! // Event is free to attend.
Count it Down From the Top
When: 7:30pm to 1am
Where: Top of the Mark, 999 California Street (Russian Hill), intercontinentalmarkhopkins.com
Dance the night away at one of the best views in town-- the Top of the Mark. Start things off with a cocktail reception, followed with a five-course dinner, and a champagne toast. A live band will bring the tunes while you watch fireworks pop over the city. // Reservations ($425 per person) can be made by calling the holiday desk at 415-616-6941 or emailing Lynnette.won@ihg.com.
Prohibition Party
When: 8pm to 1am
Where: Starlight Room, Kimpton Sir Francis Drake, 450 Powell St. (Union Square), sirfrancisdrake.com
Break out your feather boas and get ready to boogie to the vibes of the 1920's at the Starlight Room. Enjoy passed bites, era-appropriate cocktails, a live jazz band and DJ. // Tickets ($50 and up) are available at starlightroomsf.electrostub.com.
Music in SF
The Queen's Ball
When: 9pm to 3am
Where: The Great Northern, 119 Utah St. (SoMa), thegreatnorthernsf.com
Maya Jane Coles is bringing the beats at local two-room club, The Great Northern. Expect a night of drag performances, aerialists, a food truck and photo booth to help rock the party. // Tickets ($60) are available at ticketfly.com.
Wobble Wobble at The Midway
When: 9pm to 4am
Where: The Midway, 900 Marin St. (Dogpatch), themidwaysf.com
Explore the multi-room 40,000 square foot music venue, The Midway, while getting down to dance music from Little Dragon, Modeselektor, Tokimonsta, and Mayan Warrior. They'll even be shutting down the streets to expand the party with interactive art work and eats from their in-house kitchen. // Tickets ($90 and up) are available eventbrite.com.
Drinks, Dinner, & DJs
When: Dinner from 5pm to 9pm at Curio; dance party starts at 9pm at The Chapel
Where: Curio & The Chapel, 777 Valencia St. (Mission)
Neighborhood restaurant-and-venue duo, Curio and The Chapel, offer a convenient double-header option for your evening. Start off with dinner at Curio with shareable plates like seafood towers, hush puppies, and NYE specials, then either stick around Curio for a free non-stop DJ dance party, or move next door for a groovy concert from Lee Fields & The Expressions at The Chapel. // Dinner reservations can be made on curiobarsf.com and tickets for the The Chapel ($55) can be purchased on ticketfly.com.
Kaskade
When: 8pm
Where: Bill Graham, 99 Grove Street (Civic Center), billgrahamcivic.com
Clearly Kaskade has a soft spot for SF, returning for the third time to close out the New Year with one big electronic feels-trip at Bill Graham. // Tickets ($129 and up) can be purchased on ticketmaster.com.
Thievery Corporation
When: 9:30pm
Where: The Masonic, 1101 California St. (Nob Hill), sfmasonic.com
Thievery Corporation is bringing their American electronic music to the Masonic for one energy filled night. // Tickets ($45 and up) are available on concerts1.livenation.com.
All the Eats
A Rooftop Party
When: 8pm to 1am
Where: El Techo, 2516 Mission St. (Mission), eltechosf.com
Hit up one of our favorite rooftops for an epic all-night celebration. Enjoy a four-course feast (think dishes like lobster ceviche and chipotle rubbed prime rib) and with cocktail pairings. End the night with a Champagne toast and views of the city skyline. // Tickets ($175 per person) can be purchased on eventbrite.com.
Italian Eats at The Most-Hyped Resto in the City
When: 5:30pm to 12:30am
Where: Che Fico, 838 Divisadero (NoPa), chefico.com
Cozy up for four-courses from Chef David Nayfeld—antipasti, house-made pasta, wood-fire grilled entrees, and desserts by Chef Angela Pinkerton—before ending the night with a sparkling wine toast. // Tickets ($125) are available by calling 415-416-6959 or sending an email to contact@chefico.com.
Roka Akor Feast
When: 5:30pm to 12am
Where: Roka Akor, 801 Montgomery St. (North Beach), rokaakor.com
Roka Akor keeps it rich with a four-course tasting menu of fine seafood including Shigoku oysters, smoked trout caviar, bluefin tuna sashimi, King crab legs, wagyu filet with grilled bone marrow and warm chocolate cake. End your meal with a Champagne toast at midnight. // Cost is $138 per person with a 2 person minimum.
Send off Stones Throw
When: 5:30pm to 12:30am
Where: Stones Throw, 1896 Hyde Street (Russian Hill), stonesthrowsf.com/
It's officially the last time you can ever eat at Stones Throw (they're closing up shop for good at the end of the year). They'rw ending it all with one epic New Year's Eve blow-out feast for their final night: dishes will include a trio of small bites (a mushroom tartelette, Marin Miyagi oyster, and their delish puffed potato & egg), choice of baked goat cheese or smoked Dungeness crab, squash ravioli with white truffles, choice of Monterey black cod or New York strip loin, and dessert. // Cost is $130 per person and reservations can be made on stonesthrowsf.com.
An Italian Space Odyssey
When: 10pm to 1am
Where: Prairie, 3431 19th St. (Mission), prairiesf.com
Things are getting weird over at Prairie for NYE—they're channeling the vibes of a space colony, complete with a Lady Gaga themed-dance party, a VR lounge with virtual vespa rides through Italy, and an "Apperitivo Space Dock." They'll be hosting an open bar with bubbles and bevvies alongside an Italian Greyhound ice luge, and serving up eats including a neo-Italian antipasti bar with several bites accessible by pushing a button where they then pop out—think a crudo of egg crespelle with caviar, or chilled squid ink spaghettini with uni. Bonus: anyone who dresses up like a character from Lady Gaga's Bad Romance video gets some complimentary wagyu! Say, what?! // Cost is $180 per person, including drinks and food, and are available on OpenTable.
Sneak Peek of Noosh
When: 8:30pm to 1am
Where: Noosh, 2001 Fillmore St. (Pac Heights), 2001fillmore.com/
Not even open yet—Noosh is a hot new restaurant we've had our eye on from chefs with experience at Saison and Mourad. Before they officially open their doors, they're hosting a preview party where guests can try out some of their Eastern Mediterranean-Californian cuisine and cocktails. // Tickets ($95 and up) will include bites, two beverages, and a Champagne toast, and can be purchased on Tock.
Go Big at the Waterfront
When: 6pm to 1am
Where: Epic Steak, 369 The Embarcadero; and Waterbar, 399 The Embarcadero; epicsteak.com, waterbarsf.com
Big on steak or seafood? Two of the waterfront greats, Epic Steak and Waterbar are both hosting two seatings of NYE dinners, ending with a champagne toast and views of the fireworks. // First seating $150/four courses; second seating $225/five courses. Reservations can be made on epicsteak.com and waterbarsf.com.
Moongate Lounge Opening Party
When: 8pm to 1am
Where: Mister Jiu's, 28 Waverly Place (Chinatown), misterjius.com
Another opening we've been waiting on is Moongate Lounge, the swank upstairs bar spin-off of Mister Jiu's. They're kicking things off with a NYE party with an open sparkling rose bar, dim sum, seafood spread of shrimp, caviar, crab and oysters, suckling pig, fried chicken and soft serve. There will also be live music, dancing, and casino games. // Tickets ($150) are available at exploretock.com.
Korean All You Can Eat + Drink
When: 6pm and 9pm seatings
Where: Namu Gaji, 499 Dolores St. (Mission), namusf.com
Go all-in on an all-you-can-eat Korean feast of Devil's Gulch smoked pork, Liberty duck, wagyu brisket, and Galbi short rib among other dishes. // The 6pm seating is $120 and the 9pm seating is $155. Tickets available while they last at namukbbq.brownpapertickets.com.
Indulge at Eight Tables
When: During business hours
Where: Eight Tables, 644 Broadway (Chinatown), eighttables.com
Culinary wonder, Eight Tables, is pulling out the stops for an 11-course tasting menu, complete with rich delicacies like A5 wagyu beef. // Reservations ($325) can be made at eighttables.com.
Pop Bubbles
When: 2pm to 2am
Where: The Riddler, 528 Laguna St. (Hayes Valley), theriddlersf.com
Can you find a more appropriate spot to celebrate the New Year than a Champagne bar? Head to The Riddler to enjoy their wide selection of bubbles, some special magnums, and more options by-the-glass. // Reserve your spot on OpenTable; walk-ins accepted until 11pm.
Foodie Night at Foreign Cinema
When: 5:30pm to 1am
Where: Foreign Cinema, 2534 Mission St. (Mission), foreigncinema.com
Head to Foreign Cinema for a technicolor-themed night, featuring live music, their usual films, a special three-course dinner, and a champagne toast. // Reservations ($130, excluding tax, gratuity and drinks) are available on OpenTable.
Oakland Outings
Laugh it up In Oaktown
When: 10:30pm to 12:30am
Where: Grand Lake Theater, 3200 Grand Ave (Oakland), renaissancerialto.com
Can't stand fancy parties or the clubs? Snag tickets to a special NYE comedy show featuring acts from five performers with a collective resume that spans projects on Netflix, Conan, Funny or Die and Comedy Central. Don't worry, there will still be a countdown at midnight. // Tickets ($35) are available on renaissancerialto.com.
Playtime at Plank
When: 9pm to 1am
Where: Plank, 98 Broadway (Jack London Square), plankoakland.com/
All-night game-a-thon your thing? Game-oriented venue, Plank, will be open for an evening of bocce, bowling and arcade games, with NYE touches like festive party decor, a video DJ, and a champagne toast. // Tickets are $25, which gives guests a $25 game-play card, and can be purchased on eventbrite.com.
Northern California Events
Get Groovy in Yosemite
When: 6:30pm to 1am
Where: Tenaya Lodge at Yosemite, 1122 Highway 41 (Yosemite), tenayalodge.com
Head to Yosemite for a special disco-themed lodge party where things kick off with a reception, followed by dinner and dancing to live boogie-worthy music from The Valley Cats. Count things down at midnight with a balloon drop and champagne. Make a full trip of it and book a few nights at the lodge so you can indulge in a hangover-worthy brunch spread on New Year's Day. // Tickets to the bash are $190 per person and available on tenayalodge.com, or you can purchase special two-night hotel stay packages inclusive of tickets starting at $537 per night and up.
Ring it in at the Ritz
When: 7pm to 1am
Where: The Living Room at Ritz-Carlton Tahoe, 13031 Ritz Carlton Highlands Ct (Truckee), ritzcarlton.com
Time to pop bottles! Head to the Ritz in Tahoe for a special Champagne Bar with a variety of bubbles in their large fireplace lounge space, including Moët & Chandon Ice Impérial, blanc and rosé-- by the glass or by the bottle. Catch live music while sipping away till midnight. // Free to attend, a la carte pricing for beverages.
A Luxurious Dinner in St. Helena
When: 5:30pm till close
Where: Acacia House, Las Alcobas, 1915 Main St. (St. Helena), marriott.com
Top Chef Masters winner, chef Chris Cosentino, is cooking up a four-course meal at his Napa restaurant, Acacia House. Enjoy live music in the living room and expect dishes like Dungeness crab and duck breast along with luxurious add-ons like foie gras and Armagnac prunes, white truffle Taleggio spaghettini, and caviar service. // The dinner is $149 per person, with beverage pairings for $98, plus tax and gratuity. Reservations can be made on opentable.com.
A Black & White Michelin-Starred Affair
When: 7:30pm to 1am
Where: La Toque, 1314 McKinstry St. (Napa), latoque.com
Time to pull out all the stops for an upscale, elegant party up in wine country at Michelin-starred La Toque. For their annual NYE gala, the evening starts with a champagne reception and passed apps on their covered terrace, followed by a six-course dinner, after-dinner drinks, and a dance party at BANK Café & Bar to countdown to midnight. // Tickets ($75-$350) can be purchased on exploretock.com.
Munch at Manresa
When: During dinner hours
Where: Manresa, 320 Village Lane (Los Gatos), manresarestaurant.com
Ring in the new year at a three-Michelin-star restaurant, enjoying one epic tasting menu. // The menu is $325 per person with wine pairings for $245 per person. Reservations can be made on manresarestaurant.com.
Carmel Valley Ranch Festivities
When: Dinner/evening
Where: Carmel Valley Ranch, One Old Ranch Road (Carmel), carmelvalleyranch.com
Head to Carmel Valley Ranch for a delicious dinner. Choose from a la carte options like Morro Bay oysters, caviar, prime NY steak, lobster and more, or head to their family party with a buffet of prime rib and seafood, plus a DJ spinning. // For pricing and info, visit their events website.