As cocktail connoisseurs explore the Bay Area's beverage bounty and continue to reach for the ever-more unconventional libation, local creators of spirits feel the demand for innovation.
Unfortunately for our livers, distillers have risen to the occasion, experimenting with new techniques and ingredients in a never-ending hustle to secure a coveted spot at the bar, where we can't help but order them over some obnoxiously large orb of ice.
---
These days distilleries are putting twists on millennia-old traditions because a GNS (grain neutral spirit) is one thing, but what one does with it before it goes into the bottle is where the real artistry comes into play.
Here are five of our favorite Bay Area craft distilleries pushing the elixir envelope right now. Pay them a visit and collect some spirit-sipping tips and tidbits about the hooch Smitty's been mixing into your fancy cocktails—specifically the ones that take forever to make. So what are you waiting for? We've got lots of drinking, we mean research, to do.
​Hangar 1 Vodka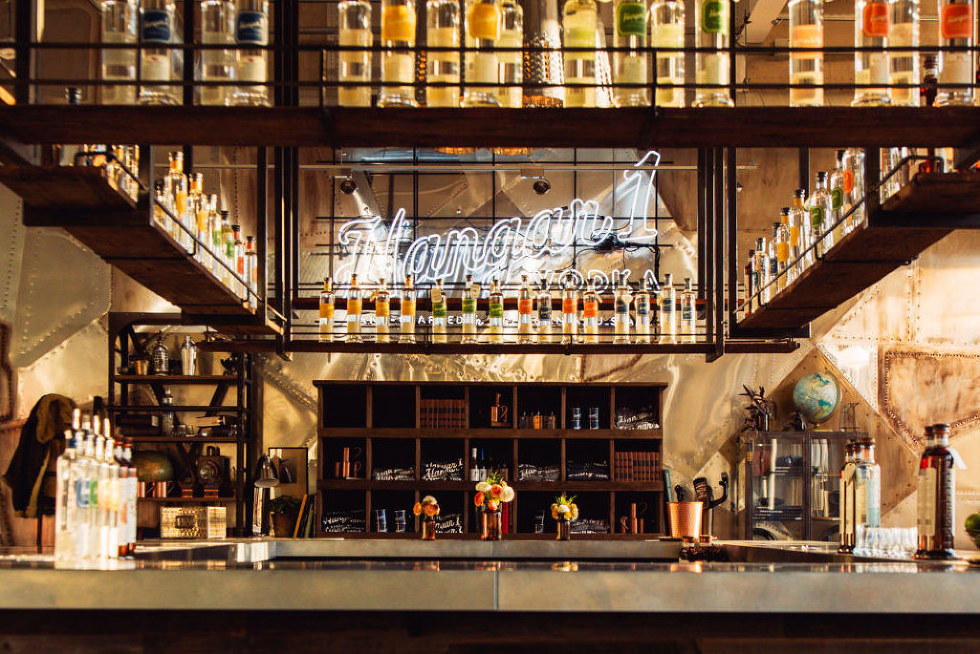 The posh tasting lounge at Hangar 1's aviation-themed Alameda distillery.
(Courtesy of Hangar 1)
Just across the parking lot from St. George Spirits, well-known Hangar 1 produces a wide variety of "straight" and flavored vodkas, including one made in collaboration with Karl the Fog himself. The brainchild of head distiller, Caley Shoemaker, Hangar 1's acclaimed Fog Point Vodka is the first (and only) made using real California fog. Similar to the distilling process where a liquid is turned into a vapor and then back into a liquid, the team at Hangar 1 harvest the fog with a mesh screen and collect the condensation in glass jugs until there's enough to put through the pot still. Using fog water gives the vodka it's own subtle Bay Area terroir, perfect for sipping chilled with a lime wedge or mixed in any classic vodka-based cocktail.
Open afternoons and evenings Thursdays through Sundays, Hangar offers boozy boys and guzzling gals $15 tastings and $23 tours (tasting included), featuring delicious vodkas distilled from grapes and grains instead of the traditional spud used by our Bolshevik brethren. When you do make it to the 60,000 square-foot WWII-era hangar, peruse the distiller's limited-edition bottlings—think pink peppercorn and honeycomb—available only on site. All ingredients are sourced responsibly from local farms, obvi.
// 2505 Monarch Street (Alameda), hangarone.com