Once home to America's most wanted criminals, Alcatraz shut its doors as a federal penitentiary 54 years ago this week. But while its colorful former residents may be long gone, San Francisco is still home to one man who remembers, firsthand, life on the Rock.
At 90 years of age, George DeVincenzi is a neatly dressed, warm, approachable guy—the kind you wouldn't necessarily peg for a correctional officer at one of the country's most notorious prisons. Born and raised in SF, he grew up in North Beach; as a young boy, he sold newspapers and shined shoes down at Fisherman's Wharf.
---
"I used to observe the people putting money in the telescopes to look out at Alcatraz," recalls DeVincenzi, who worked as a guard on the Rock from 1950 to 1958. If you've taken the prison's audio tour, you've likely heard his voice. Or perhaps you've glimpsed him signing copies of his book, Murders on Alcatraz.
Today, DeVincenzi is still watching tourists: He's spent the last 25 years giving tours and talks and fielding questions about his days on the Rock—Is it haunted? And, What was Al Capone like? For the record, DeVincenzi wasn't there during Capone's incarceration, and he does not believe in ghosts. But he has his own stories to tell.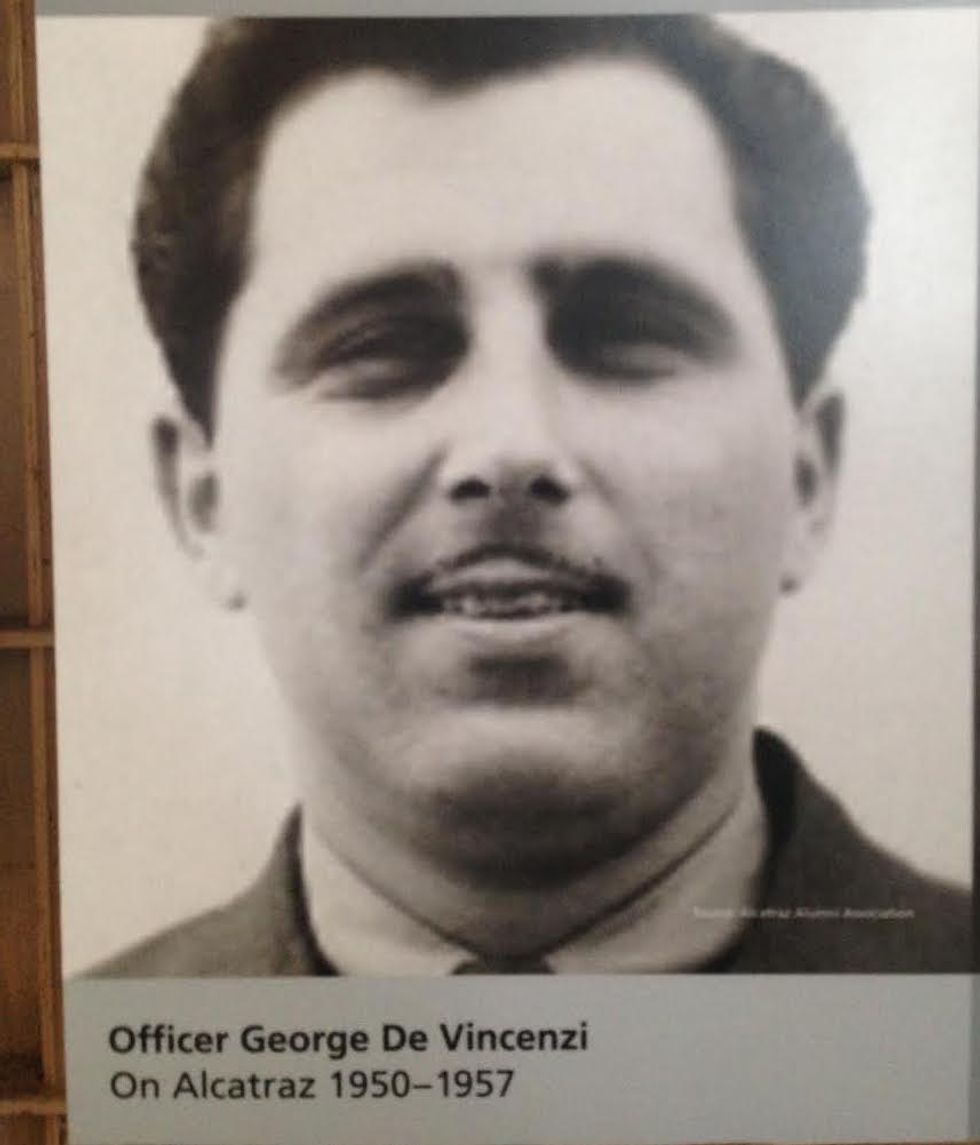 A photo of DeVincenzi at Alcatraz. (The spelling of his name is incorrect on the placard.) (Bridget Veltri)
7x7: Who were some of the more famous criminals incarcerated during your time at Alcatraz?
GD: George "Machine Gun" Kelly, Alvin "Creepy" Karpis, and Robert Stroud, the Birdman of Alcatraz. In my experience, you never had to worry about the famous ones, you had to worry about the ones you never heard of. Stroud was probably the most dangerous inmate during my time there, and I often found myself playing checkers with him.
Umm, how did that come about?
I'm not proud of that because I wasn't suppose to. There was an office in the nearby gun gallery in sight of [Birdman's] cell. If I knew and trusted the guard working, I would play checkers. We would play very early in the morning when it was quiet. It was a way of killing time, to eliminate the boredom that came from working that midnight to 8am shift.
Are you good at checkers?
No, I don't think I ever beat him.
Who were the prisoners you hadn't heard of?
One of them was Billy Cook, who killed an entire family and their dog and then dumped the bodies in a mine shaft. I wrote a chapter on him in my book.
Any lasting memories?
My first day on Alcatraz, they put me in the barbershop with nine inmates. Within 10 minutes, I witnessed a murder, on my first day, during my first assignment, my first hour there. Welcome to Alcatraz. I got a cut on my leg that was 10 inches long because I was trying to separate [the inmates] like a damn fool.
What was your relationship like with the inmates?
Some inmates you could talk to, they would have a civil conversation with you about the 49ers winning and whatnot. Others were antisocial and against anything resembling law enforcement. These inmates resented the uniform, and us, I understood that. But all we wanted to do was get in our eight hours and get out of there.
What was the most difficult part of your job?
Combating complete boredom. If you were working in the gun galleries and the towers, once you were locked in, you had to stay put for the next eight hours.
What was your preferred post on Alcatraz?
The yard wall or the hospital-treatment unit. From dental and doctor appointments to force-feeding inmates who refused to eat, there was always something going on at the hospital.