With storybook architecture, perennial morning mist, and more fireplaces per capita than anywhere on the planet (or so it would seem), the Monterey Peninsula is one of Northern California's most charming escapes. Here's where to eat and shop in style—and where cozy up in a plush bed come nightfall.
---
EAT + DRINK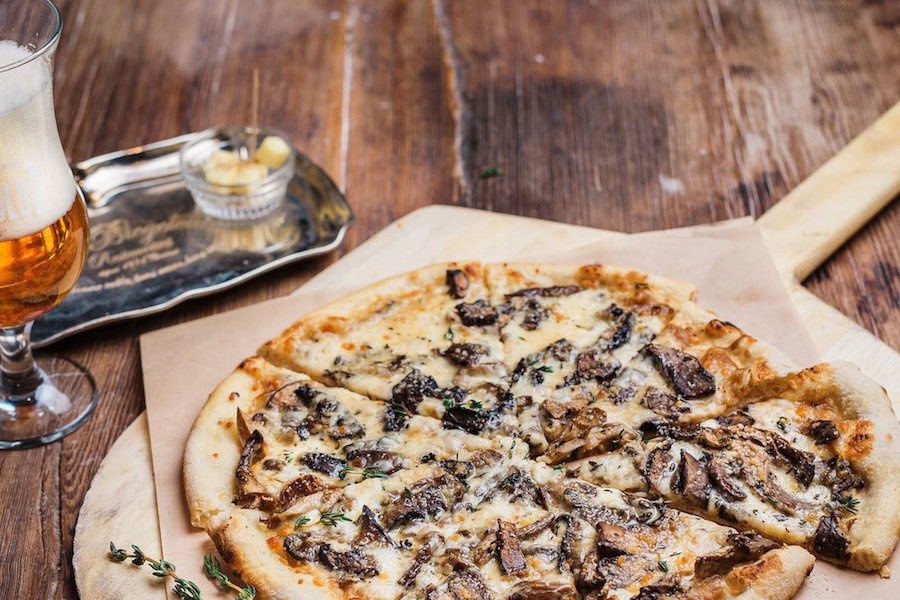 A wood-fired pizza at La Bicyclette.
(Courtesy of the restaurant)
San Francisco food snobs will feel right at home here, with plenty of options for chef-driven fare, craft beer, and local wine tastings.
In Monterey: Restaurant 1833 (500 Hartnell St.) housed in a romantic Spanish Colonial–style home known as Stokes Adobe (it's supposedly haunted), is an enchanting restaurant with Clue-like rooms, a full bar, and an outdoor patio whose magnificent old oak tree casts shadows from the glow of stone fire pits. // Downtown's Alvarado Street Brewery (426 Alvarado St.) furthers the area's burgeoning craft beer scene (see also Peter B's and Cannery Row Brewing Company) with 20 rotating taps including at least a half a dozon of their own beers brewed on-site. Enjoy them in the handsome, repurposed theater space, or outside in the beer garden.
In Carmel: Oversized plates of traditional breakfasts are served in cozy cafes throughout Carmel-by-the-Sea. For a more a refined take, head to Carmel Belle (at Doud Craft Studios, San Carlos St. between Ocean Ave. & 7th Ave, Carmel-by-the-Sea), an open farm-chic space that sports the town's only organic juice bar. // For an epic Mediterranean-style lunch—think too many bottles of French whites to be paired with French- and Italian-inflected fare, make a reservation at Casanova (5th Ave. between Mission and San Carlos, Carmel-by-the-Sea). Settle in on the too-charming patio and order the kale-ricotta cannelloni. // For Casanova quality on a budget, La Bicyclette (Dolores at 7th Ave., Carmel-by-the-Sea) delivers three rustic-yet-gorgeous meals a day. Wander in for a bohemian breakfast, wood-fired pizzas, soups, and salads. // Up for something more festive? Homemade chips and salsa await at the recently revamped Pescadero Mexican Restaurant (San Carlos St. between Ocean Ave. and 7th Ave., Carmel-by-the-Sea). Wait for your table at next-door Barmel, anchored by a monumental Victorian bar, owned by Sausalito's late madam-turned-mayor Sally Stanford. // In such a quirky little town, Cultura (Dolores St. between 5th and 6th Ave., Carmel-by-the-Sea) still manages to stand out—not just with its outdoor fire pits and Salsa Sundays, but with a totally unique Oaxacan-inspired menu that ranges from $2 tacos to $45 abalone. Don't miss the traditional chapulines. // If it's cold in town, hop in the car and head to the valley where there's almost always sun on the quaint patio at Corkscrew Cafe (55 W. Carmel Valley Rd., Carmel). Oysters, crudite, pizzas, charcuterie—what's not to like? // After breakfast or lunch at Corkscrew, mosey next door for a tasting and take home a bottle of rosé from the restaurant's own wine label, Georis (1 Pilot Rd., Carmel). // Tucked in a courtyard back in the village, Alexander Smith (Court of the Golden Bough, Ocean Ave. between Lincoln & Monte Verde St., Carmel)-by-the-Sea) pours estate wines from its eponymous and Paraiso labels. Their solar-powered ranch in the Santa Lucia Highlands produces good examples of the region's pinot noir as well as less common varietals like their popular riesling.
EXPLORE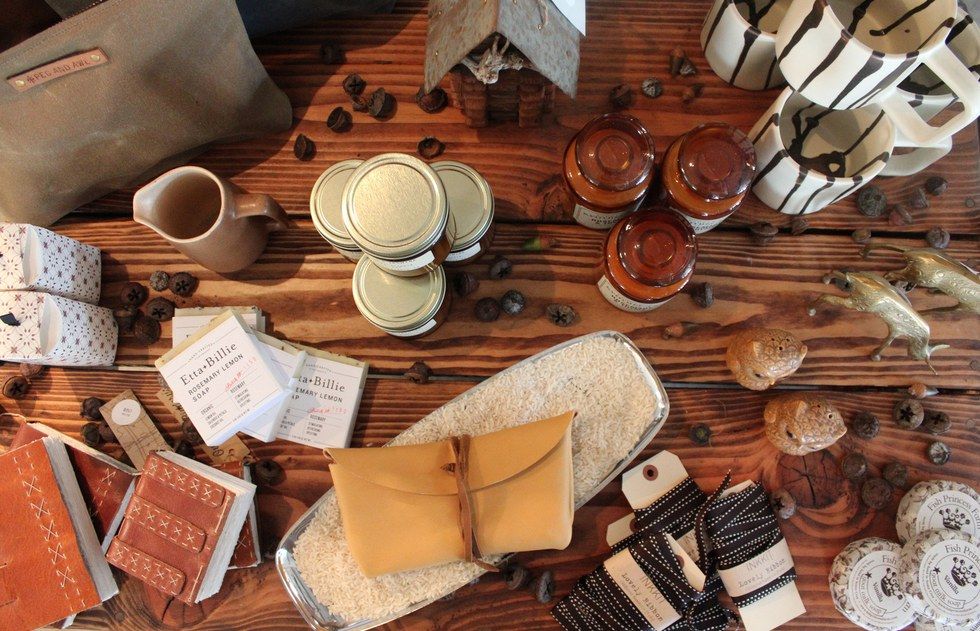 In Monterey, Lilify stocks bohemian finds for your home, closet, and medicine cabinet.
(Courtesy of creativebusinessleague.com)
Unless you're taking the kiddos and heading to the Cannery, the Monterey Peninsula lends itself best to discovery. In other words, wander Carmel Beach, peruse the galleries, stop in here and there. If you must have an itinerary, here are a few of our favorite stops.
Nature: Even if you're from the Bay Area, the scenery here is captivating. No trip is complete without a winding tour of 17-Mile Drive (Pebble Beach)—ready your iPhones for photo opps of the Lone Cypress and the beach at Spanish Bay. // Hikers won't want to miss Point Lobos (Carmel), a natural reserve where you're guaranteed an up-close view of the local wildlife, including dolphins, sea lions and more. // Cooler than it sounds, Monterey's Secret Gardens (525 Polk St., Monterey) are home to the Cooper-Molera Adobe, which hides fruit trees, cacti, and grape vines. Save time to browse the gift shop at Custom House that's stocked with cool heritage goods and jam made from garden fruit. // See the queen of all butterflies feed and rest at The Monarch Sanctuary (November to February, 250 Ridge Rd., Pacific Grove), one of the biggest overwintering sites for the species in the country. Early afternoon is your best bet to catch the stunning creatures in flight and clustering around.
See: Pebble Beach may be most famous for its magnificent golf courses with ritzy fees, but the annual Concours d'Elegance (Aug. 15-20, 2017) is like The Masters of the car world. Roll up to ogle fine classic and rare automobiles, check out the auctions, and drink Champagne amongst car lovers. Concurrently, Monterey Car Week (Aug. 11-20, 2017) revs up with races at Mazda Raceway Laguna Seca and also hosts specialty car shows and auctions. // Carmel loves its antiquated laws, and so do we. Take your Pradas over to City Hall (Monte Verde St., Carmel-by-the-Sea)—whose groovy signage is more '60s movie title than municipality—and get a permit for heels in excess of two inches. Once legal to strut the town's dimly lit cobblestone streets, feel free to openly enjoy an ice cream, which was legalized in 1987.
Art + Shop: Please, by all means, skip the Thomas Kinkade art cottage and seek out some real art. Weston Gallery (6th Ave. between Dolores and Lincoln, Carmel-by-the-Sea) is one of the country's oldest spaces dedicated to photography; you'll find plenty of works by Ansel Adams, of course. // For more contemporary fare, check out rock-and-roll photography and more at Gallery Exposed (San Carlos between Ocean and 7th Ave., Carmel-by-the-Sea). // For artful finds including ceramics, handmade jewelry and home decor, Lilify (281 Lighthouse Ave., Monterey) is awash in the soothing earth tones and vintage finds—plus, you can have a latte on the succulent-filled patio. // While Carmel is more about art glass than avant-garde fashions, there are a pair of boutiques here worthy of your hard-earned cash: In Carmel-by-the-Sea, style mavens should be ready to shell out for designer labels at sister shops Paloosh (100 Dolores St.) and Girl Boy Girl (Mission and 7th Ave.).
STAY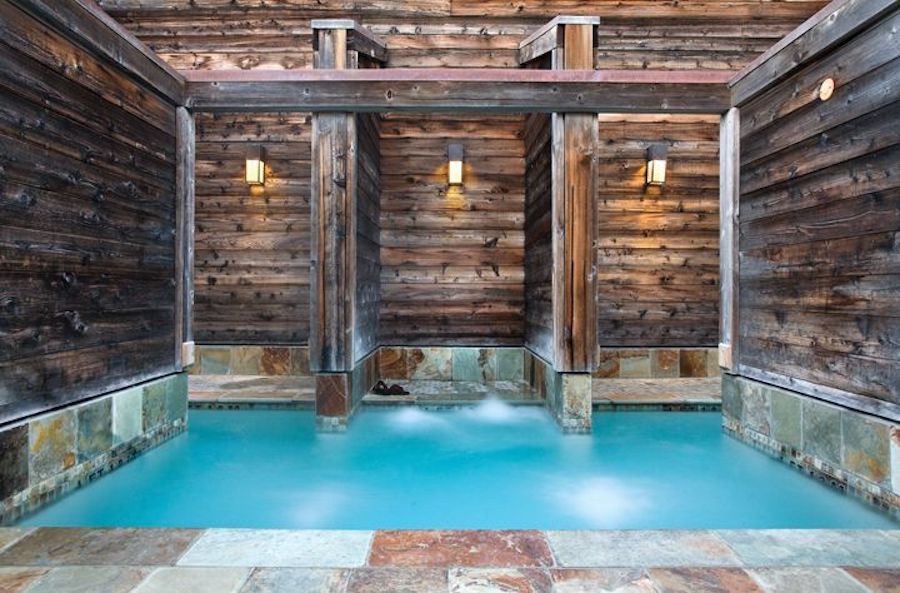 The spa at Ventana Big Sur.
(Courtesy of Ventana)
Next to its vistas, the best thing about the Monterey Peninsula may be its hotels—whether rustic or all-out luxurious, there's no skimping on charm.
In Carmel-by-the-Sea and Pebble Beach: The 1920s Spanish-Moroccan style Cypress Inn (Lincoln Street & 7th Ave., Carmel-by-the-Sea) is famously co-owned by Doris Day as well as dog-friendly. The lantern-lit bar shows the actress' old films, a ridiculously cozy living room is warmed by a roaring fireplace, and an artwork by Thierry Guetta (aka Mr. Brainwash) dominated the courtyard. Popular for pet-owners come weekend brunch. // Follow the cypress tree-lined 17-Mile Drive to The Inn at Spanish Bay (2700 17-Mile Dr., Pebble Beach), a luxuriously relaxed golf resort that awaits with sunset drinks around blazing fire pits overlooking the Monterey Bay. Cuddle up in a fleece blankets and sip a hot toddy as the bagpiper plays on.
In Monterey: There's nothing like being feeling the tide beneath your feet—or your room, for that matter. Perched right over the ocean, Monterey Plaza Hotel (400 Cannery Row, Monterey) is all about relaxing to the sound of the waves. Make an appointment at the newly renovated spa, where rooftop whirlpool tubs overlook the sea.
In Big Sur: Perched on the coastal cliffs on the way to Big Sur, Hyatt Carmel Highlands (120 Highland Dr, Carmel) is a gorgeous property with cavernous jacuzzi bath tubs, nightcaps on the patio, and oh-so-comfy beds. // Among our favorite stays anywhere, Ventana Big Sur (48123 Highway 1, Big Sur) is set to unveil a major renovation in Fall 2017, having been acquired by Alila Hotels. Planted with lavender, towering redwoods, and many other wild things, the property is set to open refreshed guest rooms and suites, a new Glass House gallery showcasing California artists, and 15 safari-style canvas glamping tents along with a bathhouse with teak showers and heated floors. Don't mind if we do.
In Carmel Valley: If you don't mind the after-wining-and-dining drive from town, a stay in the valley is worth the peaceful night's sleep and sunny mornings. The four-star Bernardus Lodge (415 W. Carmel Valley Rd., Carmel) is a cozy place to hole up—we love a glass of Champagne and a friendly game of croquet on the lawn in the afternoon. // Carmel Valley Ranch (One Old Ranch Rd., Carmel), with its multi-bedroom suites, s'mores by the pool, equestrian programs, and plenty of acreage for hikes, is a terrific spot for families (and for couples with a playful spirit). // Grownups looking to hide out can do so happily at Quail Lodge & Golf Club (8205 Valley Greens Dr., Carmel), on a historic 850-acre ranch. Sporting types can hit balls on the 18-hole championship golf course or try a Land Rover driving class, while those less inclined may enjoy farm-to-table fare in one of three restaurants or peaceful walks around the sprawling property.