Ridiculous views are just one perk of wine tasting atop Napa Valley's iconic mountain appellations. These wineries promise big, complex wines that benefit from volcanic and sedimentary soils, elevation, and extra vitamin D—and many of them get better with age. Just plan ahead, as all of these tastings are by appointment. (Hint: No crowds.)
---
Spring Mountain District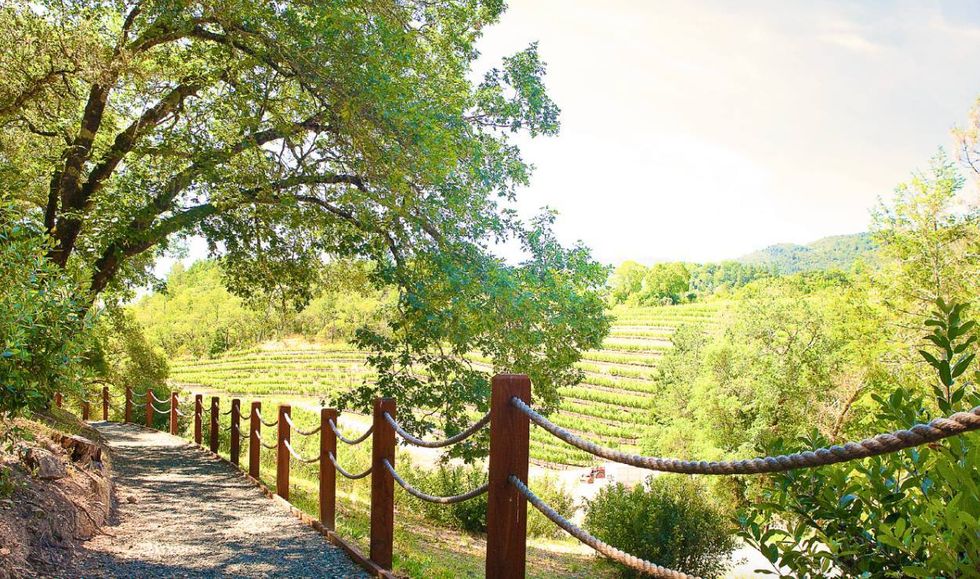 (Courtesy of Fantesca)
Across the valley from Howell Mountain, Spring Mountain watches over the west side of St. Helena, where temps are much less variable and vines face a challenge in the rocky, infertile soil. Like Mt. Veeder, Spring Mountain wines are often fruit forward, but feature much softer, luscious tannins for easier sipping.
Depending on the weather, you can taste the portfolio of wines at Barnett Vineyards (4070 Spring Mountain Rd., St. Helena) in a candle-lit corner of the cave or above the fog on their top-of-the-world lookout over Napa Valley. If you're not traditionally a merlot fan, their Spring Mountain production might just change your mind.

Fantesca (2920 Spring Mountain Rd., St. Helena) focuses on curating incredible, luxury experiences for its wine club members, but newbies can still get a taste of the good life. Sample wine from renowned winemaker Heidi Barrett in the working cave, and take a stroll along a romantic hillside path that presents interminable vineyard views.
Spring Mountain's newest tasting room, Lokoya Winery (3787 Spring Mountain Rd., St. Helena), is a gorgeous, Gothic-style stone fortress with cathedral windows and cozy fireplaces. Terroir tastings compare single-vineyard cabernet sauvignon sourced from all four Napa Valley mountain appellations.
It's a long, windy, and somewhat precarious drive up to Cain (3800 Langtry Rd., St. Helena), but you'll be rewarded with 360-degree sloping vineyard views and, of course, wine. Splurge for the educational vineyard walk and you'll work up even more appreciation for the three glasses of vino that follow, including the Cain Cuvee, an unconventional red blend of juice from multiple vineyards and two back-to-back vintages.
We suggest booking the Summit Experience at Pride Mountain Vineyards (3000 Summit Trail, Santa Rosa)—or Summit Ranch, as it's known by the locals—for a private, behind-the-scenes tour and intimate tasting in the fully-furnished cave. You can even bring a picnic lunch to enjoy afterwards among the ruins of the property's original winery, built in 1890 and destroyed by fire during prohibition.