From the eighth floor of Nob Hill's historic Brocklebank building, ModaVive founder and CEO Layne Gray has a three-bridge view: the Golden Gate, Bay, and Richmond spans are all framed nicely in a sequence of east-facing windows, which stretch from the living room to the kitchen. Just the kind of jaw-dropping vista you'd expect from an apartment that once housed screen siren Michelle Pfeiffer, who presumably wouldn't settle for just any old panorama.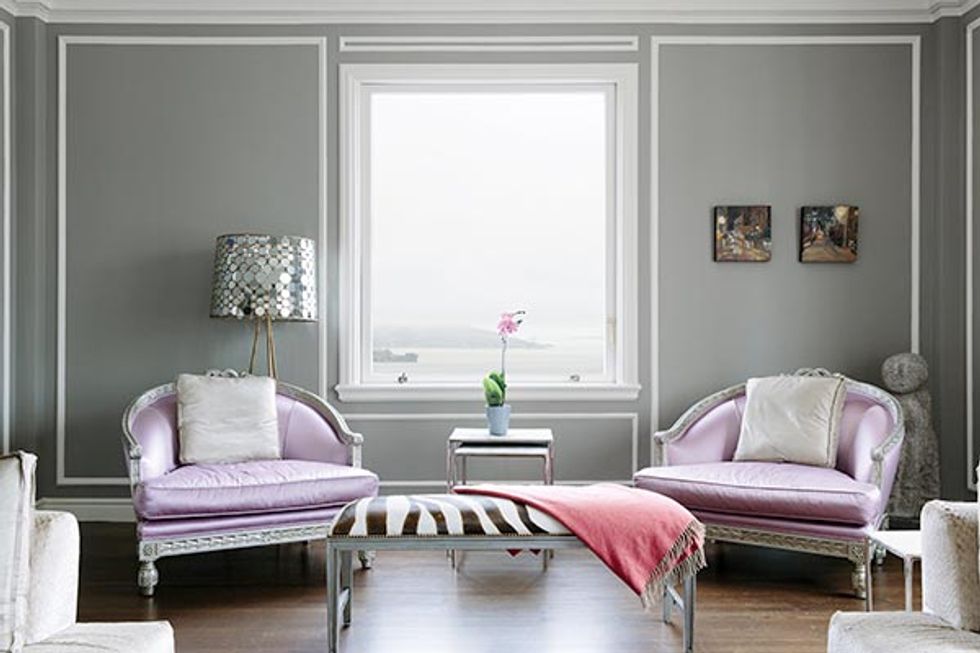 No one has ever accused Gray of being afraid of bright colors. These reupholstered Nancy Corzine chairs came out a shade brighter than anticipated, but "add a few pillows, set them next to a zebra print table, and dress up the space with even brighter purple, and they'll blend right in," says Gray.

For the past year, Gray—whose company partners with such charities as BuildOn and Girl Up to raise money by selling gently used designer threads and accessories—has lived here with her three rambunctious pugs. The former Russian Hill resident spotted the 2,400-square-foot unit on Craigslist when she was looking for a building that would provide a sense of community, and neighbors who would gladly pick up dog-walking duties in a pinch, that could make life easier for a busy start-up impressario. Gray, whose design leanings skew, she says, eclectic, was smitten by the apartment's vast windows and open floor plan. She wasted no time in transforming Pfeiffer's pied-à-terre (which, Gray claims, was filled with air purifiers) into an elegant, and decidedly feminine, abode. It's perfect for entertaining. "I've always wanted to live at Brocklebank. There's a real party scene here," says Gray.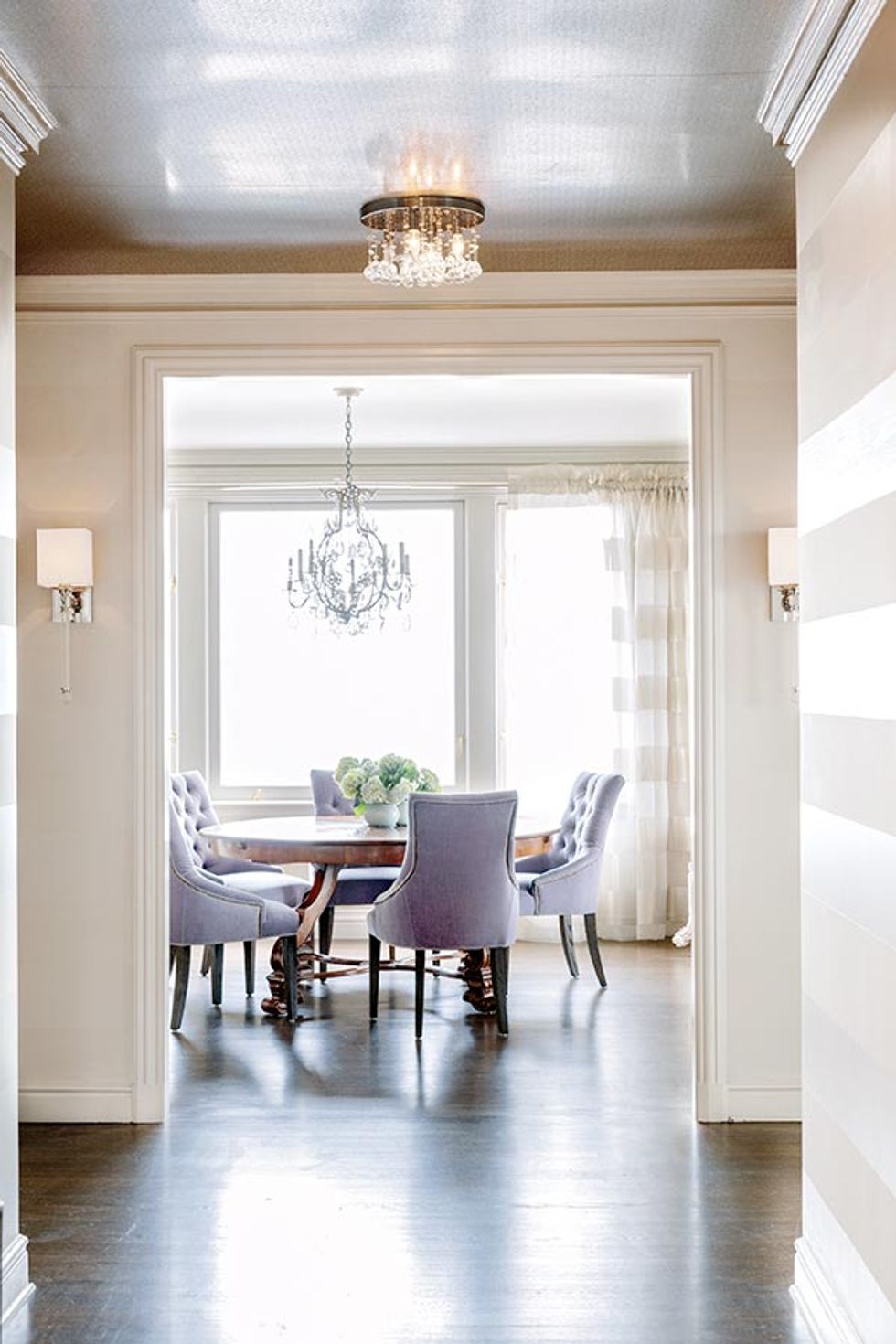 Velvet tufted Restoration Hardware chairs flank a custom wanut table from Lx Rossi, while a crystal chandelier from Shears and Window dazzles above. The table cranks open to make room for Gray's numerous party guests.
It's only appropriate then that her walnut Lx Rossi dining room table expands to seat 12 and is regally flanked by high-backed velvet chairs from Restoration Hardware. Her weekly wine club posts up on custom velvet barstools, sourced through Anthem, while they sip new vintages and snack on the hostess' homemade hors d'oeuvres.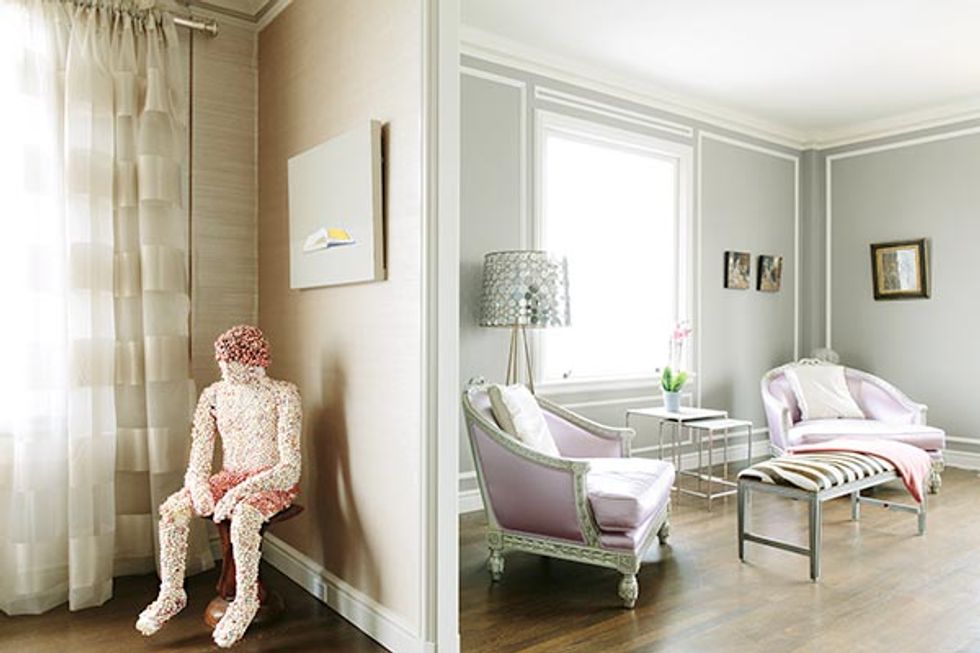 The ceramic sculpture sitting in the corner of Gray's dining room—an interpretation of the boy featured in Georges Seurat's Bathers at Asnières—has been known to scare unsuspecting guests who wander the halls. A closer look reveals where her pugs have taken to chewing on his toes.
Gray's art collection ranges from a 16th-century leather engraving depicting a violent assault scene to a Patrick Hughes original 3-D painting above the mantel to a Seurat-inspired ceramic sculpture of a seated man by SF Art Institute alum Angel Cho. While Pfeiffer preferred the crisp look of ivory, Gray's favorite hue is purple. From Nancy Corzine come Victorian lounge chairs upholstered in lilac, and the modern lavender sofas are from B&B Italia. A large silver Venetian-inspired mirror from Ironies in Berkeley and crystal chandeliers sourced from Overstock.com throw light everywhere, keeping the space pretty and radiant. In the hallway, a modern stripe treatment of alternating matte and glossy taupe paint has an illusory effect, making the hallway appear longer.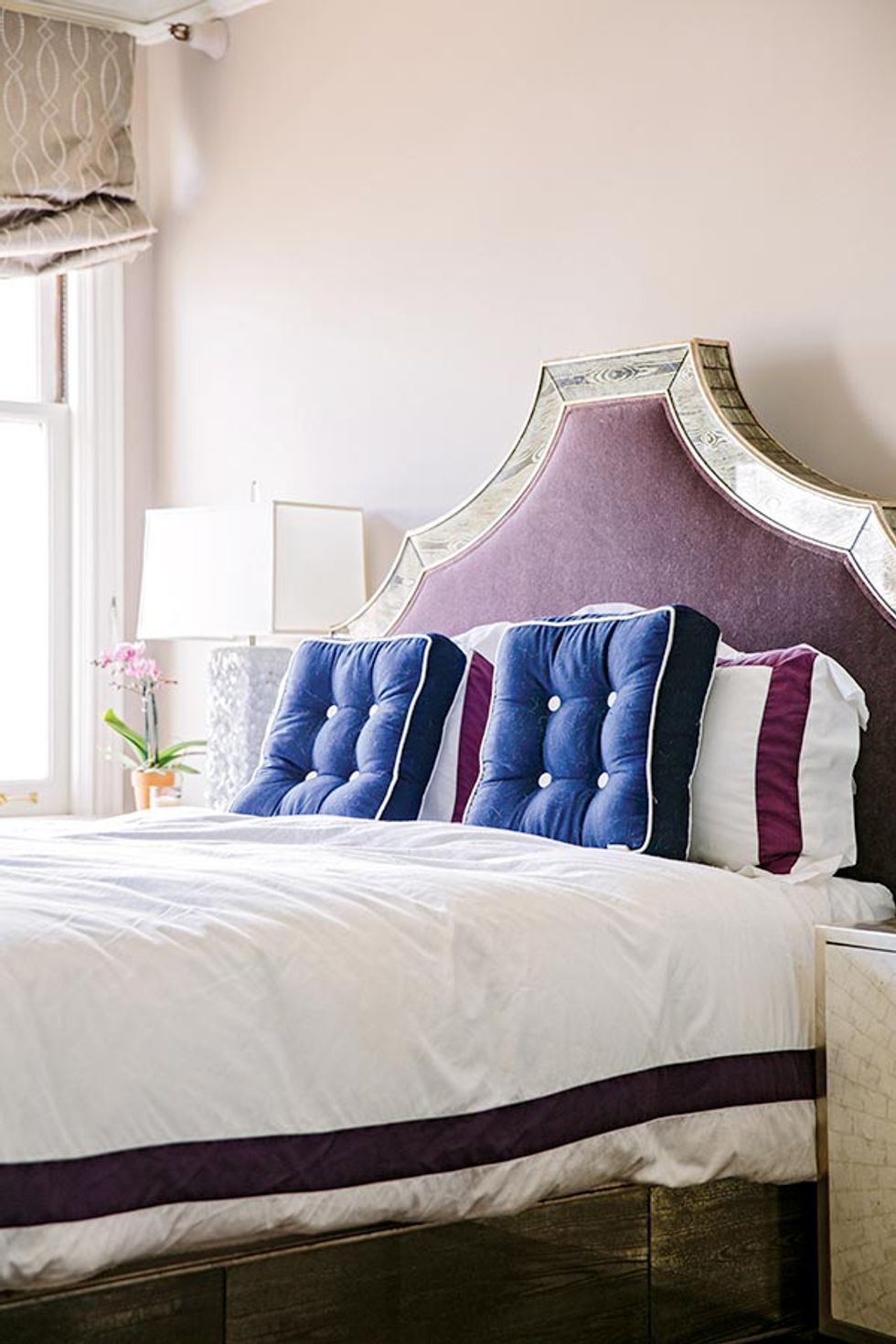 A view of Coit Tower, the Bay Bridge, and the Transamerica Building from the one-of-a-kind Ironies bed is enough to make any woman feel like a movie star. "I always feel I should be wearing a smoking jacket or pom-pom adorned high heels when I turn in," says Gray.
Despite the home's Hollywood pedigree, Gray isn't worried about being compared to Pfeiffer. Because surely no movie-industry A-lister would bother turning a mere architectural nook into a full-size master bedroom, which is what Gray did with an alcove that Pfeiffer apparently used as an office. Gray simply wanted to see the best view possible upon waking. "Now Coit Tower greets me when I get out of bed in the morning."
---
This article was published in 7x7's December/January 2014 issue. Click here to subscribe.