Big in Japan. It's a distinctly American turn of phrase, meant to convey the oddball popularity of some American celebrity or other cultural export among Japanese people. But in Japan, one could argue that a similar phrase, big in America, is gaining traction. Japan loves America, America loves Japan.
Goldwin is one of those rare brands that's big in Japan and big in America—or, at least, that's where Goldwin is headed. The brand's first-ever U.S. flagship store just opened its doors in San Francisco's Jackson Square and, more than ever before, Americans have access to the brand's coveted premium sportswear, including supremely technical ski jackets, minimalist lifestyle clothing, and performance athletic apparel.
---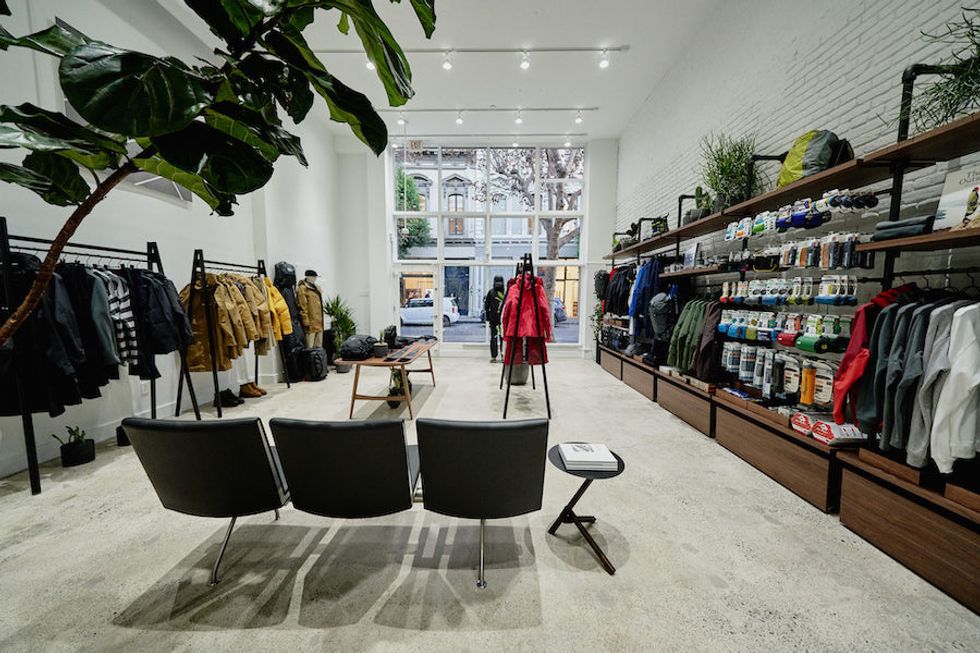 (Courtesy of Goldwin)
SF was an obvious choice for Goldwin's first U.S. store. It's a city known for both its relentless dedication to technological innovation and its passion for the outdoors. It seems like everyone you meet here is a skier, biker, runner, surfer, or climber—and sometimes all five at once. Goldwin embodies the same characteristics that make the Bay Area great.

Goldwin was founded in 1950, making it older than The North Face, Patagonia, and many of U.S.'s most recognized outdoor brands, and for the past 70 years, the company has been pushing the boundaries of fabric technologies. They continue to develop outfits for Olympic teams, freeride athletes, nordic skiers, and more. But while Goldwin has an obsession for advanced technical apparel, every product is designed meticulously (this is Japanese design, after all) to be as comfortable and stylish as possible without sacrificing performance.
The bottom line: Goldwin makes sportswear and lifestyle apparel for those who accept nothing but the best. Whether it's a ski jacket or a pair of tapered chinos, each Goldwin product is designed with an obsessive attention to detail,and uses some of the finest performance materials in existence.
Check out Goldwin's new store to see why the brand is big in Japan, and about to be big in America.
// 444 Jackson St. (Jackson Square), goldwin-sports.com, @goldwin_sanfrancisco