Foodies and beer lovers come together in that magical place called the craft brewpub, and now there's a new mecca in town: This Thursday, the old Valencia Street location of Abbot's Cellar hops again with the opening of Brasserie Saint James.
---
A gold medal winner at the 2014 Great American Beer Festival (GABF), the Reno-based brasserie, known for its old world style ales and lagers and their rustic culinary accompaniments, arrives in San Francisco this week with its lineup of craft brews and a mashup of global snacks. Founder Art Farley is bringing his longtime chef Don Duncan to GM the place, along with local beer director Sayre Piotrkowski.
There's nothing in the fermentation tanks yet, but local brewheads can get excited for SF special edition beers including California Steamin'—cask-conditioned to resemble the San Francisco steam beers of 100 years ago—and Saision of the Witch, a lower ABV beer with an abundant Brettanomyces character.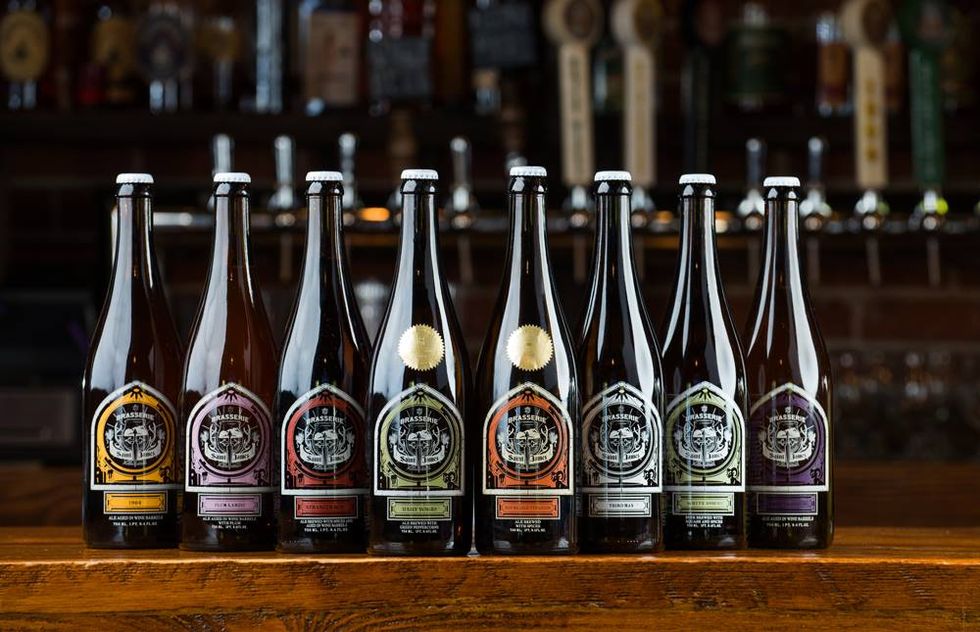 (The offifical lineup. Photo: Fielding Photography)
Craftsmanship will be key to the experience here, but Piotrkowski says he and Farley share a philosophy that revolves around service. "The brewer's job isn't over until the customer's glass is empty," he says. "There's no shortage of spots on the Valencia corridor where you can experience the work product of someone who's among the best in the world—whether that product is bread, pastry, cocktails, or chocolate. We will add the humble wisdom that the craftsman's excellence is just one piece of the puzzle."
He goes on to say that Brasserie Saint James will be a super relaxed place to hang out, drink from 24 beers on tap as well as cocktails, and refuel on food that runs the international gamut from European-style cuisine to Buenos Aires barbecue, New Orleans dishes, and raw bar offerings. Once the first locally brewed beers are ready, Farley will host a meet-the-brewer session. 
When asked what SF beer drinkers should really know about Brasserie Saint James, Piotrkowski isn't shy: "This is the best saison brewer on the West Coast. Brasserie Saint James was only two years old when it won GABF for Best Mid-Size Brewpub in the country. Josh, the head brewer, was still in his 20s. No BS, this is a world-class brewery that now has the ability to present its beers brewery-fresh on Valencia Street. That is a big fucking deal!"
 //  Brasserie Saint James, 742 Valencia St. (Mission), brasseriesaintjames.com