Chef Tanya Holland jazzed up West Oakland with her nouveau soul food diner Brown Sugar Kitchen. Now she's doing it again with B-Side BBQ, her version of an old-school barbecue joint. Here, Holland gives us a tour of her ideal day in Oakland, complete with three square meals, shopping, and snacks.
---
Coffee and Pastry: La Farine
Seats are limited at this European-style boulangerie and patisserie where neighbors stop in for a daily baguette or pastries to go. Holland, who spent time cooking in the south of France, swears by La Farine's pain au chocolat, called a chocolatine: "It flakes apart, as opposed to being an overworked, rubbery dough," she says, adding that there is just the right amount of good bittersweet chocolate. The College Avenue location is her favorite. 
// Multiple locations

Lunch: Southie
Holland keeps coming back to this postage stamp of a sandwich shop, where rock music blares from the open kitchen, with just one thing on her mind: pulled pork on an Acme kaiser roll with vinegar instead of barbecue sauce. "I always say I'm going to try one of the other sandwiches," she says. "But I always get the Spicy Hog." At night, Southie does small plates and wines on tap. // Rockridge

Cruisin': Manifesto Bicycles
Stylish cycling is having a moment, but Holland, along with her husband, is a longtime bike nerd (she used to race in college). In Temescal, Manifesto is her go-to. The shop has all the components needed for outfitting your bike in your own personal aesthetic. In addition to stocking rebuilt fixies and commuter bikes, Manifesto carries beautiful leather saddles from Brooks England, locally made bags and accessories, and even a handcrafted stainless steel flask holder. // Temescal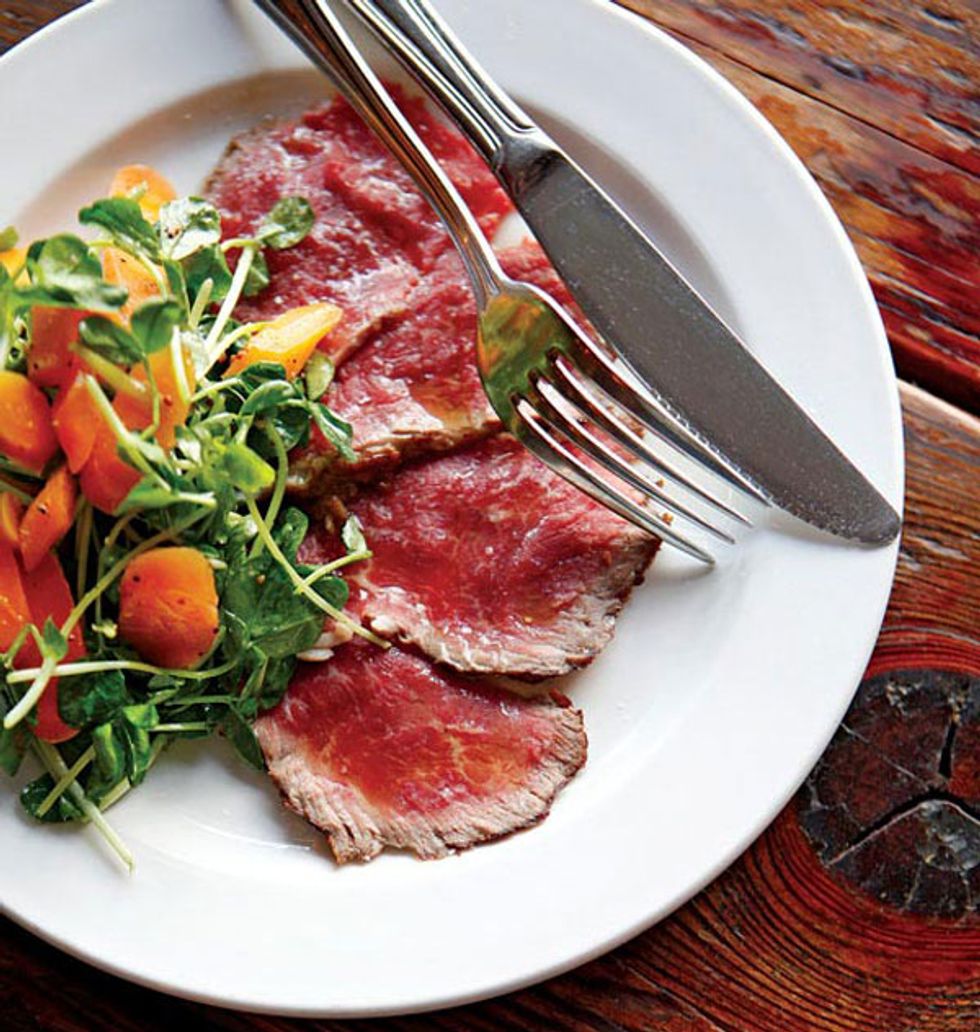 Chop Bar
Art Lesson: Joyce Gordon Gallery
This downtown gallery and event space celebrates cultural diversity, zeroing in on multidisciplinary African American artworks, including abstract and representational paintings, photography, and mixed media. No matter what's on display, first Fridays draw a smart, interesting set of art lovers like Holland, who keeps a running list of artists she'd like to collect (budget permitting), like JoeSam and his vibrant paintings. "Joyce has been in the community for a long time," Holland says of the gallery's owner. "And she's got great silver hair." Downtown

Afternoon Snack: Scream Sorbet
Sorbet says goodbye to its ho-hum rep at Scream, where bold flavors, often combining fruits and vegetables rarely found at the ice cream parlor, are de rigueur—think white guava, almond pink peppercorn, and kabocha chocolate (as in kabocha squash). It's hard to believe Scream's creamy scoops are dairy-free. The secret is in the Pacojet, a high-tech contraption favored among molecular gastronomists for its ability to blend frozen things rapidly for fewer ice crystals. Scream often plays around with seasonal produce, but Holland's favorite flavor is the perennial hazelnut chocolate: 
"If I'm running an errand, I'll drop in and get a scoop."
// Temescal

French Linens and Things: Maison d'Etre
Holland jokes that she feels like a bull in a china shop at her favorite antique and eclectic housewares store in Rockridge. It's crammed with things you don't need but will instantly want, such as Tissage Moutet's patterned French tea towels, vintage chandeliers, and old enameled letters for hanging on the wall. The selection of cookbooks, kitchen gadgets, children's items, and one-of-a-kind tchotchkes—reclining plaster mermaid, anyone?—make Maison d'Etre a no-brainer for last minute gifts. // Rockridge

Dinner: Chop Bar
Thanks to her chef's schedule, Holland typically eats dinner around 3 p.m.—between the brunch shift at Brown Sugar Kitchen and the dinner shift at B-Side. Since Chop Bar is open all day, Holland is a regular, often ordering from the happy-hour menu. The burger, she says, is "the best in town." It comes with avocado and bacon as a matter of course. Wines are a good value, with plenty on-tap and by-the-glass options. // Jack London Square

This article was published in 7x7's July/August issue. Click here to subscribe.