One hour of extra air time past San Diego brings you across the Tropic of Cancer to Cabo San Lucas, where the ocean is a good 10 to 15 degrees warmer than SoCal's coast, the water clear enough to count your toes, and the sunset so breathtaking it melts your cares away. Well, that and the margarita you're sipping.
---
Make no mistake. This is the land of free condo-tour breakfasts, gigantic strip malls where Americans and Canadians can hit Wal-Mart, Costco, and Home Depot in one fell swoop, and middle-aged Midwesterners waiting in line at Cabo Wabo to spot Sammy Hagar, visions of Van Halen dancing in their heads.
But don't let any of that deter you from the essence of Cabo. Below the touristy surface, it's a typical Mexican town with its own rickety charm and stop-motion concept of time. Its location, perched at the southernmost point of the Baja peninsula where the Pacific Ocean meets the Sea of Cortez, is nothing short of epic. This is what travelers come for, and it doesn't disappoint. Look out past the string of iconic rock formations, known as Land's End, trailing off into the sea, and you can just about sense the soul-expanding fact that the next terra firma you'd encounter, should you decide to set sail, would be the Galapagos Islands off of South America.
It's hard to believe that this tropical paradise is fewer than three hours away by air from SF, making it more than doable for an idyllic long weekend. You'll land in San Jose del Cabo, about 45 minutes from Cabo San Lucas. Make sure to reserve a Cape Travel airport shuttle to your hotel for less than $20 beforehand (624-146-5393, cape-travel.com), and avoid a cab, as the ride will cost you a cool hundred. But once in Cabo, cabs are easy and cheap. The central area surrounding the marina is also quite walkable, especially in winter when daytime temperatures hover in the very comfortable 70s.
STAY

On the Pacific side, book the Grand Solmar Land's End (Avenida Playa Grande No. 1, 800-344-3349, grandsolmarresort.com). The sand-colored, minimalist resort seems to crop straight out of Land's End. The new suites feel like small luxury apartments with full kitchens and private terraces overlooking the ocean. There's DSL in each room and free WiFi in the grand, open-air lobby—but you didn't come here to check email. You came to lie out by the infinity pool and head to the sushi bar. The hotel fronts Playa Solmar, where eight-foot waves and a strong riptide keep the beach free of crowds. On the other side of Land's End, the much gentler Sea of Cortez laps up to the white sand in front of Hacienda Beach Club and Residences (Calle Gomez Farias SN, 866-300-0084, haciendacabosanlucas.com). The suites share many of Solmar's luxury amenities, but the design is more Mediterranean, with terra cotta colors and tile roofs. The hotel stands on Médano Beach, Cabo's main swimming beach.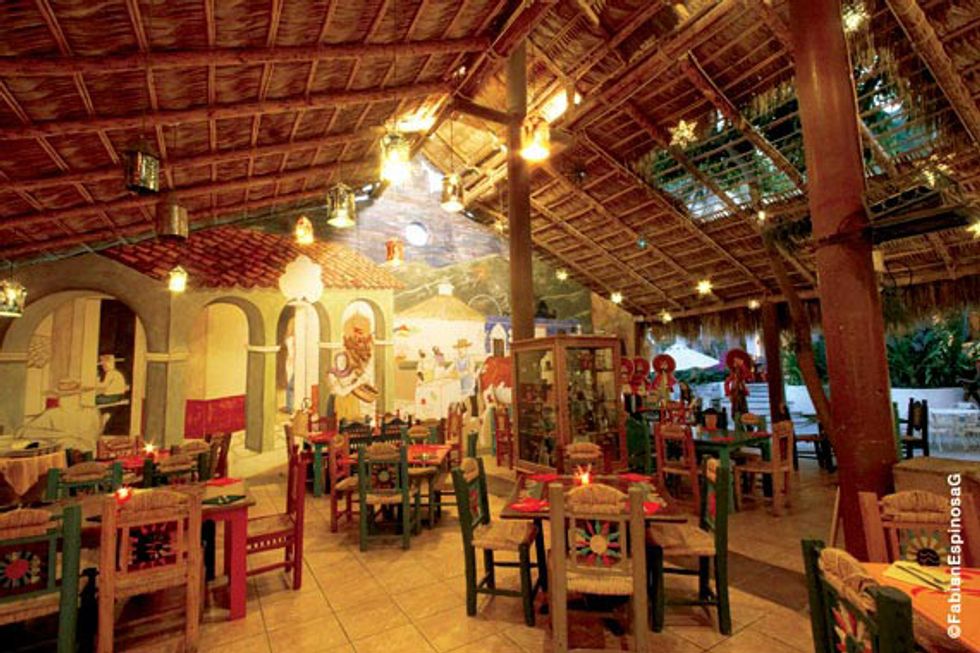 EAT

Hacienda Beach Club and Residences happens to have one of Cabo's finest restaurants (Avenida Playa Grande No. 1, 800-344-3349, grandsolmarresort.com). Executive chef Octavio Hernandez takes regional dishes such as chicken mole and Veracruzana fish and prepares them with a California fresh-and-local sensibility. The ceviche is the best in Cabo, and the four-layer cake is killer. Diners enjoy it all on comfy couch-like banquettes overlooking the ocean. Though it's touristy, it's worth a trip to Mi Casa (Cabo San Lucas Ave. at Lázaro Cárdenas SN, 624-143-1933, micasarestaurant.com) for the decor, music, festive atmosphere, and decent Mexican food. Sit outside on the patio, order a sampler plate of four tamales, and listen to strolling musicians play "Cielito Lindo."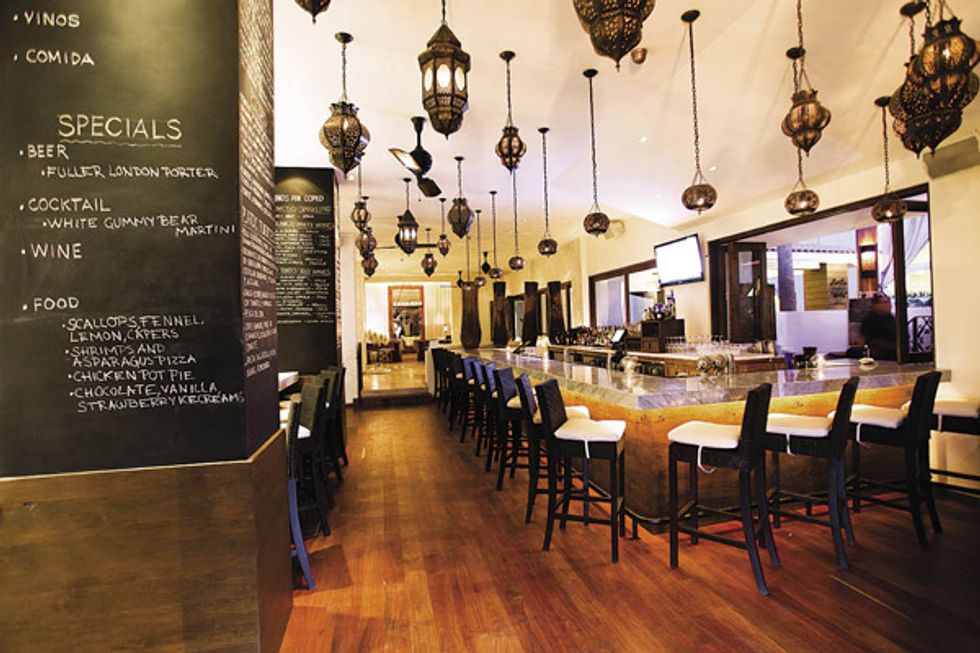 PARTY

Cabo is a nightlife town with a choice of either discos such as Mandala (1112 Lázaro Cárdenas SN, 624-143 2054, mandaladisco.com), where Lady Gaga videos play on giant screens, and loud party bars such as El Squid Roe (23450 Lázaro Cárdenas SN Centro, 624-143-0655, elsquidroe.com), where gringos down strong drinks to classic rock. One exception is the Bar Esquina (23410 Avenida del Pescador, 624-143-1889, bahiacabo.com). It's hip, quiet, and sexy, with Moroccan lamps, leather stools, and well-made cocktails.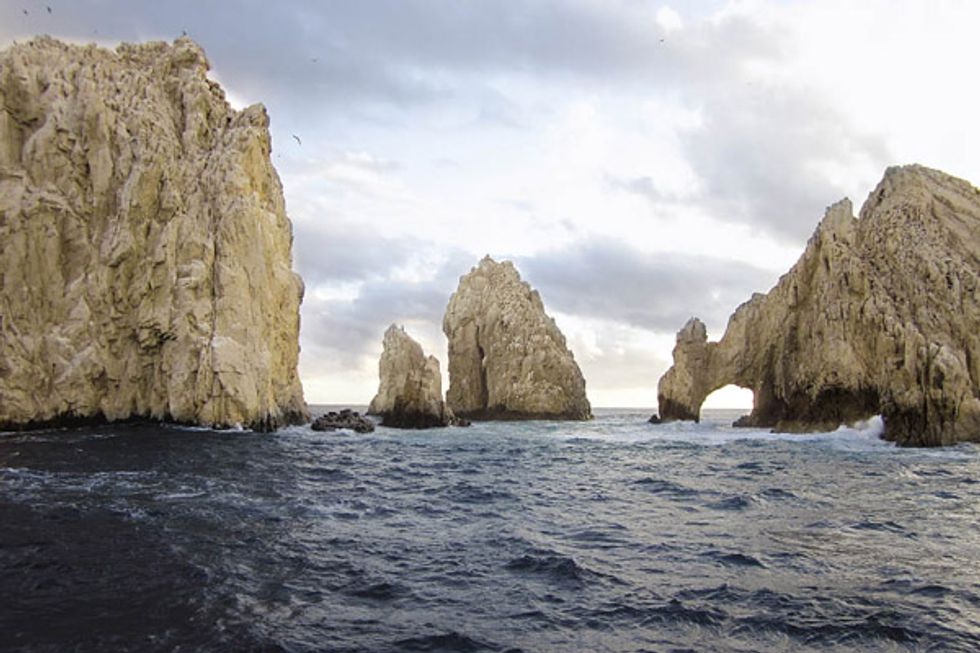 TOUR

Cabo Outfitters (624-142-5222, cabo-outfitters.com) can set you up with snorkeling and kayaking tours, surfing lessons, or whale-watching excursions January through March. Several tours take you out to the famous Arch ("El Arco") of Land's End and the nearby Lover's Beach. Wave-runner rentals and parasailing—most of which are based on Médano Beach—can also be booked easily through your hotel concierge. Or book a sunset booze cruise with Cabo Escape (866-885-6555, caboescapetours.com) for three hours of open bar, dance music, tequila-guzzling contests, and elbow-rubbing with both gringos and Mexicans out to have a good time. Cheesy? Yes. Memorable? Most definitely.