As so many of our San Francisco friends are packing it up for the cheaper housing and exploding scene in Los Angeles, we find ourselves planning more frequents visits.
We recently offered up an in-depth look at the arty and tasty going-on in downtown L.A. Now, we're rounding the corner for a look at the neighboring Arts District, where a bustling lot of galleries, boutiques, creative spaces and loft homes are breathing new life into the area's old industrial buildings and warehouses.

---
If you are planning a trip to Los Angeles and want to see the hottest emerging art, this is the place to be.
All the Art in the Arts District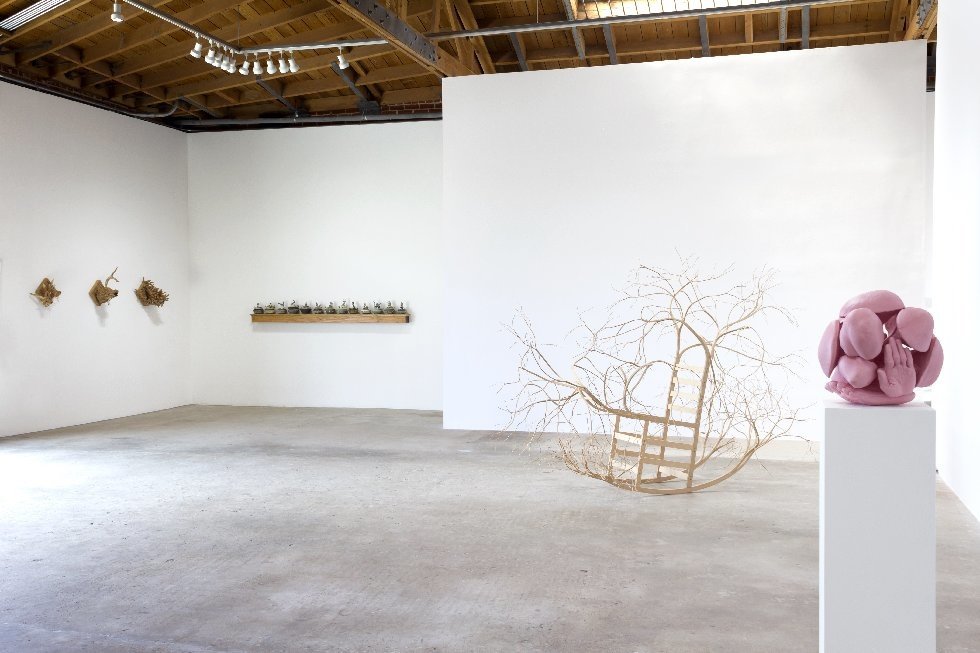 Denk Gallery
Old, new, and avant garde creative endeavors are brewing in this area.
Although gentrification is sowing its seeds in the area, the community of artists who live here are fighting to keep the creative energy alive—with murals. Walking around you'll notice work from notable graffiti artists like Brooklyn-based artists Adam Dare; LA-based painter Kim West; our very own, Fnnch; and LA local Wrdsmth. To take in all of the pieces and learn about the artists behind them, book an intimate walking expedition with LA Art Tours and learn about the street art world. These are usually guided by a notable graffiti artist or writer like Shanduone—who began his career as LA graphic artists in the 70s. // The esteemed Hauser & Wirth (901 East 3rd Street), with locations in London, New York, Somerset, Gstaad and soon in Hong Kong, now has an LA location. Built inside of an old flour mill, the gallery has two art spaces, a public courtyard, bookshop, gift shop and restaurant. On view (until the end of January) are two exhibitions—Mike Kelley: Kandors 1999–2011, a mixed media show with a Superman theme, and local painter Ellen Gallagher with her first solo show in LA. // New pop up museum, Happy Place (1242 Palmeto Street), revels in happy moments—see a giant birthday cake and a neon XO installation celebrating love and marriage; and dance under a dome swathed in flowers and confetti. // Venus Over Manhattan (601 South Anderson Street), is the second gallery in the arts district founded by private investor and influential contemporary art and design collector, Adam Lindemann. The 14,500 square foot exhibition space primarily showcases work from young and emerging artists including sculptor Elaine Cameron-Weir and painter Dan McCarthy, and painter Nolan Hendrickson. // Maccarone Gallery (300 South Mission Road) is another space opened by a New Yorker—Michele Maccarone. In a sprawling 35,000 square feet of indoor space and another 10,000 square feet of outdoor area, Maccarone transformed the warehouse into an urban-chic gallery focused on sculpture and pop and conceptual art. On show now conceptual artist David Lamelas in The Other Side until January 27th. // Museum as Retails Space aka Mars (649 S. Anderson Street) is a 6,000 square foot commercial, contemporary art space and shop founded by first-time gallery owner Robert Zin Stark. The program is pretty diverse ranging from contemporary art to mixed media and photography. On January 13th Mars will open Reintentions by queer photographer, Josh Paul Thomas, in an exhibition focused on the portrayal of the nude male a the past ten years and the taboos and objectification of the body. // Opened by artist, Davida Nemeroff, and gallery dealer, Mieke Marple, Night Gallery (2276 East 16th Street) was named after its opening times: 10pm to 2am. The two wanted to create a space that includes a post-studio scene where artists can chill after work. Now, the gallery not only has daytime hours, but has become a landmark for artists and art collectors alike in search of emerging talent. Upcoming exhibitions include works from painter Mira Dance with High Hell and photographer Barak Zemer with Transit (both from January 20th through February 24th). // The new Denk Gallery (749 East Temple Street)—owned by husband and wife duo, Belgian endocrinologist Dr. Katja Van Herle and British yacht captain David Hoey—opened with an emphasis on conceptual artists. The roster of names includes Belgian artist Arne Quinze, well-known in the Burning Man community; LA-based photographer Augusta Wood; and abstract painter Matthew Anthony Stokes. They will be participating at Untitled SF January 15th in San Francisco, where they'll feature a sculptural program by artists Jeff Colson, Tim Hawkinson, and Pontus Willfors.