What better way to take the edge off a sun-filled day than with a boozy slush? Here are five slushies that will take you back to your summers as a kid—except these are made with fresher ingredients and, of course, a higher ABV.
---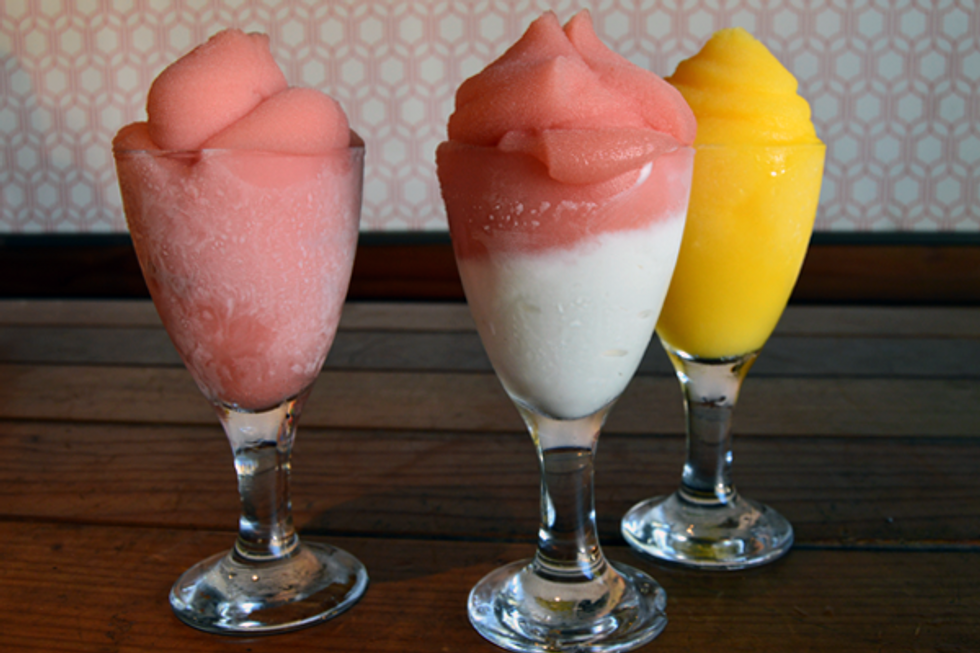 Market & Rye's strawberry and orange slushie mimosas. (photo by R. A. Schuetz) 
Imagine a creamsicle in slushie form. Now imagine a bottomless glass of it. Dreams do come true: Market & Rye is home to a slushie mimosa that you have the option of layering with a tart and astonishingly creamy white chocolate froyo ( we recommend that you do). It really does taste like a creamsicle, and yes, you can get it bottomless. The mimosa flavors change seasonally—right now, they're orange and strawberry.  // 300 De Haro St., marketandrye.net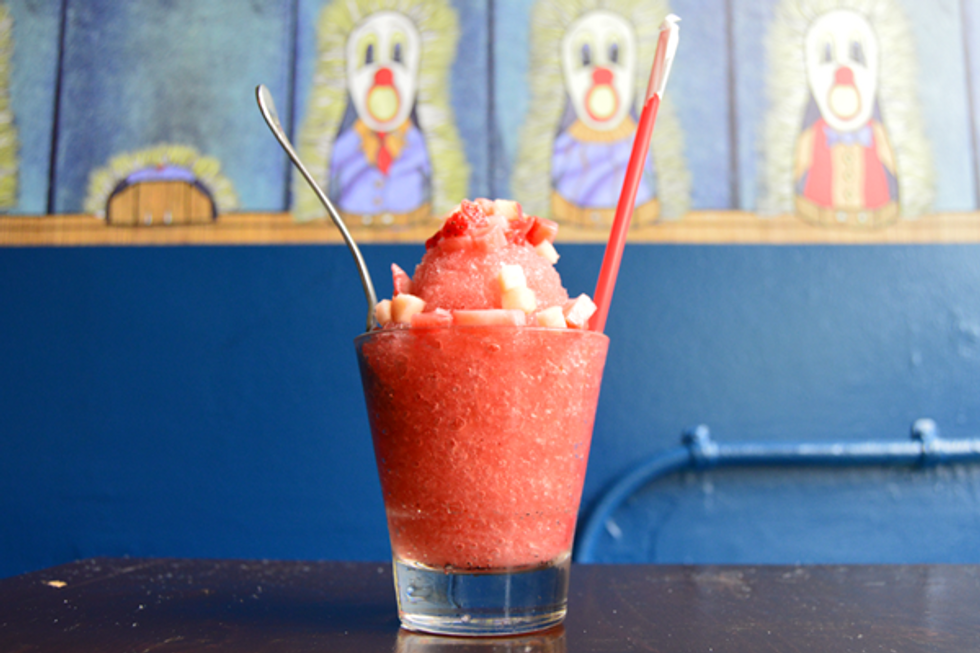 Straw's Sangria slushie. (photo by R. A. Schuetz) 
As a kid, Ari Feingold's favorite carnival snack was water ice—a Philadelphian treat known elsewhere as Italian ice. So when he opened a carnival-themed restaurant complete with a Tilt-A-Whirl booth, he knew that something similar had to be on the menu. Cue the sangria slushie, a frozen house sangria topped with rosé-soaked strawberries and apples. The sangria is made with a red zinfandel fortified with a sake-infused vodka and sweetened with strawberry puree and a bit of syrup—after it freezes, it flakes into the crunchy texture of a snow-cone. It is one of the few items on Straw's menu that has never changed since they opened their doors five years ago, and you'll be able to taste why.  // 203 Octavia Blvd., strawsf.com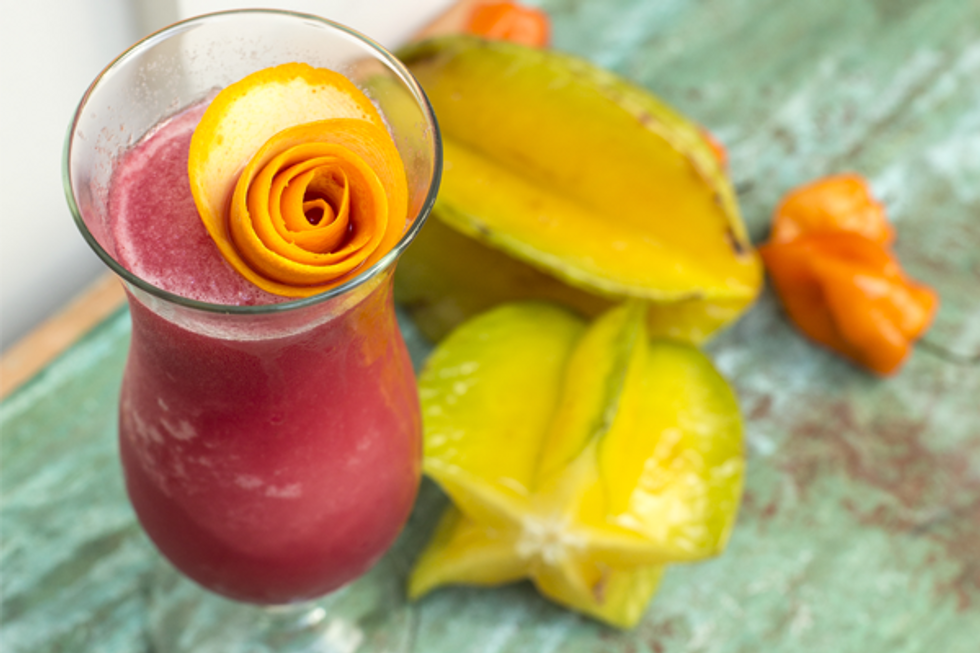 The strawberry Palm House Slushie (photo via the restaurant) 
In the mood for some serious leisure? The Palm House's signature drink is a frozen rum daiquiri that's timeless and refreshing. The drink uses Mt. Gay black barrel rum, Cruzan light rum, fresh lime juice, and cane sugar and is offered with passion fruit, prickly pear, or strawberry. "This drink really embodies the 'staycation' atmosphere we are going for," says the restaurant's bar manager, Duncan Wedderburn. For those who are really ready to unwind, order a dark rum float on top and kick back to enjoy. // 2032 Union St., palmhousesf.com
Chino's Slushie Boba Cocktails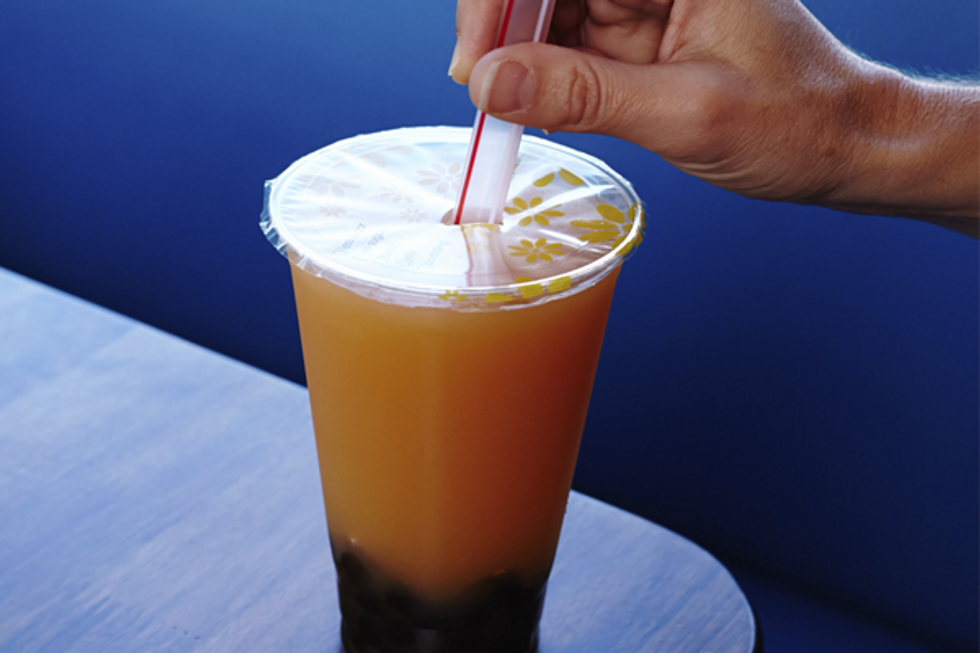 Chino's slushie boba cocktail (photo via the restaurant) 
Bubble-tea lovers, you have found your destination. Chino's slushie menu includes both Asian-inspired cocktails (ingredients include ginger, Thai basil, and lemon) and California-influenced drinks (one slushie is described as an Orange Julius for big kids). All come with crunchy, slightly frozen boba balls at the bottom. Owner Joe Hargrave had the idea for the drinks when he bought his daughter a boba slushie at a Chinatown shop. "As all dads do, Joe thought, 'Now that would be great made with better ingredients and some booze!'" remembers co-owner Sara Deseran. Chino is reopening after renovations on August 10 with two brand new slushies on the menu. // 3198 16th St., chinosf.com
Tsk Tsk's Titty Twister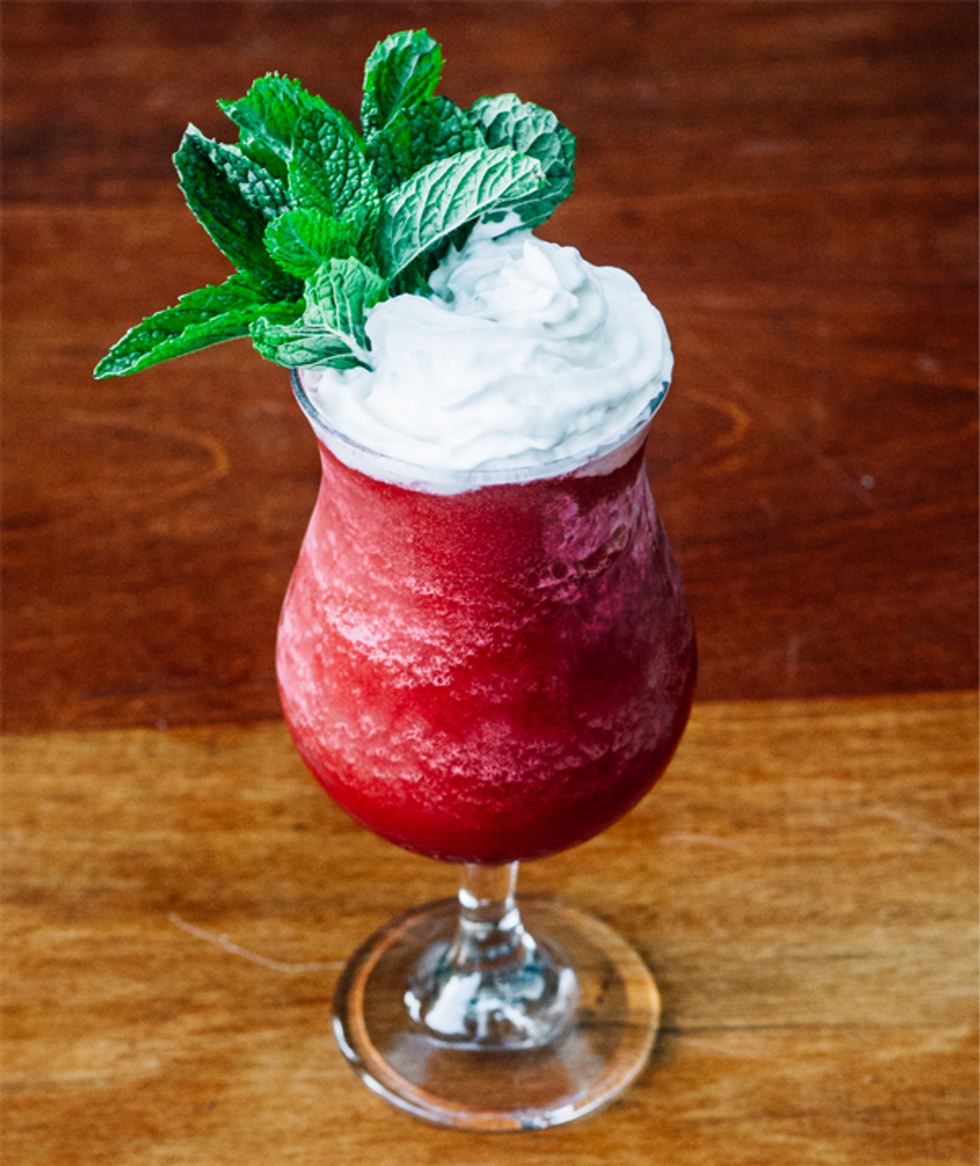 The Beet Down. (photo by Louis Santucci) 
These slushies have come a long way from the ones you used to grab at the corner store. The Beet Down, with its strawberry-beet puree and rosemary-absinthe whipped cream, tastes like a trip to your favorite farmer's market, while the Banana Hammock is a creamy rum-pineapple affair perfect for a tropical staycation. For those who want it all, you can have them layered in a Titty Twister. Justin Lew and Ian Scalzo, the duo behind Bourbon and Branch and Local Edition, opened up Tsk Tsk as a pop up until their bar Horsefeather moves into the location, so get your fix while you can. // 528 Divisadero St.