Attention East Bay commuters: There's a more luxurious way to get to work.
We mean, sure, you could sit in traffic with the rest of the suckers waiting to pay a $7 toll to get on the Bay Bridge. Or, you could catch the regular old ferry with the workaday drones. Or, you can get all fancy and buy an advance ticket to board Peregrine, the new high-speed, 75-foot yacht ferry that promises to get you from Oakland's Jack London Square to San Francisco's China Basin or Mission Bay in just 25 minutes. Did we mention there's free WiFi, and wine and beer?
---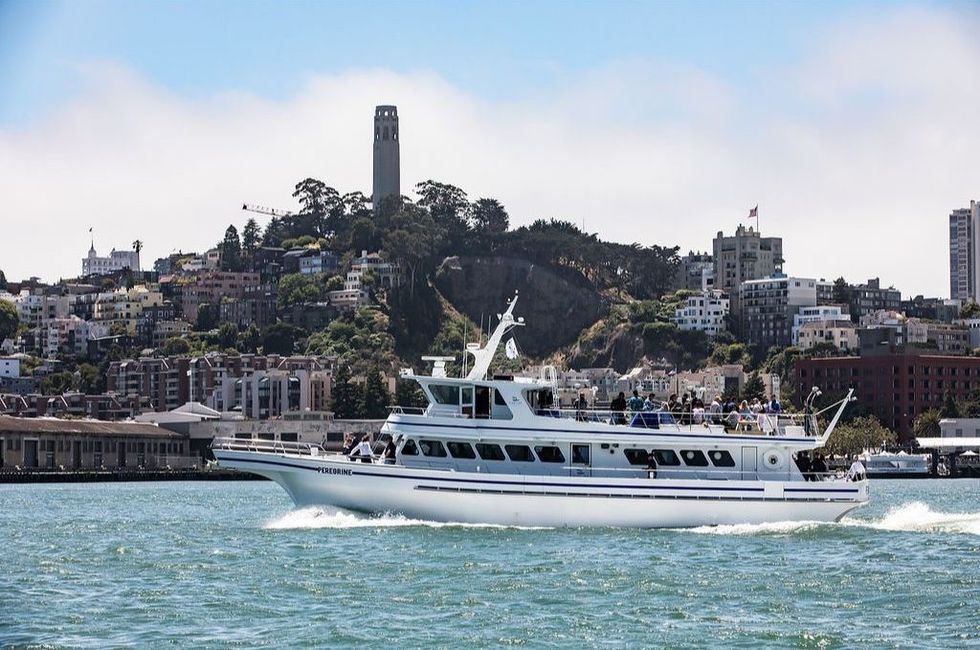 Peregrine feels less like a public ferry and more like a luxe party boat.(Courtesy of Tideline Marine Group)
Operated by Tideline Marine Group—the same company running small passenger commuter boats equipped with WiFi, drinks, and flat-screen TVs out of Berkeley to SF's Pier 1.5 and Pier 52—Peregrine is the largest of Tideline's now-four-vessel fleet.

Built to carry 149 seafarers, the boat (with a très sleek interior plus bathrooms, we might add) is poised to help solve a crisis more real than just getting affluent Oaklanders to work in the city: that is, the crisis of parking (or rather, no parking) at the new Chase Center.
Yep, open not just to morning and evening commuters (commuter service will start later this fall), Peregrine will begin ferrying fans to Warriors games and concerts at the arena this October. The boat will also host ticketed events for whale watching, Angel Island day trips, and wine tastings, and will be available to book for private charters.
Given Peregrine is a vessel operated by a private company—more like taking an Uber than the Muni—your Clipper Card's no good here. However, Tideline does accept commuter benefit cards such as Wage Works, Navia, and Edenred.
Commuter service pricing will be similar to Tideline's Berkeley to SF fares: $25 round trip (or $90 for a 10-ride pack and $320-$400 for a monthly pass). Fares to Chase Center for games and concerts will run $40 round trip per person.
For comparison, the San Francisco Bay Ferry also plans to operate Chase Center service from both Jack London Square and Alameda's main terminal for $9.60 each way per adult passenger (no Clipper Cards there either, kids).
All aboard?

// Tideline's service out of Jack London Square to San Francisco's Mission Bay is set to begin in Fall 2019; for information, go to tidelinetickets.com.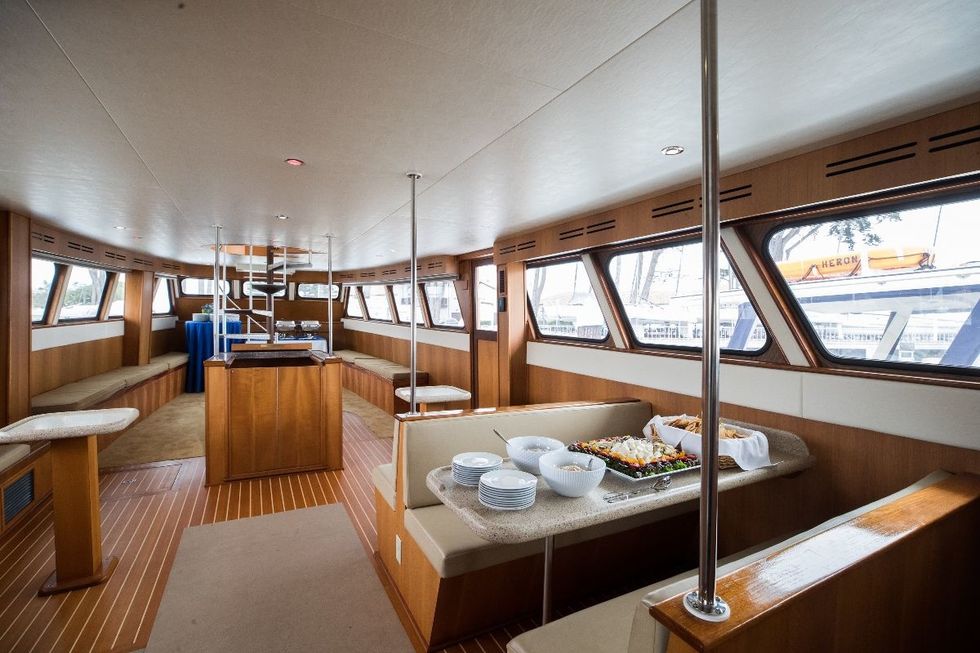 A little nicer than your standard ferry, eh?(Courtesy of Tideline Marine Group)