Sometimes you've just got to break out of the hottest, newest spots and go old school. For someone who's job is largely about chasing food trends, it's a palate refresher.
---
Which is how I found myself at A. Cavalli Café in North Beach the other day. I was just looking for somewhere quiet to get an espresso and their chalkboard sign advertised cannoli, something I rarely crave but suddenly I had to have it. Maybe because it was served to me by an Italian (real Italians still exist in North Beach!), or the fact that the cafe has been there since 1880, but the cannoli tasted delicious with my Americano. Rich, thick Italian ricotta, dotted with chocolate chips and orange zest, and a crisp, lacy housemade shell. It was supremely untrendy.
Apparently it was Italian-American nostalgia week because after my family picked me up at SFO on Sunday, we stopped at Joe's of Westlake on the way home. My husband grew up going to this classic restaurant but I'd never been. With a little tweak, the midcentury, 1956 space could be right there on the cover of Dwell. Ok, maybe a lot of tweaks and you'd have to make the gentlemen waiters in tuxes stand to the side of the camera, though they're truly what makes it an amazing relic. I kept trying to imagine my almost 70-year-old dad headed off to wait tables. I couldn't. (This is only because of the bow tie, Dad.)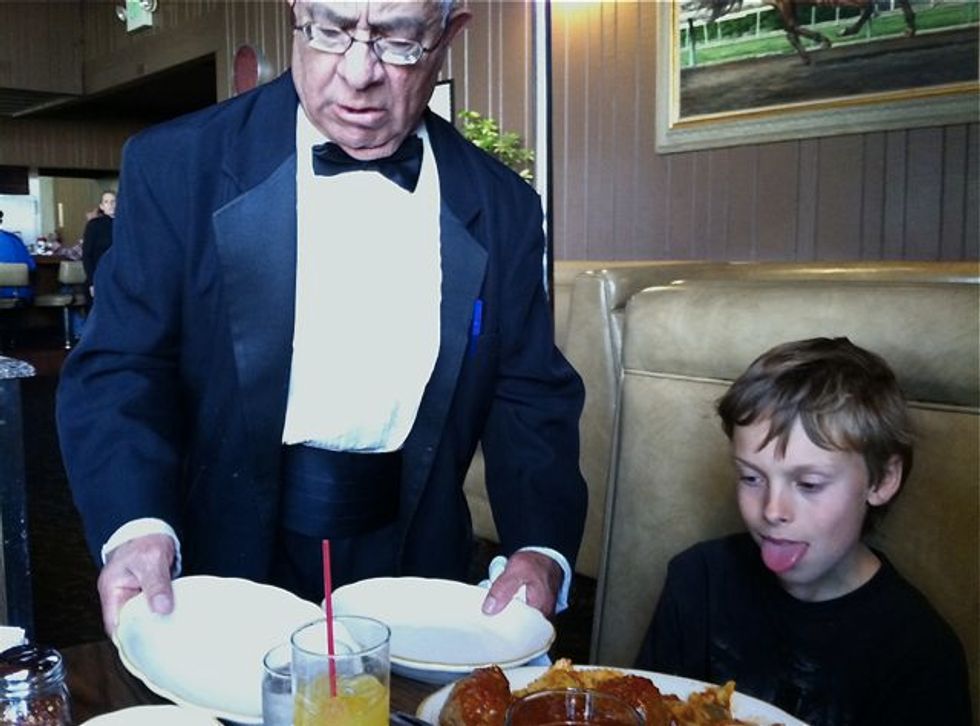 The food is exactly how you'd expect it to be. Out of context, it's not particularly good. But in context, it's pretty awesome. Massive meatballs and slightly overcooked spaghetti for the kids (notice my son Silas panting in anticipation), veal scallopini and spaghetti for me, chicken piccata for the husband. When you order a glass of red wine, they don't ask, 'What kind?' The spumoni ice cream, which was actually great, is spiked with maraschino cherries and is a surreal color of green. Come to think of it, Joe's of Westlake might be the perfect place for a rainy Friday night. Don't think that because it's located in the pseudo suburbia of Daly City it's going to be less crowded than a popular restaurant in the city. The place was jumping.
However, my week did not go without dining at the kind of places the New York Times is raving about. In this case, mostly new fangled ideas of Italian-American. I spent the weekend in Manhattan and did my fair share of eating at new and newish restaurants. Though the much celebrated Mexican-themed Empellon was a total disappointment, the Italian restaurants didn't fail me. My brother and I had a really nice dinner at Torrisi's Italian Specialties in Nolita which now serves a prix fixe meal for $60 and we got more than our money's worth. And I ended the trip at Il Buco Alimentari & Vineria in NoHo which is like a mini Eataly in that it is restaurant and marketplace in one. The pastas were spot-on, and the gorgeous beet salad with grapefruit and a big dollop of ricotta (pictured below) made me feel right at home. Call me SF-centric, but if I had closed my eyes, I could have been sitting at any of one of our city's Delfina spin-offs. There was lots of talk on the menu of organic and sustainable and specially raised pigs. A real respect for the ingredients followed in the cooking too.
The only thing that reminded me that kept me totally grounded in New York was that it was 10 pm and totally bustling when we arrived, and by the time we left, it was almost 12:30 am and the city was still going strong. 
What were the best things you've eaten this week?