A painter's process is almost always a private experience. Intimate and vulnerable, it's about letting thoughts, feelings, frustrations, and new learnings flow freely onto canvas; finding answers to questions and expanding the art through trial and error. This Friday, however, San Francisco artist Heather Day, known for her sweeping, organic sapphire hues, will expose her evolution to the public at the opening of her solo show with Athen B. Gallery.
Called Conversations and Color, the exhibit takes over a 4,000-square-foot storefront near the Embarcadero to meld perspective and rhythm in 100 new paintings and some sculptural installations. The artist describes the show as the "culmination of a year and a half of unbridled curiosity and discovery," where she left the studio to wander and paint what she learned from cities and nature. The more she painted, the more she wanted to keep exploring; and each painting shares a moment or realization from her experiences.
---
Presenting such a personal show after a year and a half of keeping new work to herself, Day emphasizes that this is about absorbing the art.

"It's about taking a step back and appreciating paint for its process. The show represents a year of looking and listening—and ultimately translating our experiences into something physical."
"It was research, a quest in search of candor...from the communication between positive and negative space to the punctuation of color, I listened to the ambiguity of ideas, memories and experiences; and I made conversations in a new way," she says.
This is where Day's show transitions from a walk-through gallery experience to a tête-à-tête on the creative process. Guest speakers, including the gallery's director Sorell Tsui, Facebook design program manager James Fleming, and seven female artists including Day will come in to open up a dialogue with the community on topics ranging from music to painting to tech. A curated lecture series called "I Say," these onsite conversations are scheduled for October 10, 17, and 24.
"I wanted to push the envelope further and take full advantage of this downtown space and bring the public in through engaging talks...our speakers span multiple careers and genres, as do our topics," Day says.
The full schedule of speakers and topics can be seen below.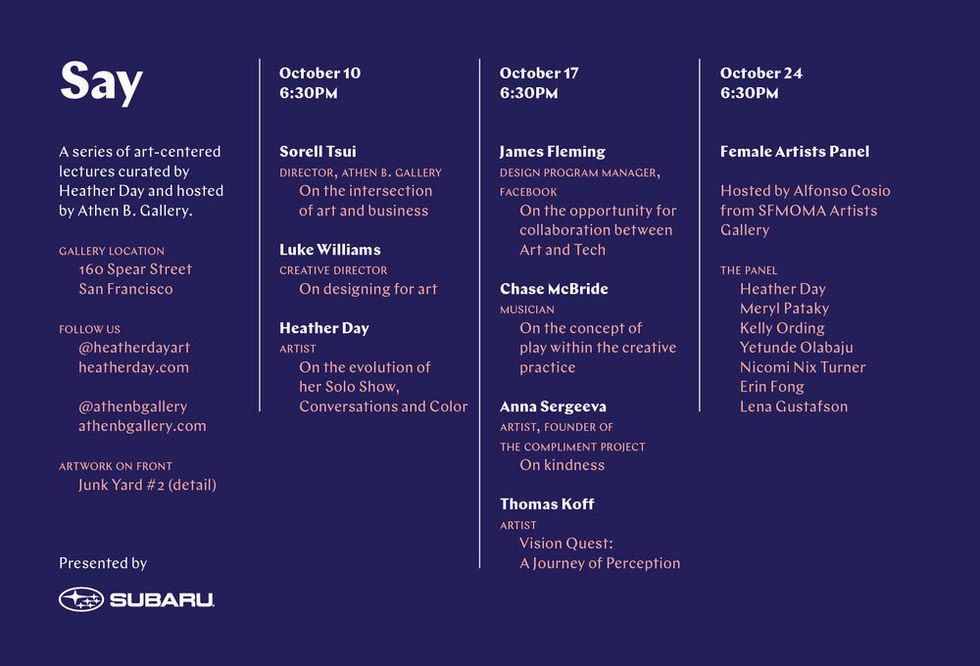 // Conversations and Color, a solo exhibit by Heather Day, opens Oct. 6th (reception 6-10pm), 160 Spear St. (Embarcadero), athenbgallery.com, heatherday.com.