Pigskins, parsnips, and parsley—oh my!
---


Urban farming is growing (see what we did there?) across the country, especially here in California. So, being the eco-conscious and tech-savvy place that we are, it was only a matter of time till we saw a stadium-sized garden sprout-up.
Levi's Stadium, home of the San Francisco 49ers and Black Lives Matter hero Colin Kaepernick, is now scoring big in the sustainable agriculture category with its recently unveiled 4,000-square-foot herb and vegetable garden, dubbed Faithful Farm, on the stadium's roof. The roof itself actually comprises 27,000 square feet of total green space, and even produces its own renewable energy through a grid of solar panels.
"Our green roof helps reduce heating and cooling requirements, and carving out this small portion to grow crops further minimizes our carbon footprint by reducing our reliance on outside food sources," says Jim Mercurio, the 49ers general manager and VP of stadium operations.
Growing sustainable produce from what would otherwise be wasted space is great, but what do they do with all that veg? Faithful Farm has been planted with nearly 40 rotational crops and herbs that produce about 150 pounds of fresh produce each week—all just waiting to get into the hands of Centerplate executive chef Dinari Brown, who is organizing the menu in accordance with what's fresh and seasonal. The crops will be harvested for use in dishes served at Levi's Stadium in club spaces during games, and at the more than 200 private events hosted at the stadium annually, according to a statement.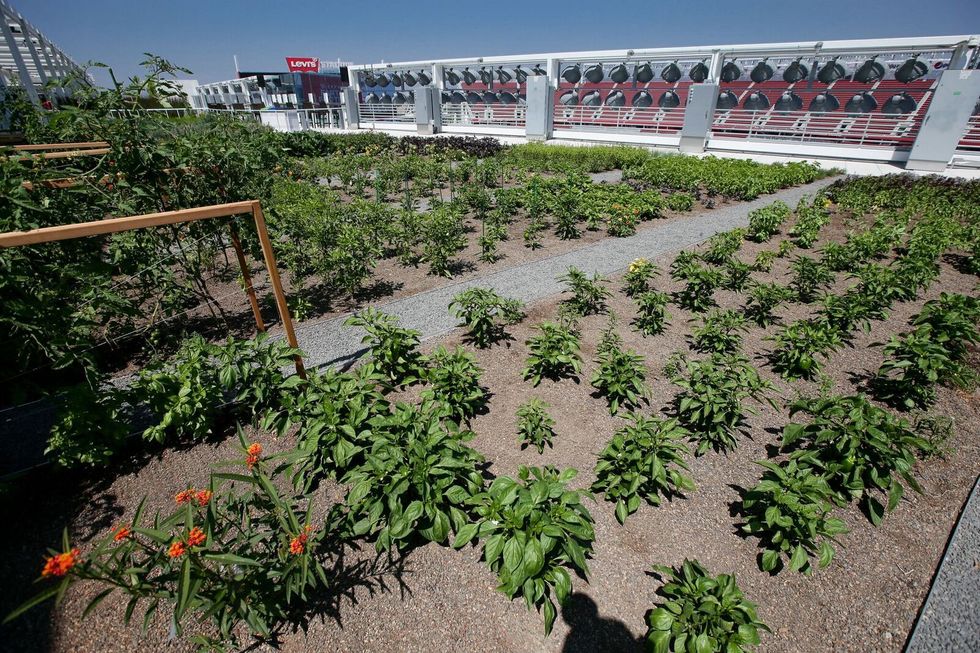 Parsley, eggplants, peppers, and zucchini are just a few of the offerings; each line-crop is produced and managed organically by Farmscapes network of urban farmers.Photo courtesy of Lara of Farmscape
The crops are being tended by Farmscape Gardens, an Oakland-based business founded by Lara Hermanson, who oversees the installation, upkeep, and harvest of around 600 urban gardens around the Bay Area. Hermanson is a busy bee, cross-pollinating her love of urban agriculture with cultural destinations throughout our region—she's also responsible for the small gardening space beneath the Giant's scoreboard at AT&T park and the garden overlooking the Bay at the Dogpatch restaurant Stem Kitchen.
"Communities and corporations have recognized how much urban farms are beloved by the public, and they don't require a lot of investment to maintain," she says. "The best ingredient for farming in California, whether it's on the ground or on the rooftop, is 12 months of sunshine."
In the world today, carbon dioxide accounts for 400ppm (parts per million) of our atmosphere, these creative iterations of green expanses are essential for amassing carbon neutral and carbon negative patches. It's the only way we're going to cool our only home down to a sustainable level.
So, Levi's Stadium–goers, savor those burgers, because the organic lettuce and tomatoes were picked from the roof over your head. // Levi's Stadium, 4900 Marie P. DeBartolo Way (Santa Clara), levisstadium.com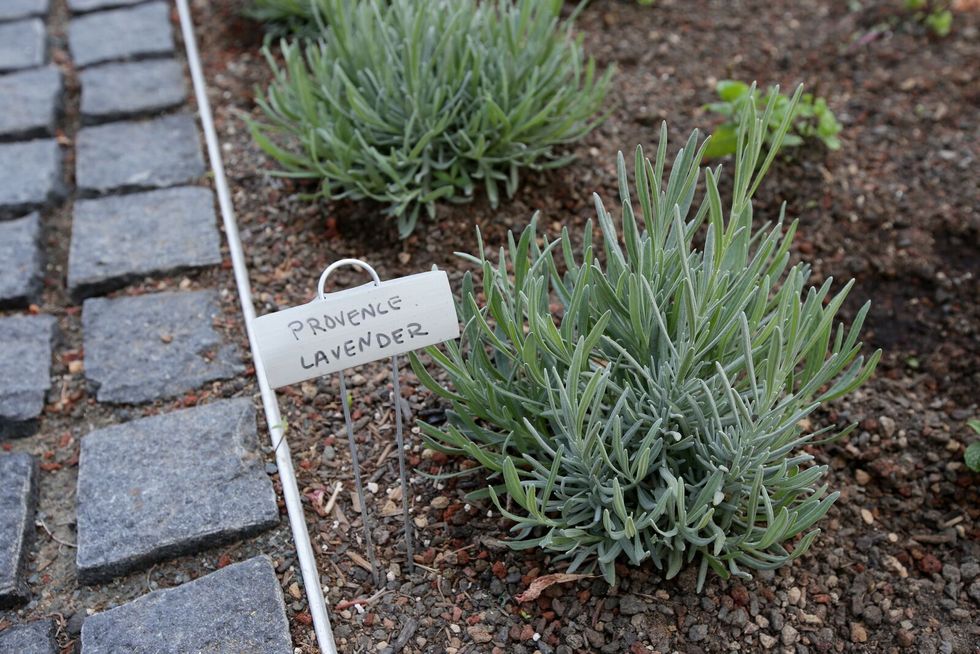 Lavender is among the plants greening the roof of Levi's Stadium.(Courtesy of Farmscape)