The seasoned team behind Beretta, Delarosa and Super Duper made a ballsy move when they took over the huge piece of real estate that once housed Medjool on Mission Street, and opened Lolinda. At 200 seats and counting, the space is much larger than anything else they've opened over the past several years, and the concept is a new one for San Francisco: An Argentine steak and tapas restaurant with a strong California bent. On Saturday night, I went in for dinner at the bar, curious to see how proven masters of burgers and pizza are translating their skills into steak and ceviche. 
---
Judging by looks only, Lolinda is a much sexier, more sophisticated reimagination of the space. The bones (mezzanine, loft-like space, etc.) are still there, but the bar is now backed by a sweeping salt-and-pepper exposed brick wall, while romantic tea lights calm the busy vibe on the floor. Four huge metal-framed, round chandeliers, obviously fake bull heads and a running bull mural hammer the South American theme home. In a city where most dining rooms err on the minimal and industrial side, Lolinda feels like a guapo caballero galloping into a conference room full of pale, under-sexed technology pros. Many diners will fall in love before they even take a bite. 
After sitting down, General Manager Alvin Garcia clarifies that this is not an authentic Argentine restaurant. Apparently the Argentina natives have already come out of the woodwork to sample the goods, and some of them were a little miffed that the ensalada Rusa ($8) isn't a carbon copy of the one they grew up with. Lolinda serves a gringo-ized, crowd-pleasing rendition of Argentine food, but that doesn't mean it's not delicious.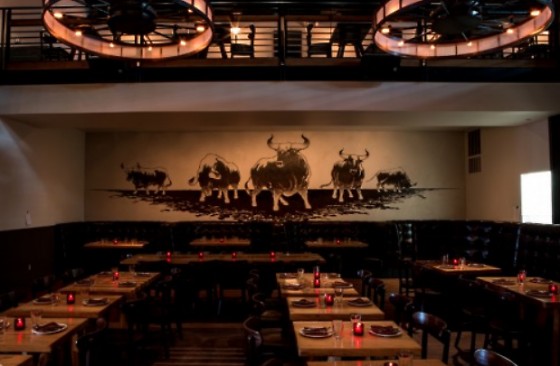 Take the yucca-ricotta croquettes ($6), which arrive at the table looking like four perfectly bloated Tater Tots, just begging to be ruined. Beneath a layer of light brown crispy crust, the light cheese-to-potato ratio makes for fluffy whipped bites. It's Argentina's answer to arancini, an easy and addictive add to any order—even if the rocoto aioli at its side could use more kick. 
Of the empanada choices ($6-7), I found the one stuffed with sweet corn, chile, ricotta and criolla salsa to be the most compelling. A basic ceviche de pescado ($13) of halibut and sweet potato has a corn fritter garnish to make it fun. 
I should note that everything at Lolinda is meant to be shared—something I found near impossible when it came to the morcilla. The biggest surprise of the night, slabs of blood sausage split an asado mixto ($26) with chorizo, short rib, and perfectly pink flank steak. Each bite hit with baking spice and a texture redolent of soft roasted fig. While other meats benefit from the zingy bright side of chimichurri, when it comes to the morcilla, don't mess. 
Way more San Francisco than authentic is the cocktail program, designed by Death & Co. alum Lane Ford. A Mi Amaro ($10) cocktail, spirit heavy with reposado tequila and bitter liquers, cut the vibrant spice and fat of the food with ease. The string of swaggering mustachoied barmen behind the stick also fit in nicely, seeming more Spanish than hipster in Lolinda's glow.
Not wanting to leave, we finish by settling into a peanut butter mousse on cajeta crust with dulce de leche ice cream—a genius marriage of the toast spreads Americans and Argentines shamelessly sneak by the spoonful. You could say the dessert is culturally ambiguous, but it's impossible to resist.