It's game over for the Warriors until next season, but we've got a refreshing new reason to make our way to Chase Center.
We'll give you a hint: It involves beer.
---
Ok fine, we'll cut straight to the chase. Harmonic Brewing has opened a second San Francisco taproom and it's in the thick of the Thrive City action. Set on a vast outdoor plaza two stories up, it's also just steps from the water's edge. In other words, your beers come with all the fresh air and bay vistas your heart desires.
"I was blown away by the patio and views," says partner Jon Verna of his first visit to the space back in the summer of 2019. "We started talking lease terms right away."
Of course, Covid happened and plans were stalled, but "now the time is right." With this, Verna nails it. Our visit made us feel giddy at discovering a new gem...with drinks...out there...in the real world.
Harmonic Thrive City has several beers on tap, both from their own Dogpatch brewery and from other local brewers.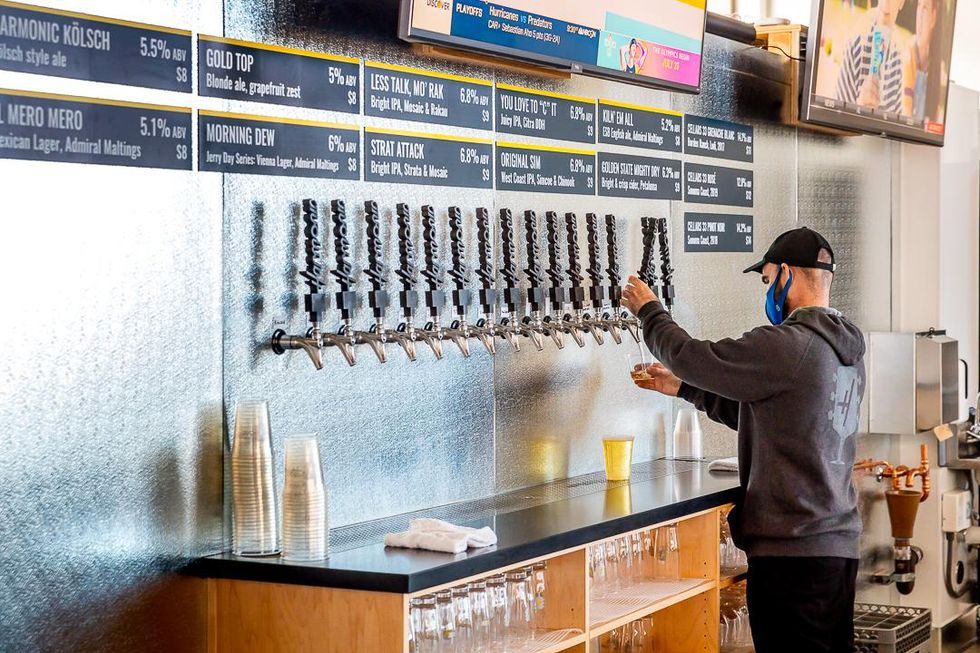 Harmonic Thrive City has several beers on tap, both from their own Dogpatch brewery and from other local brewers.(Sarah Chorey)
Designed by the owners, Verna and head brewer Eddie Gobbo, themselves, the venue is minimalist to let the atmosphere do the talking. Outside, 35 tables are scattered across 1,500 square feet of open space, each with an unobstructed view of the cargo ships moving lazily across the bay and the hillside horizon of the East Bay beyond. The curved architecture of Chase Center lends an impressive punctuation mark.

Inside, the taproom houses 19 more tables in an airy, industrial-style space that's streamlined and conducive to quick service before and after games and concerts.
The bar is pouring Harmonic beers on tap, all brewed just blocks away at the Dogpatch HQ, as well as guest beers from other local breweries. Our go-to is the Harmonic kolsch, which offers a crisp, clean profile with slight apple notes and pairs easily with food.
"We're all about balance and drinkability," says Gobbo, who aims at making "thoughtful beers" that won't "blow away your palate." The idea? To make you want to drink more than just one. "We like the deep cuts on classic albums, not one-hit wonders," he says.
Not a beer fan? Wine, cider, and specialty brunch drinks such as micheladas and "beermosas" are also on offer.
Beer bars with decent food can be tough to come by, but Harmonic's snacks concept is fully baked. They've teamed with James Beard Award–nominated baker Greg Mindel, of the nearby Neighbor Bakehouse, to devise an all-day menu of casual-gourmet hand food including puff pastries stuffed with Cubano fixings (pork, pickles, and mustard); all-beef hotdogs snugly wrapped in seeded pretzel buns; and soft pretzels topped with crisped cheese and pumpkin seeds.
Sunday brunch is also on at Harmonic, where soft eggs ooze from layers of bread and cheese in toasted tartines and splay across biscuits and gravy.
No doubt Harmonic Thrive City will be a hot spot before and after basketball games, but we're happy to have it to ourselves...for now.
Photography by Sarah Chorey
Not into hot dogs? A soft pretzel is topped with pumpkin seeds and embellished with a crispy, cheesy center. Accompaniments include German bierhaus-inspired cheese dip (fontina, cream, paprika), kraut, and whole grain mustard.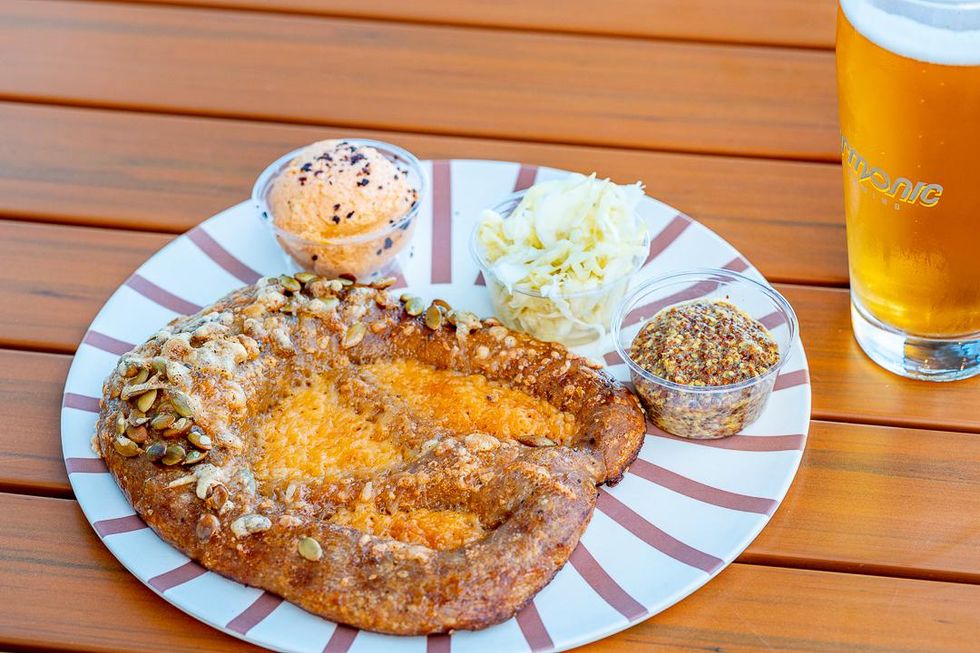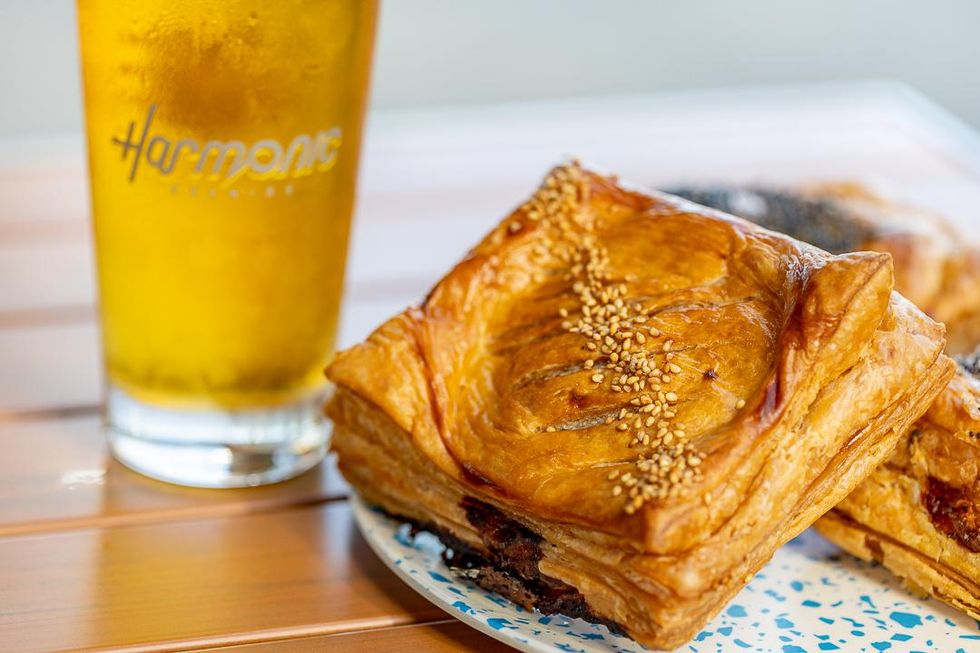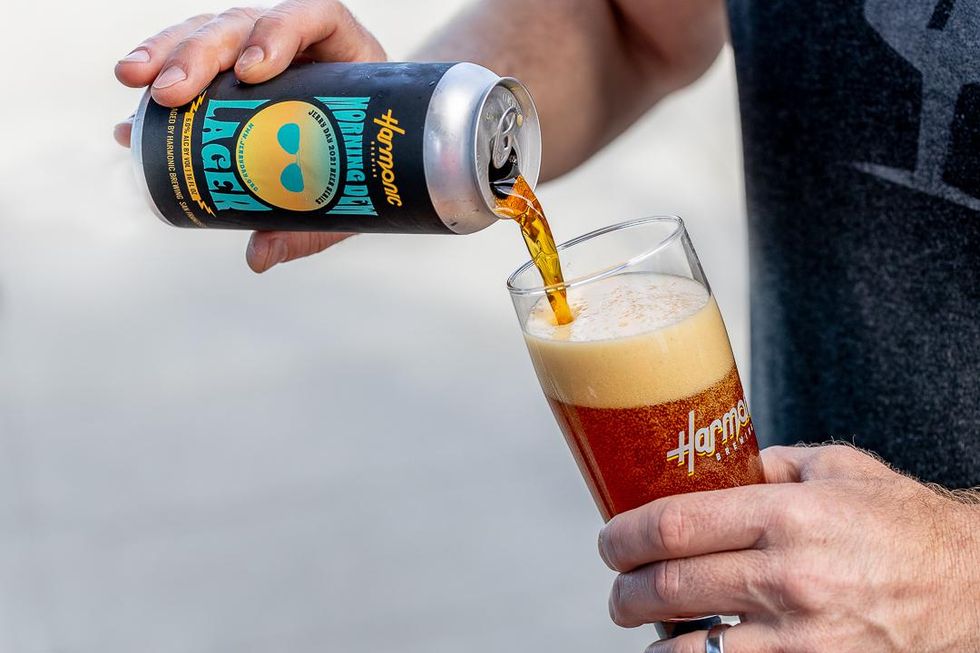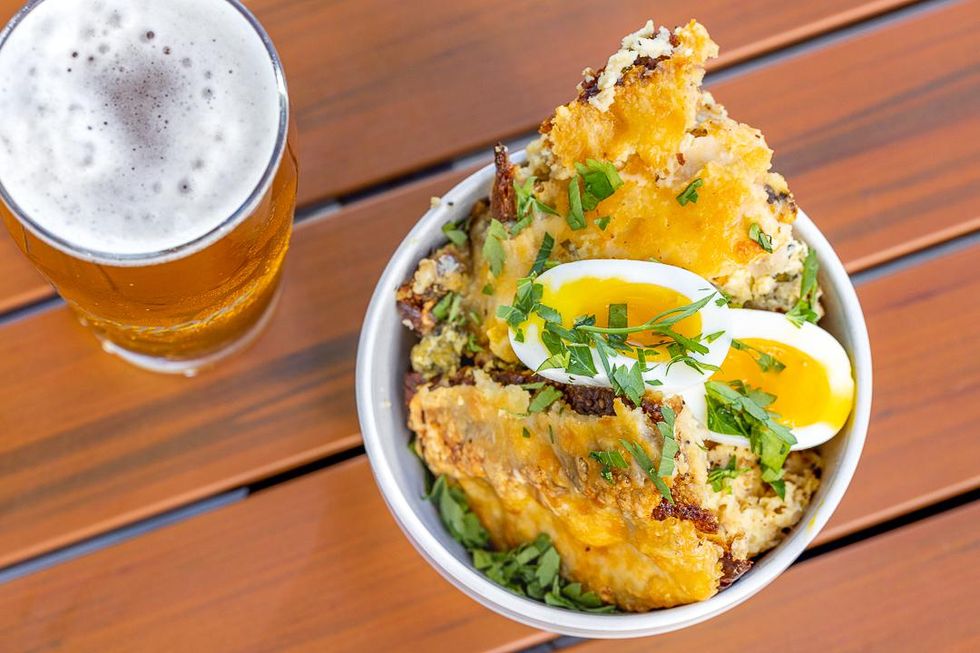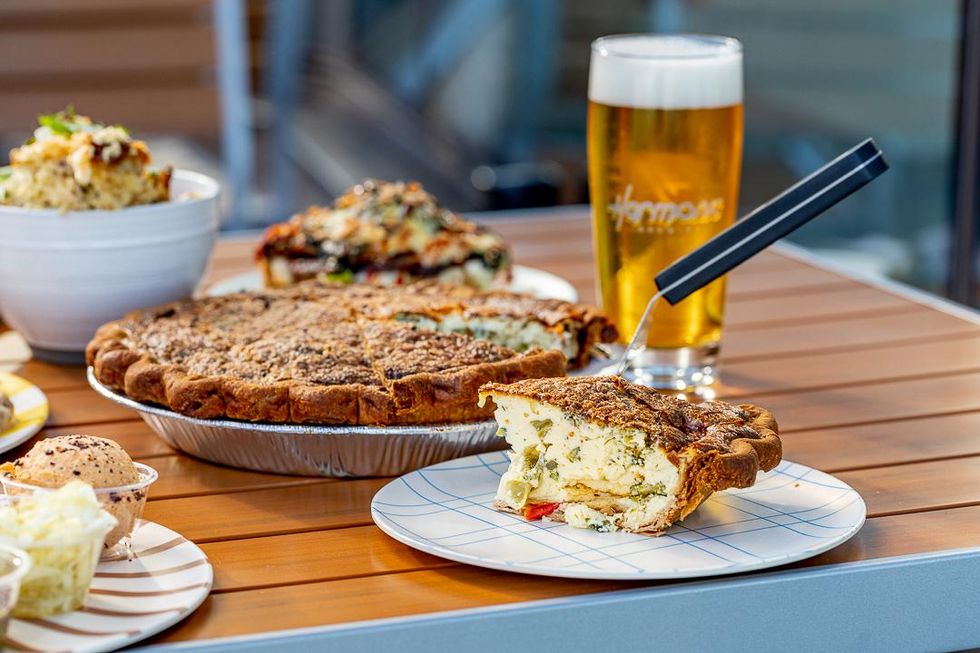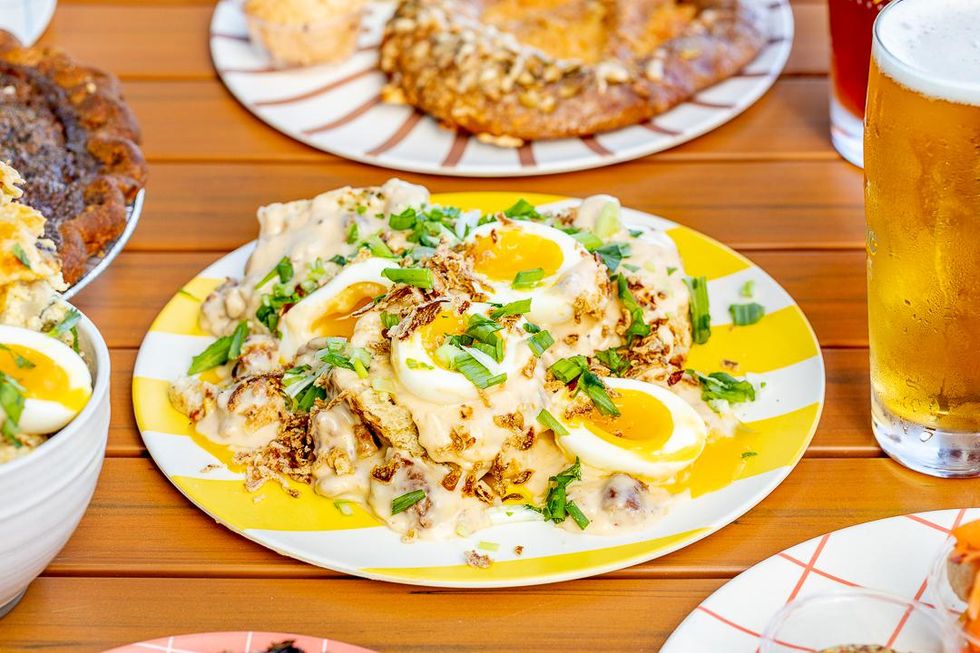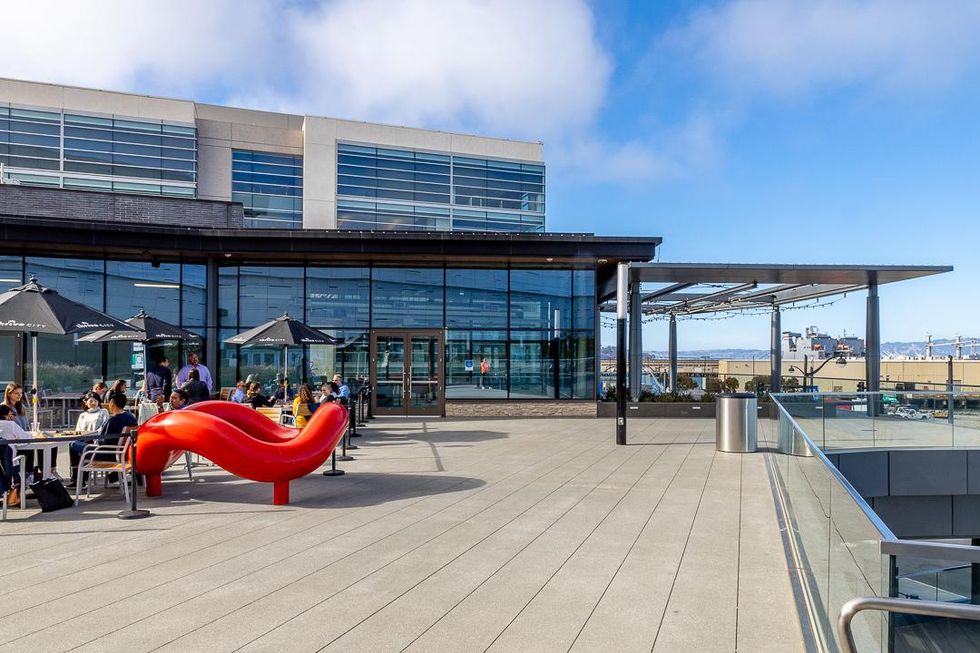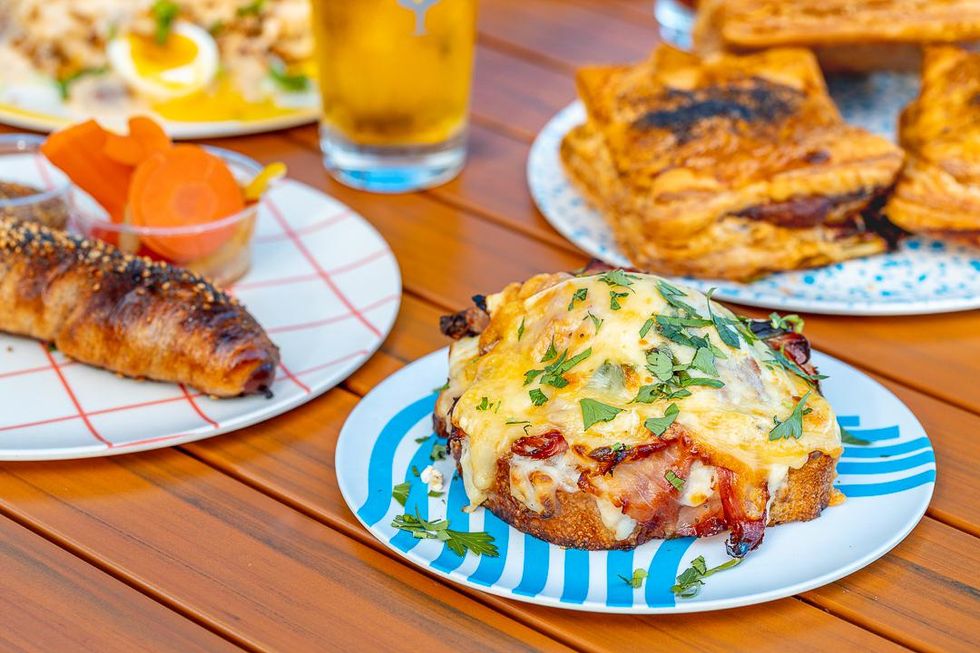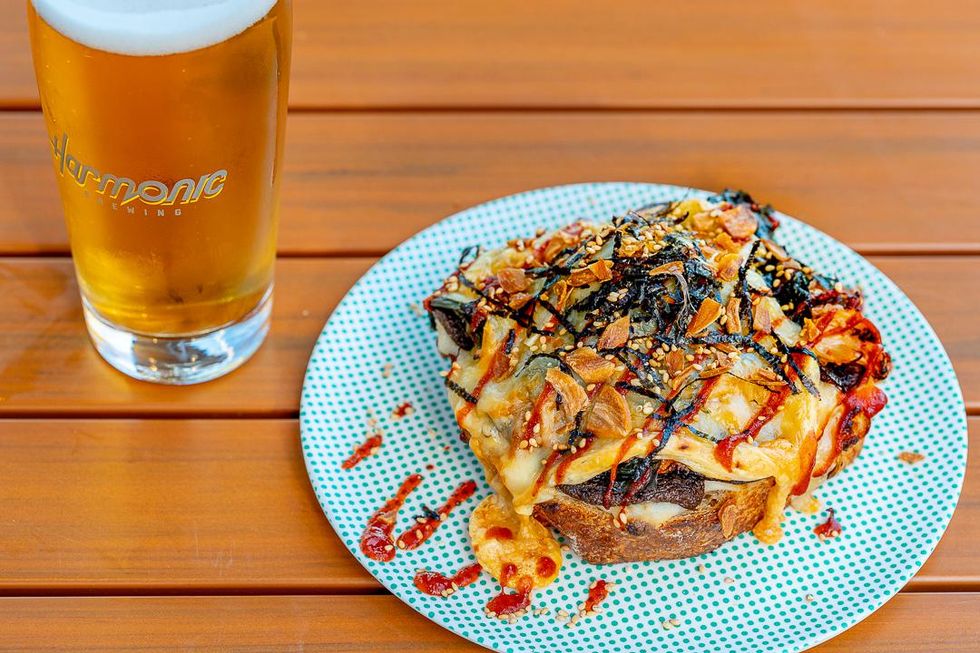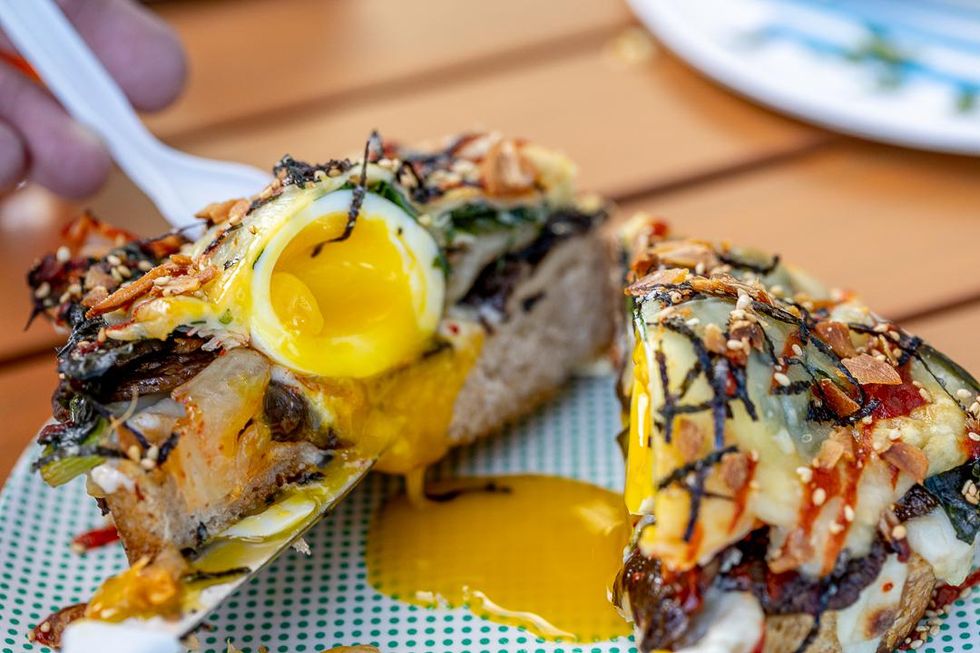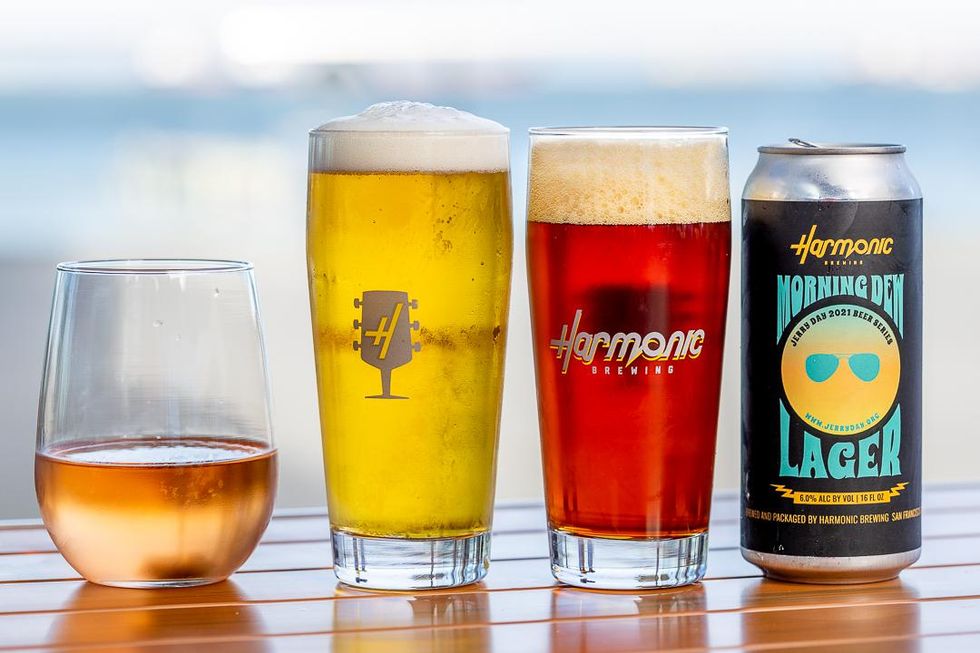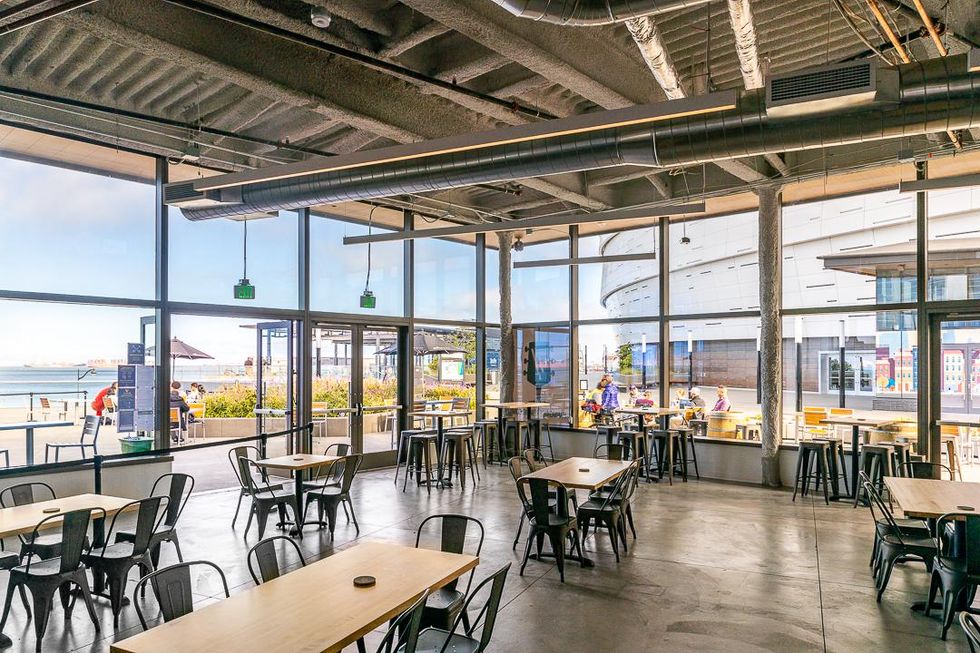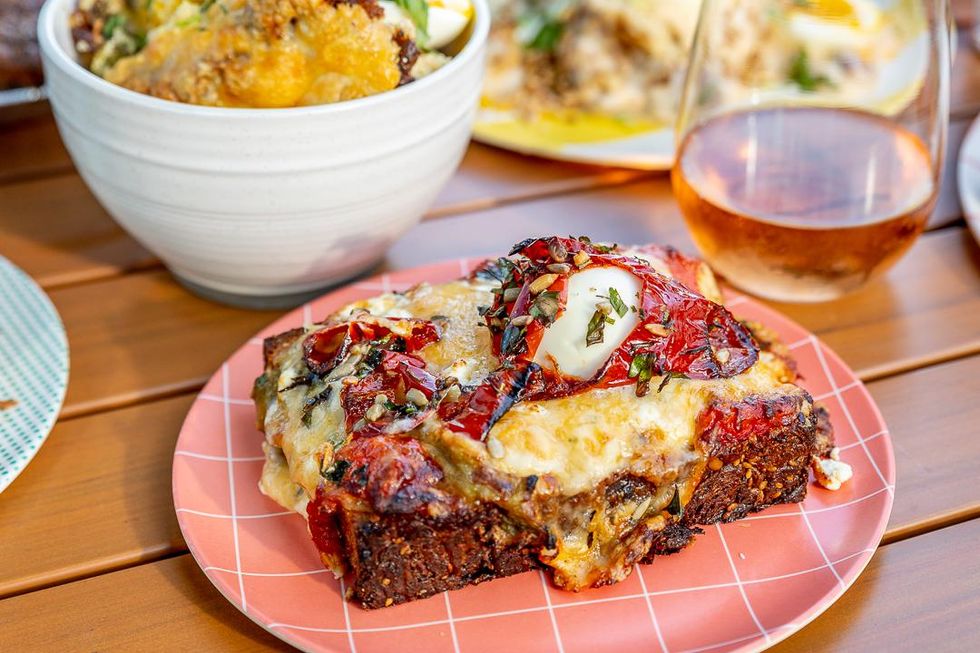 // Harmonic Brewing Taproom at Thrive City is open 4pm to 10pm Wednesday and Thursday, 3pm to 10pm Friday, noon to 10pm Saturday, and 11am to 6pm Sunday; 7 Warriors Way (Mission Bay), harmonicbrewing.com.