San Francisco has witnessed some eccentric bar openings in recent months. With all-night safari disco parties, glow-in-the-dark tiki havens, and retro-glam hives, over-the-top concepts are what's been shaking lately.
But leave it to Thad Vogler, the spirits intellectual behind Bar Agricole and Trou Normand, to bring us deliberately and precisely back to terra firma, where there's nothing wrong—nothing wrong at all—with just enjoying a well-crafted, high quality drink in a simple, ambient space that lets the cocktails shine.
---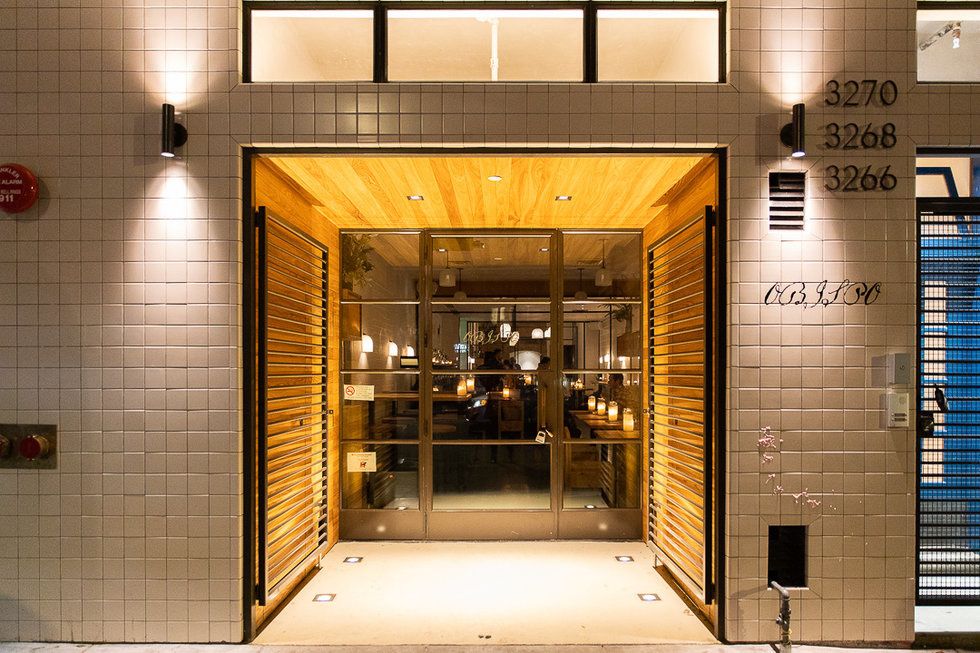 (Sarah Chorey)
Obispo, Vogler's newest contribution to the SF dining and drinking scene, is the opposite of gimmicky; in fact, the interior, by designer Wylie Price (The Progress, Trick Dog), is damn near spartan.

Sharing a block with El Farolito and the 24th Street BART Station, Obispo's tiled facade and wood-slatted entry glow a welcoming golden hue as if to say Please come in, there's no need to go to McDonald's across the street. Inside, mostly blank white walls are framed by sparse metal partitions that create a minimal division between a front dining room, the bar at center, and a bit more dining space at the back. Candles flicker on each table and atop the bar; a few hanging pendants and wall sconces bounce light off blond wood furnishings; a couple floral arrangements are placed here and there; and that's about it.
This is a shrine to rum; no distractions.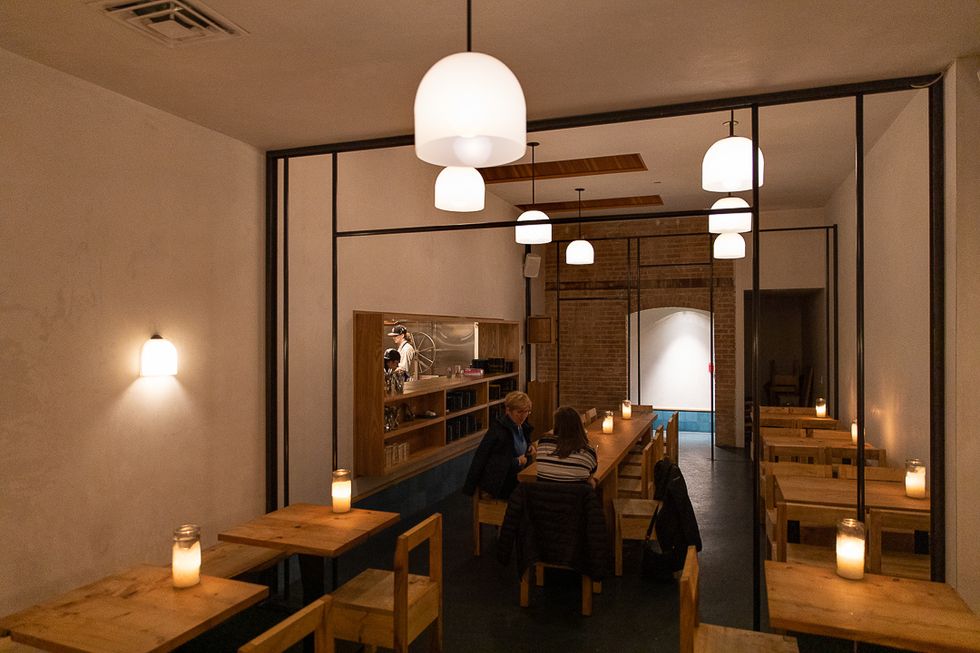 (Sarah Chorey)
Warm light and a solid table to set our drinks on is all we need at Obispo.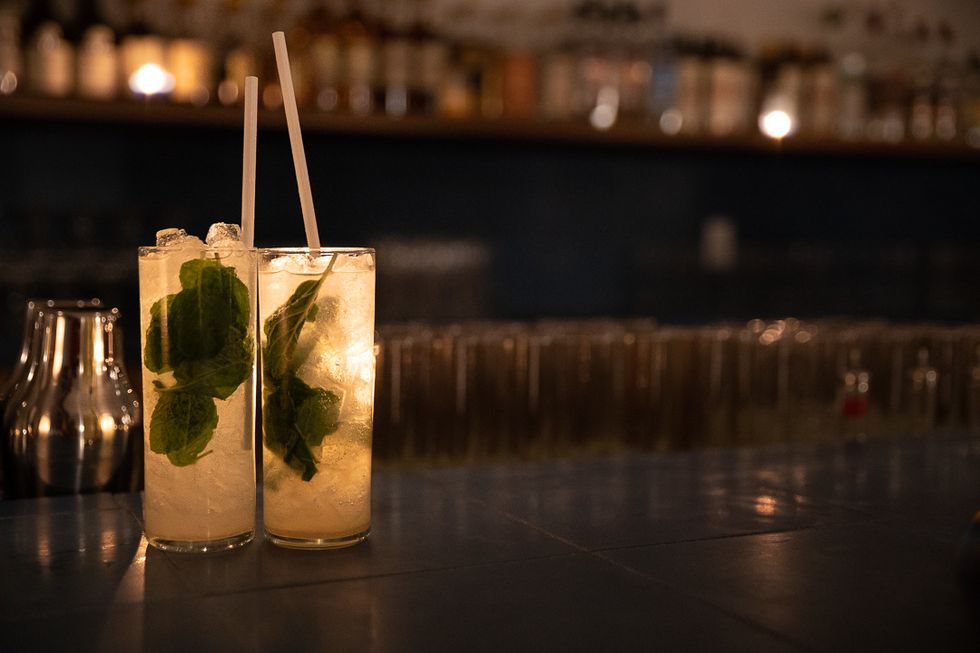 (Sarah Chorey)
Mojitos, anyone? Vogler has created a trio of them—aptly named #1, #2, and #3, ranging in cost from $9 to $12—each featuring a different spirit—one with rum, another with gin, and a third with Cognac (riffs on Floridita's mojito versions in Havana, Cuba). The base for each remains the same: lemon, sugar, aromatic bitters, and minty yerba buena.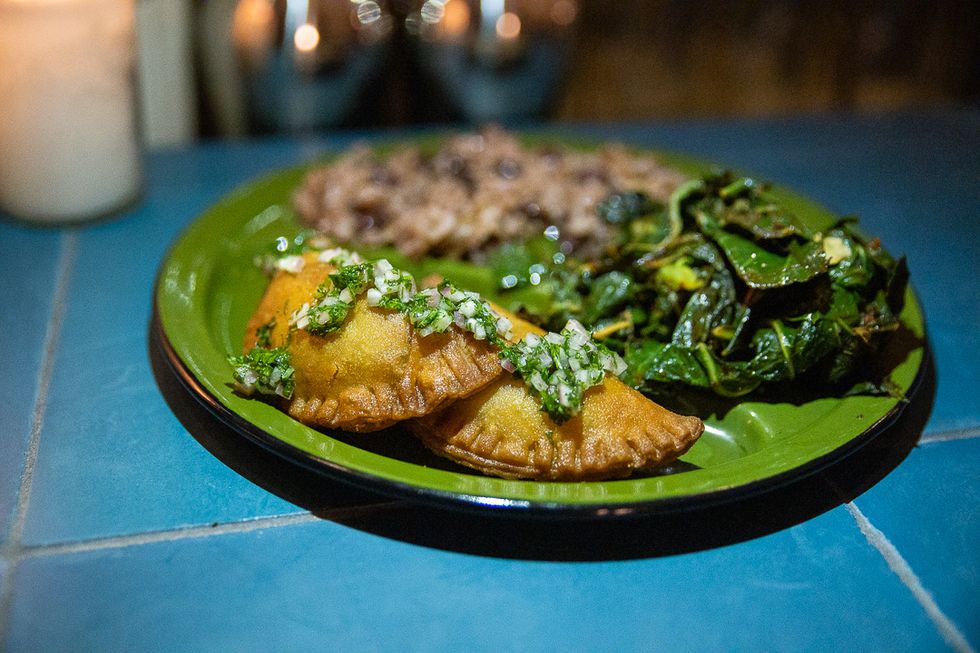 (Sarah Chorey)
Obispo's empanadas, stuffed with a traditional Cuban preparation of shredded stewed beef called ropa vieja, make for terrific finger food.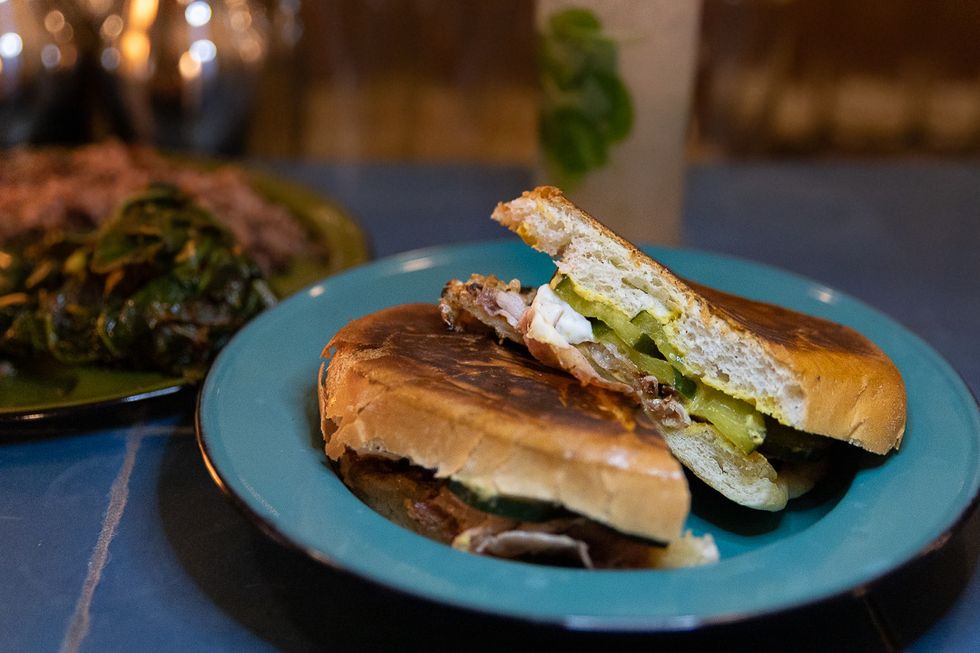 (Sarah Chorey)
One word of advice: Don't pass up this Cubano. Slices of ham, pork, crunchy pickles, melted cheese, and mustard are layered together for one deeply satisfying pressed sandwich.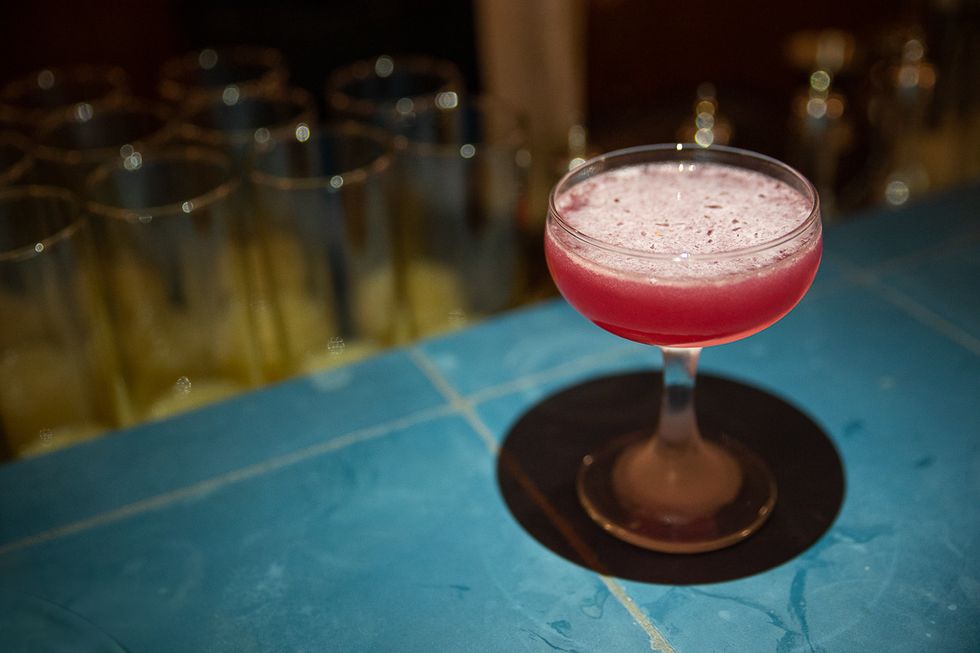 (Sarah Chorey)
Not a mojito fan? There are a number of other interesting rum cocktails to try including the Obispo de Cuba, a tart blend from Jamaican rum, red wine, and lemon.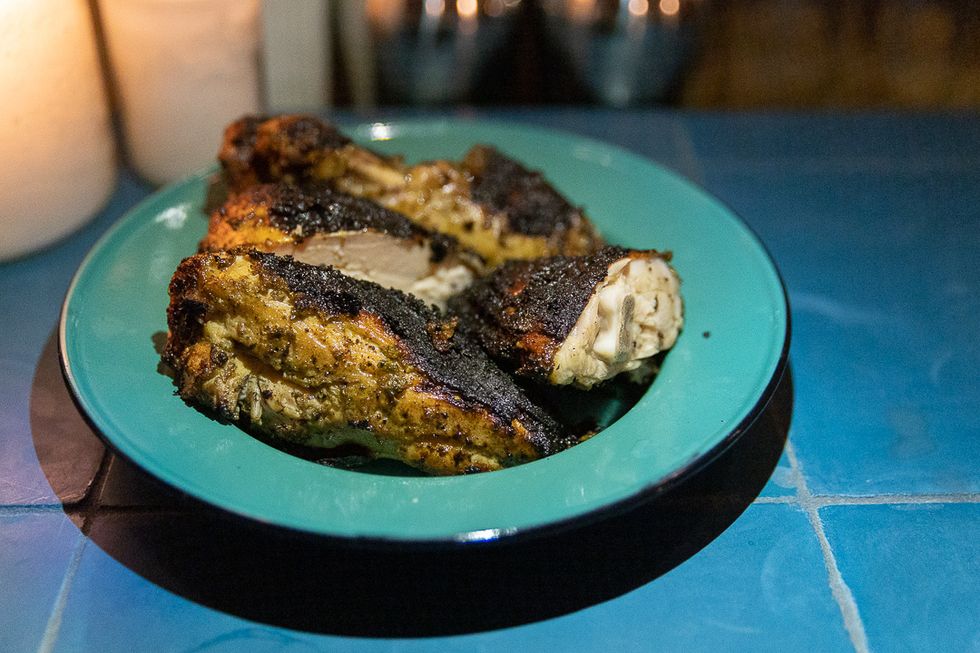 (Sarah Chorey)
Get some protein in the form of el pollo de Obispo, a dish of perfectly charred juicy chicken with an array of spices for a touch of heat.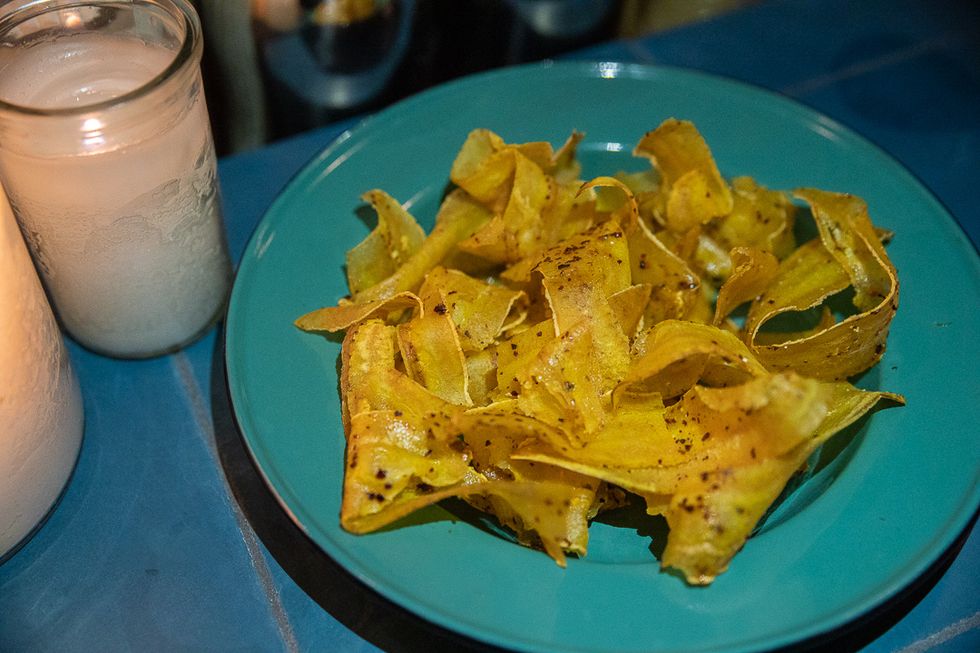 (Sarah Chorey)
Mariquitas—thin, salty curls of fried plantains—make the perfect side for heftier dishes like oxtail stew, but they also satisfy as a solo drinking snack.
Word first got out about the project over five years ago, so the bar—dedicated to rum and to the cultures where it originated— has been rather anticipated by Vogler's following. The barkeep himself has expertly curated the selection of rums from the Philippines, Jamaica, and the Caribbean. And, in his quest to continue building connections with these cultures, Vogler has partnered with two local organizations: the Museum of the African Diaspora (MoAD), and Calle 24, the nonprofit aimed at supporting the heritage of 24th Street's Latino Cultural District.
MoAD is helping out on the artwork front, lending their expertise in curating new pieces for the restaurant, the first of which is a guided replication, by SF-based New Bohemia Signs, of the folk art-style painting of Bill Traylor, an artist who was born into slavery, whose art represented the symbols and figures of life in the South during the 1930s and '40s. An homage to his work is now etched into the wall behind the selectively stacked bar.
Vogler also sought the input of Calle 24 to ensure that his business—which sits among 120 merchants all part of the Latino Cultural District—would be inclusive and economically accessible to the neighborhood; a place that would still resonate with longtime locals. The result is a fully bilingual staff, menus in both Spanish and English, and cocktails priced as low as $9 (you won't find that at Trou Normand).
Obispo will also donate partial proceeds to both MoAD and Calle 24.
Unsurprisingly, the food menu—devised by Vogler and his chef, Seth Stowaway—follows suit in its nod to Latin cultures, including the likes of empanadas, oxtail curry, Cubano sandwiches, congri (Cuban black beans and rice), and plantains. Plates range in size from small to medium, but can easily be made into dinner with the addition of a few sides.
Overall, Obispo feels effortlessly cool. Like it's not trying too hard to capture our attention—but it has.
// Obispo, 3266 24th St. (Mission), obisposf.com