There's a certain wonder from watching a sunset that captures our imaginations. You don't hear people going around loathing about what an eyesore sunsets are. But as timeless and universal as they are, there are some destinations that just seem to have better sunsets than others. With miles of expansive coastline along the Pacific Coast, the argument could be made that California is one of those places. Today I spotlight five of the most beautiful places to watch the sunset in California.

Pfeiffer Beach, Big Sur. With such a dramatic coastline, it's hard to narrow down Big Sur to just one  locale to view the sunset. Pfeiffer Beach may be one of the more challenging places to access on this list, but I believe you'll like the view you're greeted with. Keep your eyes peeled though, as the turnoff for Pfeiffer Beach comes up quickly off the Pacific Coast Highway, and then you have to drive down a narrow road for what seems like miles until you arrive at public parking for the beach. What's so unique about Pfeiffer Beach is the large rock that sits just beyond the crashing waves. It's no ordinary Pacific Coast rock, but has a large opening at the bottom that the sun shines through before it drops behind the horizon.

Malibu Pier, Malibu. No, not Santa Monica Pier, but Malibu Pier. You'll have to head just a little further up the coastline to Malibu for this pier. There are tons of popular piers up and down the coastline near L.A., but many of them get busy during the summer months and don't exactly have the serenity that you've probably come to expect from sunsets. While Malibu Pier can in fact get busy during the summer months, it's somewhat of a California icon. Visitors can enjoy a leisurely walk down the pier at sunset or photography lovers can set up on the beach to snap sunset photos with the pier in the foreground.




---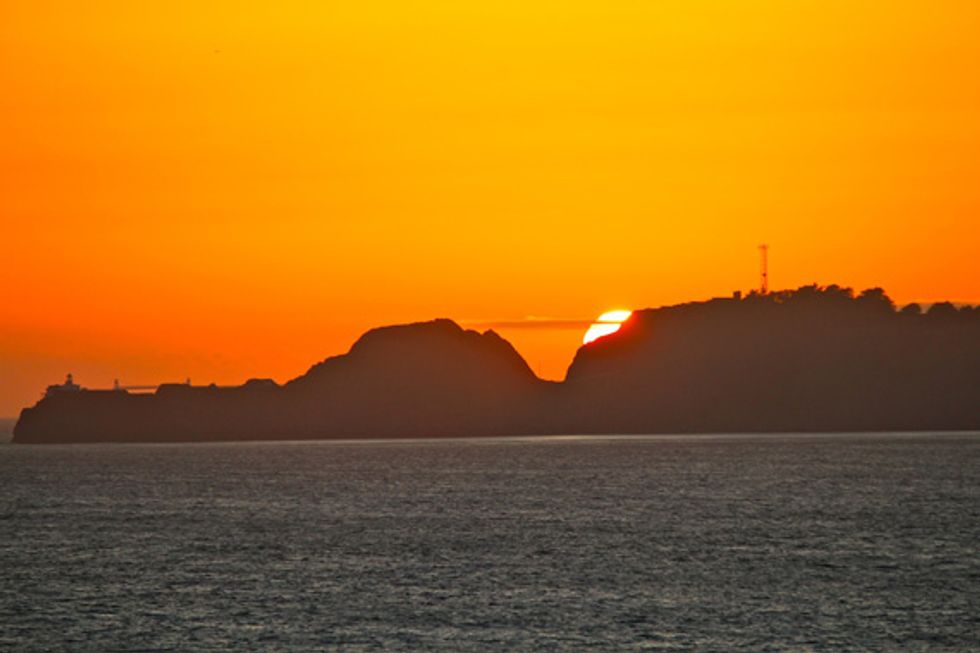 The Presidio, San Francisco. It's hard to believe that such wilderness and natural beauty is so close to downtown San Francisco. Occupying a large portion of the tip of the San Francisco Peninsula, there are several great spots in the Presidio to watch the sunset, including Crissy Field, which provides a view of the sun setting behind the Golden Gate Bridge. However, my favorite is around the bend near Baker Beach along the Batteries to Bluffs Trail. Visitors can find a rock along the trail or sit atop one of the military batteries while watching the sunset straight ahead across the Pacific Ocean. This also provides great views of the Golden Gate Bridge.

Carmel Beach, Carmel. Carmel Beach is one of California's most popular beaches and for good reason. It's just blocks from downtown Carmel and features a long, dramatic and rugged coastline that looks out over Carmel Bay. Here's your chance to impress that special someone. On a clear night, arrive early and grab a spot south of 10th Avenue and light a bonfire. Grab a bottle of wine and chocolate and marshmallows for s'mores, but don't forget a blanket as the chill and wind picks up as the sun starts to set.

Joshua Tree National Park, Joshua Tree. While beach sunsets are a California icon, I couldn't talk sunsets and not mention at least one destination that is further inland. While you won't see the sun setting over the large expanse of the Pacific Ocean, what you will instead see is a vast sky gleaming with bright colors for as far as the eye can see and no sights or sounds to interrupt it. Sunsets here are  expansive and offer a sense of serenity that the other places on this list don't quite produce. For a more perched view above the park, take the turn-off on the northwestern side of the park for Keys View.