Things associated with beaches and waves seem to naturally make people happy. Think about it. Mavericks had folks that never get in the ocean (let alone get on surf boards) brimming with excitement. Most lighthouses attract more people by car than by boat. Then there are piers. They attract all types: Walkers, runners, fisherman, thrill seekers, foodies… you get the idea.
---
San Francisco is loaded with piers, the most famous being in Fisherman's Wharf. But if you're looking to escape out of the city, you've got plenty of options–you just need to decide how far you want to drive.
Berkeley Municipal Pier
This popular pier is located near the intersection of University Avenue and the Eastshore Freeway. In its heyday, it stretched three-and-a-half miles out into the bay, but now you'll have to settle for about the first three-thousand feet. The Berkeley Municipal Pier was used in the 1920s by ferries that carried cars across the San Francisco Bay. When the Bay Bridge opened for cars in 1936, it found new life as a recreational pier. Fishing is big here. If the number of fisherman didn't tip you off, the well-used fish cleaning tables should. Dress in layers, and unless the fog is thick, enjoy the city views. Families with young kids can head to the nearby playground before or after taking a stroll over the water.
Pacifica Pier
Officially named the Reverend Herschel Harkins Memorial Pier, this L-shaped pier is a quarter-mile in length. It's a great place to walk around and people watch, and during stormy weather, waves have a reputation for being huge.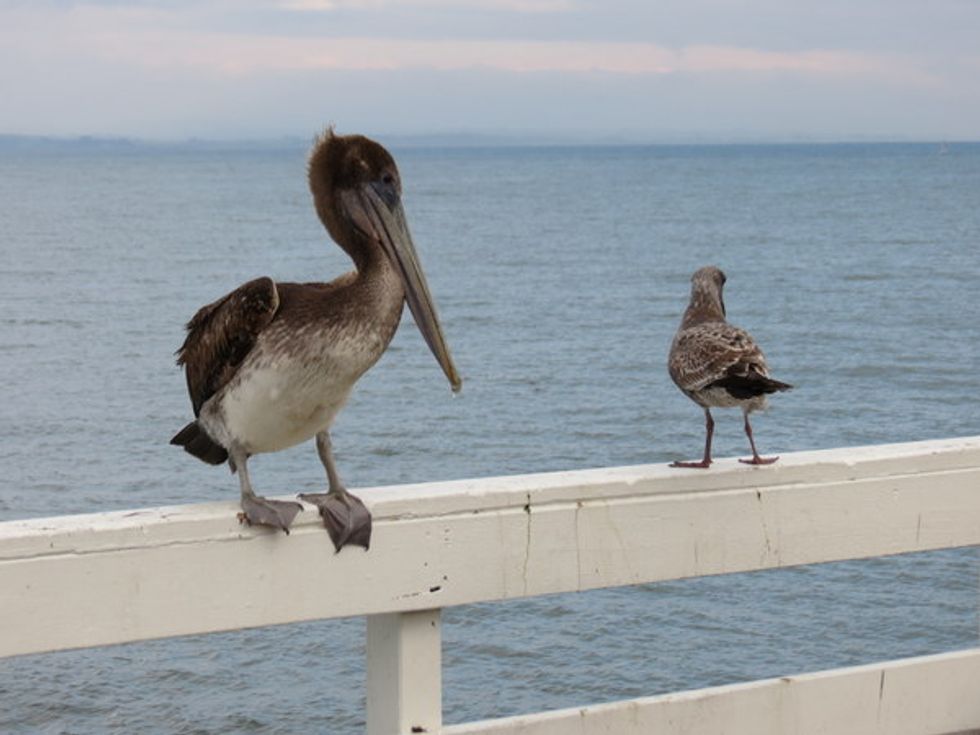 You'll have company on the Santa Cruz Wharf
Santa Cruz Wharf
Everybody knows about the boardwalk, but have you ever checked out the Santa Cruz Wharf? You won't find any deep-fried twinkies, but you won't leave hungry either. This is a popular, commercial wharf. One side is lined with restaurants and shops, the other perfect for listening in on the commotion caused by boisterous sea lions. Chances are good that you'll come across a collection of sea lions, more than a few pelicans and plenty of sea gulls. Make sure you walk all the way to the end of the pier, where cut-out sections offer great views of sea lions resting on pilings below.
Old Fisherman's Wharf, Monterey
Sardines once ruled this wharf, but now visitors are king. This colorful waterfront is loaded with restaurants, dessert locales and souvenir shops. Fisherman's Wharf Monterey is a fun place to walk and take in an assortment of sights and smells. Think clam chowder, salty air and maybe even some fudge if you've got a sweet tooth. Numerous whale watching boats also set sail from the wharf.
Monterey Municipal Wharf II
The neighboring Monterey Municipal Wharf II is a different kind of busy. It's home primarily to wholesale fish companies, but don't let that stop you from investigating; you might find inspiration for dinner.
Dana can be found on Twitter @drebmann