If you're craving a weekend in the City of Angels, May's the month to do it. The summer throngs haven't yet arrived, but the weather's gorgeous, there are new eateries to try, and perhaps the best live theater on the West Coast playing through the end of the month.

If you've got the energy for it—and you wouldn't be heading to LA without reserves of energy, right?—base yourself at the iconic Hollywood Roosevelt. True, it's smack in the middle of Sunset Boulevard's tourist shtick, but the hotel offers so much that you needn't concern yourself with its immediate surroundings. Its original Old Spanish style has been updated by Thompson Hotels, and the overall effect is a kind of hybrid between SoCal cool and Vegas Brat Pack. The air is thick with celebrity aura—oversized photos of Marilyn (who once lived here), a penthouse where Gable and Lombard used to cozy up, and a crowd that seems composed of both Hollywood insiders and their 20something spawn. Strangely, none of this is off-putting, possibly because of the tourists wandering amongst them or the un-snobbish attitude of the friendly staff. The cabana rooms surrounding the hotel's infamous pool have been recently updated, but unless you're prepared to party all night or you've invested in noise-canceling gear, plan on booking a room away from the pool in the tower—and even then, it's good to have earplugs on hand.


---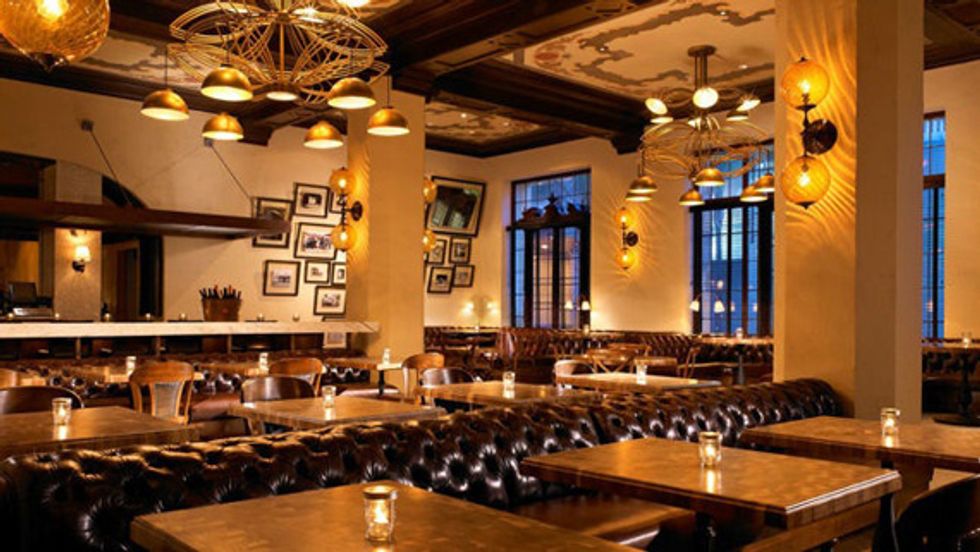 Get ready to see stars at Public Kitchen and Bar.

Just off the lobby, Public Kitchen and Bar debuted in February. The soaring dining room, lined with deep booths and banquettes, feels like a private but convivial club. Chef Tim Goodell turns out carefully crafted American food and whimsically offers to top any entree with an egg. That's not really necessary though: the pancetta-wrapped monkfish and steak frites with bone marrow butter carry their own weight. Yummy starters include gnudi with brown butter and chanterelles, and mushrooms on toast with veal jus. Old-school and classy, just like the space. Afterward, head upstairs to the Spare Room, where you can play chess or backgammon while sipping cocktails, or bowl on two vintage lanes. Downstairs in the basement, David Arquette headlines Beacher's Madhouse, a vaudevillian variety show that runs Wednesday through Saturday nights from 10 a.m. until 2 a.m. (You might catch Arquette at the pool in the afternoons, showing off his tatts and flirting with the girls. He's looking very fit, and he may be surrounded by midgets. Don't ask.)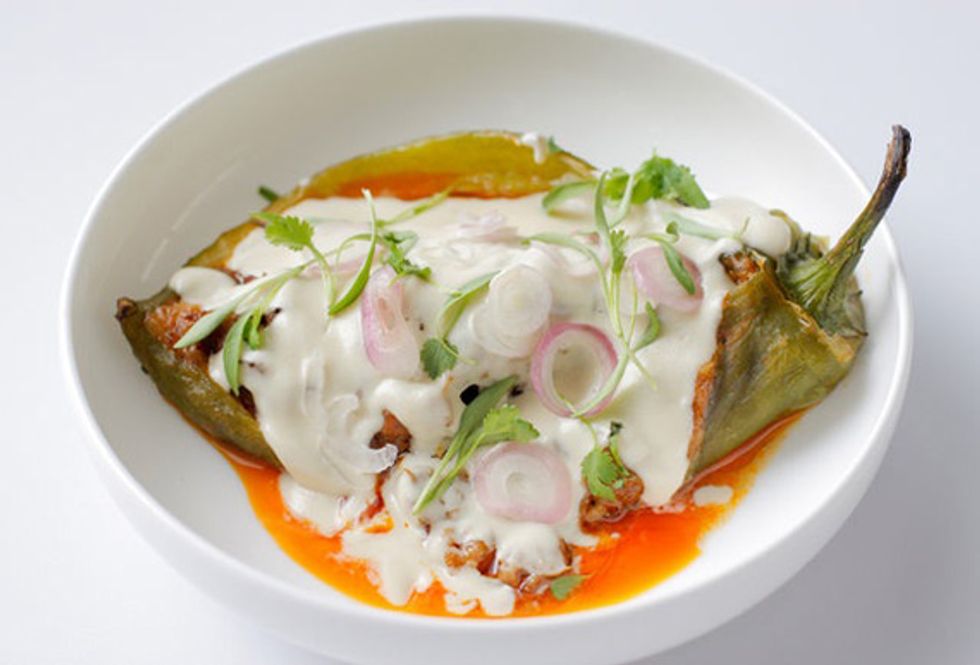 Don't miss Ray's amazing chile relleno.
When you do venture away from the Roosevelt, head a few miles south to LACMA (Los Angeles County  Museum of Art), where Ray's and Stark Bar also opened in February. If you're thinking "a museum restaurant?"—don't. Ray's is serving up really excellent Mediterranean with a strong fresh-and-local angle. The only reminder that you're in a museum restaurant is its super-modern design, in which glass walls blur the indoor-outdoor boundary and red chairs pop against the cool gray background. The wood-oven-grilled Cornish hen over barley salad is delicious, as are the agnolotti filled with truffled rice and sauced with porcini, black trumpets, and hazelnuts. But the dont-miss dish here is definitely the chile relleno, stuffed with chorizo and dates and bathed in an almond-and-goat-cheese sauce. You've never had a relleno like this one. If you plan your visit right, you can stop in to the museum (admission is pay-what-you-like after 5 p.m.) and see Elizabeth Taylor in Iran, a candid and mesmerizing exhibit of the star wandering through Persian bazaars and deserts circa 1976.
Marcia Gay Harden gives it to James Gandolfini in God of Carnage.

Another cultural option is even more enticing. Through May 29, James Gandolfini, Marcia Gay Harden, Hope Davis, and Jeff Daniels reprise their Broadway roles in the Tony Award-winning God of Carnage at the Ahmanson Theatre. The scorching one-act play portrays two sets of suburban parents discussing a fight between their young sons, and as their composure unravels, the laugh meter shoots up, venturing almost into the realm of slapstick. The upcoming movie version, directed by Roman Polanski, will star Kate Winslet, Christoph Waltz, Jodie Foster, and John C. Reilly, but it's worth it to see this original foursome live.