Plus, chef change-ups in St. Helena, Trestle opens in Jackson Square, and a preview of forthcoming veg-centric restaurant, Citizen Fox. 
---
A Benefit Dinner for Nepal in Bernal Heights
We're starting this week on a serious note as we watch the destruction wrought by the recent earthquake in Nepal. Our thoughts go out to everyone in the region, including friends currently on treks. So, we were thrilled to hear about a donation-only dinner event this Thursday, April 30 at Little Nepal Restaurant on Cortland Avenue in Bernal Heights. The special menu includes an appetizer, entree, and side, with options including vegetable pakora, a variety of curries, and naan bread. Chef Prem Tamang is from the Kavrepalanchok region of Nepal, and all of the evening's proceeds will go to his hometown. Come by anytime between 5 and 10 p.m., and please bring cash for your donation. Get more information on the event here!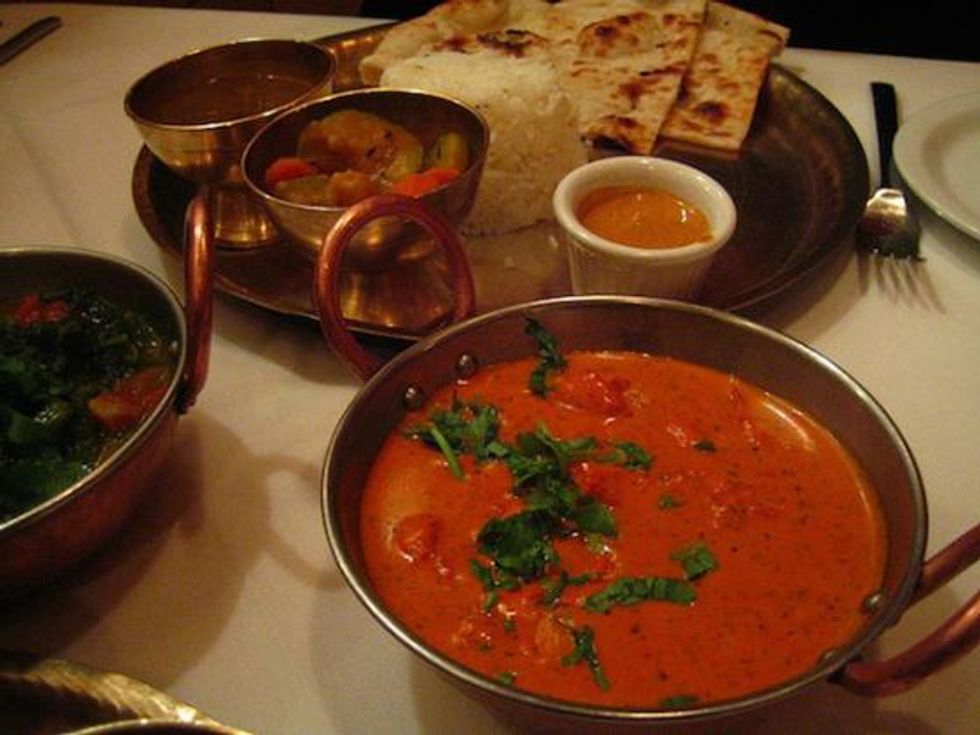 Curry, rice and naan at Little Nepal in Bernal Heights. Photo Credit: Brett
Derby Day Festivities, Plus Cinco de Mayo
Starting with the Derby, this Saturday, May 2: Hog & Rocks is throwing a hell of a shindig, complete with a costume contest, race betting, and an oyster "shuck and suck" contest (uh huh). Get more information and tickets here. Or, stop by Elixir, where you can sample from a dangerous-sounding "Choose Your Own Julep" menu—you select your bourbon and your simple syrup, with choices including lavendar and cucumber jalapeno. Your drink gets you a whole lot of free BBQ (hello, pimento beer cheese and kale slaw!); your fancy hat could win you a $25 gift certificate to Elixir, too. Prefer your Derby debauchery with a side of giving back? Get tickets to the Leukemia & Lymphoma Society's "Race for a Cure" Party, complete with Southern grub, drinks a-plenty, and of course, more big hats. Tickets and more details can be found here. 
As for Cinco de Mayo, take your pick of tequila-centric celebrations: Copita is going big with a margarita tasting flight, fancy lobster tacos, and a live mariachi band. Even better, they're kicking things off May 1, and celebrating their third birthday on Sunday, May 3. Back in San Francisco, Hecho is starting celebrations on Monday, May 4 with the launch of their tequila tasting program from 6-7 p.m. On Cinco de Mayo proper, expect $15 pitchers of margaritas, and even more mariachi. You'll find us at El Capitan in SoMa—they're throwing an all-out Cinco de Mayo feast, complete with their excellent fry bread tacos, ceviches, Mexican street corn, and a whole roast suckling pig. Get information and tickets here, and cross your fingers for a rain-free evening—they're planning on showing the Giants game on the patio, weather permitting. 
Trestle Opens, Preview Citizen Fox, and A New Chef at Goose & Gander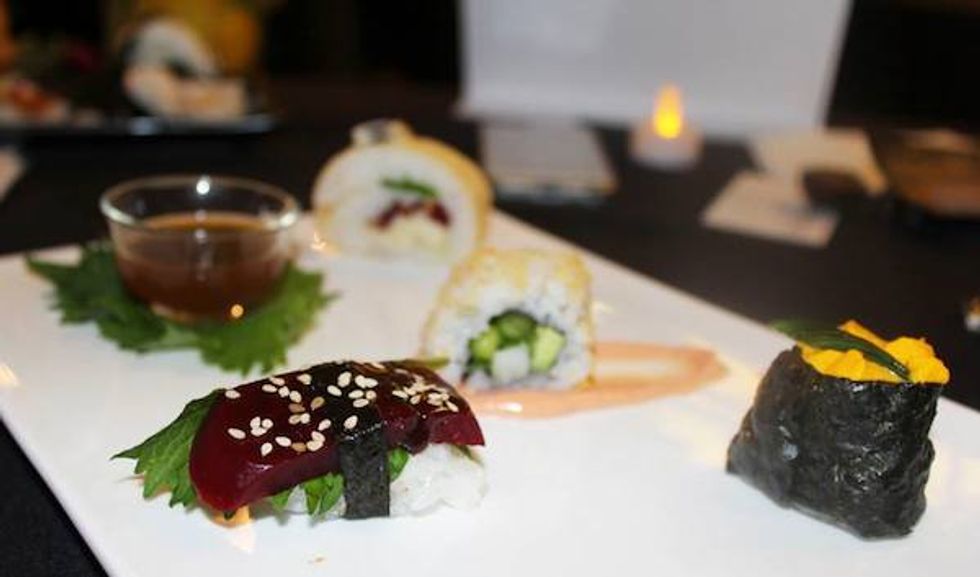 Vegan sushi from Citizen Fox
A new must-try  from the Stones Throw and Fat Angel team: Trestle opened in Jackson Square on Tuesday, April 28. The restaurant is offering a nightly three-course prix fixe for $35 (including an appetizer, entree, and dessert, with the option to add an additional pasta course for $10), a serious deal in this day and age of $30+ entrees. Diners will find some choice in their three course selections; the opening menu includes dishes like little gem salad with bacon and an egg, marinated calimari with roasted fingerlings, crispy skin branzino, and short rib 'pot roast' with potato gratin. Per the Hi Neighbor team's style, they've got an excellent beer list, and a thoughtful, very well curated wine selection (by the glass and bottle).  
Lest you need more new restaurants to get excited about, forthcoming 'plant-based' restaurant, brewery, and bar Citizen Fox is holding a pop-up dinner this Friday, May 1. The theme here is Japanese banquet feasting, and includes cauliflower karaage with yuzu kosho aioli, rice with mushrooms from Far West Funghi, and a spread of pretty stellar sounding vegan sushi (see: the crispy inside-out asparagus roll with avocado and pickled daikon). Beer pairings, courtesy of Master Ciccerone Rich Higgins are available, too. Check out the full menu and get tickets here. 
Finally, fans of St. Helena comfort food and cocktail destination Goose & Gander have yet another excuse to plan a return trip—Howard Ko has been announced as the restaurant's new Chef de Cuisine. Ko was most recently at The Restaurant at Meadowood and French Laundry, which bodes very well for any menu changes he might make.