A newcomer to the Heath Ceramics artist studios, Ocelot Clothing is the nationally- and internationally-exhibited label of veteran textile designer Angelina DeAntonis. Known for her luminous, supremely flattering wraps, shrugs, and coats, the Portland native recently launched homeware and accessories collections that offer the same impeccable blend of traditional craft techniques and modern sensibilities.
---
"I see fashion as impulse-based, whereas I prefer to take the longer view," explains DeAntonis. This design principle is literally realized in the centuries-old, laborious hand-dyeing process known as itajime used to make Ocelot fabrics. Many of the dyes are homemade, as are the dyeing blocks placed on either side of the fabrics to create Ocelot's signature elliptical-patterned prints. The final products mesmerize with the vibrancy of their hues and the bold simplicity of their cut.
Ocelot Clothing has been featured in venues as disparate as the TV series "Six Feet Under" and Joan Baez's 2003 European-American tour. As she arranged felt wall panels, linen pillows and silk scarves in her showroom, DeAntonis filled us in on the creative spirits that drive her work and life.
My wardrobe essentials are… my square-toed Cydwoq boots, and my hand-painted enamel necklace and earrings by April Higashi.
I am inspired by… the light of the setting sun, the dress of the nomads of Central Asia, and vernacular architecture around the world.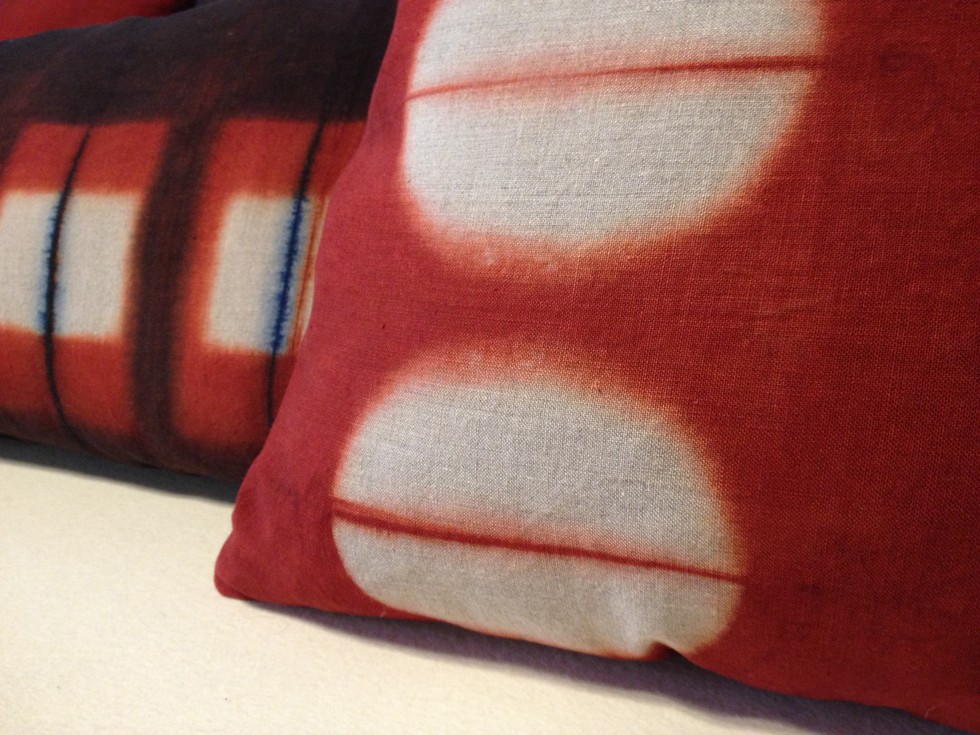 Linen pillows from the new Ocelot Home collection. 
My favorite part of the hand-dyeing process is… the opening of the bound fabric, where the folds unfurl and the pattern is revealed. I also love the steam rolling off the madder as it cooks, giving off the scent of earth.
For a weekend getaway I… visit family in Bolinas and stop by the Gospel Flat Farmstand for fresh flowers, veggies, and a look at the Farmstand Artspace, which is open 24 hours a day.
A recent San Francisco find is… a shop in Bernal called Succulence. They have an amazing selection of succulents in their open-air courtyard in the back.
My last amazing meal was… at the Blue Plate on Mission. Each bite transcends the act of eating and becomes a journey. The staff are really great, and know how to let you take time to enjoy the experience.
On my studio playlist… African blues of Mali. The work of the Taureg group Tinariwen and Ali Farka Toure of Mali both have a profound driving sound that takes me deep into my work.
My dream client is… creative and free in their style. Recently the Amazonian beauty-sculptor Michelle Gregor came to my open showroom event and threw a gabardine wool wrap over her plaid pleated skirt. An uncanny pairing, but she looked fabulous because she loved it and the style was truly her own and suited her.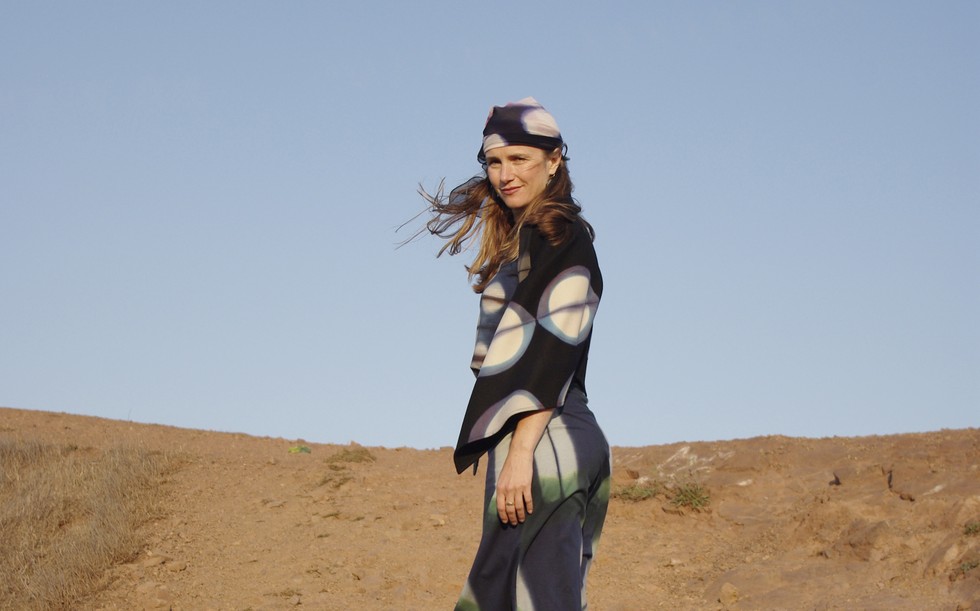 Itajime clothing from the Ocelot Clothing collection. 
I do my best work when…  I am alone or uninterrupted, and can really tune into the materials and give them form. I like to work several things at once, stepping back and reworking as I am moved.
Another craft form I love is… functional ceramics. Lilith Rockett is a potter in Portland who throws beautiful and elegant porcelain forms that are such a pleasure to use, and their minimalist and translucent forms stand on their own as sculpture.
An indulgence I would never give up… a hot soak, especially in natural hot springs.