If you're wandering around North Beach and happen to cross Jack Kerouac Alley (behind City Lights Books) in the early evening, you may spot something funny going on. For it is here, around 7:30pm on weekend nights, that otherwise-normal adults clad in glittering headwear and dapper old jackets begin loitering about in search of a secret bar.

They are trying to find The Speakeasy, an exclusive experience they've been promised will provide an "immersive theater adventure." You won't be able to join them (reservations are necessary and it's likely these folks made them weeks or months in advance), but you might catch them speaking in code, asking questions about the weather, pocketing paper envelopes, and pinning flowers to each others jackets.
---
The Speakeasy is a product of Nick A. Olivero and Boxcar Theatre, an SF company that opened its SoMa venue in 2007 and added a Tenderloin location in 2010. This is where The Speakeasy was first performed, though the show was cut short when Boxcar was forced to leave the location in 2014. They signed the lease on a larger North Beach space (location undisclosed) in 2015 and relaunched this past fall. Secrecy and uncertainty is all part of the fun for Olivero and the more than 80 cast and crew who put on a production that wants to be the city's worst-kept secret.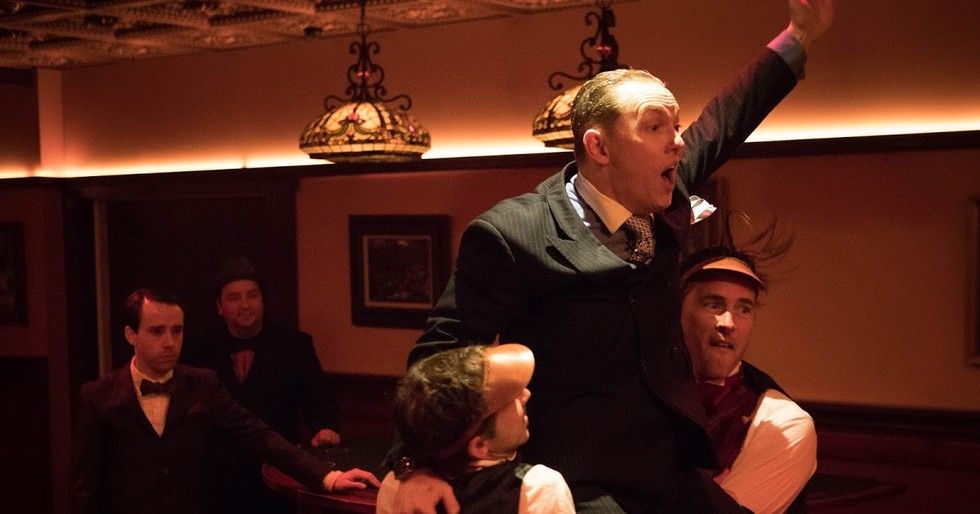 Brian Martin as Cliff and Jason Pienkowski as Leland (carried by Anthony Agresti and Brent King) in The Speakeasy.(Photo by Peter Liu)
The website is frustratingly sparse on details, though if you look for the fine print you'll find a five-part description of what the establishment offers: "illicit bar, crooked casino, vaudeville cabaret, immersive theatre adventure." A list of "House Rules" ensures that you come dressed for the occasion (cocktail attire required) and warns against any notion of technological documentation. The site offers little else, though it is happy to guide you to local reviews and assist you with the process of setting up a tab. All other details are released as needed.

The evening before I was to attend, I received an e-mail instructing me to find a man in a blue hat and ask him a single question: "Do you know where I can find a good piece of pie?" Upon making my connection, I was handed a corsage and packet of instructions, as well as a brown paper envelope stamped with the house rules:
Speak. Easy. Do not speak, and if you must whisper.
Absolutely no mobile phones, cameras, or other technological doodads.
No in and out privileges.
Doors marked PRIVATE mean exactly that—stay out.
After turning off my phone and sealing it in the envelope, I was left to follow a hand-sketched map and directions to the basement level Joe's Clock Shop. The final instruction to locate and step through a grandfather clock won me over.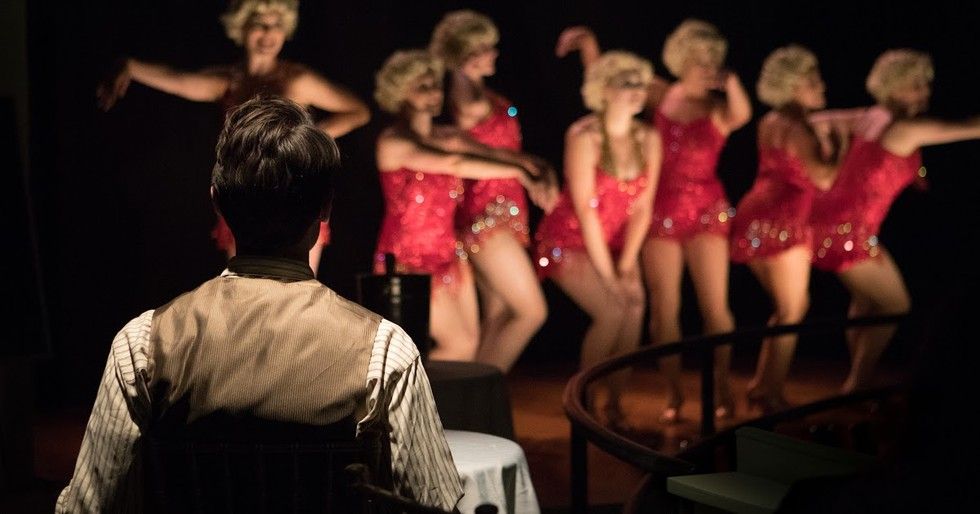 The Speakeasy. A gentleman takes in a show in the cabaret.(Photo by Peter Liu)
It was an appropriate metaphor for what was about to unfold—a journey back in time that was more an exploration of a world than an observation of a performance. Guests of The Speakeasy begin their journey in one of three main performances spaces: the casino, the bar, or the cabaret. Drinks can be ordered in either the bar or cabaret.
A formal floorshow fills the cabaret for the entirety of the evening, however, much of the best action happens "off stage." Though no one will give you instructions to do so, guests are welcome to wander freely from room to room at any time, often using secret passages and pocket doors to move about. Unlike traditional theater, the action never stops in any given space, but it is always ongoing, from the showgirls' dressing room to the boss's office. You can follow a character, storyline, or space, or hop back and forth from one to the next.
It's likely you'll come away mostly clueless about the plot, even if you didn't kick back a Vieux Carre and a couple of sazeracs first. That's to be expected when a 1,500-page script is being executed in half a dozen spaces simultaneously. It's just part of The Speakeasy experience. You'll play your own role as well, interacting with the staff, brushing shoulders with the cast, watching the cabaret, and placing bets in the casino.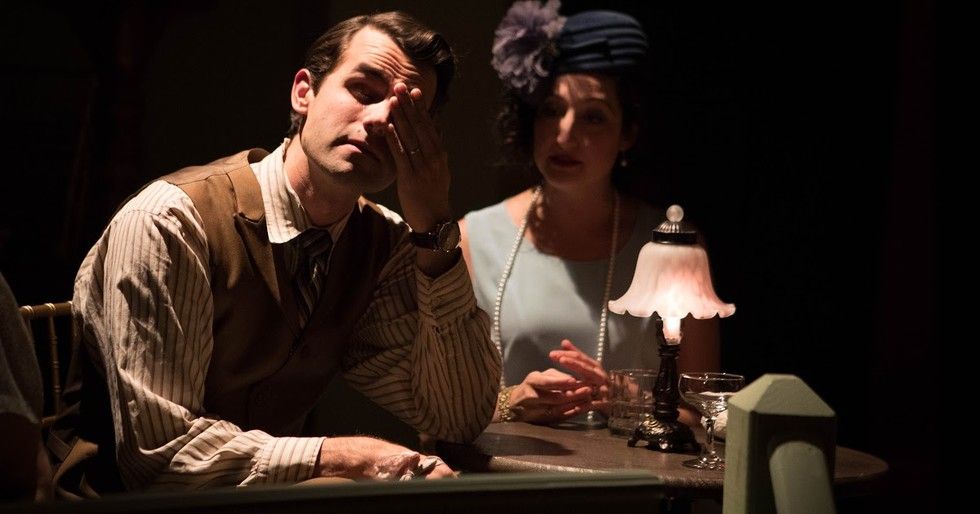 Zachary Eulberg as Herman and Theresa Miller as Evelyn in The Speakeasy. Photo by Peter Liu
It isn't about figuring out plot points or getting the best gin drink in town (though you just might do both), it's about candle-stick phones and vintage ceiling tiles, bookshelves that double as doorways and show girls with secrets to keep. In an age where VR and AR draw us ever-closer to Star Trek's holodeck experience, The Speakeasy is going old school with the concept of immersive entertainment, transporting you through time and sharing a couple of secrets on the way.
// The Speakeasy is open Thursdays through Sundays. Tickets ($85 and up) may be purchased online at thespeakeasysf.com