Whether you're newly in love, honeymooning, or staving off the seven-year itch, fun adventures with your S.O. go a long way toward fortifying romance and coupledom. This is especially true in Kaua'i, the oldest of the Hawaiian islands and also the most lush (or fertile, if that word is, for whatever reason, meaningful to you), holding a (disputable) meteorological record for the highest annual rainfall, about 460 inches.
That said, the warm rain usually passes quickly, and you shouldn't let a precipitous forecast deter your intrepid endeavors in the verdant wilds of Kaua'i. Here, our list of twinkle-in-the-eye-making, romance-inducing, bond-cementing adventures for lovebirds.
---
Na Pali Coast Boat Tour
Kaua'i's northwestern Na Pali Coast is renowned both for its rugged verdant cliffs, rising as high 4,000 feet, and for its relative inaccessibility. As in romance, the beautiful ideal just out of reach is very appealing. While some traverse the notorious Kalalau Trail, a winding, slippery, cliffside path for their Na Pali fix (a permit is required beyond the initial 2.6 miles from the Ke'e Beach trailhead to Hanikapi'ai Beach), consider experiencing the scenic coast from a boat deck half a mile out to sea. Captain Andy's runs daily catamaran trips from Hanapēpē Bay around the island. Take heed: This is an open-ocean adventure, not a relaxing cruise, so those prone to seasickness should stay planted on dry land. But if you've got Dramamine or ginger chews to help quell the nausea, you can't beat the thrill of watching dolphins surf the wake of the catamaran with your sweetheart. The 5.5-hour tour includes a short snorkel where you'll swim among brightly colored fish, a full-throttle ride on some not-so-wimpy waves, and, when you arrive off the Na Pali coast, a smooth sail and picnic lunch. You'll disembark crusty with sea salt, drenched in Vitamin D, and ready for a nap—in other words, just another day in paradise.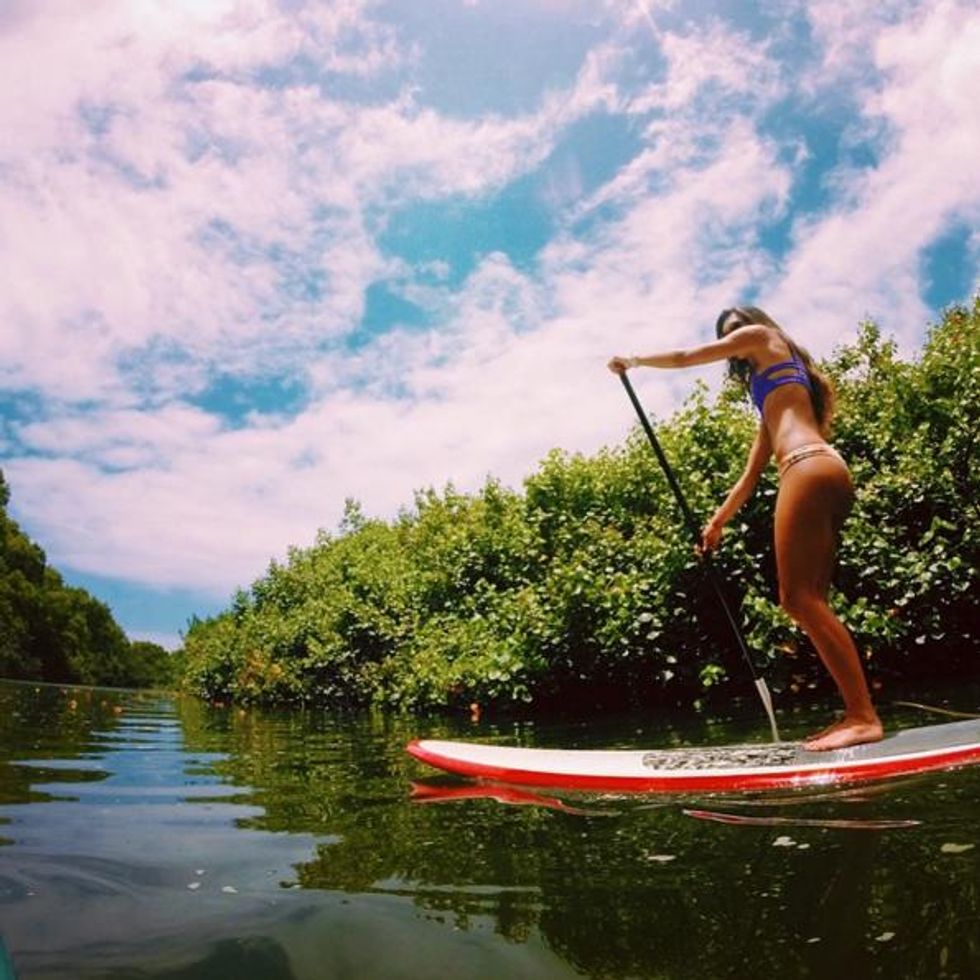 (Courtesy of Hawaii Magazine)
Stand Up Paddle Boarding on the Hanalei River
While we're avid paddle boarders, we're spoiled by the relatively peaceful water in Sausalito's Richardson Bay (shout out to our peeps at Sea Trek), so the chop in northern Kaua'i's Hanalei Bay on the day we were there felt more suited for actual surfers. Luckily, the Hanalei River that feeds into the bay is much calmer and goes on for miles, with almost no threat of white caps. Imagine slipping along the river (for those who prefer to sit down on the job, kayaks are also a popular option), the birds swooping above you, the tropical breeze in your hair, while you gaze up at the ancient volcanic mountains that guard the center of the island—a special and humbling experience to share with your object of affection. Hire a knowledgeable local guide from Hawaiian Surfing Adventures who will point out the some of the local claims to fame along the riverbank: Locations in the 2014 movie, The Descendants, starring George Clooney; Kaua'i native, pro-surfer, and SUP inventor Laird Hamilton's private home; and the popular sushi spot, The Dolphin, with its secret riverside "dock" for paddle boards. Head to the fish market in the back for delicious shoyu poké over steamed white rice, grab an outdoor table, and watch your fellow river-goers (turtles included) float by.
Sunset Golf Cart Ride
Located adjacent to the St. Regis Princeville, the Makai Golf Club offers much more than just whacking a ball with an iron stick. You can join a sunrise yoga class on its signature 7th hole, atop a dramatic bluff with the ocean churning wildly below, or book a spot in the late-afternoon golf cart tour that chases the sunset and stops at certain holes on the links that make gorgeous backdrops for your kissy-face selfies. While we never condone drinking and driving, we won't tell anyone if you take just one house mai tai (you know, "drink responsibly" and all that potentially life-saving jazz) on the 90-minute tour. Technically, it's the cocktail hour, so you're entitled.
ATV Tour + Shave Ice
If your golf-cart exploits prove a little too docile, crank up the machinery a few notches. At Kipu Ranch, a 3,000-acre sugar plantation-turned-cattle ranch, you can take an ATV tour through the rugged, muddy, red-dirt terrain. You'll don a bandana, bank-robber style, to keep the dust out of your nose and mouth, as you 4WD your way to waterfalls, bamboo forests, and movie locations seen in Jurassic Park and Raiders of the Lost Ark. Along the way, the guides will tell the history of the ranch, pluck sour plums and guava for you to sample, and give tips on negotiating a few deathly steep stretches of road. It's an opportune time to prove once and for all that your driving ability is superior to that of your darling. Afterward, head to Kapa'a (or "Kapa'a-a-a," as Nicholas Cage called it in Honeymoon in Vegas) 30 minutes away for a refreshing Hawaiian treat at the famous Wailua Shave Ice truck (if you like passionfruit, you can't go wrong with the lilikoi-cream flavor) or the Tege Tege Shave Ice truck, where two incredibly earnest workers hand-crank ice to order, a laborious process that results in long wait times. Judging by the winding queue of patient patrons (us included), it's a small price to pay for a downright downy ice texture. We like to skip the "snow cap" (a cloying drizzle of sweetened condensed milk) and ask for an added scoop of organic vanilla ice cream instead.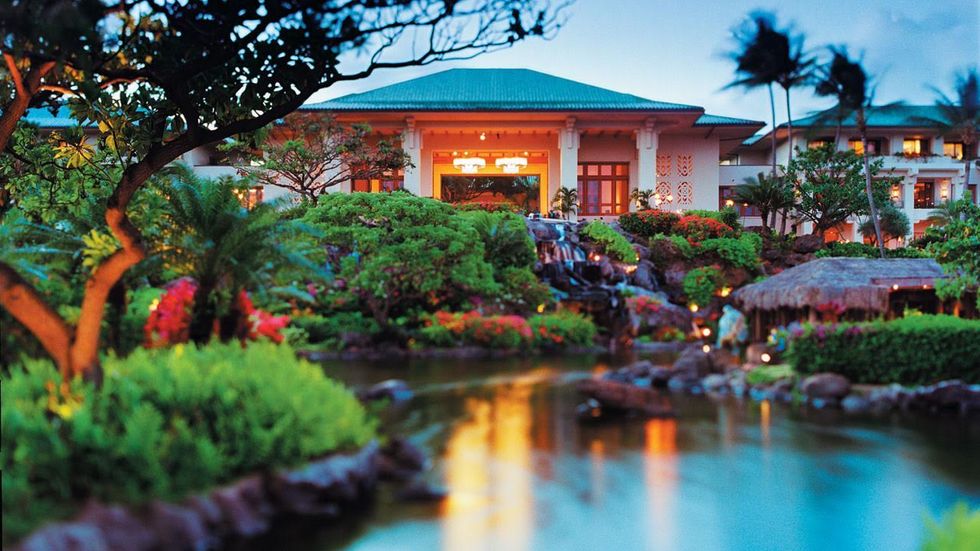 (Courtesy of Grand Hyatt Poipu)
Where to Stay and Eat
On the south shore in Poipu, the Grand Hyatt Kaua'i is an expansive, picturesque property with outstanding tropical gardens and some killer dining options. For breakfast, don't skip the kingly buffet at Ilima terrace, where you won't have to choose between fish and rice (the quintessential Japanese breakfast) or French toast with coconut syrup—you can have it all, and much more. At the signature fine-dining restaurant, Tidepools, where koi circle in a surrounding pond, you can create your own surf and turf by adding a cold-water lobster tail or Pacific prawns to your slow-roasted prime rib or grilled huli chicken entrees.


The St. Regis Princeville has long been the luxury destination for the North Shore. With its grand lobby, world-class spa, and dramatic location overlooking Hanalei Bay, staying here is a pinnacle experience for most tourists. Food-obsessed couples should prioritize dinner at the on-site Kaua'i Grill. There, Kobe beef is treated with reverence and cooked to rare-plus perfection, the truffle mashed potatoes are velvety and funky in that delicious way expensive fungi usually are, and the signature dessert, a salted-caramel ice cream sundae, is ingeniously paired with peanuts and caramel popcorn for a gourmet tribute to that all-American snack, Cracker Jacks. Just add stars and stripes.