There are too many craft beers to choose from, even when narrowing the choices down to just this season's beers. So it's a complicated yet still welcome dilemma to face: What beer to take to a holiday party?
---
Whether you plan in advance and shop at a specialty store that has a solid beer selection, meet friends in a well-stocked pub, or make a last minute scramble to a chain supermarket or convenience store, you've got a lot to choose from these days.
Fortunately the beer talent runs deep in San Francisco and we solicited great suggestions from several local experts by asking them the following question: When someone visits you on the holidays, what beer would you most like to see them bringing?
David McLean, Owner Magnolia Pub & Brewery - I'd like to see them bring something festive like a winter warmer or other holiday ale - something with an alcohol level of 7 to 8%, a lot of malty flavor and some caramelized notes. To me, that's the sweet spot between drinkability and novelty. It would compliment many of the season's rich, flavorful roasted and braised dishes without stepping on any toes and dominating the conversation. My personal preference would be Sierra Nevada Celebration Ale. It's long been one of my favorite tastes of the season. I arrived in SF twenty years ago just as that year's Celebration was released and I've been in love with it ever since.
Pete Slosberg, Founder of Pete's Brewing Company and mentor to many local craft brewers - I would say 3 Fonteinen's Schaarbeek Kriek. We worked with 3 Fonteinen this year on a beer to honor the birth of our grandson and really love all of their beers, but for the holidays, the Schaarbeek cherries give the Kriek a unique and festive touch.
 Dave Hauslein – Beer Manager at Healthy Spirits –I love vintage English barley wines. Anything from JW Lees or the Fuller's Vintage Ale line-up would be greatly appreciated. Also the DuPont Avec Les Bons Voeux is fantastic.
Chuck Stilphen, Co-owner/Operator at The Trappist – I'd like my guest to bring a 1.5 liter bottle of Rochefort 8 Christmas Edition, because it's nearly impossible to get in this country, but mostly because it's an incredible beer.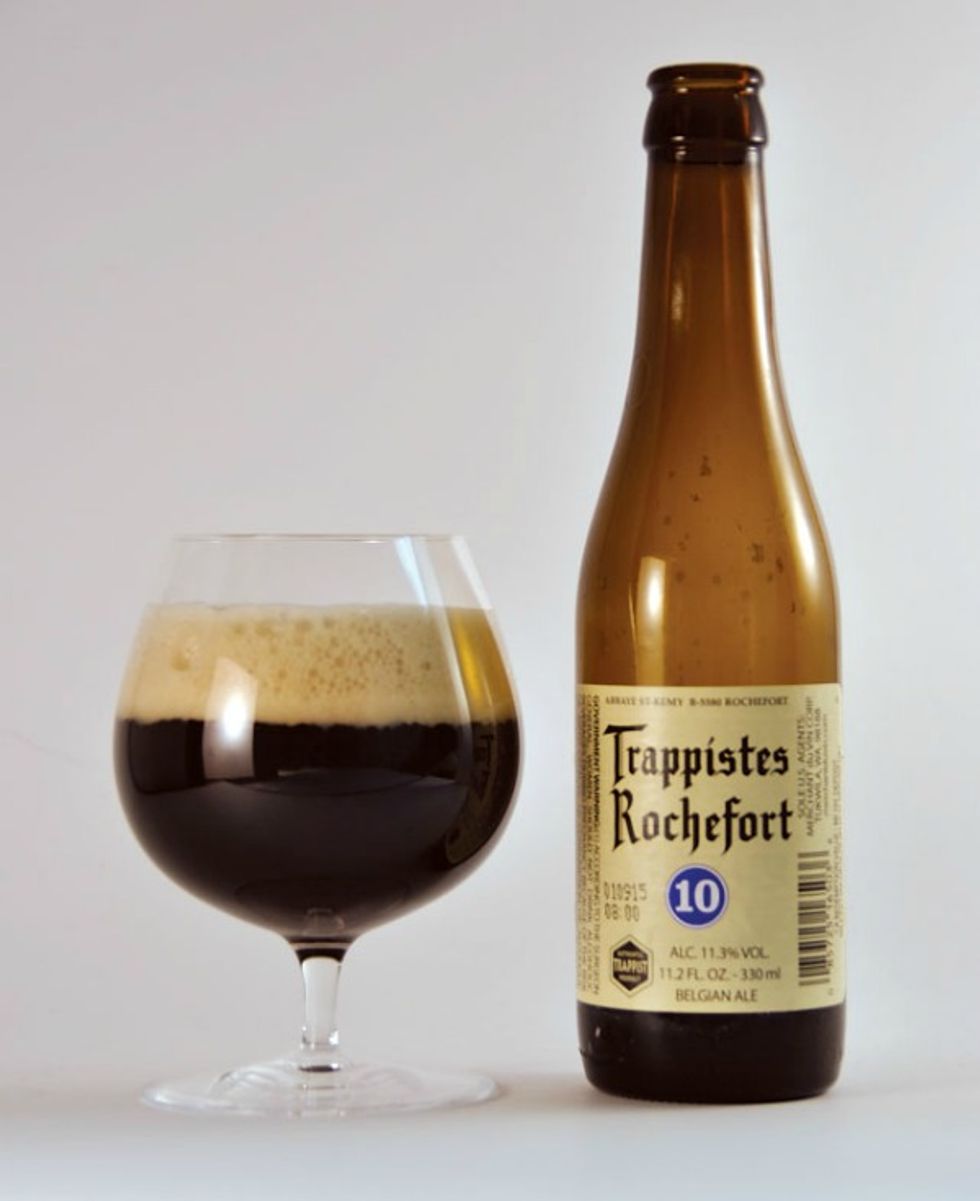 Rich Higgins, Master Cicerone and Brewmaster at Social Kitchen & Brewery - One of my favorite beers this time of year is Avec Les Bons Voeux. It's Brasserie Dupont's New Year's celebration beer. It's an ethereally elegant golden ale, sparking and crisp with hints of apricot, pepper, and white chocolate. It comes in a 750 ml champagne bottle with cork and cage, so it makes a great presentation when you bring it to a dinner party or give it to someone you're staying with over the holidays.
Kushal Hall, Head Brewer, Speakeasy Ales & Lagers – If the guest is a homebrewer or meadmaker, I would want them to bring something they made. Equally good is to share something they have personally cellared. Cellaring a strong ale, barley wine, or a favorite Belgian ale for a year or more adds interesting complexity to the beer.
Brenden Dobel, Brewmaster at Thirsty Bear - Being a native born San Franciscan, Anchor Christmas Ale is always appropriate. It's local, it's good, and it's different every year. The magnum-sized bottle makes for a festive presentation at any holiday gathering.
Sayre Piotrkowski, Certified Cicerone and Beer Evangelist at Monk's Kettle - My holiday recommendation would have to be Navidad from Pausa Café. Pausa Cafe is a Torino-based NGO dedicated to three goals:
• Supporting organic/fair-trade agriculture through the cultivation, craft and sale of chocolate, coffee, and beer.
• Developing sustainable economies for indigenous cultures.
• Creating a business model to help rehabilitate the incarcerated in Italy.
While the coffee and chocolate are made in a lower-security facility, the brewery is housed inside the Rodolfo Morandi Penitentiary, a notorious maximum- security prison for violent criminals. Navidad was a particularly important beer for the brewers at the prison because its recipe was formulated by committee. For me this beer embodies the best spirit of the Christmas season. Also, the beer is delicious, sweet and spicy with a nice warmth from the spice and high alcohol content.
By the way, if you're looking for any of these beers or others, try using BeerMenu's beer locator.
Photo courtesy of takeonedown