Since taking the position of Executive Chef for Prather Ranch Meat Company, Erica Holland Toll has been busy.

Erica is working on revamping and creating some new sausage recipes for the company to sell at Prather's shop inside the Ferry Building. She's also developing a menu for the new restaurant and retail space they will be launching sometime later this year

This long time market shopper (formerly of Lark Creek Inn and Ducca) is also bringing the market's best seasonal produce to Prather's Tuesday and Saturday stands. She's added apples and blue cheese to the buffalo burger, incorporated market greens and pea tendrils to their changing weekly specials and she's also incorporated wheat from both Eatwell Farms and Massa Organics into Prather's Saturday morning pancakes.

This week I shopped with Erica, who was happily snapping up stalks of green garlic, one of her favorite spring vegetables. These young, fresh stalks have recently returned to the market in abundance, after a trickle this winter – they're also one of Erica's favorite ingredients.

Erica was planning to use the green garlic two ways this week "First, she told me, "for our grab-and-go breakfast sandwiches I am scrambling eggs with the green garlic, chorizo and asparagus and stuffing that mixture into a fresh baked croissant. The roasted lamb sandwich we serve on Saturday will be drizzled with a simple salsa verde made with chopped green garlic, red spring onions, parsley, olive oil, lemon juice and zest."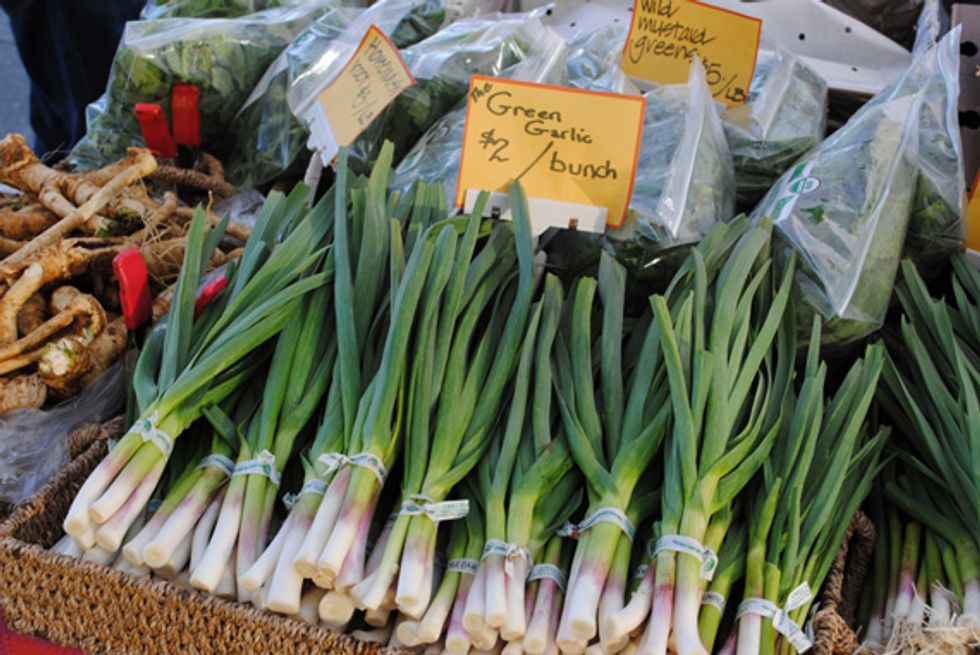 The uses for green garlic are limitless and the subtle yet pungent flavor is a definitive sign that spring is here. Green garlic is available at Knoll Farm, Star Route Farm and from now until May.