I highly recommend being spontaneous and stopping by whatever tasting rooms happen to be on your Wine Country route. However, if you crave something private and hidden from the crowds, try one of these private winery tours in Napa Valley:
---
Fantesca Estate & Winery is whispered about by locals and tourists because few have actually been there, the infamous Heidi Barrett makes the wines, and stories of the estate seem too good to be true. Upon arrival, you might be a bit let down because the view is beautiful and the winery attractive, but is nothing to write home about. However, after a brief walk through their wine cave, you emerge on the other side of a mountain and find yourself in a dreamland of gardens, flowers, bocce, and an estate that belongs in a French romance novel. Once you've tried the wines (and realize how limited they are) you too will likely want to keep Fantesca secret. It's also nice to know that despite the grandeur of the estate, the owners are very cool, down-to-earth people who are likely wearing baseball caps and throwing the ball for their dog just around the corner, or guiding your tour.
School House Vineyard isn't far from Fantesca, and other than the quality of wine and kindness of the owners, it's the exact opposite. Drive down a dusty road, pass what's left of an 1880's schoolhouse, and arrive at the winery and home of owners John and Nancy, who care for all of the vineyard operations and guests. Few wineries in Napa attempt a Pinot Noir and School House makes one of the best in California. Their Mescolanza Zinfandel Blend is also a knockout. John is considered one of the founders of Napa Valley, and after decades of farming this land, is likely destined for the Vintners Hall of Fame. If you're looking for a taste of what Napa Valley was before anyone knew what or where it was, you will find it here.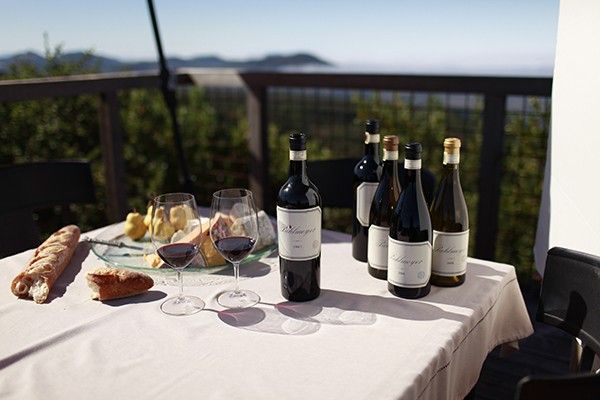 Image Courtesy of Pahlmeyer
Pahlmeyer's wines are some of the most coveted in fancy restaurants. Without a brick and mortar winery, it can be very difficult to have the kind of personal and private experience wine lovers seek. Not anymore! Pahlmeyer's Waters Ranch Vineyard, located in Napa Valley's rocky Atlas Peak, is a unique 72-acre vineyard, managed by the young, hip, Kale Anderson. Only Pahlmeyer's "Preferred Members" can visit the vineyard, but get to do so with both Kale and the beautiful, feisty and charismatic, Cleo Pahlmeyer. Kale and Cleo will pick you up in downtown Napa with gourmet foods and take you for a picnic on the viewing deck into the hills of Waters Ranch. You'll eat, drink, take photos, and be driven around the vineyard while learning about different varietals, where they are grown, and even some secrets behind the label's elegant, powerful wines.