---
Neither the madness of Union Square's construction projects, the City's absurd traffic, nor the Giants division series victory game could keep San Francisco's best dressed from the posh preview party of Burberry's newly renovated Post Street boutique Tuesday evening.
Entering the party was like walking into an elegant London townhouse taken over by some fabulously chic jet setter and 120 of his most fashionable friends. Burberry flew in one of the world's hottest DJs, Zen Freeman, to play his special mix of sizzling British tunes, while guests mingled by a floor-to-ceiling display flashing gorgeous models in the most recent collection. Everywhere one looked one saw the best pieces from the Burberry runway — not just on the racks, but on the guests!
Hosts Sloan Barnett, Vanessa Getty, Jacqueline and David Sacks, Kate Harbin, and Kathryn Lasater all wore Burberry, as did biotech investment executive Deepa Pakianathan, Carol Bonnie, Vandy Boudreau, photographer Douglas Friedman, who was visiting from New York, and PR maven Allison Speer, whose skirt was beautifully crafted with an intricate applique of leaves made from nappa leather.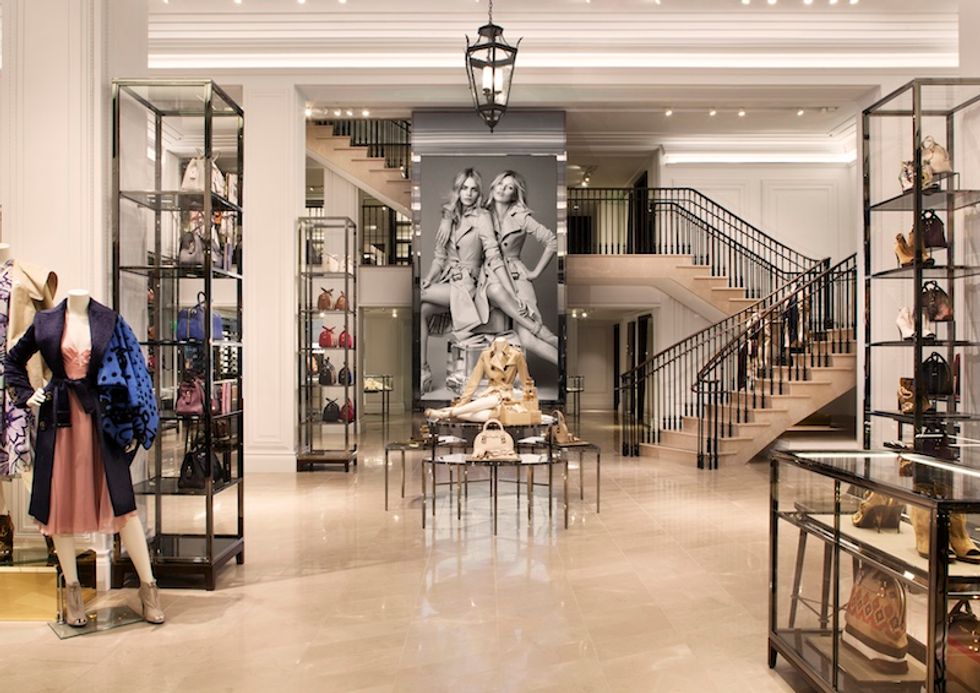 Burberry at 225 Post Street, San Francisco
While our current heatwave was well suited for Sloan Barnett, who was warm-weather ready in shorts with a delightful cashmere top featuring the Golden Gate Bridge, the day's temperature didn't deter Sonya Molodetskaya from donning her prized cashmere Burberry blanket.
"I bought it months ago as soon as it came out," she said, "and now I can finally wear it!"
Crafted in Scotland, the $1,395 blanket poncho, which can be monogrammed with the wearer's initials, has quickly become one of the season's most coveted items. Sarah Jessica Parker, Cara Delevingne, Rosie Huntington-Whiteley, Suki Waterhouse and Olivia Palermo have all been photographed in it, which may account for why the item is currently sold out.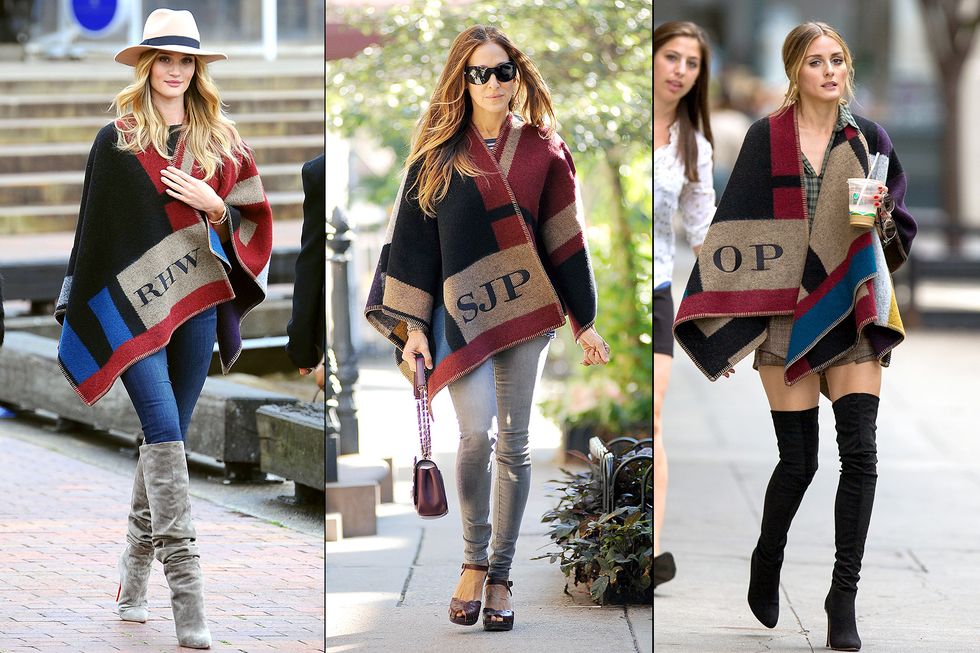 Rosie Huntington-Whiteley, Sarah Jessica Parker and Olivia Palermo in the Burberry blanket poncho
Other striking looks for the evening included Mary Beth Shimmon in Andrew Gn's whimsical "good robot" blouse worn with Dior pants, Brenda Zarate in a Dior tuxedo with Alexander McQueen accessories, fashion designer Olga Dzilikhova in Givenchy, and tech startup founder Minal Jethmal in an Alexander McQueen dress of a color any proud San Franciscan would call "Giant's orange" (good thing they won!)
As the evening rolled on and the fog rolled in, guests were glad to wrap themselves in Burberry leather and cashmere as they headed to the after-party dinner at The Battery, many of them with purchases from the store (part of the proceeds from the evening's sales will go to the Fine Arts Museums.) With weather that takes you from shorts into shearling in under an hour, San Francisco keeps its fashionistas on their toes!
Burberry, 225 Post Street, San Francisco, 415.392.2200
Photos: Drew Altizer; Fameflynet Pictures; Humberto Carreno/startraksphoto.com; GSNY/Splash News, via usmagazine.com