The Bay Area, with its earthy-crunchy-hippie reputation, has long been a bastion of vegetarianism and veganism. But you'd be hard-pressed—especially with the currently trendy offal obsession—to find a restaurant serving dishes to please the veg set and the omnivores with equal creativity.
---
Enter Verbena, from chef Sean Baker and the team that opened Gather in Berkeley, where the vegan "charcuterie" board has been as much a local favorite as the burger. In December 2013, they launched their sophomore effort in San Francisco, transforming the former Rex Café on Polk Street into a handsome space with soaring ceilings and dark slate blue walls, an exposed-brick back bar, and just enough lacquer and flattering lighting to make the rustic textures feel modern. A wood-paneled tower to the rear of the restaurant, with amber-lit windows and shelves lined with a multicolored assortment of everything from pickled cauliflower to fermented peppers, is the space's showpiece—and an insightful display of the kitchen's focus.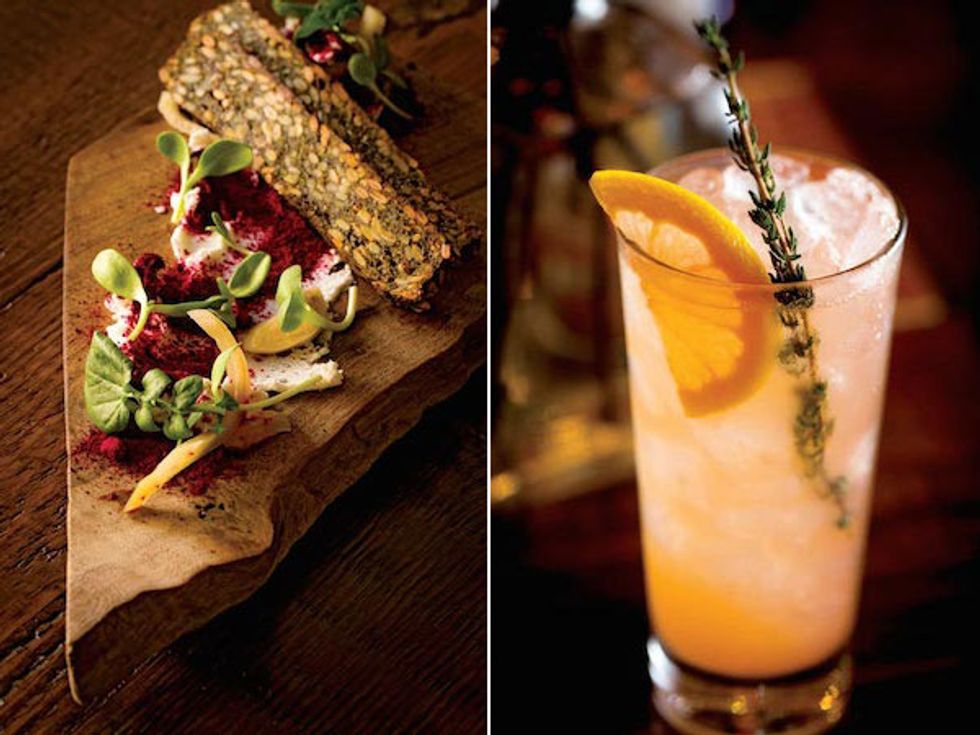 (Left): The nouveau-hippie sprouted seed bread is an unexpected knockout, served warm with fresh chevre, beet powder, and beet sauerkraut. (Right): The refreshing Thyme's Cure mixes vodka with grapefruit juice and bitters, sherry, and thyme.
Baker's menu features an array of flavor-dense, shareable dishes with plenty of housemade accoutrements to please a plethora of tastes and dietary preferences. Favorites include pork trotter terrine with purees of red and green Padrón peppers and a kicky apricot mustard; pork-and-chicken meatballs doused with a dark, heady, complexly spiced mole and housemade cotija on top; and fried parsnips and pickled cardoons layered with charmoula, yogurt, kale, and a powder made from black olives, charcoal, and bamboo. Even the humble beet salad is given a major makeover with the help of grapefruit, Treviso radicchio, and hazelnut curds, with the beets themselves marinated and shaved into neat strips. This is not shy or minimalist food by any stretch. Instead, it's ballsy, thoughtful cooking presented as artfully as it would be in any fine dining venue. And although a few of the dishes might warrant some editing, one thing you can't call Baker is timid.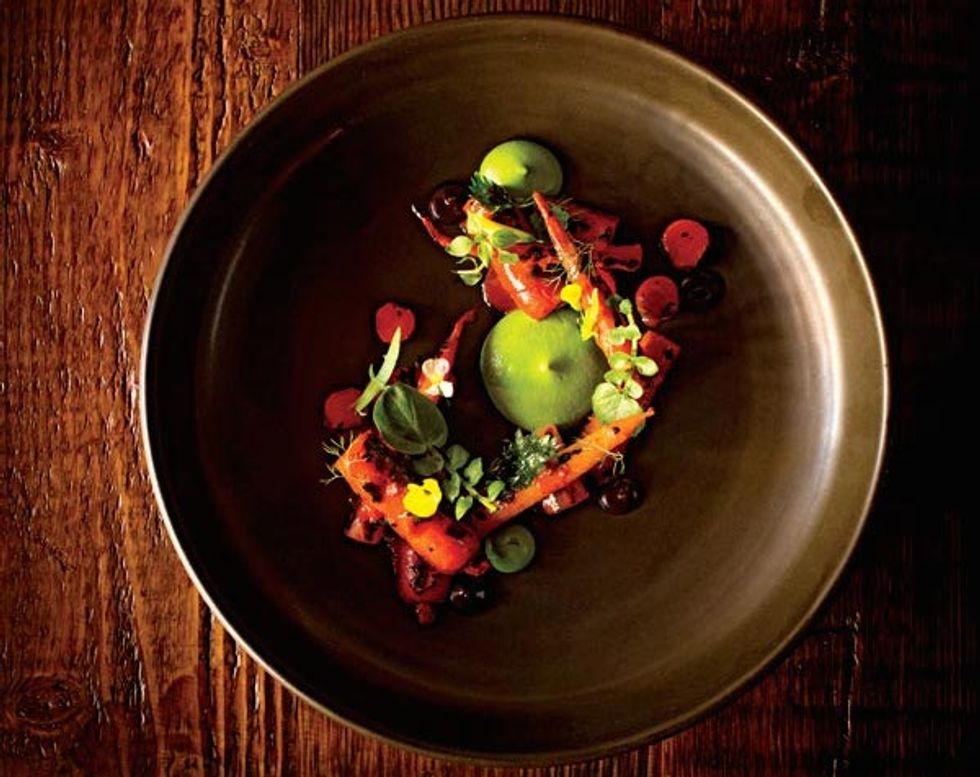 Baker makes stars of many a vegetable, including this dish of roasted carrots, Aleppo pepper, lemon verbena, and nettle puree.
House cocktails are clever and lean toward the herbaceous. The wine list, which focuses on sustainable viticulture practices, is curated by notable consultant Michael Ireland (French Laundry, Quince, Restaurant at Meadowood) and has some gems by the glass, including Forlorn Hope's Que Saudade Verdelho and a Mount Etna red blend from Sicily's Girolamo Russo. In this restaurant, they have all the bases (and plates and glasses) covered.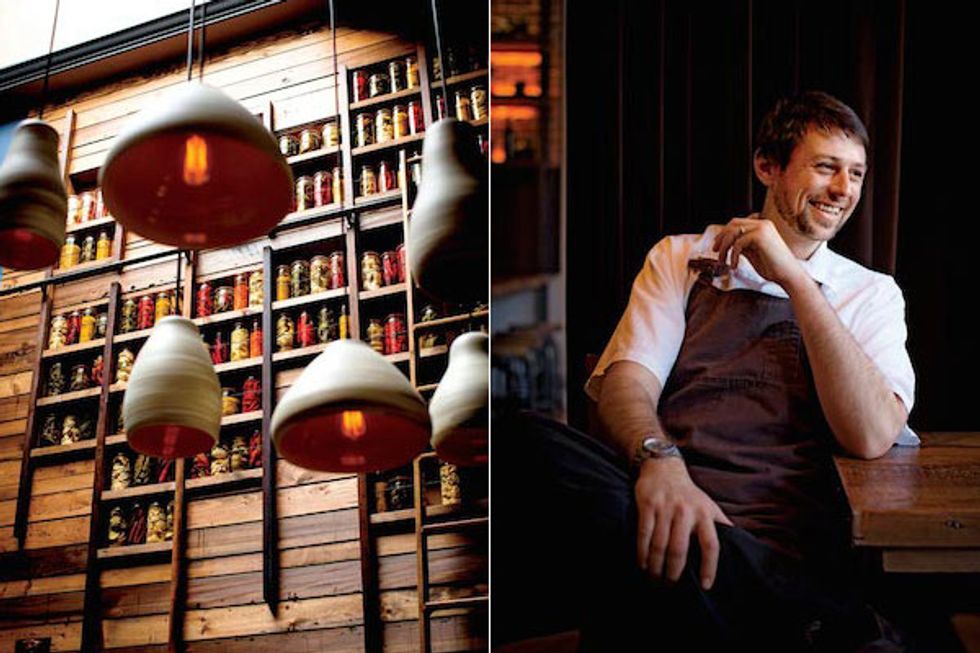 (Left): The backlit "pickle wall" beside the bar features brightly colored jars of such items as fermented San Marzano peppers, Portuguese hot peppers, and bacio del diavolo ("Kiss of the Devil") peppers. (Right): Chef Sean Baker is partnering with with co-owners Eric Fenster and Ari Derfel for the second time at Verbena—the three opened Gather in Berkeley to rave reviews in 2009.
This article was published in 7x7's April issue. Click here to subscribe.