Oh hey, South Bay! In case you have any room left after indulging at the Gilroy Garlic Festival, we've got some openings that may pique your interest. Namely, chocolate, plus, farm-to-table fare, and Mexican food. Hungry yet?
---
Eat dessert first at Timothy Adams Chocolate, now slinging handmade truffles in downtown Palo Alto. Owners Timothy Woods and Adams Hollands have been selling their homemade goods at farmers markets (the two live in Sausalito); the Palo Alto location is their first brick-and-mortar. Truffle flavors will vary, but expect sour cherry, fresh mint, and even absinthe, sourced from local farms and vendors. Wash it all down with an iced or hot chocolate for good measure.
There's a new destination for Mexican food in Menlo Park at Mama Coco Cocina Mexicana (650-272-6634), a family-run operation through and through. Both the restaurant's name and recipes come from owner Monica Pilotzi's grandmother; dishes include handmade empanadas and cochinita pibil alongside usual suspects like tacos and burritos.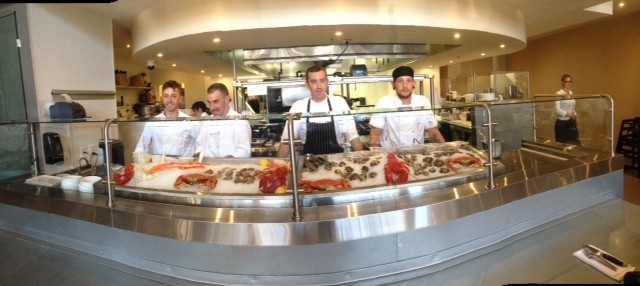 Block 34's raw bar.
Head north on 101 to, Block 34 newly opened in San Mateo and serving seasonal, comfort-influenced American cuisine. They're sourcing local products as much as possible, and are currently talking to local farms about growing produce specifically for the restaurant. Expect an extensive raw bar, cocktails, and dishes like bacon-crusted scallops and a funnel cake ice cream sundae. Beer and wine are both available on tap, as well.