As the elevator doors open to the subterranean spa at Grand Velas Los Cabos resort, a quiet wow might slip from the lips of even the most seasoned traveler in search of first-class relaxation. Like the tomb of some ancient Mayan warrior or demigod gone to the afterlife to partake of the mystical waters, its stone walls rise high, cut by slivers of windows that let in just enough sunshine to keep the soul light; and the serene pool appears so sure of its own healing powers that, for a moment, you might consider drinking from it.
It is here that we begin the spa's signature seven-step hydrotherapy journey—one so transportive and affordable that only a fool wouldn't book it again for the very next day. But pause here, because it's worth the interjection to restate that we are, indeed, in Los Cabos, that infamous Baja Peninsula home to tequila-soaked Cabo Wabo nights. But as many a regular to this part of Mexico already knows, Cabo has made great strides in recent years to distance itself from its Sammy Hagar heyday, now offering more sophisticated adult luxuries. And at Grand Velas, the AAA Five Diamond resort that opened in late 2016, life is a buffet of elevated indulgences.
---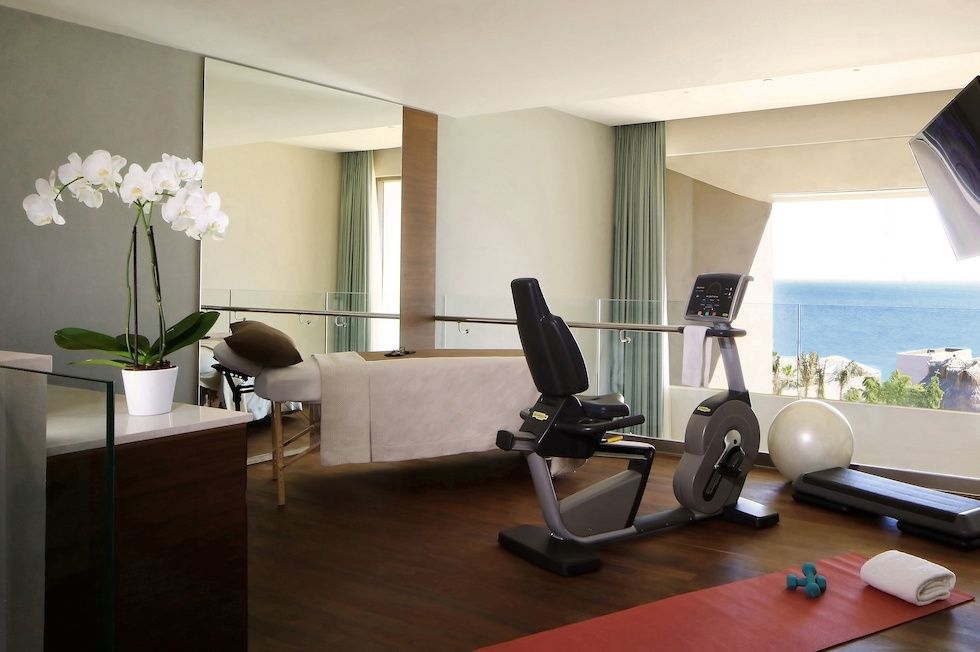 Upstairs at the Wellness Suite.(Courtesy of Grand Velas Los Cabos)
Before we return to the spa, we should check into our suite. Grand Velas offers 304 of them, all with ocean views and each larger than 1,100 square feet, and in several different styles catering to the vacation of your dreams. There are suites aimed at couples seeking romantic escape, and suites with top-shelf artisanal mezcals for VIPs. Each also comes with a private concierge waiting to fulfill your every whim via WhatsApp.

My mother and travel companion for this trip wishes that I tell you Grand Velas is also the perfect playground for families, with two-bedroom suites stocked with everything you could need for your niños including cribs, toys, babysitting services and so on. There are also an array of very coolly designed kid-designated spaces and activities, but as a practically child-free woman, save for a wonderfully low-maintenance teenage stepson, I'm going to veer past this offering and head straight for my adults-only wellness suite, thank you very much.
Tucked in a quiet wing of their own, a handful of two-story Wellness Suites are at the ready for juicers, fitness junkies, or just anyone planning to take advantage of a weekend away for a healthy reset. You'll enter into the top level where a recumbent bike and yoga mat set the scene for your daily sessions with the private trainer, and an in-suite massage table is dressed for your treatments, which are included in the price of the room. At the bar, paleo-friendly snacks take the place of the usual chips and candies, while Tea Forte, Nespresso, and sparkling waters have been subbed in for sodas. Fresh juices will be delivered here at the start of each day. Downstairs, the sleeping lair opens onto its own private plunge pool with views to the multiple swimming pools (including one for adults only) and the crashing waves of the (unswimmable) ocean beyond.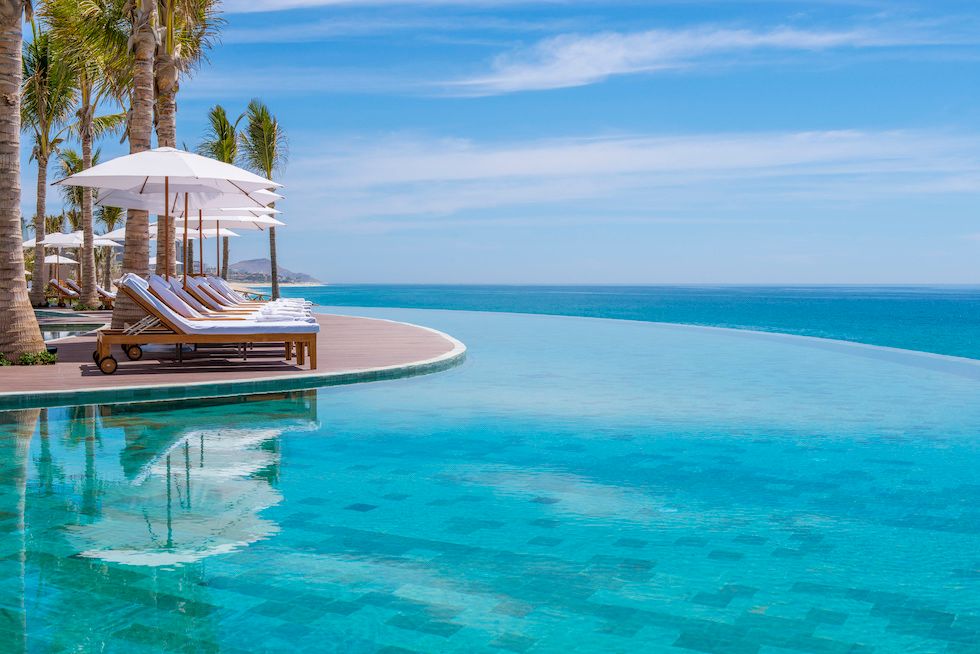 The adults-only serenity pool overlooking the ocean.(Courtesy of Grand Velas Los Cabos)
Can we go back to the spa now, please? Thank you.

I've covered many a spa—in Ritzes, Fairmonts, St. Regises, Peninsulas and so on—and none have so captivated me as Se Spa at Grand Velas (photos of which do it no justice whatsoever). The guided experience of the spa's water ceremony demands the most gracious hospitality, and Mexican sweetness was at its finest here in every spa attendant we encountered. The approximately 90-minute journey begins at the aforementioned, room-temperature pool where a variety of specially designed, wall-mounted jets that will beat your muscles into submission. Follow the succession of jetted steel beds, jets for your shoulders, for your low back, your glutes, and your calves; and then into the hot tub, the cold plunge, and back. By the time your attendant arrives with some scrumptious agua fresca and fluffy towels, you'll wish you had requested to stay in the pool just a bit longer.
But from here it's on to the eucalyptus-scented steam room with chromotherapy; the cinematically beautiful ice room for a peaceful cool down; the dry sauna for a gentle re-warming; and finally the aromatherapy sensation shower for a rinse and deep conditioning. Between each step is the soft-as-the-cotton-spa-towels voice of the attendant who arrives with some invigorating treat—a fresh fruit popsicle or restorative little cookie—before explaining the next destination on your blissed-out trip.
At last you will exit the spa, returning to the now-shocking heat of the bright Mexican sun, and begrudgingly so. But if you know what's good for you, you'll turn right around and schedule another ceremony for tomorrow.
// Se Spa's 90-min Water Ceremony ($70 USD) is included in the nightly rate for the resort's Grand Class, Presidential, Royal, Imperial, and Wellness suites, or when booking a treatment of 50 minutes or more. Grand Velas Los Cabos, loscabos.grandvelas.com.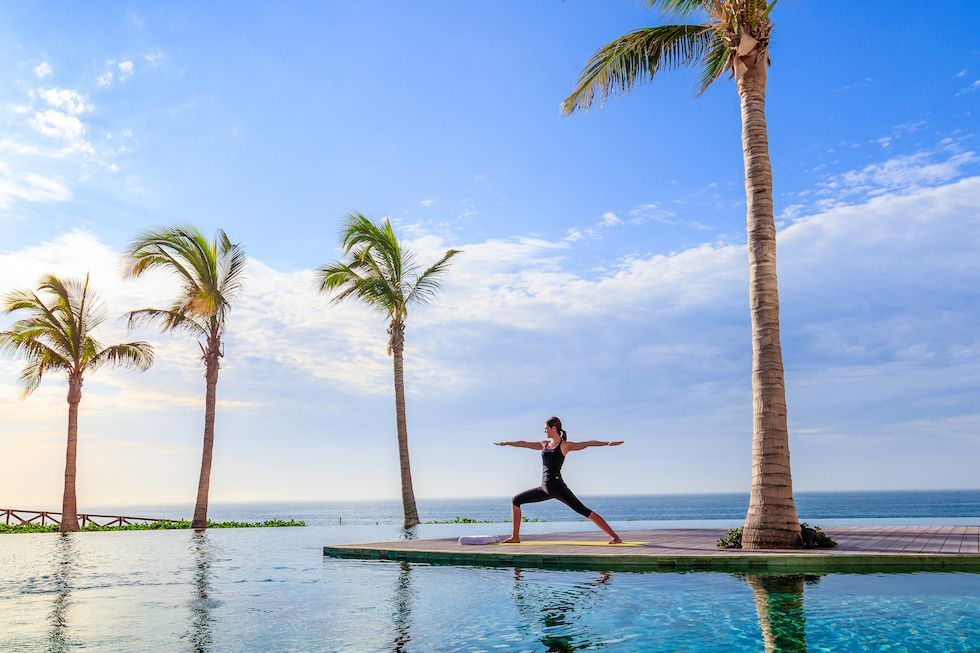 Daily yoga and pilates classes, as well as full gym, are also on offer.(Courtesy of Grand Velas Los Cabos)