Jerry Hum, cofounder and CEO of the men's fashion site Touch of Modern, is pretty much the kind of guy every aesthete wants to be: a global wanderer, whose discoveries along the way—from Rikke Hagen–designed Cognac glasses to Nomon's Cris clock—become part of his uniquely and elegantly curated world.
---
Being a San Franciscan, Hum is also a self-taught coder and startup entrepreneur—when he launched the men's shopping destination with three friends back in 2012, Hum, a former architect, did the front-end design and development himself.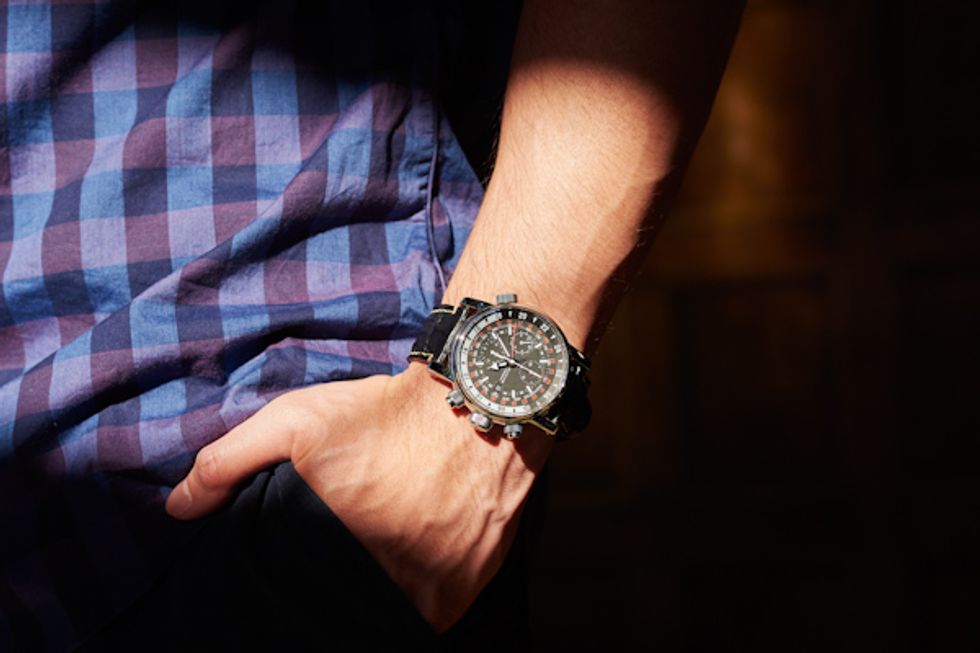 Just one of Hum's many watches, this one is a timeless Glycine Airman 08.
The man also has a penchant for timepieces (his everyday watch is made by the German Klaus Botta), which he collects both personally and for Touch of Modern. In fact, his company's philosophy is quite akin to that of a sophisticated watchmaker: Both aim to bring rarefied, collectible objects to the everyday lives of men. At Touch of Modern, Hum and his team carefully select goods from both emerging and established brands, and cull them into one big well-priced closet for men who are too busy (or too inept) to do it themselves. They look to Touch of Modern for the sign-off that, yes guys, this is cool. For fall, expect to see them kicking around in Cobbler Union's Francis double monk-strap shoes, selected by Hum during a trip to Spain. Today, Touch of Modern reaches more than 7 million clients, making it one of the most popular men's lifestyle destinations online.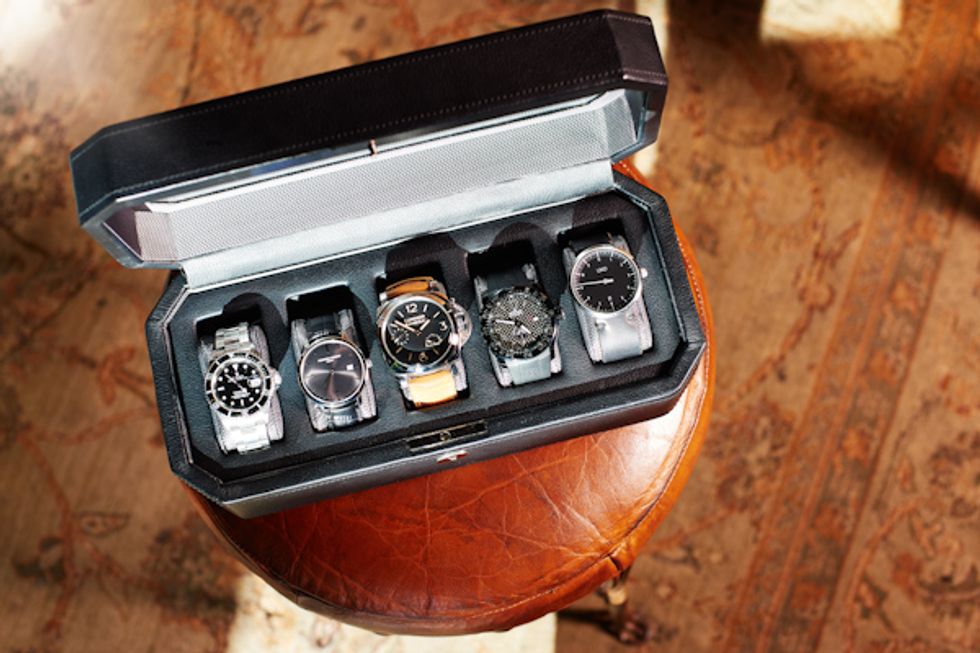 His collection also includes (from left to right) Rolex Submariner, Frederique Constant Slimline Automatic, Panerai Luminor 1950 Power Reserve, Edox Ice Shark II, and Botta Uno Date Automatic. 
Design heroes
Japanese architect Tadao Ando. His spaces were sculptural but also extremely experiential, and I respect that he was able to create great, iconic architecture at different sizes and budgets. I guess that really resonated with me—it's one of Touch of Modern's core philosophies, that great value and design can be had at any price point.
DIY project
A wooden stool that I carved from raw materials. It took me many nights using only hand tools, and it's something I'm pretty proud of. It has splayed cherry legs and a seat shaped like a motorcycle saddle that's made of solid hububalli wood. I use it every day when I put on my shoes, and it's sturdy enough for use as a stepladder when I need it.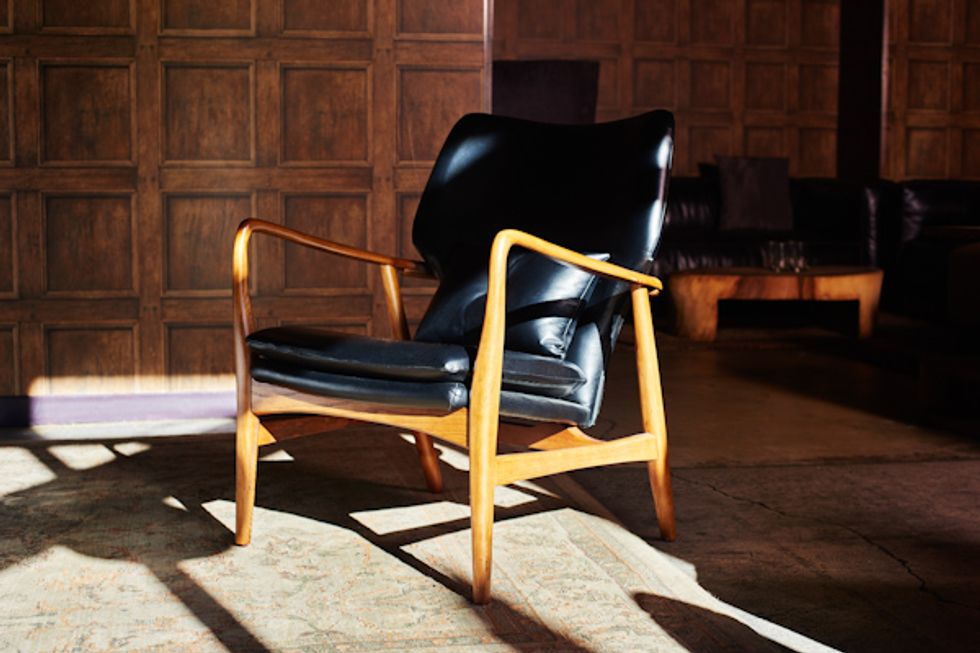 Favorite piece at home
I have a wooden armchair from Harry Ostergaard, a Mid-century Danish designer. It's about 50 years ago and, somewhere along its life, it made its way to Berkeley. The teak wood was nicely painted when I found it, but the seat had been reupholstered in something really gross. I reupholstered it myself in a thick vegetable tanned leather—it's buttery-smooth, and complements the curves of the wood very nicely. It sits by a window in my apartment.
Culture fix
Cal Academy of Sciences. I like the bridge over the stingrays and the rainforest bubble. I also think it's cool how they use the space for nightlife.
Favorite public artwork
I really like the art installations they put up on the Embarcadero near the Ferry Building. They often bring those pieces in from other places, so it connects us a bit with the outside world.
Classic SF experience
Hiking is a big thing here. I never did it when I lived in New York (where I'm from), but I definitely do enjoy it here. I like nature.
SF stroll
Valencia is my favorite street in SF. When I first moved here, I lived in the Mission, and I enjoyed walking down Valencia and looking at all the different shops.
Last supper
I can eat burritos for days.