The first installment of our Summer Getaways series takes us to Vancouver, Canada, a megalopolis that's much like San Francisco in its status as a world class city in the Pacific Rim, but unlike SF in one enviable way….
Remember when millions of bewildered Americans broke the Canadian immigration website in the hours and days following the 2016 presidential election? After an enchanted four-day sojourn in Canada (first painting the town in Vancouver and then down-shifting to the quiet surfing community of Tofino, on the west coast of Vancouver Island—part two of our series), we're contemplating the idea of foreign citizenship—again.
---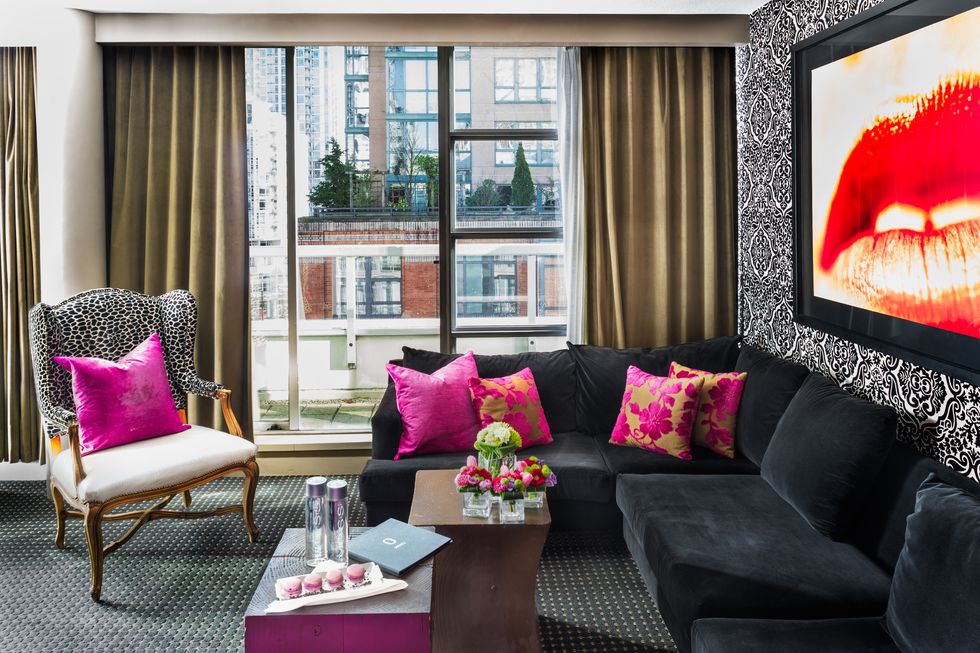 A suite at the Opus Hotel.
Yaletown seems to be the epicenter of cool in Vancouver, so we shacked up at the impossibly hip Opus Hotel, drawn to its opulent, offbeat rooms; edgy artwork (photographer Farrah Aviva's stiletto statements on gun control; Taizo Yamamoto's drawings of homeless shopping carts); and needy neon ("Just hold me" lights up the bar). // A post-flight facial should be S.O.P. for all travelers, so we walked three minutes from the hotel to the Skoah Spa. The 75- minute Facialicious treatment is tailored to your skin type and includes a head-to-toe massage. We walked out with a jar of their Hydradew moisture gel because, when your aesthetician tells you it's 10 times more hydrating than aloe vera, you pounce. // High on #selfcare, we made a beeline for Glory Juice Company around the corner, picking up a bottle of the Tiffany-blue Magic Switchel tonic, a super-healthy version of Gatorade made with apple cider vinegar, ginger, and nutrient-rich blue-green algae. // On our first night in town, we dined on endless rows of imaginative sushi at the upscale Japanese restaurant Minami, also a three-minute walk from the Opus. While the signature aburi oshi sushi—lacquered in sauce and then flame-kissed for that beloved note of caramelization—lived up to the hype, the star of the meal was the opera cake, a magical, unexpected layering of green-tea genoise, dark-chocolate ganache, and matcha ice cream.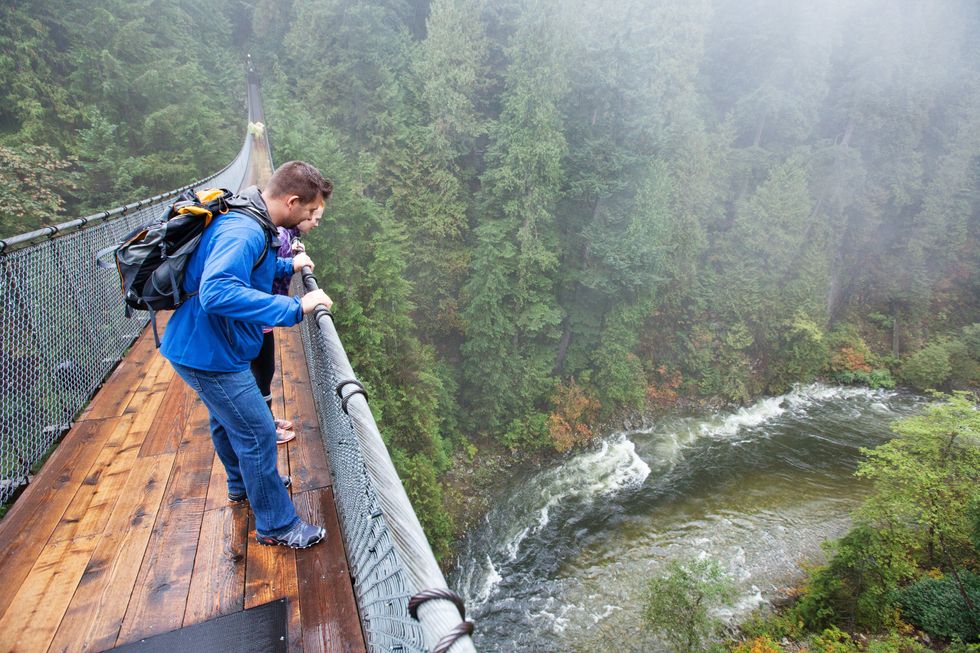 Capilano Suspension Bridge
The next day, a little nature was in order, because, you know, when in Canada. After an obligatory six-mile bike cruise along the Stanley Park seawall, we headed to the famous Capilano Suspension Bridge: 250 feet high across a steep gorge, the span is "reassuringly wobbly," which means that while many an iPhone has been lost to the river below, mid-selfie, so far no human casualties have been reported. (Death grips are cool here.) // Afterwards, we stopped for a light, citrusy Beach Radler pint and wild funghi thin crust pizza at the Strathcona Beer Company before heading to Brunette the Label in Chinatown, where the stylish athleisure wear, emblazoned with your haircolor or catchphrases such as "Hey Babe," is Goop-approved.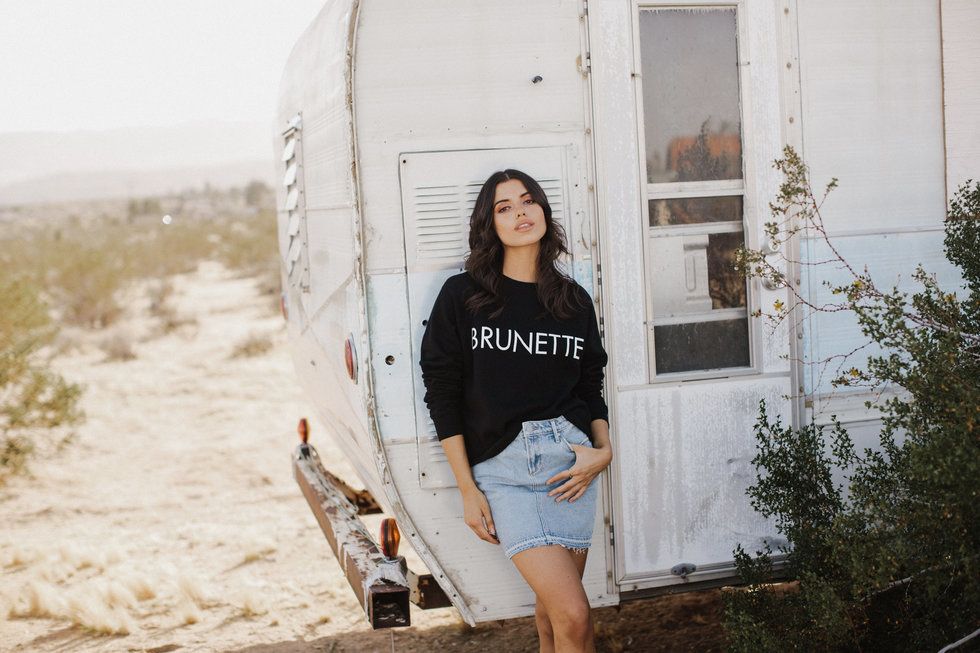 Brunette the Label's signature sweatshirt.(Britney Gill Photography)
Worn out from our adventures, we headed back to the Opus and ordered up an in-room multi-vitamin IV drip from naturopath Dr. Jordana Aziz. The 30-minute procedure supposedly supplies an energy boost for the evening ahead, although we're still skeptical. Best takeaway: a much-needed half-hour of relaxation. // During dinner at Hawksworth, where chef Quinton Bennett's creative cuisine (think maple-glazed smoked salmon on a fragrant spruce skewer or bison with a sauce of pine and wildberries) evokes a strong sense of place, we watched carefully orchestrated plumes of smoke billow at the filming of the Supergirl finale across the street (Canada is known as Hollywood North), and we also tried to act cool when we thought we spotted the Daily Show's Michelle Wolf at a nearby table, fresh off her successful roast of the current administration at the recent White House Correspondence Dinner.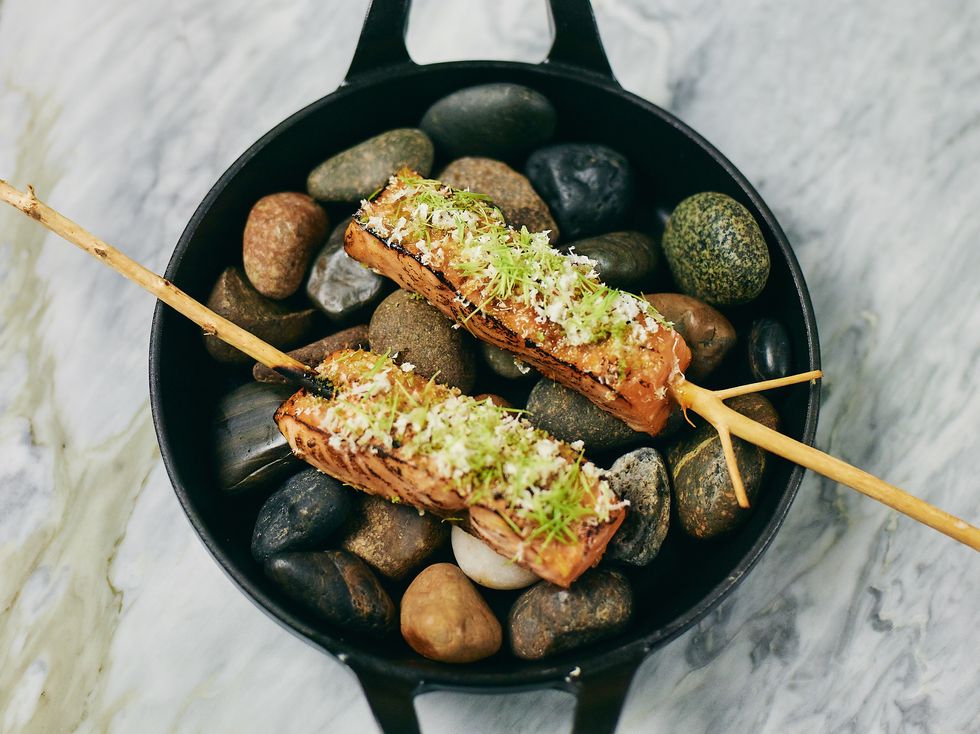 Maple-glazed smoked salmon on spruce skewer at Hawksworth.
Back to the hotel, we dipped into a warm bath, cued up some bedtime aromatherapy courtesy of Saje (the Vancouver-based wellness company just launched the Aromatime, an alarm clock-slash-oil diffuser; check it out at the Fillmore showroom in San Francisco), and sunk into deep slumber to prepare for forthcoming forest-to-ocean adventures in Tofino, a small surf town that's a 40-minute flight away.

Tune in soon for Summer Getaways, Part Two: Tofino, which required, unsurprisingly, a thick 5/3 wetsuit, a telephoto lens, and your best cozy clothes.