Former 7x7 executive editor Robin Rinaldi has been hanging around our masthead since 2005. In that time, Rinaldi has become a woman about town and a trusted resource for all things San Francisco. Here she culls a list of 58 miscellaneous "bests" about town, including a few of her own favorites and picks from our staff editors. An SF resident for nine years, Rinaldi is also writing a memoir.
---
SHELTER
Gardener: Jane Martin of Shift Design Studio (SoMa)
Handyman: Russian Hill Handyman (Russian Hill)
Stove Repair: Reliable Stove Exchange (Mission) 

Knife Sharpener: Bernal Cutlery (Bernal Heights)
Framer: Back to the Picture (Mission)
Interior Designer: Ken Fulk Design (SoMa)





CLOTHING
Shoe Repair: Mak & Co. (FiDi) 415-956-0324
Dry Cleaning: SF GreenClean (Presidio)
Tailor: Andreas Gorges Tailoring (Union Square) 415-391-1119
Bespoke Suiting: Al's Attire (North Beach)
Milliner: Goorin Bros. (var. locations) 

Laundromat: BrainWash (SoMa)





WHEELS
Car Service: Uber (Union Square)
Bike Repair: Sports Basement (var. locations)
Car Wash: Divisadero 
Touchless Car Wash (Alamo Square)
Car Repair: Action Auto Care (Potrero Hill) 415-487-1210
Smog Station: Potrero Test Only Smog (Potrero Hill)
Movers: Delancey Street Movers (SoMa)
Cheap Gas: Arco at Fell and Divisadero (Alamo Square)






HEALTH + BEAUTY
Salon: Cinta Salon (Union Square)
Mani-Pedi: Zaza Nail Spa (SoMa)
Massage: Suchada Thai Massage (South Beach)
Medical Spa: Epi Center MedSpa (Union Square)
Acupuncturist: Andrea Zengion (Potrero Hill)
Yoga Studio: Yoga Tree (var. locations)
Pilates Classes: EHS Pilates Studio (Mission) 

Nutritionist: Julie Matthews of Healthful Living (Upper Haight)
Emergency Room: California Pacific Medical Center, Davies Campus (Castro)
Pharmacy: Pharmaca (Cole Valley)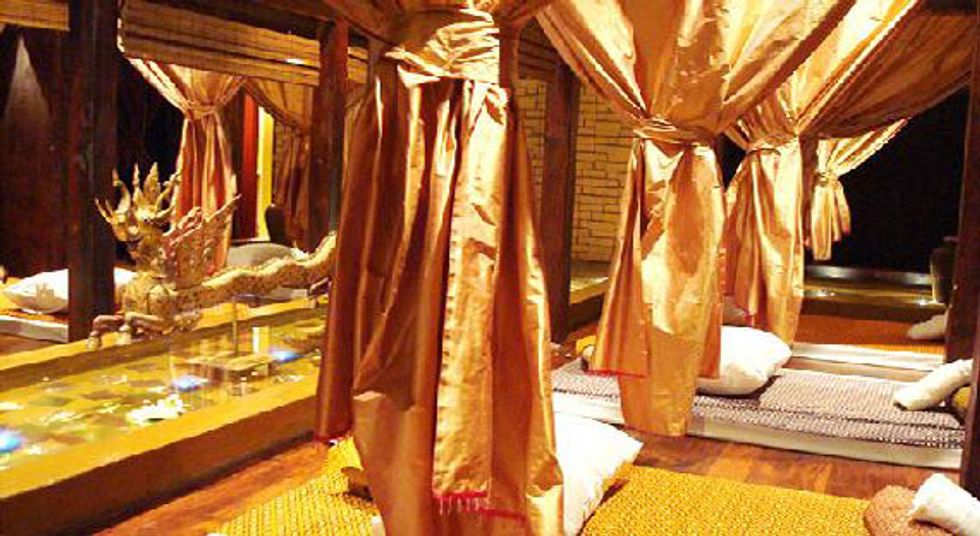 Suchada Thai Massage
PETS
Vet: Pets Unlimited (Pacific Heights)
Boutique: Best in Show (Castro)
Dog Walker: Born to Run (Outer Richmond) 

Groomer: Wags Pet Wash and Boutique (Nob Hill)
Daycare and Boarding: SF Hound Lounge (Mission)




KIDS
Gymnastics: AcroSports (Cole Valley)
Swim Lessons: La Petite Baleen (Presidio)

Music Lessons: SF Music Together (Haight)
Indoor Play Space: Recess Urban recreation (Potrero Hill)
Playground: Helen Diller Playground at Dolores Park (Mission)




PLAY
Open Mic: Hotel Utah (SoMa)
Ballroom Dancing: Metronome Dance Center (Potrero Hill)
Climbing Gym: Planet Granite  (Presidio)
Boxing: Third Street Boxing Gym (Dogpatch)
Bowling: Lucky Strike (SoMa)
Walking Tours: SF City Guides (Civic Center) 

Video Rental: Fayes Video & Espresso Bar (Mission)






LOVE
Wedding Planner: Alison Hotchkis of Alison Events (Potrero Hill)
Wedding 
Photographer: Chris Gaede Photography
Florist: Church Street Flowers (Castro)
Invitations: Hello! Lucky (SoMa)
Private Eye: J.P. Hibbard (Sunset)
Couples Therapy: Cameron Yarbrough  (Potrero Hill)





COMESTIBLES
Community Farm: Little City Gardens (Excelsior)

Natural Foods Store: Rainbow Grocery (Mission)
Fresh Fish: Sun Fat Seafood Company (Mission)
Butcher: Olivier's Butchery (Dogpatch)
Neighborhood Grocer: Canyon Market (Glen Park)
Wine Selection: Noe Valley Wine Merchants (Noe Valley)





This article was published in 7x7's June issue. Click here to subscribe.