Mount Tamalpais is certainly not the highest peak in the Bay Area, but it's perhaps the most dominating visually, presenting a graceful profile to San Francisco and the East Bay. Mt. Tam is also an iconic destination for hikers and cyclists, with numerous possibilities for making a memorable ascent. For today's ride, we'll climb on our mountain bikes and take a classic route up to East Peak via Old Railroad Grade and the return via the backside. Once the roadbed of the "Crookedest Railroad in the World," the eight mile steam powered ride up was a popular pastime for tourists from the city. The rising popularity of the automobile hastened the railways demise in 1930.
---
Our route today is courtesy of Scott Penzarella from Mill Valley's Studio Velo, located just steps away from the downtown plaza from where the trains once departed (the station is now a café and bookstore, aptly named "The Depot"). Ride though the plaza parking area and upon exiting turn right, then make a left at the bank onto Corte Madera Ave., passing in front of the fire house, after which we'll make a quick right at the shoe repair shop, then a left onto West Blithedale Ave. and head up the canyon through the towering redwoods. After 1.6 miles we'll get off-road and start our climb up Old Railroad Grade - it can be busy on weekends, so keep right to avoid fast downhill riders. We'll soon bear left when the road dips down to cross the creek and then resume climbing to arrive at a fire gate. Here we meet pavement at Summit Ave. and turning right on Fern Canyon Rd. we soon encounter some nice views of what lies ahead, and a half mile later we get back on the dirt. Excellent views of Mill Valley below, southern Marin and the city begin to unfold as we roll into a series of switchbacks known as Double Bowknot. We'll bear hard right to continue up, and pass through the remnants of old station platforms. It was here that train travelers could disembark and board a "gravity car" (the picture below) and roll down for what surely must have been a thrilling ride into Muir Woods. You can see full-sized replicas of these 16 passenger open railcars in the plaza downtown or in the a small museum at the top of the mountain.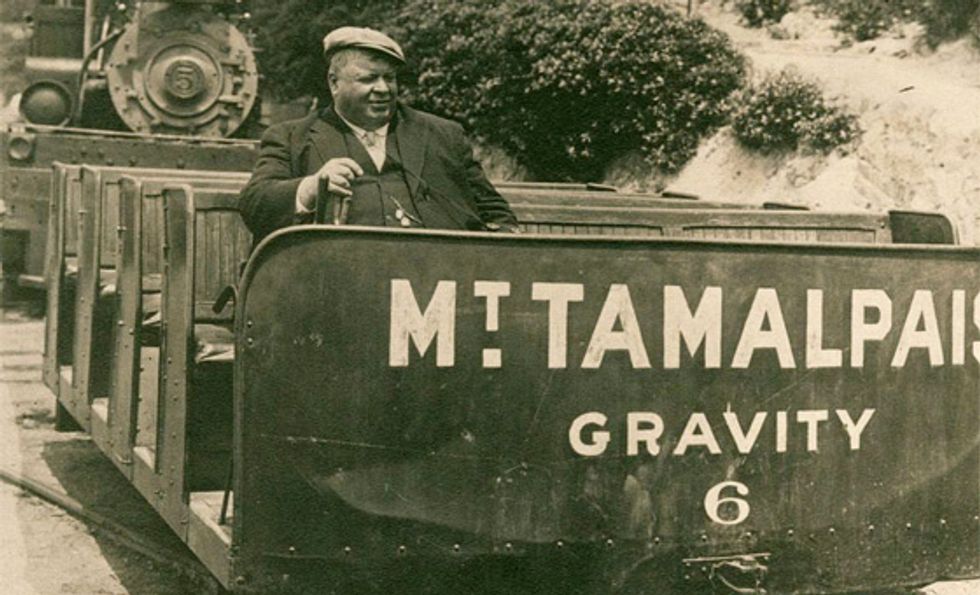 At the third bow we'll ride past the Hoo-Koo-E-Koo fire road on the right, then further along you'll see steep Hog Back Fire Rd. falling away on the left until we come to the West Point Inn. There's water to be had here, along with great views and a some picnic tables for lounging. To complete our ascent, continue to the right around the Inn for our last push up to the saddle between the Middle and East Peaks. After passing through the gate's turnstile, go right on the paved road (Ridgecrest Blvd.) and take your choice of routes up to the visitor's area, where you'll find restrooms, water, a snack bar on weekends and the aforementioned museum. At 2400 feet the views are truly outstanding in every direction and if it's your first trip to the top of Tam you'll want to allot time to take them all in.


Exit via the parking lot, and take a right on Eldridge Grade just before rejoining the road. The upper portion is pretty rocky and makes for a very technical descent; you may want to stop if you find the seeming infinite views over northern Marin are to distracting. As it descends road makes three distinct zigzags, after which, at 11 miles (2.5 after entering Eldridge), you'll make a sharp right on Indian Fire Rd. (it's not signed). We roll for another half mile and make another hard right on to the Hoo-Koo-E-Koo as the views to the east open up – it gets very steep here, so keep your speed in check and hold back on the temptation to cut loose as we'll make another very 90 degree right in just a few yards. The Hoo-Koo-E-Koo makes a big dip before giving us our final climb of the day. We soon rejoin Old Railroad Grade at 13.5 miles, revisit Doublebow Knot and then enjoy a swift descent back down to Blithedale Canyon. After couple hundred yards of pavement, look for the Corte Madera Ave. on your right for a less trafficked return into town. You'll rack about 18 miles and 2800' on your ride specs for this classic circumnavigation, and probably be making plans to ride it again. Most weekend mornings, Studio Velo leads road and MTB rides from their store at 31 Miller Ave. Check with them for details of the next weekend's rides or to be added to their ride email list.