Muir Woods National Monument in Marin County is one of the most popular tourist attractions in the Bay Area. Over 800,000 visitors annually make it the busiest urban national monument in the nation. As a result a visit there can feel decidedly urban, as in very crowded, and on busy weekends freeway signs announce early that nearby parking lots are full. There is, however, another more circuitous way to visit this treasure that requires a touch more stamina but will reward the serious hiker with paths less traveled along with quieter moments of introspection. This five mile hike has some 700 feet of elevation change and should provide plenty of scenic highlights to accompany a very satisfying workout.
---
Access is via Hwy. 1, from Hwy. 101 at the Stinson Beach exit.  Upon reaching the top of the climb out on Tam Valley (3 miles from the freeway exit) make a right turn onto Panoramic Highway and head to next intersection, aptly called Four Corners. Where one would normally turn left for the descent down to the park entrance we instead continue straight (uphill) on Panoramic for 2.7 miles. Parking is available at the trailhead across from the Mountain Home Inn; if this is full there is another parking area just past the Inn down a dirt fire road on the right.

The vistas from the parking area are delighful and below us lies Muir Woods. To begin we'll walk 1.3 miles down the paved access road to Alice Eastwood camp, where you'll find water and restrooms. Once at the camp, head down to your left looking for the Fern Creek Trail sign. Here you'll soon begin full immersion in some serious redwood forest.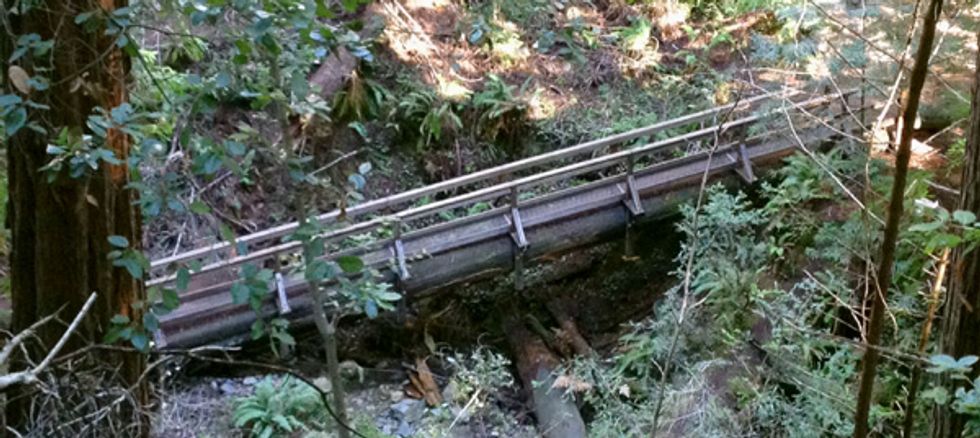 Continuing downhill to the left we'll cross Fern Creek on a magnificent log bridge and soon meet up with the very steep Lost Trail, whose other end we'll encounter on our return hike out.  We'll mosey down the creek for another half mile and eventually intersect the park's main trail at Redwood Creek. Here we may bump into a few intrepid toursits that have come in through the formal park entrance. Amongst the ferns and tanbark the towering redwoods and firs become more massive as we make our way alongside the creek.

After a half mile more of neck bending scenery and numerous photo ops brings us to our rendezvous with the Oceanview trail, our route home. Restrooms and snacks are to be found a few hundred feet further towards the park entrance. The Oceanview has a fairly easy grade as the redwoods and firs slowly give way to bay laurels, oaks and manzanita. At the 1.2 mile mark, we again encounter the Lost Trail, but better to avoid that temptation and continue upwards another quarter mile to Panoramic Hwy and your vehicle.

There are a couple of transit options for those wishing to eschew auto transport. The West Marin Stagecoach route 61 runs daily from Marin City (a Golden Gate Transit hub) and stops at the Inn, On weekends there is a shuttle bus to the park's main entrance from the Mazanita Park n' Ride lot at the Hwy 1/101 junction (bus pick up is on the east side of the freeway near Pohono St.).