In 2012, Carissa Potter Carlson created People I've Loved, a line of cute stationery and art objects full of whimsy, irreverence, and heart.
---
Carlson met her partner, Heather Van Winckle, while they were both attending the San Francisco Art Institute. Before long, they combined their artisitic talent to run a small printing press out of a tiny studio at Carlson's Oakland home. Focusing on one-of-a-kind prints and cards for the modern urbanite, People I've Loved sells its goods at pop-ups, galleries, craft and book fairs, and shops ranging from Atomic Garden and Little Paper Planes to the museum stores at SFMOMA and the deYoung. 
We sat down with the creative duo to find the magic behind all their lovely things.
What inspires you most about the Bay Area?
Carissa: The weather, the landscape, and the community. I feel really lucky to be in this place at this time, with awesome small spaces and artists working collaboratively. A shift has happened from an emphasis on the individual into a new paradigm about the community working together for a shared future.
Heather: The cultural tension of San Francisco is my motivation, particularly between the tech sector and the pre-existing community. There are unexplored avenues for engaging more of the population, rather than just being bummed at the changing cultures. We can address what's happening as an opportunity.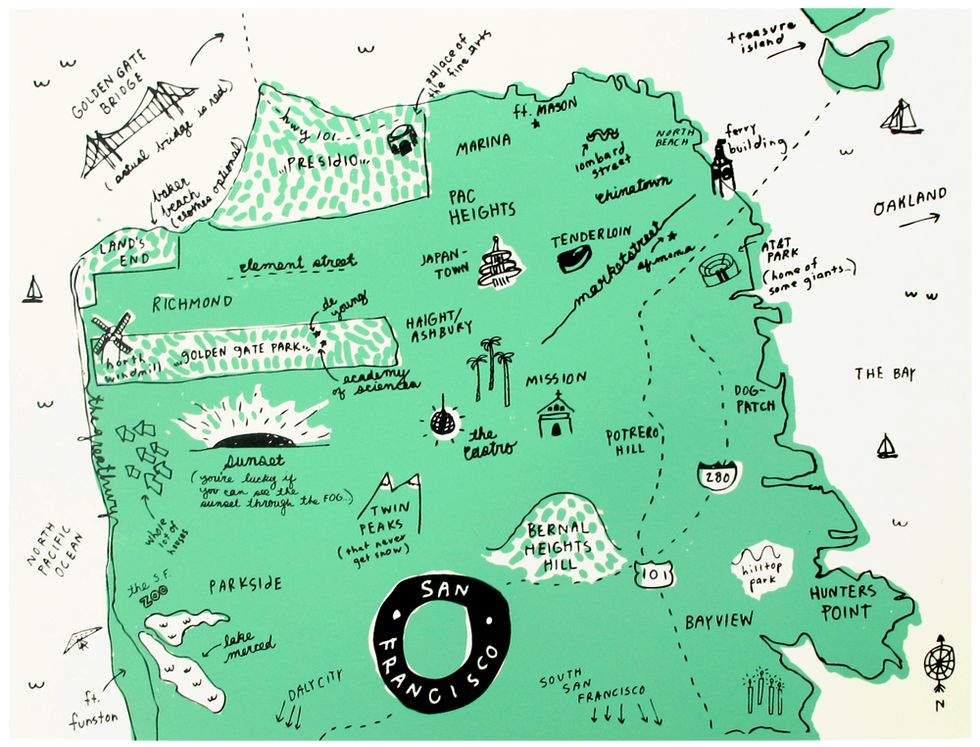 (San Francisco print, courtesy of People I've Loved)
What is your favorite item to make ?
Heather: The love cards are my favorite, by and large. There are certain cards that Carissa makes that hit on reality very well and address uncommon topics in traditional cards.
Carissa: I like making things as if they were created for imaginary situations that can bring people closer together from a possible grain of truth.
Who are some of your favorite local artists?
Heather: I'm a big Packard Jennings fan. It's also really inspiring to see people we came up with making it, like Cathy Lu and Robert Minervini.
Carissa: I agree with Heather. Plus, Josh Keller (I married him and could never date someone whose work I didn't think the world of) and Luca Nico Antonucci. Luca and I started Colpa, a publishing company, in 2010. Even though we no longer work together, he will always be a favorite. I believe in him.
What are some of your upcoming projects?
Carissa: I have a book due out from Chronicle this December called I Like You, I Love You, about the beginning stages of a relationship and how it transitions. I'm contractually obligated for a happy ending, but I would have one anyway since I am a sucker for love. We're also working together on a series of hypnosis tours at the deYoung Museum, and a new line of feminist workwear called Women's Work with Emma Molin. I think feminist clothing is a fun concept to consider.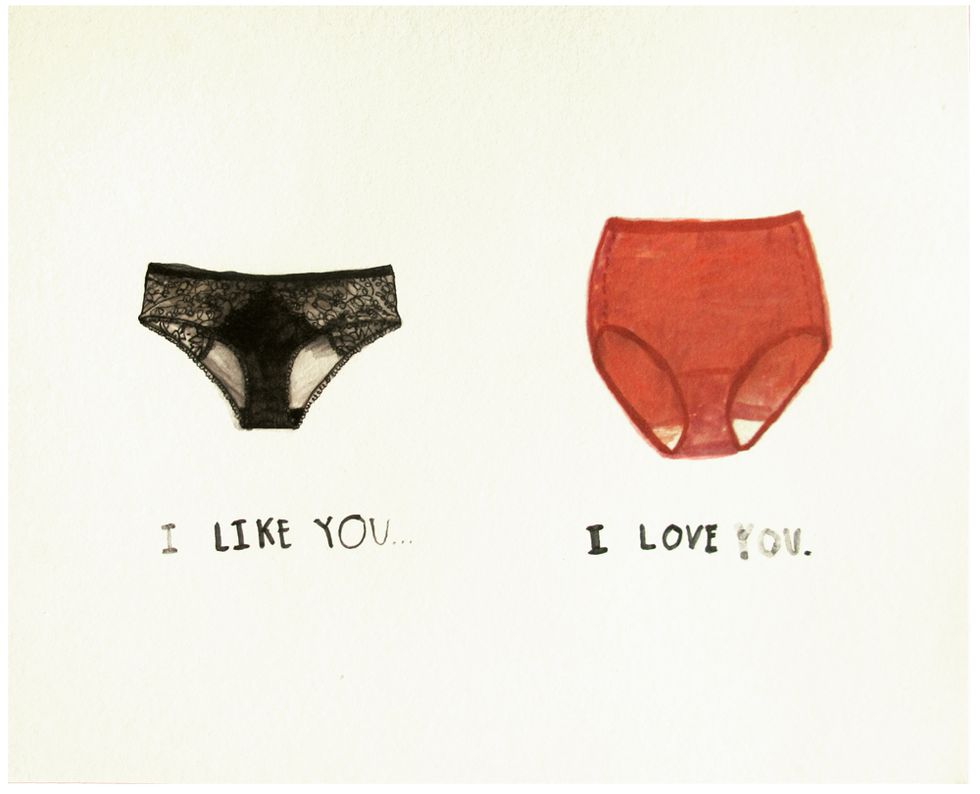 (I Like You, I Love You print, courtesy of People I've Loved)
Where do you go to see art in the Bay Area?
Heather: Storefront Lab, YBCA, Et Al, and Aggregate Space are great.
Carissa: City Limits, Royal Nonesuch, and tmoro Projects are also awesome. There's also Turpentine Gallery and n/a, a space in Oakland.
Where do you go to get away?
Heather: I usually just go to a park in the city, but lately I stop at Lake Merritt and Joaquin Miller Park to cut down on the commute and relax.
Carissa: I went to L.A. last weekend to get away, but I don't usually try to go anywhere. I like to stay home.
Quick Fire Round
Happy Hour or Brunch?
Heather: Happy hour.
Carissa: Brunch.
Baker Beach or Ocean Beach?
Carissa: Baker.
Heather: Ocean.
Mimosas or Bloody Marys?
Carissa: Bloody Marys.
Heather: Mimosas. Ha, we're so different.
Sauerkraut or kimchi?
Carissa: Kimchi.
Heather: Sauerkraut.
Three words that describe San Francisco?
Carissa:  Cold, warm, and fabulous.
Heather: Overpriced, educated, and charming.