By
San Francisco weather may be fickle, but the climate remains so consistent for restaurant openings, our stomachs can hardly keep up. Here's where we'll be wearing our stretchy pants this month.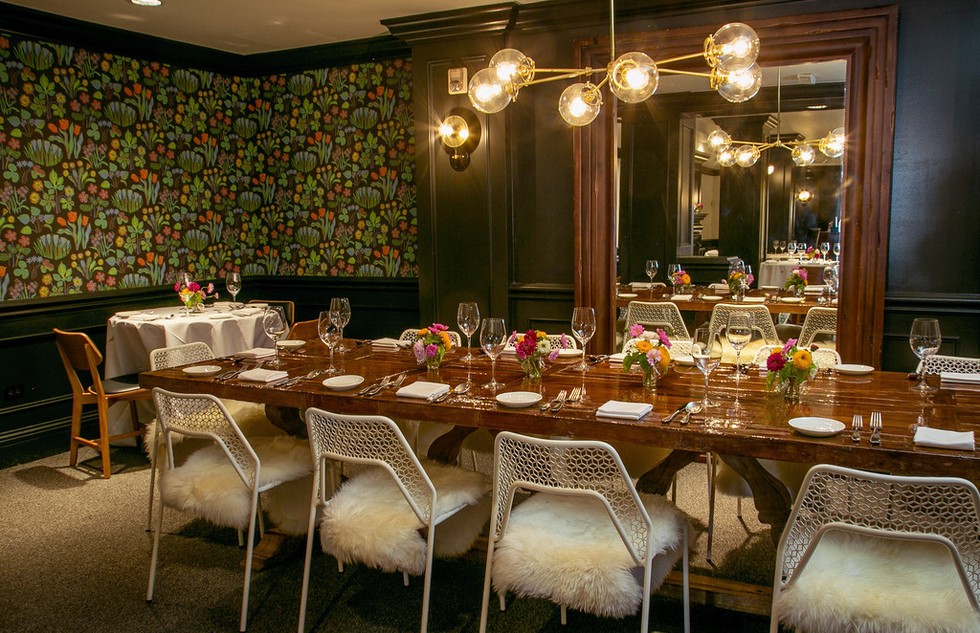 The new Plaj Restaurant interior (Courtesy of Plaj)
Plaj
Lover's of Plaj's perfect meatballs will be queuing up to dig in at the recently reopened Plaj—the Scandinavian-meets-Californian restaurant from Swedish-born chef Roberth Sundell and his wife, Andrea, is fresh from a lovely makeover. The updated interior is transportive, with simply elegant floral wallpaper and warm touches like lambswool throws on the chairs. The cuisine remains as innovative and tasty as ever, making this Opera Plaza gem very much worth a revisit. In the mood for something more casual? Have a glass of wine and a dessert at Plaj's sexy bar. // 333 Fulton St. (Hayes Valley), plajrestaurant.com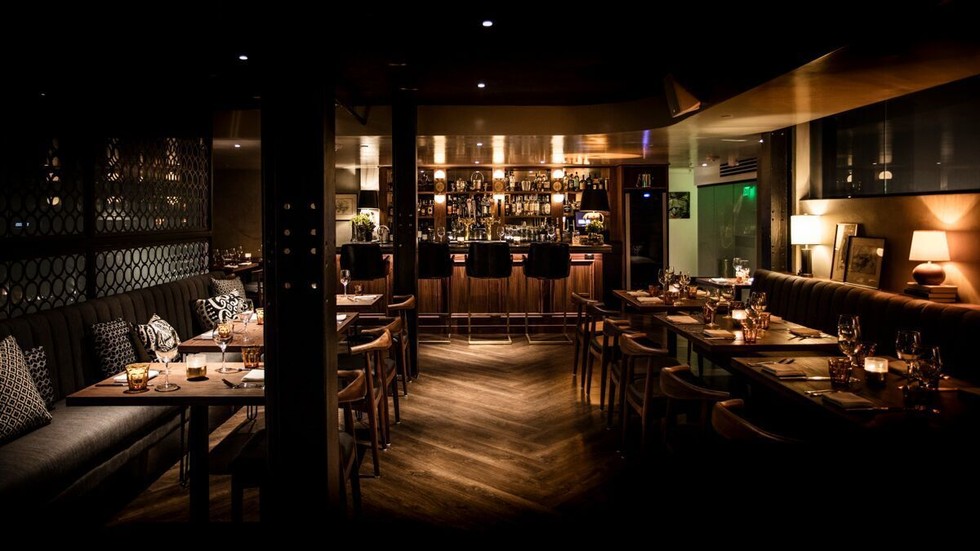 The moody, romantic interior at The Rambler.(Kelly Puleio)
The Rambler
When the Gettys and Trainas host a restaurant's opening, you know it must be a big deal. Opening this month inside the Hotel Zeppelin, the 100-seat space—the latest venture from Hat Trick Hospitality Group (Aventine, The Brixton, Redford)—has exposed brick, factory-style windows, and encaustic tiles courtesy of interior designer Lori Yeomans, who aimed for a fresh Californian vibe to match the restaurant's Italian-inflected Cal cuisine. Executive chef Robert Leva (formerly of Salt House and Yountville's Redd) will be turning out handmade pastas including fromage blanc gnocci, pizzas, and mains such as white sea bass with beans and basil. Classic and seasonally inspired cocktails will be poured at The Rambler's two bars. // 545 Post St. (Union Square), ramblersf.com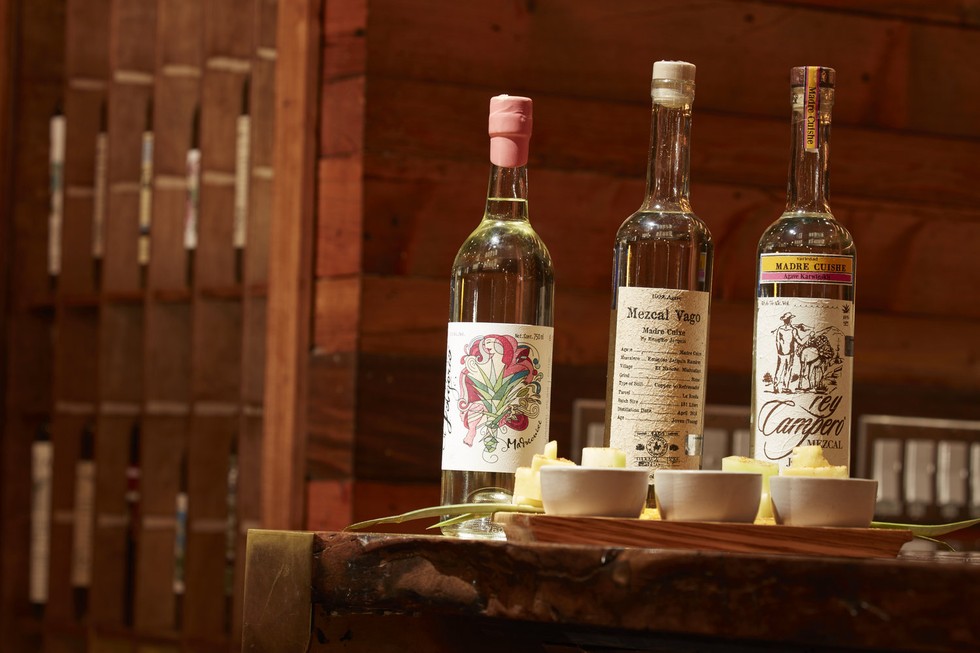 A few of the mezcals offered at Mezcalito.(Patricia Chang)
Mezcalito
For a taste of Oaxaca by way of Russian Hill, Mezcalito is the new go-to for SF connoisseurs of the smoky Mexican spirit mezcal—more than 53 varietals are served here by the glass. Mezcalito is also the only restaurant in town offering Mexican craft beers, making this a hot spot come happy hour (nightly from 5 to 6:30pm). Designed by Architecture & Light, the space is offhandedly warm, with natural wood accents and flatscreen TVs. Chef Matt D'Ambrosi's Oaxacan-inspired dishes come with American influences and the occasional surprise twist—think octopus tostada with peanut salsa, or a salad topped with salsa verde and granola. But the gouda burger is already a hit, and fish, shrimp, and pork belly tacos do the job of soaking up the spirits. Prepare for a lengthy wait, and look out for weekend brunch and patio seating coming soon. // 2323 Polk St. (Russian Hill), mezcalitosf.com
The Bird
Restaurateur Adriano Paganini—the man behind Belga, Beretta, Delarosa, Super Duper Burgers, and more—may have another hit on his hands. His new baby, The Bird, seems poised to draw flocks of foodies with locally raised, free-range fried and grilled chicken sandwiches. Affordable, wholesome, indulgent, delicious. The Bird will open soon for lunch and dinner. // 115 New Montgomery St. (SoMa), thebirdsf.com

Old Devil Moon
Beer lovers are already in heaven at Bernal Heights' Old Devil Moon, where 19 Perlick beer faucets, a beer engine for a cask ale, and 20 rotating taps spout draft brews from Almanac Beer Company, Bare Bottle Brewing Company, Bruery Terreux, Ferment Drink Repeat, and many more. More spirited drinkers will also find local liquors, whiskey, and rum. For those wanting food, consulting chef Charlie Kleinmen keeps the po'boys coming. //
3472 Mission St (Mission), olddevilmoonsf.com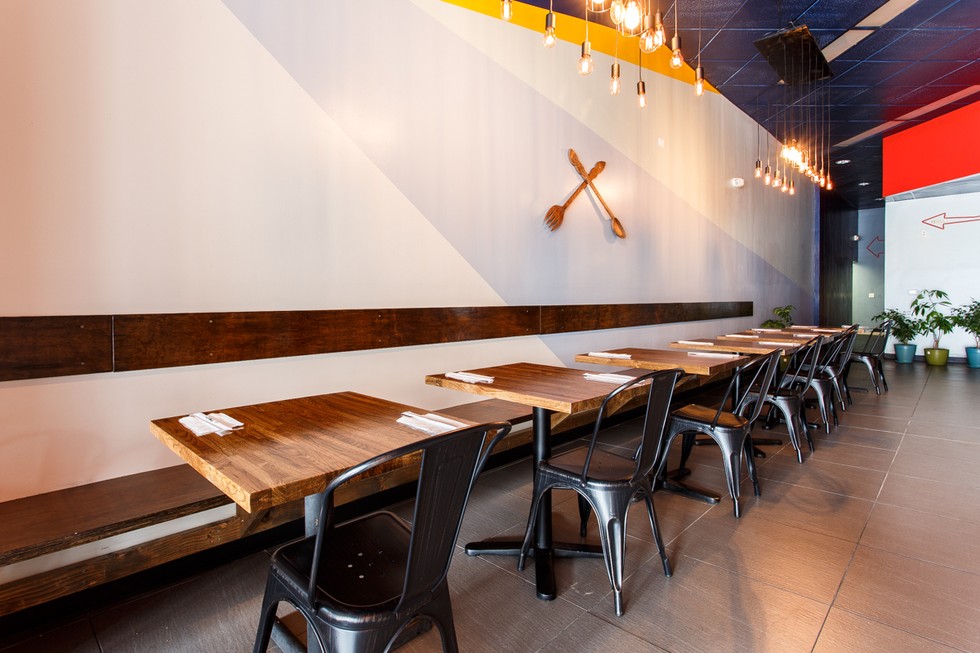 The modern minimalist interior at the Excelsior's new Korean restaurant, Hwaro.(Courtesy of Hwaro)
Hwaro
Meanwhile in the Excelsior, Hwaro—a small, family-run Korean restaurant that opened quietly this past August—is starting to catch the attention of local gourmands in search of authentic flavors. Chef Ryan H. Lee has sharpened his skills in various Korean and Japanese restaurants around SF, and is now serving lunch and dinner menus of traditional Korean fare and contemporary dishes, including fried chicken, rice cake skewers, Korean barbecue, and plenty of kimchi. // 4516 Mission St. (Excelsior), hwarosf.com
Cherimoya 2's vermicelli noodles with garlic shrimp.(via Yelp)
Cherimoya 2
If you're craving a quick and casual Vietnamese noodle dish or delicious banh mi, head to the new outpost of Burlingame's Cherimoya, in the Outer Sunset. Because who wouldn't want a bowl of lemongrass pork on a foggy fall day. // 2110 Irving St. (Outer Sunset), 415.650.3009
DON'T MISS A BAY AREA BEAT! SUBSCRIBE TO OUR NEWSLETTER.