With storybook architecture, perennial morning mist, and more fireplaces per capita than anywhere on the planet (or so it would seem), the Monterey Peninsula is one of Northern California's most charming escapes. Here's where to eat and shop in style—and where cozy up in a plush bed come nightfall.
---
EAT + DRINK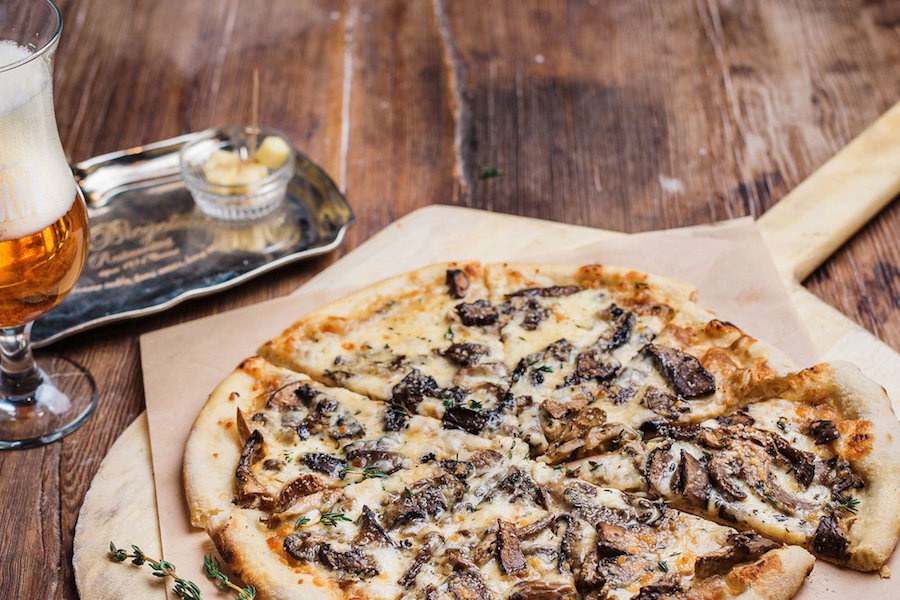 A wood-fired pizza at La Bicyclette.
(Courtesy of the restaurant)
San Francisco food snobs will feel right at home here, with plenty of options for chef-driven fare, craft beer, and local wine tastings.
In Monterey: Restaurant 1833 (500 Hartnell St.) housed in a romantic Spanish Colonial–style home known as Stokes Adobe (it's supposedly haunted), is an enchanting restaurant with Clue-like rooms, a full bar, and an outdoor patio whose magnificent old oak tree casts shadows from the glow of stone fire pits. // Downtown's Alvarado Street Brewery (426 Alvarado St.) furthers the area's burgeoning craft beer scene (see also Peter B's and Cannery Row Brewing Company) with 20 rotating taps including at least a half a dozon of their own beers brewed on-site. Enjoy them in the handsome, repurposed theater space, or outside in the beer garden.
In Carmel: Oversized plates of traditional breakfasts are served in cozy cafes throughout Carmel-by-the-Sea. For a more a refined take, head to Carmel Belle (at Doud Craft Studios, San Carlos St. between Ocean Ave. & 7th Ave, Carmel-by-the-Sea), an open farm-chic space that sports the town's only organic juice bar. // For an epic Mediterranean-style lunch—think too many bottles of French whites to be paired with French- and Italian-inflected fare, make a reservation at Casanova (5th Ave. between Mission and San Carlos, Carmel-by-the-Sea). Settle in on the too-charming patio and order the kale-ricotta cannelloni. // For Casanova quality on a budget, La Bicyclette (Dolores at 7th Ave., Carmel-by-the-Sea) delivers three rustic-yet-gorgeous meals a day. Wander in for a bohemian breakfast, wood-fired pizzas, soups, and salads. // Up for something more festive? Homemade chips and salsa await at the recently revamped Pescadero Mexican Restaurant (San Carlos St. between Ocean Ave. and 7th Ave., Carmel-by-the-Sea). Wait for your table at next-door Barmel, anchored by a monumental Victorian bar, owned by Sausalito's late madam-turned-mayor Sally Stanford. // In such a quirky little town, Cultura (Dolores St. between 5th and 6th Ave., Carmel-by-the-Sea) still manages to stand out—not just with its outdoor fire pits and Salsa Sundays, but with a totally unique Oaxacan-inspired menu that ranges from $2 tacos to $45 abalone. Don't miss the traditional chapulines. // If it's cold in town, hop in the car and head to the valley where there's almost always sun on the quaint patio at Corkscrew Cafe (55 W. Carmel Valley Rd., Carmel). Oysters, crudite, pizzas, charcuterie—what's not to like? // After breakfast or lunch at Corkscrew, mosey next door for a tasting and take home a bottle of rosé from the restaurant's own wine label, Georis (1 Pilot Rd., Carmel). // Tucked in a courtyard back in the village, Alexander Smith (Court of the Golden Bough, Ocean Ave. between Lincoln & Monte Verde St., Carmel)-by-the-Sea) pours estate wines from its eponymous and Paraiso labels. Their solar-powered ranch in the Santa Lucia Highlands produces good examples of the region's pinot noir as well as less common varietals like their popular riesling.