By
The people have spoken. Here are your favorite eats, shops, hikes, getaways, and more from around the Bay Area.
EAT + DRINK
Best New Restaurant (San Francisco): The Dorian

From crafty libations to immersive scotch tastings, The Dorian aims to please all whiskey lovers in San Francisco. Their exclusive Whiskey Society meets every first Wednesday of the month and tastings are $20-$25 each. And if you're nursing a hangover, their mouth watering brunch—including a delicious soft scramble, a "cure all" flatbread, and even a famous Marina Chop—is sure to take the pain away and leave you feeling full and hydrated. // 2001 Chestnut St. (Marina), doriansf.com
Best New Restaurant (East Bay): Los Cilantros
New homestead restaurant Los Cilantros is leading the pack in home-cooked, authentic Mexican food. Chef-owner Dilsa Lugo brings her vast experience in restaurants and farming to the menu, which features made-from-scratch Mexican classics such as pozole and chile relleno. If you haven't tried their Barbacoa de Borrego, a juicy lamb marinated overnight and served with tortillas, then consider it a must. // 3105 Shattuck Ave. (Berkeley), loscilantrosrestaurant.com
Best New Restaurant (Marin): Pig in a Pickle BBQ
Pig in a Pickle BBQ brings fresh, local ingredients and fabulous customer service to Marin. Everything is made from scratch, including the buns, rubs, pickles, sausage and sauces, at this casual barbecue joint and each hand crafted sauce is meant to represent a region from the South,: Memphis style, mustard sauce from South Carolina, dip from North Carolina, Alabama White Sauce or Commitment (a habanero hot sauce). So whether you're devouring a 16-hour smoked beef brisket or dining on light baby back ribs, getting your fill won't be a challenge. // 341 Corte Madera Town Center (Marin), piginapicklebbq.com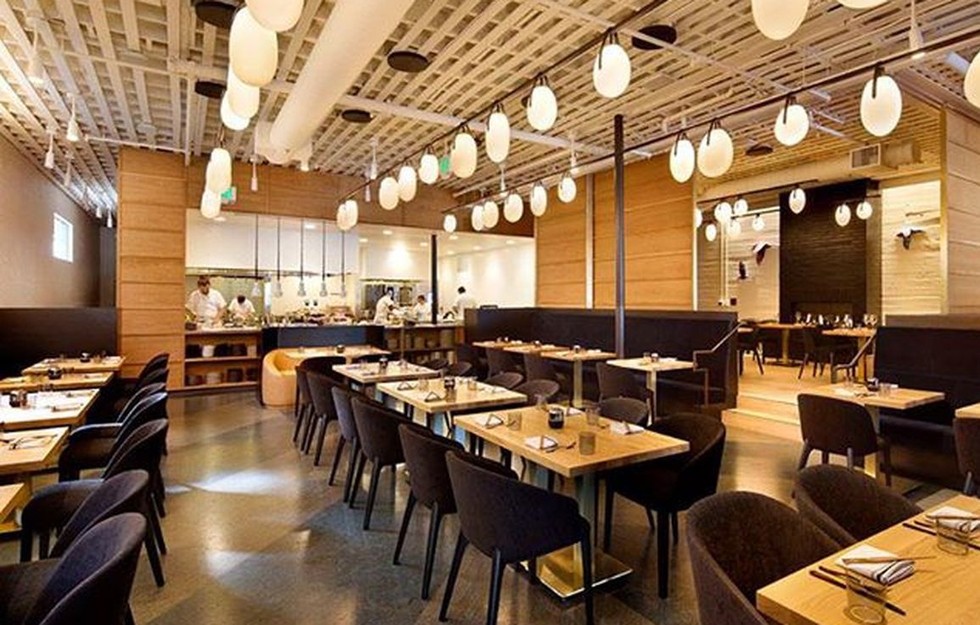 Bird Dog Interior(Bird Dog)
Best New Restaurant (South Bay): Bird Dog
In the heart of downtown Palo Alto, Bird Dog is dishing out fusion fare for the modern Californian. Fusing his love for NorCal style and Japanese showmanship, chef-owner Robbie Wilson plates beautiful fusion food deserving of your Instagram feed. Favorites include the pork belly with squid, peanut, and mango and the duck served with pumpkin, banana and cashews—it sounds like the ingredients shouldn't go together, but the flavors are explosive and delicious. // 420 Ramona St. (Palo Alto), birddogpa.com
Best New Restaurant (Wine Country): Ca'Momi Osteria
Expanding from their small flagship inside the Oxbow Market, Ca' Momi has new downtown digs with a chic industrial design. The restaurant prides itself on"obsessively authentic Italian," which means you won't find run of the mill ravioli or lasagna on the menu. Instead, they keep things strictly traditional with "heart crafted" dishes such as tagliolini neri con ricci di mar, a squid ink seafood pasta, and TK. The Osteria also has live music on every Friday and Saturday night. — Jess Lander // 1141 1st St. (Napa), camomi.com
Chef to Watch: Max Snyder of Old Bus Tavern

An alum of Saison, Coi, and Eleven Madison Park, Max Snyder most recently served as the executive chef of Le Marais Bistro in the Marina before taking the helm at Old Bus Tavern. Snyder brings a strong command of modern culinary technique to Old Bus, where he whips up shareable plates that range from drinking snacks to refined entrees. We always opt for the classic cheeseburger and locally brewed beer—let the food coma set in! // 3193 Mission St. (Mission), oldbustavern.com

Workday Lunch Spot: Uno Dos Tacos
Downtown workers rejoiced when this chic taco spot opened just off of Market and Second Streets. Chef Luis Flores practices the handmade, slow-cooking family traditions of his native Guadalajara to perfect his carne asada, carnitas, lengua, and chicken tinga tacos and burritos. Didn't eat breakfast this morning? Don't wait for lunch! Grab one of their amazing chorizo breakfast burritos and nosh on the go. // 595 Market St. (SoMa), unodostacos.com
Best Cocktail: The Portrait at The Dorian
Let us paint you a boozy portrait: Michter's bourbon, mixed wih amaro nonino smoked maple, and angostura tobacco tincture, served straight. The presentation is minimal but the smoky taste will leave you with a warm, sweet feeling in your belly you'll want to replicate at least two more times. // 2001 Chestnut St. (Marina), doriansf.com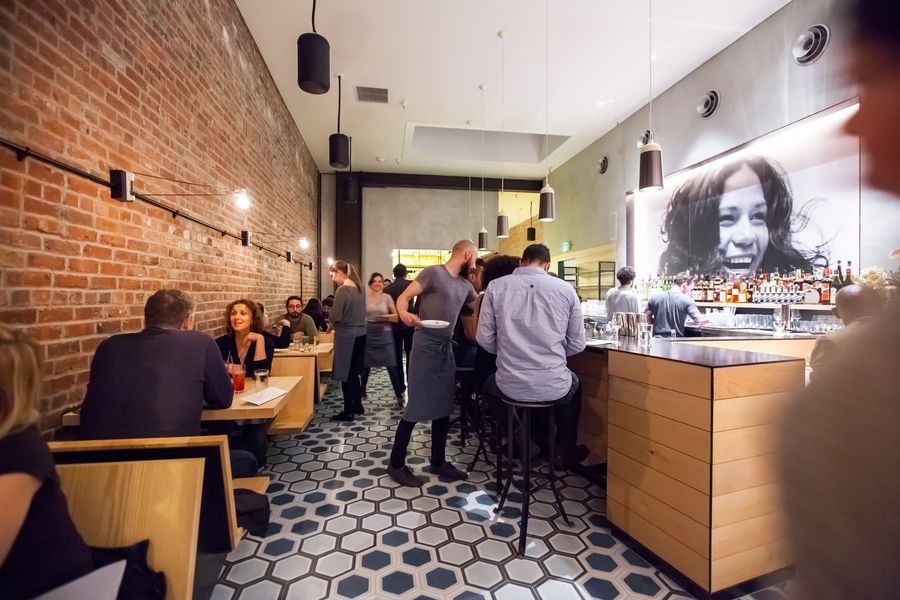 Feel the O'hana spirit at Liho Liho Yacht Club Photo by Patricia Chang
Culinary Innovator of the Year: Liho Liho Yacht Club
Liholiho Yacht Club serves up an Ohana-style menu with a touch of sophisticated charm, celebrating Hawaiian traditions through such dishes as fried oysters with beef carpaccio and fried game hen with cashews, tamari glaze, and flowering kal. But if you're a true fan of Hawaiian fare, then you'll stop at the homemade Spam and call it a tasty, tasty night. Head over, grab a drink, and feel the family spirit. // 871 Sutter St. (Nob Hill), liholihoyachtclub.com
Hangover Brunch: Brenda's French Soul Food
Brenda's French Soul Food is the place to go for an alochol-soaking fried chicken plate. Modestly listed as BFC—which locals will know stands for "Best Fried Chicken"— the mouthwatering dish includes three pieces of their super-juicy-on-the-inside and crispy-on-the-outside fried chicken, a warm flakey biscuit, and tangy collard greeens. Brenda's BFC was also on 7x7's Big Eat list this year, so you know it's a must-order. // 652 Polk St. (Tenderloin), frenchsoulfood.com
Most Original Restaurant Concept: Mina Test Kitchen
In June 2015, Michael Mina turned the idea of a restaurant on its head when he announced The Mina Test Kitchen, a series of pop-up restaurants that would allow his team of chefs to experiment with different culinary concepts. The first idea, Middle'terranea (a fusion of Middle Eastern and Mediterranean cuisine) debuted with chef Adam Sobel in the kitchen and the fresh flavors blew us away. This summer, Mina has Ayesha Curry in the kitchen serving up barbecue platters from around the world. We can't wait to see who he brings in next. //2120 Greenwich St. (Marina), minatestkitchen.com
Tastiest Cheap Eat: Super Duper
Super Duper Burger's dedication to super duper values and quality makes it one of the freshest joints in town. Besides producing burgers we can sink our teeth into, with locally sourced ingredients and handmade pickles and buns, Super Duper Burger's packaging is all compostable, and the restaurants feature hand-painted signage to proudly display their dedication to sustainability. — Isabel Moniz // Multiple locations, superduperburgers.com
Best Place to Caffeinate: Philz
For a city concerned with local products, we sure have a lot of coffee imports—Stumptown hails from Portland, and even Blue Bottle originated across the Bay Bridge. Philz Coffee, though, is all San Francisco. Starting with the flagship store on 24th and Folsom, Philz has always brought the caffeine and community to the daily grind. — Marina Smith // Multiple locations, philzcoffee.com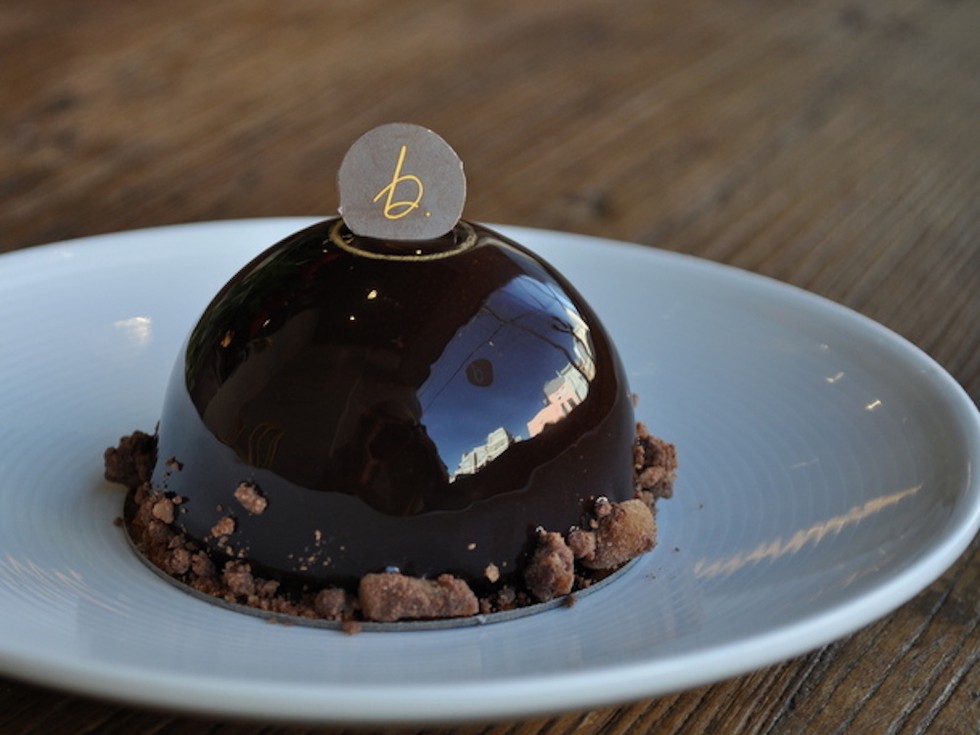 B. Patisserie's Chocolate Caramel Toffee Mousse. (Serious Eats)
Sweetest Treat: B. Patisserie's Chocolate Caramel Toffee Mousse
Pastry chef Belinda Leong, a Gary Danko and Manresa veteran who gained a cult following with her Ferry Building pop-up, is pretty much the queen of sweets in San Francisco and her Bittersweet Chocolate Mousse (a dome of bittersweet chocolate mousse covered with shiny ganache, interspersed with toffee chips and caramel, and set on a flourless chocolate biscuit) is the stuff of royalty. // 2821 California St. (Pac Heights), bpatisserie.com
STYLE + BEAUTY
Best Boutique for Fashion Girls: Shinola
Fashionistas take note: The Detroit-based brand newly opened in Jackson Square, also just launched their very first women's leather collection by co-designers Richard Lambertson and John Truex. Crafted, sourced, tanned, and sewn in the U.S., the 12-piece collection includes everything from bucket bags to hobo satchels, duffles to messengers. The leather beauties come in a slew of neutral shades, as well summer-vibrant cobalt and orange. We'll take onen of each. // 722 Montgomery St. (Jackson Square), shinola.com
Fashion Designer to Watch: Jake Wall
Jake Wall is a Project Runway Season 14 featured designer and co-founder and creative director of JAKE, an upstart premium fashion brand with a new showroom in San Francisco's historic Jackson Square. Wall designs for both men and women, offering garments with classic proportions and modern conveniences such as the sleek and edgy suits he's become known for. During a private style session, Wall gets to know his clients, then guides them through the process of creating a premium, made-to-measure outfit including custom fabric and personalized details. // jake.clothing
Favorite Shopping Neighborhood: Hayes Valley
The French have a great expression for window shopping: leche vitrine, or "lick the window." And with gourmet treats such as Chantal Guillon's colorful macarons, chocolate confections from Christopher Elbow, vintage treasure at Ver Unica and handmade accessories at Azil, you may want to do just that. A lunch stop at Souvla makes it a perfect day.
Spa Day Splurge: Nob Hill Spa
Nob Hill Spa is a go-to for beauty mavens seeking luxe body treatments and fresh mani/pedis. Overlooking the gorgeous cityscape of San Francisco, getting a 5-star spa experience won't break the bank here. If you're feeling a little tired, a Seaweed Leaf Body Ritual is perfect for a post-work pick-me-up. Your entire body is wrapped in organic muslin and cocooned in a thermal blanket. During the treatment, unwanted toxins are eliminated and vital nutrients are absorbed, combating signs of aging and leaving you with firmer and softer skin. Please and thank you. // 1075 California St. (Nob Hill), nobhillspa.com
Healthy Nail Salon: Lux SF
The gals at LUXSF stick true to their name with luxurious treatments you won't soon forget. The chic Hayes Valley nail salon only uses and sells products that adhere to the 5-free standard, including the Treat Collection of gorgeous polishes. After an exfoliating scrub, hand massage, and a deep hydration treatment, you'll feel like a million bucks. — A.R. // 490 Hayes St. (Hayes Valley), luxsf.net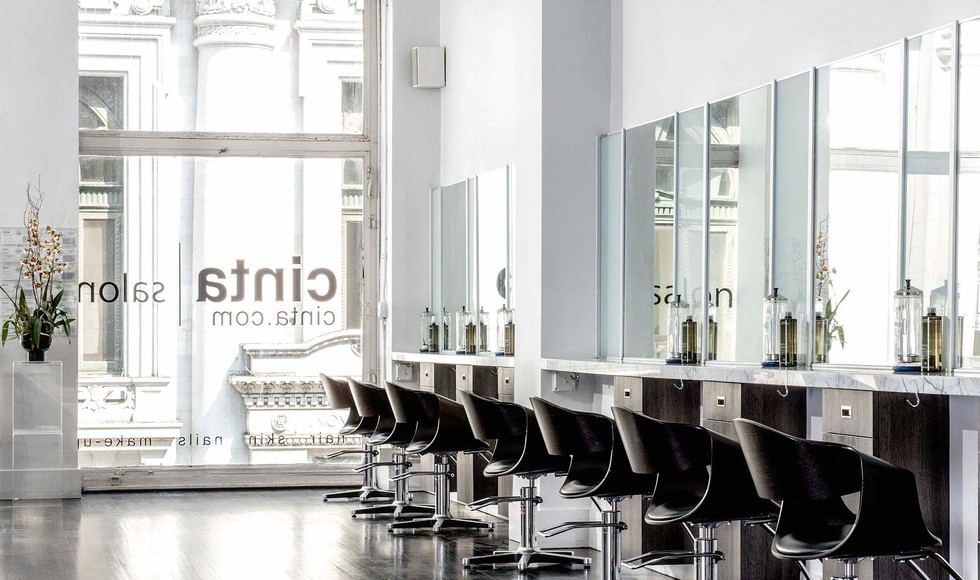 The window seats at Cinta Salon. (Cinta Salons)
Where to Hair: Cinta Salon
Whether it's balyage or pastel tresses they seek, trend-conscious style mavens look to this Grant Avenue mainstay (which has undergone a lovely renovation in recent years) to keep their locks au courant. This spring and summer, it's ecaille (French for tortoiseshell) color that Cinta's most stylish customers are after. Similar to balyage, the color treatment goes for a multitextural effect by painting or foiling both cool and warm tones on each strand of hair. Gisele is a fan, and so are we. // 23 Grant Ave. (FiDi), cinta.com
Best Dressed Style Icon: Umberto Gibin
Fashionable and hospitable, Umberto Gibin's Italian charm serves him well as the owner and host of Financial District gem, Perbacco. Gibin garnered his impeccable people-skills at some of Europe's most high-end restaurants and hotels, including The Palace in St. Moritz and The Caprice in London, before arriving in San Francisco in 1979 (he chased a girl across the pond!). He's had a hand in almost all of the city's high-end Italian restaurants (Ernie's, Donatello Hotel and Restaurant, Ciao, Chianti) and then some (Grand Cafe, Fifth Floor), and made his mark on the California restaurant scene as one of the founding team members of Il Fornaio. Now he's found his niche as the proprietor of fine Italian fare with his very own spot, Perbacco. Stop by and say hello. // 230 California St. (FiDi), perbaccosf.com
Dapper Mens Shop: Wingtip
A hotspot for all things menswear, Wingtip boasts the most curated selection of men's apparel, accessories, and handy dandy knick-knacks. Ladies, having trouble shopping for him? Let the expert men's styling advisors help you select a fine gift for the dandy in your life. — A.R. // 550 Montgomery St. (FiDi), shop.wingtip.com
Best Barber: Peoples Barber
Having found success on SF's Polk Street, Peoples Barber is bringing their A game to Oakland's the Hive. Trust your tender bearded locks to the pros while you sip a complimentary beer or shot. Man's best friend is welcome too. // Multiple locations, peoplesbarber.com
ART + DESIGN
Best New Building + Awe Inspiring Interiors: SFMOMA
t's been nearly three years since SFMOMA shut its doors with the promise of returning bigger and better in 2016. On May 14, the celebrated art museum finally unveiled its richly expanded collection in a striking new home. The expansion, designed by Snøhetta, melds seamlessly with the existing structure on the inside, while the exterior presents a juxtaposition of old and new architecture on Third Street as the facade appears to ripple and shift with the light. Guests are sure to swoon for the third floor outdoor terrace, anchored by a dramatic 150-foot living wall — the largest public one in the U.S. — whose stretch of green looks like a mini Golden Gate Park affixed to the building. Inside, The new Doris and Donald Fisher Collection is a boon for the museum with postwar and contemporary works from artists such as Roy Lichtenstein, Agnes Martin, and Gerhard Richter. The inaugural shows feature beautiful galleries of some of the Fisher's favorite artists. Occupying most of the third floor, the Pritzker Center for Photography is the largest gallery and research space devoted to photography among art museums in the nation. Plus, a new partnership with the San Francisco Film Society means a new film program, Modern Cinema, exhibited in the newly renovated Phyllis Wattis Theater. Needless to say, there's a lot to see. — Garrick Ramirez // 151 3rd St. (SoMa), sfmoma.org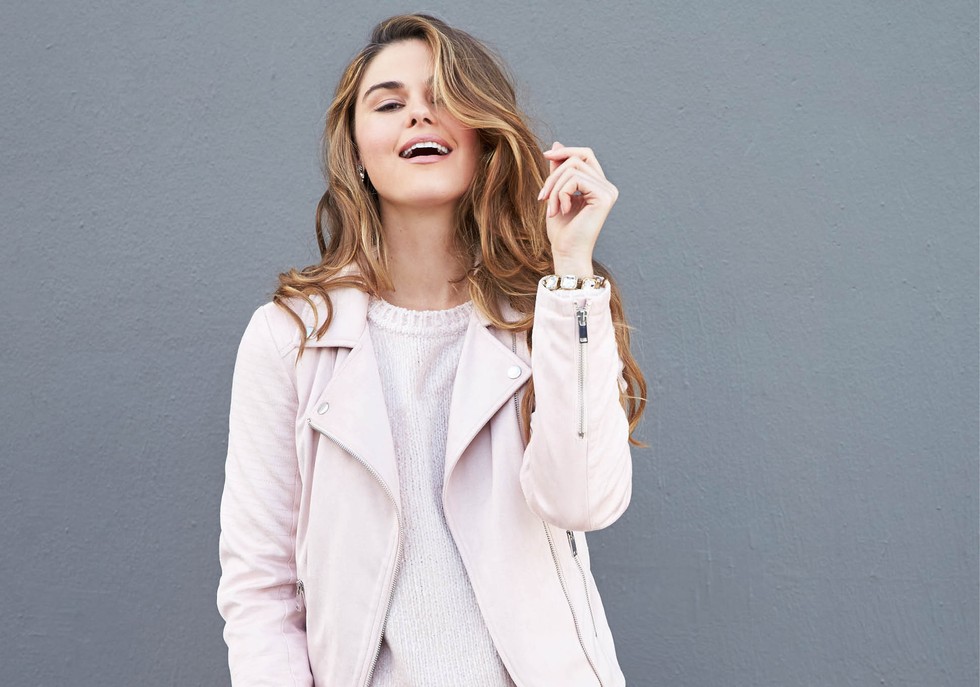 The style startup all fashion mavens need. Photo via Stitch Fix
Style Startup or App: Stitch Fix
When SF-based style start-up Stitch Fix came on the scene, the Bay Area's trendiest residents had a field day getting their style fill in. So how does it work? Log in via app or desktop website and take their 7-minute style quiz that helps define your personal sense of style. The quiz is about 40 questions long so grab a glass of wine and take your time. At the end, the team at Stitch Fix calculate your personal style preferences and build monthly boxes around your favorites and from there, they will send you 5 hand picked items and you keep the ones you want to buy. Simple as that. // stitchfix.com
Most Memorable Art Exhibition (June 2015 - May 2016): Oscar De La Renta at the DeYoung
A stroll through the de Young' museum's glorious Oscar de la Renta tribute, which ended its 10-week run on May 30, was like time-traveling through the Dominican-born designer's legendary 50-year career. Guest-curated by longtime de la Renta friend and former Vogue editor-at-large Andre Leon Talley, the meticulously staged lovefest featured one impeccable look after the next: Russian-inspired, fur-trimmed, brocade gowns, fiery flamenco skirts, Marie Antoinette-like pastel confections, and glam red-carpet stunners. Just like the elegant man who inspired it, this exhibition won't soon be forgotten. // 50 Hagiwara Tea Garden Dr. (Golden Gate Park), deyoung.famsf.org
Most Mesmerizing Performance Company or Troupe: San Francisco Ballet
As the oldest professional ballet company in America, the San Francisco Ballet exhibits a grace and elegance that just can't be beat. This season's highlights include world premieres by Liam Scarlett and Justin Peck; three full-length story ballets: Swan Lake, Coppélia, Onegin; the North American premiere of William Forsythe's Pas/Parts 2016; and the SF Ballet debut of Alexei Ratmansky's Seven Sonatas. Plus, more tutus than you ever dreamed of. — I.M. // 301 Van Ness Ave. (Civic Center), sfballet.org
CULTURE
Quirkiest Gaming or Trivia Night: Trivia Night at Hi Tops
Head to Hi Tops every Tuesday night for their raved about Trivia Nights where the winnings include a completely paid bar tab—sweet! We suggest getting there early, seating goes in the blink of an eye, and remember that if your team name makes the staff laugh, you'll be enjoying free shots of your choice. — A.R. // 2247 Market St. (Castro), hitopssf.com
Off-the-Wall Experience or Event: SK Morton's Lousy San Francisco Podcast
SK Morton's Lousy San Francisco Podcast tells it like it is. For the past two years, the podcast has been a self-proclamimed tremendously famous show (that hardly anyone knew about) and now you can be apart of it. Get yourself a free ticket to any of the upcoming tapings, and expect lots of audience participation. — A.R. // skmorton.com/lousypodcast
Rising Star Artist to Watch: Pete Feliciano
Pete Feliciano is a must-watch musician, remixer, and DJ in the San Francisco music scene. Blending sultry tones with occasional hard rap verses, the sounds coming from his popular Soundcloud page are great study music, party music, cleaning music, or whatever. We're digging his latest collaboration with artist OneWerd, Make it in the End (feat. VerBs, CTZN & Pete Feliciano). Seriously it's too good. — A.R. // soundcloud.com/peter-feliciano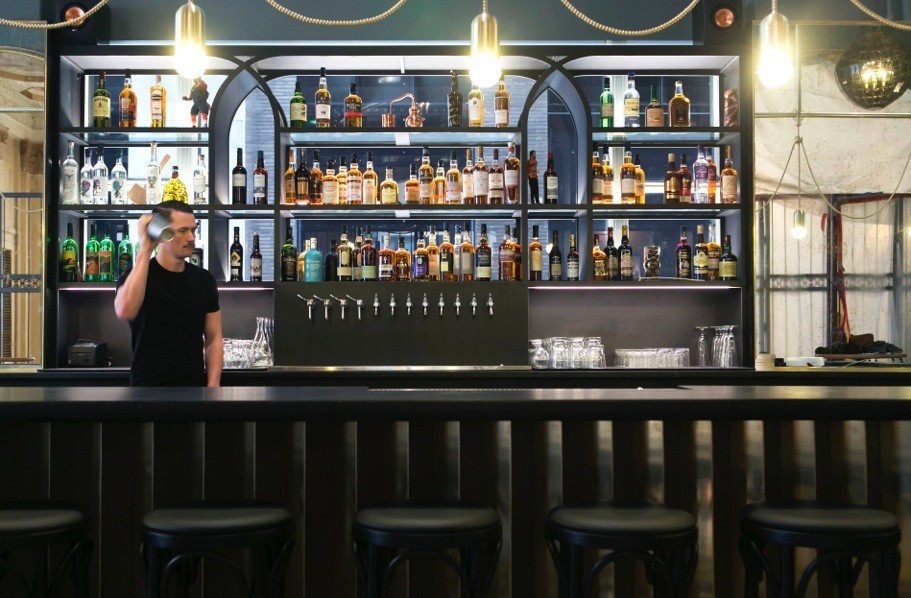 Where the night comes to life.(The Treasury)
Now Night Spot: The Treasury

Tucked secretly away on Bush Street, The Treasury is a joint project between Phil West (Range, Third Rail), Arnold Eric Wong (Bacar, E&O), and Carlos Yturria (A16, Absinthe). You can expect light but delicious bar fare, such as oysters and cheese platters, to ensure downtown office workers have the happiest of happy hours. We recommend grabbing yourself a 'Selfie' cocktail—all the kids are doing it. // 200 Bush St #101 (FiDi), thetreasurysf.com
Boss Music Venue: The Fillmore
The Fillmore, or as we like to call it, the "inspiration for our Grand Foyer when I'm filthy rich," remains hallowed ground to every San Franciscan who yearns for hyper-relevant live music with a touch of historical gravity. The long-celebrated venue still prides itself on varied, sophisticated curation. Whether you're listening to love notes by Ingrid Michaelson or getting lit with FATHER, The Fillmore never disappoints. // 1805 Geary Blvd. (Western Addition), livenation.com/venues/14270/the-fillmore
Outstanding Local Nonprofit: 826Valencia
For 13 years, 826 Valencia, cofounded by Eggers, has offered writing programs, tutoring, summer camps, and more to underserved kids ages 6-18 in the Mission. This summer, the national non-profit officially expanded its services to the Tenderloin, opening its second San Francisco location in a former liquor store on the corner of Golden Gate and Leavenworth. 826 Valencia Tenderloin—located at an once-popular drug trafficking intersection formerly known as Big Boy Market—will continue the non-profit's mission to bring cost-free writing and tutoring to neighborhood children. — Roann Pao // Multiple locations, 826valencia.org
Best Cheap Date: Nightly Eats at Off The Grid
Off the Grid's overwhelming assortment of food trucks, each churning out creative and eclectic offerings, might be an indecisive person's worst nightmare. But for the rest of us, the street food mecca leaves us completely satisfied with cheap eats, community, and the chance to impress that special someone with your knowledge of the extensive OtG secret menu. // 2 Marina Blvd (Marina), offthegridsf.com
Most Photogenic Spot to Snap a Selfie: Marin Headlands
Take a trek to where the grass is greener and the air is fresh; the Marin Headlands is the perfect backdrop for a magical selfie. Whether you're including the expansive view of the city or framing up a breathtaking vista starring the Golden Gate Bridge, don't forget to hashtag #MarinHeadlands. — A.R. // nps.gov
GETAWAYS
Outside-the-Box Stay: Treebones Resort, Big Sur
Nestled along Big Sur's beautiful coastline, Treebones Resort offers expansive views and easy access to everything the area has to offer. With a typical day that consists of sipping morning coffee on your Redwood deck, hiking nearby trails, exploring the coast, and then winding down in the hot tub, you might never want to leave. There are tent and yurt options, but if you're looking for a more comfy experience, be sure to reserve one of the 16 yurts. The facility includes a beautiful main lodge, an outdoor sushi bar, and a heated swimming pool and hot tub. // 71895 CA-1 (Big Sur), treebonesresort.com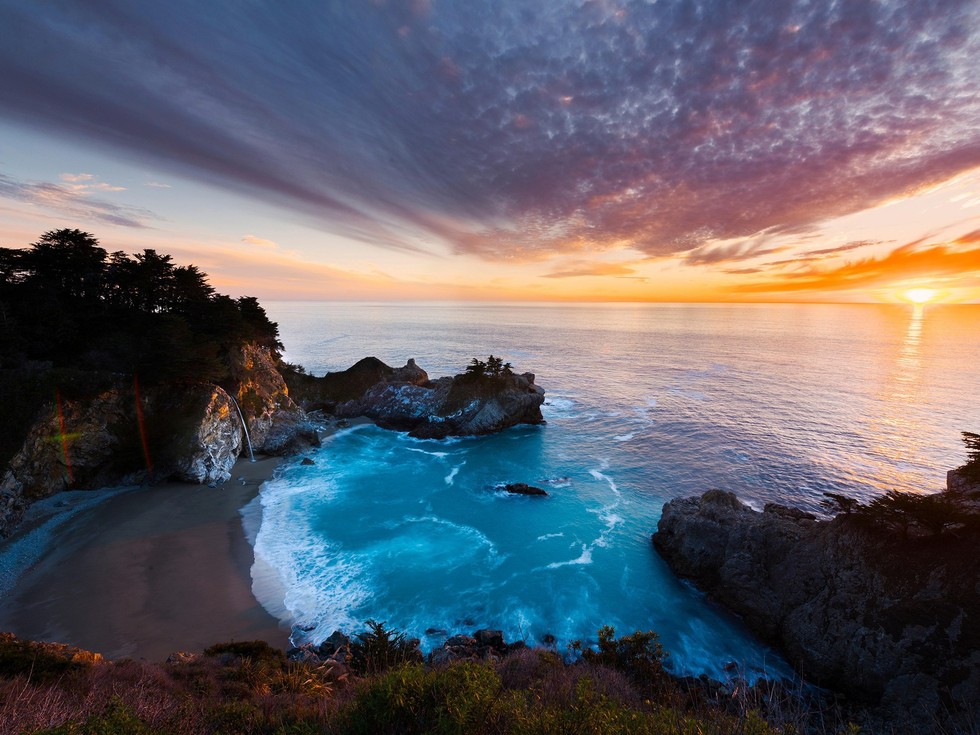 Big Sur at sunset — So magical.Photo via The Traveler
Dreamy Weekend Destination: Big Sur
Even in the rain, Big Sur is a remarkable place to explore. With its rugged coastline and thick forests and view-tastic luxury inns, it's no wonder Sean Parker, Anne Hathaway, Taylor Swift, Karlie Kloss, Andy Samberg, and Joanna Newsom flock here to steal away. But you don't need to take a cue from Hollywood's A-list. You already knew how special this place was. // bigsurcalifornia.org
Best Small Town to Hide Out: Guerneville
With hot summer nights and new restaurants, bars, and shops popping up everyday in Guerenville, the Russian River gem is a must for your bucket list. Go hiking, biking, tubing, canoeing, wine tasting, and partying—or just laze by the river. Guerneville doesn't disappoint. // guerneville-online.com

Hippest Place to Camp: Prewitt Ridge, Big Sur
Prewitt Ridge might be an officially dedicated campground within Los Padres National Forest, but don't let that fool you into thinking that you have to reserve it months ahead of time. On the contrary, this is "dispersed camping" — no reservations, no toilets, and no running water. But once you're up on the ridge above the fog with views over the coast and the Pacific, none of that will matter. // fs.usda.gov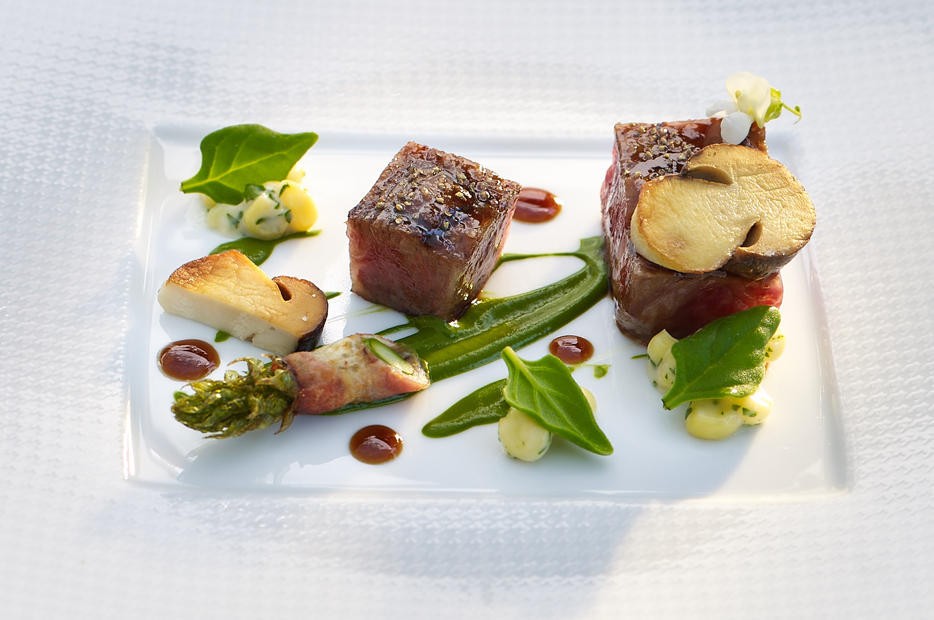 Delicious eats at The French Laundry. (The French Laundry)
Restaurant Worth Traveling To: The French Laundry
Since its opening in 1994, chef Thomas Keller's iconic Napa Valley restaurant, The French Laundry, has drawn attention for its stunning presentation, fresh ingredients, and culinary innovation. It's been called "the best restaurant in the world" by Anthony Bourdain and boasts a staggering three Michelin stars. For $310 a head, diners can choose between two prix-fixe menus — the chef's tasting menu or the vegetable-tasting menu — which change daily and don't repeat a single ingredient throughout. It's a once-in-a-lifetime experience. // 6640 Washington St. (Yountville), thomaskeller.com
WORKOUTS + WELLNESS
Trendiest Workout: Soul Cycle
Tired of cycling through the same routines every day? Head to one of the Bay Area's several SoulCycle locations (we love the new one in the Castro) for an enthusiastic workout with a heart-pumping soundtrack and a peer group of diehard fans. The exertion will leave you feeling exhausted but glowing. // Multiple locations, soul-cycle.com
Go-To Urban Hike: Lands End
We're gonna go out on a limb here and just say that Lands End, with its rugged terrain and jaw-dropping views of the Golden Gate, is one of the most scenic hikes in the country. And it's smack in the middle of San Francisco! Beat that, New York. // 680 Point Lobos Ave. (Presidio), nps.gov
Mobile App for Wellness or Workouts: FitBit
If you haven't gotten on the wave of wearable tech yet, FitBit's newest product the FitBit ZIP allows you to stay chic, be active, and do more of what you love. Its' smaller than their original products, and you're still able to continue to track your step goals, mileage, and more with their easy-to-use tracking app. Make life a bit fitter. — A.R. // fitbit.com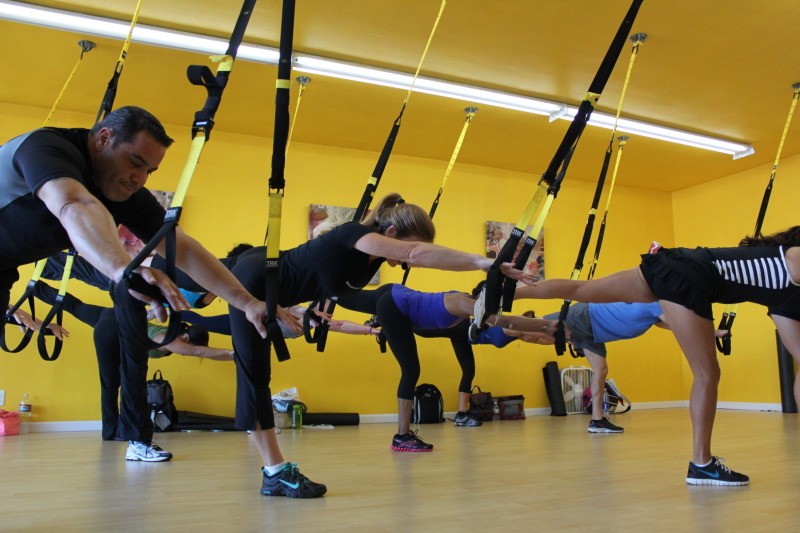 Dripping sweat is the language at TRX Training Center.(TRX Training Center)
Favorite Way to Sweat: TRX Training Center
Invented by a former Navy Seal right here in SF, the equipment for TRX is pretty basic: 12-foot-long nylon straps, a couple of buckles, and two loops dangling from a secure bar or anchor point in the ceiling. During any of the 55-minute-long circuit training group classes (held two or four times a day, Monday through Saturday), you'll move through a fast-paced set of pull-ups, presses, curls, and core work. The idea is to use your body weight for resistance to build strength, as you switch from floor exercises with your feet cradled in the loops (hello, side plank) to inclined standing sets with your hands gripping the loops for leverage during modified push-ups and single-legged squats. It's one of the best workouts you can get in // 1660 Pacific Ave. (Pac Heights), trxtrainingcenter.com
Exercise for Couples: Rock Climbing at Touch Stone Rock Climbing
Test your relationship with the ultimate trust fall while indoor rock climbing at Mission Cliffs. Rock climbing not only requires the buddy-system, but relies on communication, trust, and encouragement throughout the process. After such a physically and mentally challenging sport, it's always fun to celebrate with a partner at the end. Mission Cliffs offers private lessons, intro to climbing, and a variety of advanced technique classes. — Erica McGuire // Multiple locations, touchstoneclimbing.com
It Class: Best Butt Ever at Equinox

Is Kim K your idol? Then you need to sign up for the Best Butt Ever class at Equinox. The class is thirty minutes of glute-burning exercises using loop bands, slides, dumbbells, step platforms and your own weight (alas, you won't leave class without doing some plank-related moves). Get ready to worship your own backside. // Multiple locations, equinox.com

Best Workout Wear: Lululemon
Bay Area women have sworn by Lululemon for the past 20 years. Whether your workout of choice is yoga or a long run, you'll find what you need to stay cool and look great at this local mainstay. // Multiple locations, shop.lululemon.com
Best Bay Area Sports Team: Golden State Warriors
Our Golden State Warriors have been on quite a tear. On the heels of a multi-record-breaking season, they found themselves in the NBA championship for the second year in a row, and them in a deal with star Kevin Durant. Oh yah, and they're also really really ridiculously good looking. Not a bad perk. // nba.com
Best Alternative Med Practitioner: Berkeley Community Acupuncture
BCA opened its doors in 2007 with the intention to provide quality, accessible traditional Chinese Medicine. Offering a variety of services, the consensus is in and BCA is a crowd favorite time and time again. — A.R. // 2880 Sacramento St. (Berkeley), bcaclinic.com
Best Chiropractor: Dr. Adam Jacobs, SF Custom Chiropractic
SF Custom Chiropractic founder Dr. Adam Jacobs is the man with the healing hands. Working professional, athlete, student, or child? All are welcome and SF Custom Chiropractic is constantly accepting new patients. Start booking your time slot via their website now. — A.R. // Multiple locations, sfcustomchiro.com
FAMILY + PETS


Most Kid-Friendly Restaurant: Terrapin Crossroads
Perfect for birthday parties and giant family gatherings, Terrapin Crossroads knows that a great meal starts with a happy family. Families of all ages flock to this Marin County favorite to feast on burgers, pizzas, pasta, and more classics while listening to live music. — A.R. // 100 Yacht Club Dr. (San Rafael), terrapincrossroads.net
Happiest Toy Store: Ambassador Toys
Kids will lose their minds in this toy wonderland with a multitude of interesting toys, art supplies, and educational whatnots to play with. Pus, Ambassador sells a unique collection of period toys that children are encouraged to play with and maybe even pass on to their own kids some day. — A.R. // Multiple locations, ambassadortoys.com
Cutest Kids Clothes: Chloe's Closet
With kids growing in the blink of an eye, being able to buy and sell used clothing only makes sense. Chloe's Closet started as a dream for owner and mother-of-two Molly Tyson. But now the store is a place for parents and kids to clear out their closets and peruse Chloe's, all in a homey, friendly atmosphere. — I.M. // 616 Irving St. (Cole Valley), chloescloset.com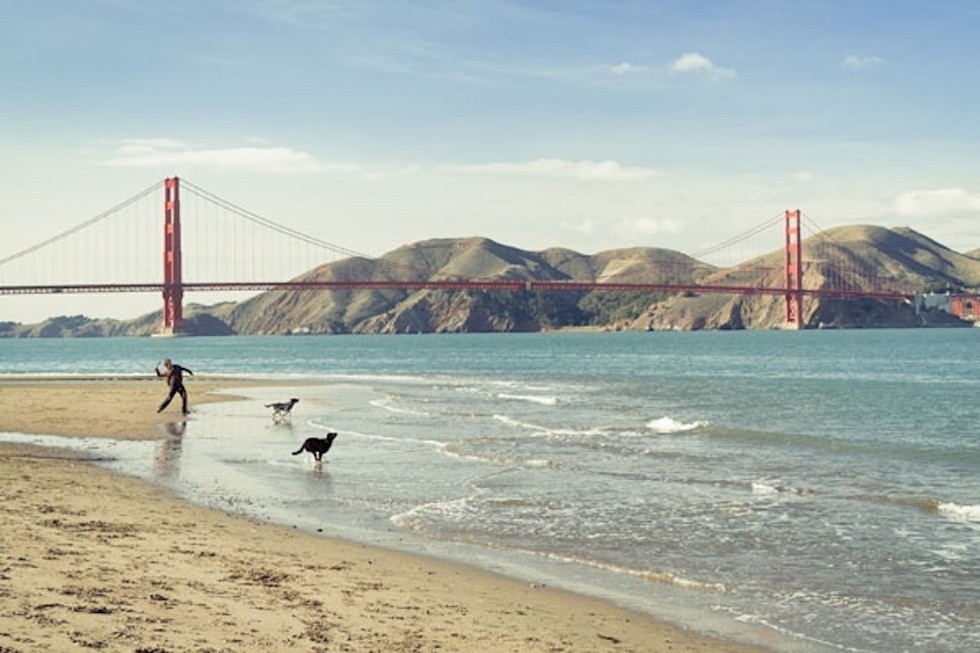 We give two tail wags to this dog friendly mecca.Photo via The Bark
Best Dog Park: Crissy Field
Crissy Field, with its sandy beach, grassy fields, and, oh yeah, amazing view of the Golden Gate, is a true doggie and human heaven. Pack up a picnic, and spend a day kicked back on the sand while your pup frolics off leash in one of the most iconic parks in the land. — M.S. // 1199 E Beach (Presidio), presidio.gov
If You're Gonna Play Tourist, You Go to: Ferry Building
The Ferry Building is our go-to destination for pleasing out-of-towners in one fell swoop. Plus, the photo op with the Bay Bridge is an added bonus. — A.R. // 1 Sausalito (FiDi), ferrybuildingmarketplace.com
Tourist Trap to Take Your Parents: Walking The Golden Gate Bridge
Sure, it's touristy, but it's also pretty freaking epic every time you walk across the fog-shrouded, gorgeous GGB. Prepare the 'rents well with a sturdy jacket and walking shoes so they're not freezing their buns off with the rest of the tourists. — S.M. // goldengatebridge.org
DON'T MISS A BAY AREA BEAT! SUBSCRIBE TO OUR NEWSLETTER.