By

Before the City of San Francisco voted to stop burials within city limits in 1900, there were at least 30 cemeteries currently in use or abandoned with bodies around San Francisco. Today we have only two cemeteries left on city land, one at Mission Dolores Church and the SF National Cemetery in The Presidio.
Most of the deceased non-native residents previously buried in SF were moved to cemeteries in Colma in 1900-40s, a city which now carries the distinction of having more dead residents (two million and counting) than living (1,500). Unfortunately for anyone trying to find burial records, this migration from SF to Colma during the turn of the century was spotty. Sometimes bodies were exumed and buried in mass graves, other times they were transferred to new coffins with incorrect information, and once in a while bodies that were supposed to get moved didn't, and have been hiding out in their original resting place all along.
So where were these SF cemeteries and what's there now you ask? We investigate…
The Big Four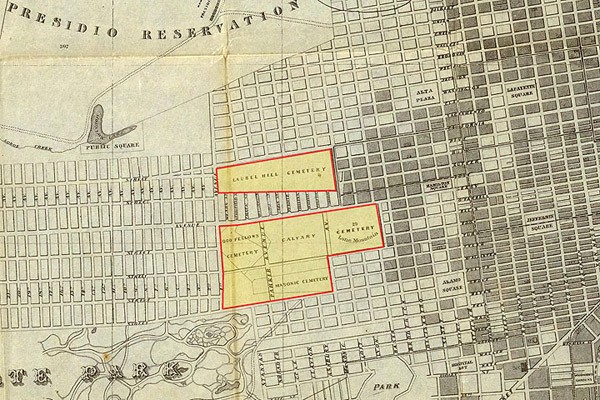 (Image by: David Rumsey)
Surrounding Lone Mountain in Laurel Heights/Inner Richmond, the "Big Four" cemeteries were made up of Laurel Hill to the north, Odd Fellows' the the west, Masonic to the south and Calvary to the east, all four were built between 1854-1865. Following the Victorian sentiments of park-like cemeteries located far from the city, these cemeteries were built on luscious grounds with winding roads and beautiful paths. But by the early 1900s the lots were full and grounds left to disrepair.
In 1902 Inner Richmond property owners began their campaign to close the cemeteries completely to help boost property value, and after litigation, ballots, voting and more bureaucracy, the process of moving previously buried bodies from the Big Four cemeteries to Colma land began in 1929. The entire removal process took until after WWII, and tragically almost none of the elaborate Neoclassical monuments in the Big Four survived. Tombstones were discarded into the ocean or broken up and used in construction. You can actually spot pieces of gravestones in the park gutters of Buena Vista Park.
As you can see from the map above, many SF residents live directly above what was once a huge cemetery complex, and UCSF Laurel Heights campus building was built on top of former graves.
Other Notable Cemeteries
Built in 1861 and closed in 1895, two Jewish Cemeteries were located on what is now Dolores Park. The land was chosen because of its proximity to neighboring temples, but after running out of room for bodies these cemeteries were moved to Colma. Interestingly, the land was then purchased by the city in 1905 to be turned into "The New Mission Park" as part of a city beautification initiative. Unfortunately after the 1906 earthquake the park became the last bastallion against the fire and a refugee camp, and it took until 1913 to complete the parks project. Although the Catholic Mission Dolores Cemetery still exists next door and is open to the public, apart from a very few photographs there's nothing left of the Jewish cemetery presence.
Yerba Buena Cemetery was one of the oldest in the city, established during the Gold Rush boom in 1850 and closed in 1871. It was the first city-sanctioned cemetery in SF, and many bodies from unofficial cemeteries in Russian Hill, North Beach, and Telegraph Hill were moved here after neighbors complained of the unsanitary situation. Located below the original SF Public Library building, all of the bodies were supposedly moved to other cemeteries when it was closed. But when construction began to remodel the library into the Asian Art Museum in 2001, there were some unexpected discoveries - 18 skeletons, 25 feet in from the sidewalk and 13 feet below ground, all dating from the mid to late 1800s.
Have any more cemetery history insight? Been subject to a particularly interesting haunting? Let us know!
All photos via SF Public Library
DON'T MISS A BAY AREA BEAT! SUBSCRIBE TO OUR NEWSLETTER.