As cocktail connoisseurs explore the Bay Area's beverage bounty and continue to reach for the ever-more unconventional libation, local creators of spirits feel the demand for innovation.
Unfortunately for our livers, distillers have risen to the occasion, experimenting with new techniques and ingredients in a never-ending hustle to secure a coveted spot at the bar, where we can't help but order them over some obnoxiously large orb of ice.
---
These days distilleries are putting twists on millennia-old traditions because a GNS (grain neutral spirit) is one thing, but what one does with it before it goes into the bottle is where the real artistry comes into play.
Here are five of our favorite Bay Area craft distilleries pushing the elixir envelope right now. Pay them a visit and collect some spirit-sipping tips and tidbits about the hooch Smitty's been mixing into your fancy cocktails—specifically the ones that take forever to make. So what are you waiting for? We've got lots of drinking, we mean research, to do.
Spirit Works Distillery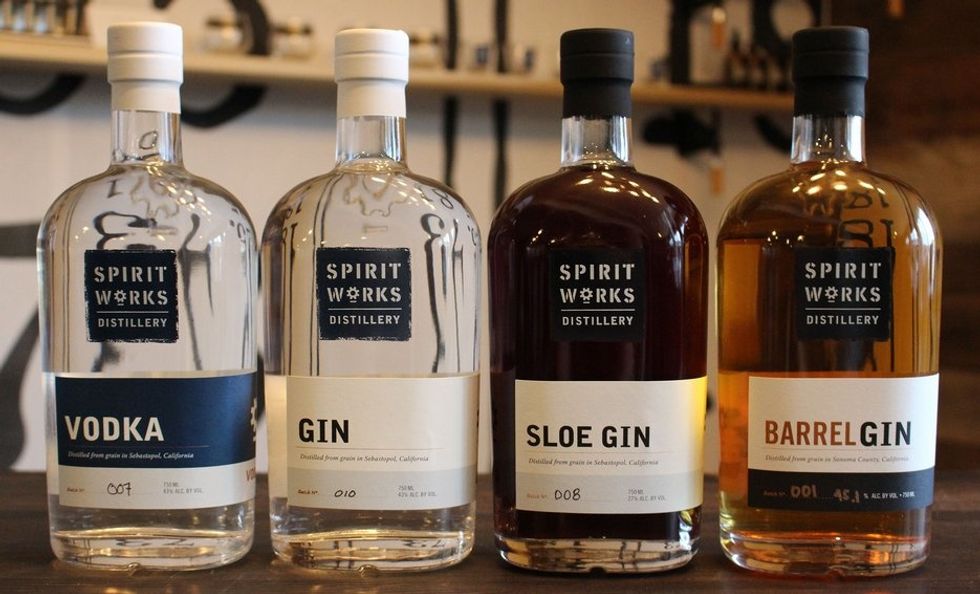 (Courtesy of Spirit Works Distillery)
We all know the drinkers ditty, "Beer before liquor, never sicker, liquor before beer, never fear." (We hum it every time we find ourselves scanning the too-good-to-choose drinks lists at a buzzy new bar). Remember the jingle next time you head up to Sonoma for a day of wine and spirits tasting.
At Spirit Works Distillery, on the backside of the Barlow in Sebastopol, head distiller Lauren Patz and her team invite guests to taste their lineup of delicious gins, vodkas, and wheat and rye whiskeys. Their sloe- and barrel-aged gins, two products you won't find anywhere else, are bright and botanical. (Sloe gin is a traditional European-style liquor that no other American distillery makes)
Spirit Works is also pioneering whiskey maturation: With its "Music Barrel Experiment," the staff is studying the impact of tunes on the barrel-aging process. They play rap, rock, and smooth jazz for some of their barrels, hypothesizing that the musical vibrations agitate the whiskey and inform the flavor of the final product. See the experiment in action during a tour ($20) and taste the differences between each with a six-pour flight ($18). Afterwards, walk your buzz off at the area's home decor shops and art galleries, and grab a bite to eat at Woodfour Brewing or Village Bakery.
// 6790 McKinley Street #100 (Sebastopol), spiritworksdistillery.com