There is much to do here in the charming heart of Tahoe.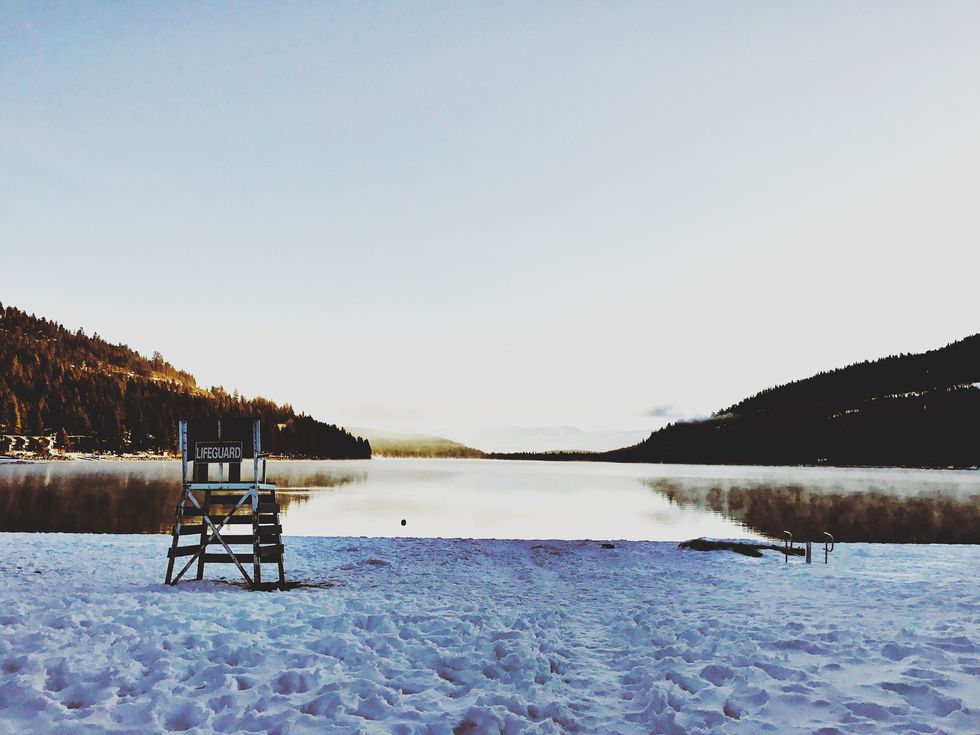 (Courtesy of Truckee Snowflakes)
---
Originally named Coburn Station after a saloon keeper, the name of Truckee came to be when Europeans crossing the Sierra Nevada encountered a Paiute chief, who yelled at them, "Tro-kay!," which means "everything is alright." They assumed he was saying his name, and it stuck.
Unbeknownst to many, this darling little town holds a plethora of culinary and shopping delights beyond the outdoor adventures it's enveloped in. Here's everything to do in this quaint lakeside borough.
Eat + Drink
Head to Rubicon (6001 Northstar Dr.) for their notorious BBQ chicken pizza. // For breakfast, get the chicken fried steak at Coffee And (10106 Donner Pass Rd.). Plus, coffee is free. // For lunch, pop over to Jax at the Tracks (10144 W River St.) for their crab cake, reuban, and old-fashioned milkshakes. // Ask the bartender at Old Town Tap (10164 Donner Pass Rd. #1) to recommend a whiskey. // If you're staying at Sugar Bowl (629 Sugar Bowl Rd.) in the winter, make sure to get a bloody mary at Belt Room. // 1882 (10009 E River St.) has a taco Tuesday that's not to be missed. // Pork poppers and brews at Mellow Fellow (10192 Donner Pass Rd.) is a must. // Get your caffeine fix at Coffee Bar (10120 Jibboom St. Suite #101). // Satisfy sweet tooths with some fudge from Sweets Handmade (10118 Donner Pass Rd.).
Shop
Bespoke (10130 Donner Pass Rd.) is a General Store-esque shop, brimming with beautiful handmade art, jewelry, decor and home goods, and magazines. // Take in intricate stained glass stars, snowflakes and crystals at Joanne's Glass (10064 Donner Pass Rd.). // Tahoe University (10015 West River St.) has chic clothing, furniture and housewares and a cute section for dogs. // For boho-style attire, head over to Nomad Boutique (10046 Donner Pass Rd.) to explore a selection of cozy sweaters, kimonos, shoes and accessories.
Hang with Mother Nature
In the area there are a multitude of outdoor adventure options from hiking, rock climbing, horseback riding and biking, but here are some local, choice picks. Watch the sunrise from Donner Summit Bridge aka Rainbow Bridge (Donner Pass Rd.) overlooking Donner Lake, and then the sunset at Boca Reservoir or Legacy Trail Top. Martis Creek Trail is another stunner during the golden hour. // Go paddle boarding or boating at beautiful Donner Lake (15695 Donner Pass Rd), where there's a public beach. It's also pretty spectacular to sit and gaze out at the water, immersed in snowflakes after a storm. // If you're a climber, check out 40-80 or Castle Peak for some fun scrambling. // For those that like to fish, catch rainbow, brook and brown trout as well as Kokanee salmon at Boca Dam and Reservoir.
Ski + Snowboard
For skiing or snowboarding, hit up Northstar (5001 Northstar Dr.) for a more luxurious, family experience. // Sugar Bowl (629 Sugar Bowl Rd.) is great for low-key vibes (with the aforementioned stellar bloody mary). // Squaw (1960 Squaw Valley Rd.) is ideal for big mountain skiing and large lines; and to see some amazing people "huck cliffs." // Boreal (19749 Boreal Ridge Rd.) is also known for tricks and flips, as well as night skiing, where they turn on the lights and you can get a few extra turns in until 9pm. // For cross-country skiing, check out Royal Gorge (9411 Pahatsi Rd.) and scoot over to Sugar Bowl on your skiis, grab a drink, and then sail back.